Senior DOD Official: Three Migrant Caravans Headed to U.S., One with 12,000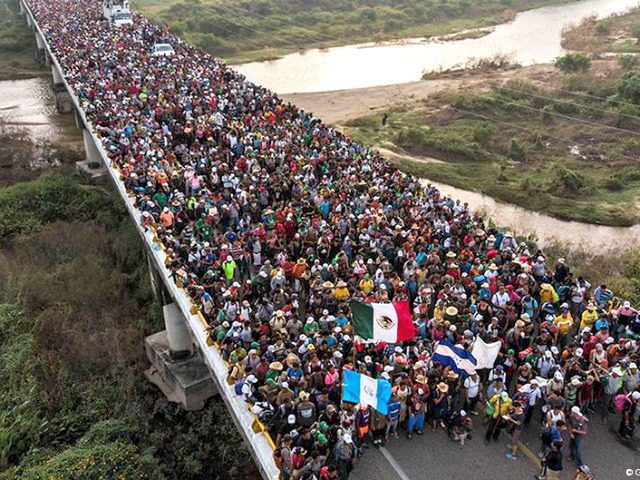 There are three migrant caravans headed to the United States' southern border with Mexico, according to top Pentagon official John Rood.
Rood testified to the House Armed Services Committee on Tuesday that one of the caravans contains over 12,000 migrants.
"Current information shows that a caravan of over 12,000 people — there's three that we are tracking, that the DHS is tracking en route, one that is over 12,000 by the latest estimate," said Rood, who is the under secretary of Defense for policy.
Rood said there are currently more than 2,300 active duty troops at the southern border, down from a high of 5,900 in November.
But he says several thousands more active duty troops are expected to head to the border in the coming weeks, to assist the Department of Homeland Security with laying down more concertina wire, and helping to monitor the border between points of entry.
Democrats, who now control the House, called Pentagon officials in to testify on President Trump's order of active duty troops to the border in October, which they have called a political stunt by the White House before midterm election.
But defense officials testified that it was the Pentagon — not the White House — decided that active duty troops were able to deploy faster and were better resourced to deal with the caravans headed to the border than National Guard and reserve forces.
"That was a decision made inside the Department," said Navy Adm. Michael Gilday, the director for operations of the Joint Chiefs of Staff.
Democrat lawmakers also questioned whether there was a crisis that necessitated the deployment of troops, when the number of illegal immigrants coming across the border have been higher in previous years.
"The difference is really the caravans and really the nature of the asylum seekers," Rood said.
Ranking Member Mac Thornberry (R-TX) agreed. "One of the things that changed is that now we have thousands, and tens of thousands of migrants who are coming in caravans which we have not seen before," he said.
"The days when we had a greater number of people — but most of them were from Mexico, and you could simply put them back across the border — are very different from these large family groups, 10, 12,000 people coming. So yes, it changed the requirements," he added.
"We have 42 percent increase in the number of family units. We have 60,000 unaccompanied children that were caught last year," Rep. Vicky Hartzler (R-MO) added. "I'm a former teacher and a mom, this is a humanitarian crisis."
Rep. Mike Rogers (R-AL) noted that administrations have been sending active duty troops to the U.S. border with Mexico "since Alamo."
"I'm just astounded by the fact that we continue to act stupid in Congress and fuss over things like $5.7 billion in fencing, and it cost us $11 billion dollars to shut the government down," he said.
According to Rood, the projected costs for the active duty deployments by the end of January is $132 million. He said the costs for the National Guard deployment for 2018 and 2019 to amount to $550 million.
But Rood said that even with the troop deployments, illegal immigrants were still coming across the border.
"Just in the last three months alone, CBP reports apprehending 145,000 illegal immigrants," Rood said.
He said last year, there were more than 521,000 apprehensions by law enforcement, with a larger amount of people not apprehended. He said that was up from 415,000 the year before.
"In the last two years alone, a larger number than the population of Washington, D.C. have been apprehended, or a city the size of San Francisco, apprehensions in two years," he said.
Reps. Hartzler and Mo Brooks (R-AL) noted that there is existing authority the administration could use to have the military build a border barrier without declaring a national emergency, through Section 284 of Title 10 of the United States Code.
"Congress has actually given the DOD the ability to provide military support to law enforcement agencies specifically for countering the counter-drug purposes. Section 284 of Title 10 of the United States Code authorizes the DOD to provide support to counter drug activities to control the transnational organized crime," she said.
"The law clearly identifies various activities that DOD is authorized to conduct including the construction of road and construction of fences. Light installation along smuggling corridors, aerial, ground reconnaissance and transportation," she said.
Rood responded that Hartzler was correct.
"As you correctly point out, Section 284 of Title 10 does provide the secretary of defense the authority in performance of that counter drug mission such as blocking drug smuggling corridors to erect barriers, fencing, provide road construction things of that nature to aid in that counternarcotics mission," he said.
"We have already given the authority to do this and we have a very critical mission to keep people safe and make sure that people don't die as a result of these transnational drug cartel activity and currently they are. So it's imperative for us to find a solution, and I'm very hopeful that in the next three weeks we can come together in a bipartisan fashion," Hartzler added.
Brooks also pressed Rood on whether the Pentagon would carry out an order by Trump to build necessary barriers if he ordered them to pursuant to Section 284 without declaring a national emergency.
"If we judge it to be a lawful order, yes sir, and I assume it would be," Rood said.
200 Pounds of Meth, Cocaine Seized in California by Border Patrol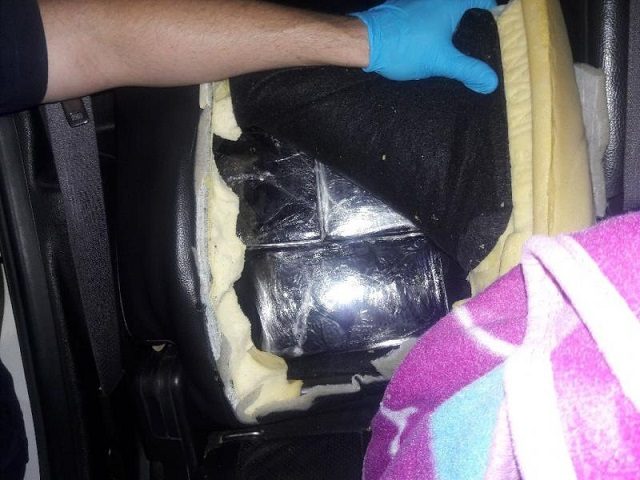 U.S. Border Patrol agents seized nearly 200 pounds of methamphetamine and cocaine in two separate vehicle inspections this past weekend in California. The alleged seizures resulted in the arrest of a Mexican national and a U.S. citizen on drug smuggling charges.
In the first seizure this past Saturday, agents assigned to the Indio Station in the El Centro Sector contacted a male driver in a 1997 Ford F-250 at a designated immigration checkpoint on Highway 86 at 8:50 am. Agents referred the male, identified as Rene Elizalde, a 22-year-old U.S. citizen, to a secondary inspection after a K-9 alerted to an odor, according to Border Patrol officials. The K-9 pointed to the driver's side of the vehicle and agents utilized a fiber-scope camera to inspect the two gas tanks. In one, agents noted that the liquid did not have the appearance or characteristics of gasoline. Agents then tested the substance and discovered it was methamphetamine. The liquid methamphetamine had a total weight of 75 pounds with an estimated street value of $198,750.
"Liquid methamphetamine is an extremely dangerous form of the narcotic and thankfully our agents were able to prevent it from advancing further into the United States," saidChief Patrol Agent Gloria I. Chavez.
Elizalde, along with the reportedly seized drugs, was handed over to the custody of the Drug Enforcement Administration for a review of criminal charges.
In the second seizure this past Sunday, agents assigned to the Indio Station in the El Centro Sector contacted a 35-year-old driver in a brown 2015 Renault Duster Expression at 3:30 pm. Agents referred the driver, who was determined to be a 35-year-old Mexican national, to a secondary inspection, according to the Border Patrol. Agents discovered 61 individually wrapped packages concealed within an aftermarket floor compartment underneath the driver and passenger seats.
A total of 56 of 61 packages reportedly tested positive for methamphetamine. The other five contained cocaine. The packages containing methamphetamine weighed 109.65 pounds and had an estimated street value of $284,856. The five packages of cocaine weighed 13.12 pounds, valued at $170,560.
The driver was turned over to the DEA for processing, according to a news release.
Robert Arce is a retired Phoenix Police detective with extensive experience working Mexican organized crime and street gangs. Arce has worked in the Balkans, Iraq, Haiti, and recently completed a three-year assignment in Monterrey, Mexico, working out of the Consulate for the United States Department of State, International Narcotics and Law Enforcement Program, where he was the Regional Program Manager for Northeast Mexico (Coahuila, Tamaulipas, Nuevo Leon, Durango, San Luis Potosi, Zacatecas.) You can follow him on Twitter. He can be reached at robertrarce@gmail.com
ICE Arrests 118 in New York
Nearly all of the 118 immigration violation arrests made in New York by ICE over five days were convicted criminals or those with pending charges.
U.S. Immigration and Customs Enforcement (ICE) Enforcement and Removal Operations (ERO) made 188 arrests from January 14-18. Of those arrested, 107 were convicted criminals or facing charges, and 55 failed to leave the country after a final order of removal or were previously removed and returned to the U.S.
ERO New York field office director Thomas R. Decker said of the enforcement:
In spite of the significant obstacles that ICE faces due to the dangerous policies created by local jurisdictions, which hinders the cooperation between ICE and local law enforcement, ICE will continue to devote the full efforts of our agency to protecting citizens and enforcing federal immigration law despite challenges being pursued by politically motivated individuals.
ICE named 14 of those foreign nationals arrested, six of which had sexual offense convictions or pending charges.
"More than 35 individuals arrested during this operation were previously released from local law enforcement on an active detainer," according to an ICE detailing of the enforcement action. The release emphasized, "When law enforcement agencies fail to honor immigration detainers and release serious criminal offenders onto the streets, it undermines ICE's ability to protect public safety and carry out its mission."
ICE pointed to sanctuary cities and their practice of releasing those on ICE detainers, including many with "significant criminal histories."
More than 80 percent of American voters want a crackdown on illegal alien crime, according to a recent Harvard/Harris poll.
"Ultimately, efforts by local NYC politicians have shielded removable criminal aliens from immigration enforcement and created another magnet for more illegal immigration, all at the expense of the safety and security of the very people it purports to protect," Tuesday's ICE announcement stated. "ICE seeks straightforward cooperation with all local law enforcement and elected officials."
Michelle Moons is a White House Correspondent for Breitbart News — follow on Twitter
@MichelleDiana
and
Facebook
.
Shutdown Shudders: Consumer Confidence Falls Again as Outlook for the Future Dims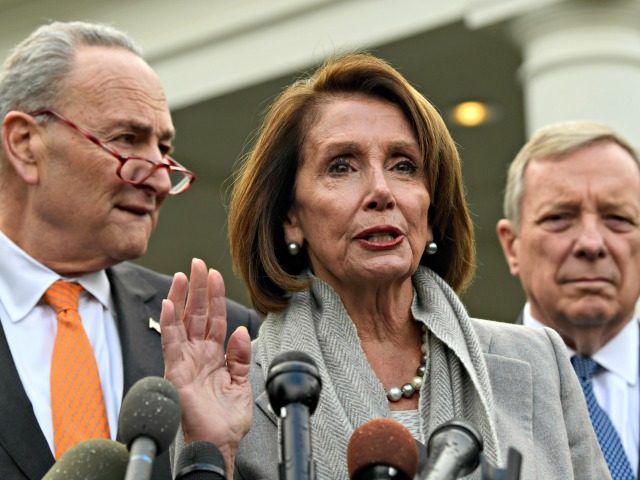 Consumer confidence took another hit in January, as the government partially shut down while Capitol Hill Democrats and the Trump White House battled over funding for a border wall.
The Conference Board's Consumer Confidence Index decreased in January, the third consecutive steep monthly decline.
The index fell to 120.2 from December's revised down 126.6. Economists had expected a milder decline to 124.3.
Despite the government shutdown, consumers' view of current conditions was little changed. The percentage of consumers claiming business conditions are "good" was virtually unchanged at 37.4 percent, while those saying business conditions are "bad" actually fell from 11.6 percent to 11.1 percent.
But optimism about the future turned much more pessimistic in January, the third consecutive monthly steep decline in expectations. The percentage of consumers expecting business conditions will improve over the next six months fell from 18.1 percent to 16.0 percent, while those expecting business conditions will worsen increased from 10.6 percent to 14.8 percent.
Consumers' assessment of labor market conditions was mixed. Those stating jobs are "plentiful" increased from 45.5 percent to 46.6 percent, while those claiming jobs are "hard to get" also increased, from 12.2 percent to 12.9 percent. But the outlook was less favorable. The share expecting more jobs in the months ahead decreased from 16.6 percent to 14.7 percent, while those anticipating fewer jobs increased, from 14.6 percent to 16.5 percent.
And fewer consumers expect their incomes to improve in the near-term future. The share expecting an improvement declined from 22.4 percent to 18.2 percent, while the proportion expecting a decrease also declined, from 7.6 percent to 7.1 percent.
Although consumer confidence has declined in recent months, it remains at a very high level. Consumer confidence remains well above levels that persisted for years prior to the election of President Donald Trump.
GEORGE S OROS AND THE CLINTON GLOBALIST AGENDA FOR BANKSTERS AND WIDEOPEN BORDERS
NEW YORK — Demand Justice, an organization founded by former members of Hillary Clinton's 2016 presidential campaign and associated with a "social welfare organization" financed by billionaire activist George S oros, is raising money for an eventual court fight against what the group describes as President Trump's proposed "racist, unnecessary wall."
"Obama would declare himself president for life with S oros really running the show, as he did for the entire Obama presidency."
"Hillary was always small potatoes, a placeholder as it were. Her health was always suspect. And do you think the plotters would have let a doofus like Tim Kaine take office in the event that Hillary became disabled?"
THE DEMOCRAT PARTY'S BILLIONAIRES' GLOBALIST EMPIRE requires someone as ruthlessly dishonest as Hillary Clinton or Barack Obama to be puppet dictators.
1.
Globalism:
Google VP Kent Walker insists that despite its repeated rejection by electorates around the world, "globalization" is an "incredible force for good."
2.
Hillary Clinton's Democratic party:
An executive nearly

broke down crying

because of the candidate's loss. Not a single executive expressed anything but dismay at her defeat.
3.
Immigration:
Maintaining liberal immigration in the U.S is the policy that Google's executives
discussed
the most.
HILLARY CLINTON'S GLOBALIST VISION:
SURRENDER OF OUR BORDERS WITH NARCOMEX AND SUCKING IN GLOBAL BRIBES FOR THE PHONY CLINTON FOUNDATION
Even though it has gone virtually unreported by corporate media,

Breitbart

News

has extensively documented the Clintons'
longstanding support for "open borders." Interestingly, as the

Los

Angeles

Times

observed in 2007, the Clinton's praise for
globalization and open borders frequently comes when they are
speaking before a wealthy foreign audiences and donors.
FAKEBOOK and GOOBLE ASSUALT FREE SPEECH TO BUILD THE GLOBALISTS' BILLIONAIRES' DICTATORSHIP FOR THE RICH
What's Happening at the Center
In his new report, Mark Metcalf highlights the persistent failure of aliens to show up to immigration court -- a serious challenge for the country's immigration enforcement efforts. In 2017, 43 percent of all aliens free pending trial failed to appear for court. Aliens abscond from court more often today than they did before the terrorist attacks of 9/11. Deportation orders for failing to appear in court exceed deportation orders from cases that were tried by 306 percent.
Featured Posts

The President Yields on Immigration


By Andrew Arthur


President Trump offered congressional Democrats significant concessions in order to secure funding for border security but it still was not enough. At this point, one may begin to wonder whether anything short of capitulation would be.

Guestworker Programs Remain Open to Countries with High Overstay Rates


By Jessica Vaughan and Preston Huennekens


While it's good that people from three countries have been barred from participating in the H-2 unskilled work-visa programs, because so many ended up staying as illegal aliens, there are still quite a few other countries that should also be excluded.
More Blog Posts
Hispandering La Raza Democrats Obama and Pelosi spent 8 years sabotaging Homeland Security and American voting so that the invaders will elect all future Presidents!
VIVA LA RAZA SUPREMACY LIKE TEXAS' NARCOMEX BORDER COUNTIES THAT VOTED VIVA BETOMATIC?
BETO O'ROURKE HAS BEEN ENDORSED BY MEXICO. HOW IMPORTANT WILL THE ILLEGALS' VOTES BE?
"In 2018, a volunteer for the Beto campaign urged followers to transport undocumented aliens (ILLEGALS) to the polls."
"Many liberals believe that anyone in the United States – citizen or non-citizen – should be able to vote. If they want to make that argument and change the law to make it happen, they are more than welcome to try. Of course, if they run on that issue, they will get slaughtered at the polls. So instead of going to the American people and working to change the law, they try an underhanded dirty trick to achieve the same goal." APOLO VILLALOBOS
"American elites continue focusing on a global order while ignoring the decline of the United States. A broken America will be unable to meet any geopolitical threats abroad. Any national security strategy that does not begin with securing our own national security at home will be doomed to fail." DANIEL GREENFIELD
Knowing that the wall will become a reality if the President gets the cash brings out the cheap-labor-express, wealthy power brokers like the
Billionaires for Open Borders
: Michael Bloomberg; Rupert Murdoch; other distinguished members of the Forbes 500; and, as Lou Dobbs often
reminds
us, the "globalists, the Chamber of Commerce, the Business Roundtable,
Koch brothers
and Wall Street."
LA RAZA SUPREMACIST BETO O'ROURKE… openly endorsed by Mexico!
https://mexicanoccupation.blogspot.com/2018/12/rep-beto-orourke-celebrates-his.html
O'Rourke tweeted his support for hundreds of undocumented people into American communities.
"Many thanks to volunteers & donors who ensure that we take care of families being released by ICE in El Paso. 200 to be released today. Over 500 tomorrow." BETO O'ROURKE
We've got an even more ominous enemy within our borders that promotes "Reconquista of Aztlan" or the reconquest of California, Arizona, New Mexico and Texas into the country of Mexico….. AND THE ENEMY IS THE LA RAZA SUPREMACIST GLOBALIST DEMOCRAT PARTY!
SERVE BILLIONAIRES WITH EVEN CHEAPER LABOR AND EVEN WIDER OPEN BORDERS.
MORE MONEY LOST FROM FOOD STAMP FRAUD THAN IS SPENT ON A WALL TO DEFEND AMERICAN AGAINST THE LA RAZA HEROIN CARTELS OPERATING OVER, UNDER AND IN OUR OPEN BORDERS!
WASHINGTON, DC – Over 150 conservative leaders nationwide released a "Memo to the Movement" from the Conservative Action Project on Monday, declaring that they are opposed to the Democrats' kick-off legislation H.R. 1, which would profoundly shift elections toward liberal candidates and open the door to rampant voter fraud, calling Speaker Nancy Pelosi's bill "the ultimate fantasy of the left."
"Conservatives are united in opposing H.R. 1, the attempt by House Democrats to fundamentally undermine the American electoral system," the Memo begins.
It
explains
several key features of Pelosi's inaugural legislation, outlining how it is designed to ensure that a liberal Democrat wins the White House in 2020 and the Left gains unified control of Congress and well as take over state governments.
The Democrats' bill violates the First Amendment. It restricts political speech and election activities in several ways that the U.S. Supreme Court has made crystal clear violates the Constitution, such as groups' pooling resources to take out ads on the issues those groups advocate.
Pelosi's legislation is a massive federal power grab away from the states. The Constitution gives primary authority to the sovereign states to conduct elections. This bill empowers the federal government to micromanage elections by requiring states to get "preclearance" from Washington, D.C., before changing their election procedures.
H.R. 1 also mandates countless millions of taxpayer dollars be given to candidates for their campaigns, requiring citizens to fund candidates who those citizens actually oppose for office.
The Memo highlights several other features of the bill, including:
Forces all states to allow all convicted felons to vote.
Requires all states to allow same-day voter registration, which leads to voter fraud.
Makes it difficult for a state to discover if a voter is also voting in another state.
Prevents states from limiting early voting.
Prevents states from limiting voting by mail.
Requires all states to provide free mail-in absentee ballots.
Criminalizes political speech that the government deems "discouraging" to voters who are statistically more likely to vote Democrat.
Takes redistricting away from elected leaders to give to left-leaning commissions.
Many of these items are statistically more likely to increase Democrat and liberal votes over Republican and conservative votes. For example, most felons vote for Democrats, and people who do not register to vote until the last minute lean left as well.
Others increase the odds of voter fraud and intimidation. The most secure method of voting is in a government building on Election Day. Early voting, voting by mail, automatically registering people to vote when they get s driver's license, and allowing a person to register for the first time on Election Day, are each more susceptible to fraudulent votes or for voters to be intimidated regarding who they should vote for.
Moreover, electioneering messages that are said to "discourage" voting are typically conservative messages that various left-wing minority voter groups attack as "voter suppression." Making such messages a federal crime creates the possibility of conservative groups being prosecuted by the U.S. government, chilling their willingness to participate in elections at all.
A constellation of 154 national conservative stars signed the Memo to the Movement, including:
Edwin Meese III, former Attorney General of the United States
Alfred Regnery, Chairman, Conservative Action Project
Ken Blackwell, former Ohio Secretary of State and U.S. Ambassador
Jim DeMint, former U.S. Senator and President of the Heritage Foundation
David McIntosh, President, Club for Growth and former Member of Congress
Tony Perkins, President, Family Research Council and Council for National Policy
L. Brett Bozell, III, President, Media Research Center
Ken Cribb, former White House Domestic Policy Advisor to President Reagan
Charles Cooper, former U.S. Assistant Attorney General for Legal Counsel
Bob McEwan, former Member of Congress
Marjorie Dannenfelser, President, Susan B. Anthony List
Tom Fitton, President, Judicial Watch
Matt Schlapp, Chairman, American Conservative Union
Jenny Beth Martin, Chairman, Tea Party Patriots Citizen Fund
Stuart Epperson, Chairman, Salem Media Group
David Bozell, President, For America
Curt Levey, President, Committee for Justice
Hans von Spakovsky, former Commissioner, Federal Election Commission
Susan Carleson, CEO, American Civil Rights Union
Christian Adams, President, Public Interest Legal Foundation
Bill Walton, Chairman, CNP Action
Lt. Gen. Jerry Boykin (ret.), Executive Vice President, Family Research Council
Grover Norquist, President, Americans for Tax Reform
Gary Bauer, President, American Values
James Miller III, former Director, White House Office of Management and Budget
Colin Hanna, President, Let Freedom Ring
Tom McClusky, President, March for Life Action
Myron Ebell, Competitive Enterprise Institute
Gary Marx, President, Madison Strategies
Diana Bannister, President, Shirley & Bannister
Cleta Mitchell, Attorney
Phil Kerpen, President, American Commitment
Sal Russo, Co-Founder, Tea Party Express
Elaine Donnelly, President, Center for Military Readiness
Mario Lopez, President, Hispanic Leadership Fund
Texas Finds 95,000 Non-US Citizens Registered To Vote -- 58,000 Have Actually Voted In Recent Elections
Texas Finds 95,000 Non-US Citizens Registered To Vote -- 58,000 Have Actually Voted In Recent Elections
Texas Democrats asking non-citizens to vote
Safe Spaces: How Sanctuary Cities are Giving Cover to Noncitizens on the Voter Rolls
Public Interest Legal Foundation, August 2018
https://publicinterestlegal.org/files/Safe-Spaces_Final.pdf
CALIFORNIA DMV GIVES ILLEGAL VOTERS A SURGE
"New" and "underrepresented" voters could spell victory for leftist Democrats in November.
U.S. Election Meddling: Nationwide Voter Fraud, Importation of 15M Foreign-Born Voters
Shelby Lum, Richmond Times-Dispatch via The Associated Press
19 Jul 2018
Washington, D.C.
2,070
As the establishment media, GOP, and Democrats fret over the influence foreign countries have on U.S. elections, the leading threats to the American electorate remain nationwide voter fraud and mass immigration.
·
Immigrants, particularly Hispanics and Asians, have policy preferences when it comes to the size and scope of government that are more closely aligned with progressives than with conservatives. As a result, survey data show a two-to-one party identification with Democrats over Republicans.
·
By increasing income inequality and adding to the low-income population (e.g. immigrants and their minor children account for one-fourth of those in poverty and one-third of the uninsured) immigration likely makes all voters more supportive of redistributive policies championed by Democrats to support disadvantaged populations.
·
There is evidence that immigration may cause more Republican-oriented voters to move away from areas of high immigrant settlement leaving behind a more lopsided Democrat majority.
CALIFORNIA DEMOCRATS' VOTING SCAM
The Golden State does favors for illegal immigrants -- who may return the favor at the voting booth.
Mexicans cheat, distribute drugs, lie, forge documents, STEAL and kill as if it's a normal way of life. For them, it is. Mexico's civilization stands diametrically opposed to America's culture. FROSTY WOOLDRIDGE
Who will influence the 2018 elections more: Russia or Mexico?
In 2013, California lawmakers passed legislation that allowed illegal aliens to obtain driver's licenses if they can prove to the Department of Motor Vehicle (DMV) their identity and state residency. The plan was one of the largest victories to date by the open borders lobby
.… JOHN BINDER – BREITBART.com
The biggest losers in Mexico's election? The Democrats
by Michelle Malkin
Only in America could critics of a group called "The Race" be labeled racists. Such is the triumph of left-wing identity chauvinists, whose aggressive activists and supine abettors have succeeded in redefining all opposition as "hate."
Both Barack Obama and John McCain will speak this week in San Diego at the annual conference of the National Council of La Raza, the Latino organization whose name is Spanish for, yes, "The Race." Can you imagine Obama and McCain paying homage to a group of white people who called themselves that? No matter. The presidential candidates and the media have legitimized "The Race" as a mainstream ethnic lobbying group and marginalized its critics as intolerant bigots. The unvarnished truth is that the group is a radical ethnic nationalist outfit that abuses your tax dollars and milks PC politics to undermine our sovereignty.
15. "The Race" supports driver's licenses for illegal aliens.
14."The Race" demands in-state tuition discounts for illegal alien students that are not available to law-abiding U.S. citizens and law-abiding legal immigrants.
13. "The Race" vehemently opposes cooperative immigration enforcement efforts between local, state and federal authorities.
12. "The Race" opposes a secure fence on the southern border.
11. "The Race" joined the American-Arab Anti-Discrimination Committee in a failed lawsuit attempt to prevent the feds from entering immigration information into a key national crime database -- and to prevent local police officers from accessing the data.
10. "The Race" opposed the state of Oklahoma's tough immigration-enforcement-first laws, which cut off welfare to illegal aliens, put teeth in employer sanctions and strengthened local-federal cooperation and information sharing.
9. "The Race" joined other open-borders, anti-assimilationists and sued to prevent Proposition 227, California's bilingual education reform ballot initiative, from becoming law.
8. "The Race" bitterly protested common-sense voter ID provisions as an "absolute disgrace."
7. "The Race" has consistently opposed post-9/11 national security measures at every turn.
6. Former "Race" president Raul Yzaguirre, Hillary Clinton's Hispanic outreach adviser, said this: "U.S. English is to Hispanics as the Ku Klux Klan is to blacks." He was referring to U.S. English, the nation's oldest, largest citizens' action group dedicated to preserving the unifying role of the English language in the United States. "The Race" also pioneered Orwellian open-borders Newspeak and advised the Mexican government on how to lobby for illegal alien amnesty while avoiding the terms "illegal" and "amnesty."
5. "The Race" gives mainstream cover to a poisonous subset of ideological satellites, led by Movimiento Estudiantil Chicano de Aztlan, or Chicano Student Movement of Aztlan (MEChA). The late GOP Rep. Charlie Norwood rightly characterized the organization as "a radical racist group … one of the most anti-American groups in the country, which has permeated U.S. campuses since the 1960s, and continues its push to carve a racist nation out of the American West."
4. "The Race" is currently leading a smear campaign against staunch immigration enforcement leaders and has called for TV and cable news networks to keep immigration enforcement proponents off the airwaves -- in addition to pushing for Fairness Doctrine policies to shut up their foes. The New York Times reported that current "Race" president Janet Murguia believes "hate speech" should "not be tolerated, even if such censorship were a violation of First Amendment rights."
3. "The Race" sponsors militant ethnic nationalist charter schools subsidized by your public tax dollars (at least $8 million in federal education grants). The schools include Aztlan Academy in Tucson, Ariz., the Mexicayotl Academy in Nogales, Ariz., Academia Cesar Chavez Charter School in St. Paul, Minn., and La Academia Semillas del Pueblo in Los Angeles, whose principal inveighed: "We don't want to drink from a White water fountain, we have our own wells and our natural reservoirs and our way of collecting rain in our aqueducts. We don't need a White water fountain … ultimately the White way, the American way, the neo liberal, capitalist way of life will eventually lead to our own destruction."
2. "The Race" has perfected the art of the PC shakedown at taxpayer expense, pushing relentlessly to lower home loan standards for Hispanic borrowers, reaping millions in federal "mortgage counseling" grants, seeking special multimillion-dollar earmarks and partnering with banks that do business with illegal aliens.
1. "The Race" thrives on ethnic supremacy -- and the elite sheeple's unwillingness to call it what it is. As historian Victor Davis Hanson observes: "[The] organization's very nomenclature 'The National Council of La Raza' is hate speech to the core. Despite all the contortions of the group, Raza (as its Latin cognate suggests) reflects the meaning of 'race' in Spanish, not 'the people' -- and that's precisely why we don't hear of something like 'The National Council of the People,' which would not confer the buzz notion of ethnic, racial and tribal chauvinism."
*