The Dark Wire's eye-opening new documentary, Not in Vein,illustrates how Mexican drug cartels utilize the porous border with America to their advantage, making billions of dollars and killing Americans at record rates in the process.
The documentary provides a powerful testimonial to securing the southern border to combat the opioid crisis.
The 44-minute documentary, Not in Vein, which begins on

Arizona's

"super-highway for drug smuggling," i

s narrated by investigator Sara Carter, who travels from the U.S.-Mexican border all the way to Ohio to learn about the harsh realities surrounding the opioid crisis that has been plaguing the U.S. for decades.
A 24-minute version of the documentary is available on Vimeo:
The dominant cartel, Sinaloa, is equipped with U.S.-based groups that protect drug houses and lead illegal drug distribution throughout the country. These groups are armed, and utilize the southern border as a means for trafficking enormous amounts of narcotics into America, seemingly with ease, traveling through U.S. Ports of Entry.
Robert Arce, Breitbart Border And Cartel Chronicles Team reporter, has worked for both federal and local law enforcement, and spent three years in Mexico dealing with the international narcotics trade.
"Whether it's human smuggling, or drug trafficking, you don't cross through those routes unless you are paying to those cartels," said Arce, "if you're a smuggler and you're not paying, and you get caught, the sentence will be death. They will kill you."
"More than 72,000 people died last year from overdoses," Carter told Breitbart News, "and those numbers are expected to increase as narco-terrorists like the Sinaloa Cartel, and nation's like China, continue to traffic Fentanyl and other drugs into our nation."
With an unsecured border in the south, nowhere in the U.S. seems to be safe. The plague of narcotics and drug overdoses stemming from distribution by these foreign cartels is not isolated to border communities; it has spread, decimating communities across the nation.
In Ohio, the documentary highlights Heidi Riggs, an o
pioid addiction activist who lost her 20-year-old daughter to a drug overdose.
"This is domestic terrorism and we need to demand that our leaders in Washington declare the Mexican Drug Cartels enemies of the state," Riggs told Breitbart News, "The Mexican Drug cartels have weaponized drug use and they are killing Americans. This is why we call it terrorism in the film."
Riggs is likely correct. By declaring the Mexican drug cartels terrorist organizations, the Mexican government is faced with two options: it either cooperates with the U.S. in fighting the cartels, or the U.S. will have to do it alone. Other efforts to stop the cartels have proven futile.
Derek Maltz, a former

Special Agent in Charge (SAC) of the DOJ, DEA, and

Special Operations Division (SOD), also told Breitbart News that the

Department of Defense must take this step in securing the US southern border.
"Law enforcement alone can't resolve this unprecedented problem which has escalated out of control by greedy cartels," said Maltz, "The Mexican cartels are killing at record levels, dumping humans in acid, and chopping off limbs while they push poison all over the streets of America."
"It's time we designate them exactly what they are, foreign terrorists. By calling them what they are, the U.S. can utilize the powerful laws and incredible resources to destroy their operations. Enough is enough and the U.S. needs to seal the border and keep the criminals out."
As stated in the documentary, most of the heroin coming into the country is produced in Mexico, and it is the Mexican drug cartels that control the production and distribution of these drugs. The DEA also considers the Mexican drug cartels the greatest threat to the United States.
Attorney General Jeff Sessions held a press conference recently, announcing a "whole of government effort" to take down the Cartel Jalisco Nueva Generacion (CJNG). "We will continue to carry out President Donald Trump's order to dismantle transnational criminal organizations," said Sessions, "They are in our crosshairs."
The White House stated last year that the opioid crisis causes America to endure a death toll equivalent to the September 11th terrorist attack every three weeks, as tens of thousands of Americans die every year due to drug overdose.
It is evident that the United States needs to take a more serious, hardline approach on its southern front, for the sovereignty of the nation is at stake.
An unsecured U.S. border not only aids illegal immigration and human trafficking, but it is this very same negligence that is in part responsible for the unprecedented number of overdose deaths of Americans across the nation.
You can follow Alana Mastrangelo on Twitter at @ARmastrangelo and on Instagram.
Sara Carter: U.S. Should Declare Drug Cartels Narco-Terrorists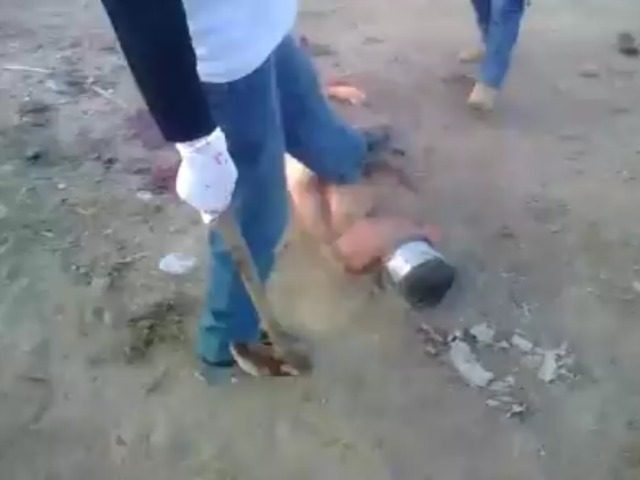 Fox News journalist and investigative reporter Sara Carter joinedBreitbart News Daily Friday on SiriusXM Patriot Channel 125 to talk about the new documentary on opioids, Not in Vein.
Carter, who co-produced the eye-opening documentary, spoke about what it truly means to have an unsecured national border. Carter spoke about how the negligence of America's government emboldens drug cartels by not addressing the issue of border security, allowing for illegal drug distribution to take place in massive quantities, adding that the DEA says drug cartels are the greatest threat to the United States.
According to a recent poll, immigration is considered the most important issue for Republican voters in the 2018 midterm elections.
"Let's just start with simple numbers here," began Carter, "The annual deaths from overall drug use in 2017 was 72,287 — that's what the CDC had. Of those, 49,000 deaths were involving opioids, the majority of which were coming from across the border."
The opioid Fentanyl in particular is a major problem, the vast majority of it coming from China, either by mail or through the utilization of the porous U.S. southern border.
"They mix these chemicals in backroom trailer labs, or in labs in Mexico or inside the United States, and they create pills," said Carter, "Pills that look just like the pharmaceutical pills you get — and you can't tell the difference between a real pill and a fake pill. The point is, the fake pill is heroin and Fentanyl, and the first time you take it, you could die."
Carter also spoke about how the border security issue has nothing to do with being against immigrants from South America, and that, in fact, Mexicans also suffer due to powerful drug cartels ravaging their communities.
"This is not about targeting people from other places or saying we want to shut down the border, because people are anti-immigrant," said Carter, "My mother was an immigrant, I speak Spanish fluently, I travel to Mexico all the time. The Mexican people are also in danger — they are prisoners in their own communities, some of them, because of the drug cartels."
"[Making the documentary] taught me. I thought I knew enough about this, I did not even know the half of it until I started doing this film," added Carter.
Robert Arce, a Breitbart Border And Cartel Chronicles Team reporter who is also in the film, said something to Carter that she found to be very insightful.
"[Arce] made a profound statement — he said we don't even know where the border is anymore," affirmed Carter.
"Right now, we're seeing the border move so far to the north, we don't even know where it is," she reiterated, "We know that Sinaloa Cartel has basically divided Ohio up and set up shop across the United States with distribution centers."
The drug problem in the United States has gotten so big, Carter says, that many people tell her they don't know where to begin in tackling it. The investigative reporter says the first step is paying attention to what's actually happening, so that the United States can finally declare these foreign cartels what they really are: narco-terrorists.
Declaring Mexican drug cartels terrorist organizations would give law enforcement agencies more power in going after these criminals.
"We know this is very important to the President, and we hope that it is just as important to every American out there — with or without a child — that wants to help save this nation from the potential disaster that's already on its way," concluded Carter.
The documentary Not in Vein, can be viewed here.
You can follow Alana Mastrangelo on Twitter at @ARmastrangelo and on Instagram.
$ERVANT OF RED CHINA FOR RAW CA$H, $ENATOR FEIN$TEIN'S DRIVER IS A $PY FOR HER CHINE$E PAYMA$TER$!
"All in all, it was an incredible victory for the Chinese government. Feinstein has done more for Red China than other any serving U.S. politician.
"
Trevor Loudon
A NATION DIES OF OPIOID ADDICTION
AMERICAN BIG PHARMA, RED CHINA and NARCOMEX PARTNER FOR THE BIG BUCKS
"The drug epidemic is the product of capitalism and the policies of the capitalist parties, both Democrats and Republicans. There is, first of all, the role of the pharmaceutical companies, which have amassed huge profits from the deceptive marketing of opioid pain killers, which they claimed were not addictive. Prescriptions for opioids such as Percocet, Oxycontin and Vicodin skyrocketed from 76 million in 1991 to nearly 259 million in 2012. What are the numbers and profits now?
OPIOID AMERICA: CHINA AND MEXICO PARTNER TO ADDICT AMERICA
American middle-class is addicted, poor, jobless and suicidal…. Thank the corrupt government for surrendering our borders to 40 million looting Mexicans and then handing the bills to middle America?
OPIOID MURDERS BY BIG PHARMA
"While drug distributors have paid a total of $400 million in fines over the past 10 years, their combined revenue during this same period was over $5 trillion."
"Opioids have ravaged families and devastated communities across the country. Encouraging their open use undermines the rule of law and will do nothing to quell their continued abuse, let alone the problems underlying mass addiction."
THE CLINTONS AND RED CHINA:
A MONEY MAKING TRAITORSHIP!
"Ask Jeff Sessions about the charges. Money was flowing into the Clinton Foundation from all over the world, disguised, rerouted through a Canadian charity, all to obscure its origins."