Republican John Cox Takes On Homelessness in California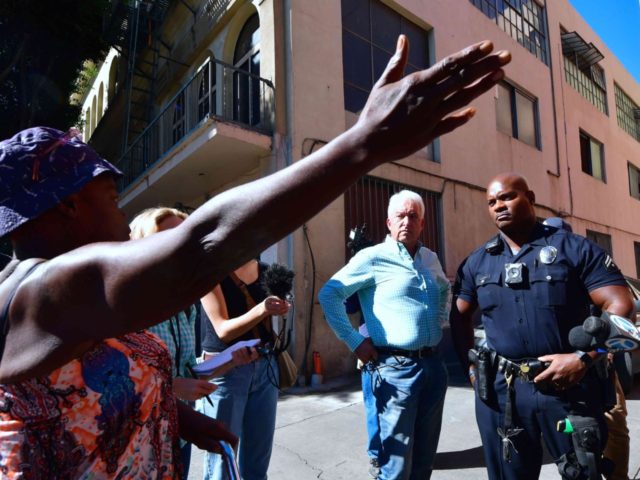 Republican businessman John Cox is taking on the problem of homelessness in California — one of the most pressing problems facing the state, and one that Democratic leaders statewide have been unable to solve.
On Wednesday, Cox visited the Eureka Rescue Mission in Eureka, California, on the northern coast of the state to learn about the work it does to help the burgeoning local homeless population.
Bryan Hall Sr., the center's director, told the Eureka Times-Standard: "It's rare to be visited by someone who is running for governor … It's pretty neat he's coming up here."
Cox touted the center's work as an example of what he would like to see throughout the state, according to the paper: "What solves the problem is getting people help. It doesn't solve the problem to put people in injection sites or give them free clean needles, what solves the problem are transition centers like this one that can get people clean and sober, that can get them training, that can teach them a trade."
The Republican also criticized environmental policies that make housing more difficult to build, and policies raise the cost of living in California, such as the gas tax. He is leading an effort to pass Proposition 6, which would repeal a gas tax increase passed last year by the legislature.
Last week, Cox visited Skid Row in Los Angeles and criticized his opponent, Democrat Lt. Gov. Gavin Newsom, for failing to solve the homelessness problem — which is especially bad in San Francisco, the city Newsom used to run as mayor.
Polls show Newsom ahead, but Cox has run a surprisingly competitive race in the Democrat-dominated state.
Joel B. Pollak is Senior Editor-at-Large at Breitbart News. He is a winner of the 2018 Robert Novak Journalism Alumni Fellowship. He is also the co-author of
How Trump Won: The Inside Story of a Revolution
, which is available from Regnery. Follow him on Twitter at @joelpollak.
Watch–Ann Coulter: Caravan Migrants Conveniently Coming to 'Biggest Welfare State in the World'
New York Times
best-selling author and populist conservative columnist Ann Coulter says a caravan of at least 7,000 Central American migrants are headed to the United States for welfare, not to seek asylum.
During a debate on FOX11 Los Angeles, Coulter said the caravan of previously deported illegal aliens and job-seekers from Central America are merely looking for public benefits rather than asylum, as the establishment media has repeatedly claimed.
None of these are asylum cases or they'd stop in the first country they get to

. The idea of asylum is something like there's a holocaust, there's a potato famine. No

this is how these people always live which is why all of different countries want to come to the … biggest welfare state in the world, that is the United States

. [Emphasis added]

Dumping poor people on America is not making us better.

They are far more likely to be receiving welfare. And that's just your average illegal immigrant and immigrant. [Emphasis added]
Coulter said that if the caravan of migrants were looking for asylum, they would be stopping in Mexico. Instead, as Coulter notes, the migrants are continuing to head for the U.S.
"Asylum applicants don't have to wait at all, they instantly get given food, housing, everything, but they aren't asylum cases," Coulter said. These aren't people fleeing … otherwise, they'd get to Mexico and say 'Home free! I'm in Mexico!' No, they want to come to the biggest welfare state in the world."
As Breitbart News has chronicled, the caravan migrants have repeatedly admitted that their goal is to enter the U.S. to get a job and escape crime in their native countries in Central America. Neither of these are eligible cases for asylum.
An organizer with the migrant caravan even went so far as to call the group of thousands of Central Americans a "mass exodus" out of the region to the U.S., suggesting that this is not a humanitarian crisis, but rather an economic migration.
President Trump is expected to announce an executive order this week that will halt the flow of the caravan into the U.S. on grounds of national security.
Breitbart Texas reported that the migrant caravan stormed through Mexico a couple of weeks ago, tearing down a border barrier in the process as they crossed from Guatemala to Mexico. A second group of about 250 migrants from El Salvador are expected to follow the current caravan and head to the U.S.-Mexico border next week.
Less than six months ago, a similar migrant caravan was allowed to cross into the U.S. with weak asylum claims despite threats from President Trump to close down the border. Many migrants from that caravan are now illegal aliens living in the U.S. as they await their asylum hearings.
John Binder is a reporter for Breitbart News. Follow him on Twitter at
@JxhnBinder
.
This Illegal Alien and Her Buggy Full of Babies Will Cost US Taxpayers Over Half a Million Dollars By Time They Graduate (If They Graduate)
This woman and her four babies will cost US taxpayers over $32,000 a year but probably more.

By the time these four babies reach 18 and graduate from high school (if they graduate) they will have cost US taxpayers over half a million dollars.
OR RUNAWAY ILLEGITIMACY paid for

VIVA LA RAZA SUPREMACY?


"Through love of having children, we
are going to take over."
Runaway illegitimacy is creating a new U.S. underclass.
Unless the life chances of children raised by single mothers suddenly improve, the explosive growth of the U.S. Hispanic population over the next couple of decades does not bode well for American social stability. Hispanic immigrants bring near–Third World levels of fertility to America, coupled with what were once thought to be First World levels of illegitimacy.
(In fact, family breakdown is higher in many Hispanic countries than here.) Nearly half of the children born to Hispanic mothers in the U.S. are born out of wedlock, a proportion that has been increasing rapidly with no signs of slowing down. Given what psychologists and sociologists now know about the much higher likelihood of social pathology among those who grow up in single-mother households, the Hispanic baby boom is certain to produce more juvenile delinquents, more school failure, more welfare use, and more teen pregnancy in the future.
The government social-services sector has already latched onto this new client base; as the Hispanic population expands, so will the demands for a larger welfare state. Since conservative open-borders advocates have yet to acknowledge the facts of Hispanic family breakdown, there is no way to know what their solution to it is. But they had better come up with one quickly, because the problem is here—and growing.
The dimensions of the Hispanic baby boom are startling. The Hispanic birthrate is twice as high as that of the rest of the American population.
That high fertility rate—even more than unbounded levels of immigration—will fuel the rapid Hispanic population boom in the coming decades. By 2050, the Latino population will have tripled, the Census Bureau projects.
One in four Americans will be Hispanic by mid-century, twice the current ratio. In states such as California and Texas, Hispanics will be in the clear majority.
Nationally, whites will drop from near 70 percent of the total population in 2000 to just half by 2050. Hispanics will account for 46 percent of the nation's added population over the next two decades, the Pew Hispanic Center reports.
But it's the fertility surge among unwed Hispanics that should worry policymakers. Hispanic women have the highest unmarried birthrate in the country—over three times that of whites and Asians, and nearly one and a half times that of black women, according to the Centers for Disease Control
. Every 1,000 unmarried Hispanic women bore 92 children in 2003 (the latest year for which data exist), compared with 28 children for every 1,000 unmarried white women, 22 for every 1,000 unmarried Asian women, and 66 for every 1,000 unmarried black women.
Forty-five percent of all Hispanic births occur outside of marriage, compared with 24 percent of white births and 15 percent of Asian births. Only the percentage of black out-of-wedlock births—68 percent—exceeds the Hispanic rate. But the black population is not going to triple over the next few decades.
As if the unmarried Hispanic birthrate weren't worrisome enough, it is increasing faster than among other groups. It jumped 5 percent from 2002 to 2003, whereas the rate for other unmarried women remained flat. Couple the high and increasing illegitimacy rate of Hispanics with their higher overall fertility rate, and you have a recipe for unstoppable family breakdown.
The only bright news in this demographic disaster story concerns teen births. Overall teen childbearing in the U.S. declined for the 12th year in a row in 2003, having dropped by more than a third since 1991. Yet even here, Hispanics remain a cause for concern. The rate of childbirth for Mexican teenagers, who come from by far the largest and fastest-growing immigrant population, greatly outstrips every other group. The Mexican teen birthrate is 93 births per every 1,000 girls, compared with 27 births for every 1,000 white girls, 17 births for every 1,000 Asian girls, and 65 births for every 1,000 black girls. To put these numbers into international perspective, Japan's teen birthrate is 3.9, Italy's is 6.9, and France's is 10. Even though the outsize U.S. teen birthrate is dropping, it continues to inflict unnecessary costs on the country, to which Hispanics contribute disproportionately.
To grasp the reality behind those numbers, one need only talk to people working on the front lines of family breakdown. Social workers in Southern California, the national epicenter for illegal Hispanic immigrants and their progeny, are in despair over the epidemic of single parenting.
Not only has illegitimacy become perfectly acceptable, they say, but so has the resort to welfare and social services to cope with it.
Dr. Ana Sanchez delivers babies at St. Joseph's Hospital in the city of Orange, California, many of them to Hispanic teenagers. To her dismay, they view having a child at their age as normal. A recent patient just had her second baby at age 17; the baby's father is in jail. But what is "most alarming," Sanchez says, is that the "teens' parents view having babies outside of marriage as normal, too. A lot of the grandmothers are single as well; they never married, or they had successive partners. So the mom sends the message to her daughter that it's okay to have children out of wedlock."
Sanchez feels almost personally involved in the problem: "I'm Hispanic myself. I wish I could find out what the Asians are doing right." She guesses that Asian parents' passion for education inoculates their children against teen pregnancy and the underclass trap. "Hispanics are not picking that up like the Asian kids," she sighs.
Conservatives who support open borders are fond of invoking "Hispanic family values" as a benefit of unlimited Hispanic immigration. Marriage is clearly no longer one of those family values. But other kinds of traditional Hispanic values have survived—not all of them necessarily ideal in a modern economy, however. One of them is the importance of having children early and often. "It's considered almost a badge of honor for a young girl to have a baby," says Peggy Schulze of Chrysalis House, an adoption agency in Fresno. (Fresno has one of the highest teen pregnancy rates in California, typical of the state's heavily Hispanic farm districts.) It is almost impossible to persuade young single Hispanic mothers to give up their children for adoption, Schulze says. "The attitude is: 'How could you give away your baby?' I don't know how to break through."
The most powerful Hispanic family value—the tight-knit extended family—facilitates unwed child rearing. A single mother's relatives often step in to make up for the absence of the baby's father. I asked Mona, a 19-year-old parishioner at St. Joseph's Church in Santa Ana, California, if she knew any single mothers. She laughed: "There are so many I can't even name them." Two of her cousins, aged 25 and 19, have children without having husbands. The situation didn't seem to trouble this churchgoer too much. "They'll be strong enough to raise them. It's totally okay with us," she said. "We're very close; we're there to support them. They'll do just fine."
As Mona's family suggests, out-of-wedlock child rearing among Hispanics is by no means confined to the underclass. The St. Joseph's parishioners are precisely the churchgoing, blue-collar workers whom open-borders conservatives celebrate. Yet this community is as susceptible as any other to illegitimacy. Fifty-year-old Irma and her husband, Rafael, came legally from Mexico in the early 1970s. Rafael works in a meatpacking plant in Brea; they have raised five husky boys who attend church with them. Yet Irma's sister—a homemaker like herself, also married to a factory hand—is now the grandmother of two illegitimate children, one by each daughter. "I saw nothing in the way my sister and her husband raised her children to explain it," Irma says. "She gave them everything." One of the fathers of Irma's young nieces has four other children by a variety of different mothers. His construction wages are being garnished for child support, but he is otherwise not involved in raising his children.
The fathers of these illegitimate children are often problematic in even more troubling ways. Social workers report that the impregnators of younger Hispanic women are with some regularity their uncles, not necessarily seen as a bad thing by the mother's family. Alternatively, the father may be the boyfriend of the girl's mother, who then continues to stay with the grandmother
. Older men seek out young girls in the belief that a virgin cannot get pregnant during her first intercourse, and to avoid sexually transmitted diseases.
The tradition of starting families young and expand- ing them quickly can come into conflict with more modern American mores. Ron Storm, the director of the Hillview Acres foster-care home in Chino, tells of a 15-year-old girl who was taken away from the 21-year-old father of her child by a local child-welfare department. The boyfriend went to jail, charged with rape. But the girl's parents complained about the agency's interference, and eventually both the girl and her boyfriend ended up going back to Mexico, presumably to have more children. "At 15, as the Quinceañera tradition celebrates, you're considered ready for marriage," says Storm. Or at least for childbearing; the marriage part is disappearing.
But though older men continue to take advantage of younger women, the age gap between the mother and the father of an illegitimate child is quickly closing. Planned Parenthood of Orange and San Bernardino Counties tries to teach young fathers to take responsibility for their children. "We're seeing a lot more 13- and 14-year-old fathers," says Kathleen Collins, v.p. of health education. The day before we spoke, Scott Montoya, an Orange County sheriff's deputy, arrested two 14-year-old boys who were bragging about having sexual relations with a cafeteria worker from an Olive Garden restaurant. "It's now all about getting girls pregnant when you're age 15," he says. One 18-year-old in the Planned Parenthood fathers' program has two children by two different girls and is having sex with five others, says health worker Jason Warner. "A lot of [the adolescent sexual behavior] has to do with getting respect from one's peers," observes Warner.
Normally, the fathers, of whatever age, take off. "The father may already be married or in prison or doing drugs," says Amanda Gan, director of operations for Toby's House, a maternity home in Dana Point, California. Mona, the 19-year-old parishioner at St. Joseph's Church, says that the boys who impregnated her two cousins are "nowhere to be found." Her family knows them but doesn't know if they are working or in jail.
Two teen mothers at the Hillview Acres home represent the outer edge of Hispanic family dysfunction. Yet many aspects of their lives are typical. Though these teenagers' own mothers were unusually callous and irresponsible, the social milieu in which they were raised is not unusual.
Irene's round, full face makes her look younger than her 14 years, certainly too young to be a mother. But her own mother's boyfriend repeatedly forced sex on her, with the mother's acquiescence. The result was Irene's baby, Luz. Baby Luz has an uncle her own age, Irene's new 13-month-old brother. Like Irene, Irene's mother had her first child at 14, and produced five more over the next 16 years, all of whom went into foster care. Irene's father committed suicide before she was old enough to know him. The four fathers of her siblings are out of the picture, too: one of them, the father of her seven-year-old brother and five-year-old sister, was deported back to Mexico after he showed up drunk for a visit with his children, in violation of his probation conditions.
Irene is serene and articulate—remarkably so, considering that in her peripatetic early life in Orange County she went to school maybe twice a week. She likes to sing and to read books that are sad, she says, especially books by Dave Pelzer, a child-abuse victim who has published three best-selling memoirs about his childhood trauma. She says she will never get married: "I don't want another man in my life. I don't want that experience again."
Eighteen-year-old Jessica at least escaped rape, but her family experiences were bad enough. The large-limbed young woman, whose long hair is pulled back tightly from her heart-shaped face, grew up in the predominantly Hispanic farming community of Indio in the Coachella Valley. She started "partying hard" in fifth grade, she says—at around the same time that her mother, separated from her father, began using drugs and going clubbing. By the eighth grade, Jessica and her mother were drinking and smoking marijuana together. Jessica's family had known her boyfriend's family since she was four; when she had her first child by him—she was 14 and he was 21—her mother declared philosophically that she had always known that it would happen. "It was okay with her, so long as he continued to give her drugs."
Jessica originally got pregnant to try to clean up her life, she says. "I knew what I was doing was not okay, so having a baby was a way for me to stop doing what I was doing. In that sense, the baby was planned." She has not used drugs since her first pregnancy, though she occasionally drinks. After her daughter was born, she went to live with her boyfriend in a filthy trailer without plumbing; they scrounged food from dumpsters, despite the income from his illegal drug business. They planned to get married, but by the time she got pregnant again with a son, "We were having a lot of problems. We'd be holding hands, and he'd be looking at other girls. I didn't want him to touch me." Eventually, the county welfare agency removed her and put her in foster care with her two children.
Both Jessica and her caddish former boyfriend illustrate the evanescence of the celebrated Hispanic "family values." Her boyfriend's family could not be more traditional. Two years ago, Jessica went back to Mexico to celebrate her boyfriend's parents' 25th wedding anniversary and the renewal of their wedding vows. Jessica's own mother got married at 15 to her father, who was ten years her senior. Her father would not let his wife work; she was a "stay-at-home wife," Jessica says. But don't blame the move to the U.S. for the behavior of younger generations; the family crack-up is happening even faster in Latin America.
Jessica's mother may have been particularly negligent, but Jessica's experiences are not so radically different from those of her peers. "Everybody's having babies now," she says. "The Coachella Valley is filled with girls' pregnancies. Some girls live with their babies' dads; they consider them their husbands." These cohabiting relationships rarely last, however, and a new cohort of fatherless children goes out into the world.
Despite the strong family support, the prevalence of single parenting among Hispanics is producing the inevitable slide into the welfare system. "The girls aren't marrying the guys, so they are married to the state," Dr. Sanchez observes. Hispanics now dominate the federal Women, Infants, and Children free food program; Hispanic enrollment grew over 25 percent from 1996 to 2002, while black enrollment dropped 12 percent and white enrollment dropped 6.5 percent. Illegal immigrants can get WIC and other welfare programs for their American-born children. If Congress follows President Bush's urging and grants amnesty to most of the 11 million illegal aliens in the country today, expect the welfare rolls to skyrocket as the parents themselves become eligible.
Amy Braun works for Mary's Shelter, a home for young single mothers who are homeless or in crisis, in Orange County, California. It has become "culturally okay" for the Hispanic population to use the shelter and welfare system, Braun says. A case manager at a program for pregnant homeless women in the city of Orange observes the same acculturation to the social-services sector, with its grievance mongering and sense of victimhood. "I'll have women in my office on their fifth child, when the others have already been placed in foster care," says Anita Berry of Casa Teresa. "There's nothing shameful about having multiple children that you can't care for, and to be pregnant again, because then you can blame the system."
The consequences of family breakdown are now being passed down from one generation to the next, in an echo of the black underclass. "The problems are deeper and wider," says Berry. "Now you're getting the second generation of foster care and group home residents. The dysfunction is multigenerational."
The social-services complex has responded with barely concealed enthusiasm to this new flood of clients. As Hispanic social problems increase, so will the government sector that ministers to them. In July, a New York Times editorial, titled young latinas and a cry for help, pointed out the elevated high school dropout rates and birthrates among Hispanic girls. A quarter of all Latinas are mothers by the age of 20, reported the Times. With the usual melodrama that accompanies the pitch for more government services, the Times designated young Latinas as "endangered" in the same breath that it disclosed that they are one of the fastest-growing segments of the population. "The time to help is now," said the Times—by which it means ratcheting up the taxpayer-subsidized social-work industry.
In response to the editorial, Carmen Barroso, regional director of International Planned Parenthood Federation/Western Hemisphere Region, proclaimed in a letter to the editor the "urgent need for health care providers, educators and advocates to join the sexual and reproductive health movement to ensure the fundamental right to services for young Latinas."
Wherever these "fundamental rights" might come from, Barroso's call nevertheless seems quite superfluous, since there is no shortage of taxpayer-funded "services" for troubled Latinas—or Latinos. The schools in California's San Joaquin Valley have day care for their students' babies, reports Peggy Schulze of Chrysalis House. "The girls get whatever they need—welfare, medical care." Advocates for young unwed moms in New York's South Bronx are likewise agitating for more day-care centers in high schools there, reports El Diario/La Prensa. A bill now in Congress, the Latina Adolescent Suicide Prevention Act, aims to channel $10 million to "culturally competent" social agencies to improve the self-esteem of Latina girls and to provide "support services" to their families and friends if they contemplate suicide.
The trendy "case management" concept, in which individual "cases" become the focal point around which a solar system of social workers revolves, has even reached heavily Hispanic elementary and middle schools. "We have a coordinator, who brings in a collaboration of agencies to deal with the issues that don't allow a student to meet his academic goals, such as domestic violence or drugs," explains Sylvia Rentria, director of the Family Resource Center at Berendo Middle School in Los Angeles. "We can provide individual therapy." Rentria offers the same program at nearby Hoover Elementary School for up to 100 students.
This July, Rentria launched a new session of Berendo's Violence Intervention Program for parents of children who are showing signs of gang involvement and other antisocial behavior. Ghady M., 55 and a "madre soltera" (single mother), like most of the mothers in the program, has been called in because her 16-year-old son, Christian, has been throwing gang signs at school, cutting half his classes, and ending up in the counseling office every day. The illegal Guatemalan is separated from her partner, who was "muy malo," she says; he was probably responsible for her many missing teeth. (The detectives in the heavily Hispanic Rampart Division of the Los Angeles Police Department, which includes the Berendo school, spend inordinate amounts of time on domestic violence cases.) Though Ghady used to work in a factory on Broadway in downtown L.A.— often referred to as Little Mexico City—she now collects $580 in welfare payments and $270 in food stamps for her two American-born children.
Christian is a husky smart aleck in a big white T-shirt; his fashionably pomaded hair stands straight up. He goes to school but doesn't do homework, he grins; and though he is not in a gang, he says, he has friends who are. Keeping Ghady and Christian company at the Violence Intervention Program is Ghady's grandniece, Carrie, a lively ten-year-old. Carrie lives with her 26-year-old mother but does not know her father, who also sired her 12-year-old brother. Her five-year-old brother has a different father.
Yet for all these markers of social dysfunction, fatherless Hispanic families differ from the black underclass in one significant area: many of the mothers and the absent fathers work, even despite growing welfare use. The former boyfriend of Jessica, the 18-year-old mother at the Hillview Acres foster home, works in construction and moonlights on insulation jobs; whether he still deals drugs is unknown. Jessica is postponing joining her father in Texas until she finishes high school, because once she moves in with him, she will feel obligated to get a job to help the family finances. The mother of Hillview's 14-year-old Irene used to fix soda machines in Anaheim, California, though she got fired because she was lazy, Irene says. Now, under court compulsion, she works in a Lunchables factory in Santa Ana, a condition of getting her children back from foster care. The 18-year-old Lothario and father of two, whom Planned Parenthood's Jason Warner is trying to counsel, works at a pet store. The mother of Carrie, the vivacious ten-year-old sitting in on Berendo Middle School's Violence Intervention Program, makes pizza at a Papa John's pizza outlet.
How these two value systems—a lingering work ethic and underclass mating norms—will interact in the future is anyone's guess. Orange County sheriff's deputy Montoya says that the older Hispanic generation's work ethic is fast disappearing among the gangbanging youngsters whom he sees. "Now, it's all about fast money, drugs, and sex." It may be that the willingness to work will plummet along with marriage rates, leading to even greater social problems than are now rife among Hispanics. Or it may be that the two contrasting practices will remain on parallel tracks, creating a new kind of underclass: a culture that tolerates free-floating men who impregnate women and leave, like the vast majority of black men, yet who still labor in the noncriminal economy. The question is whether, if the disposition to work remains relatively strong, a working parent will inoculate his or her illegitimate children against the worst degradations that plague black ghettos.
From an intellectual standpoint, this is a fascinating social experiment, one that academicians are—predictably—not attuned to. But the consequences will be more than intellectual: they may severely strain the social fabric. Nevertheless, it is an experiment that we seem destined to see to its end. Tisha Roberts, a supervisor at an Orange County, California, institution that assists children in foster care, has given up hope that the illegitimacy rate will taper off. "It's going to continue to grow," she says, "until we can put birth control in the water."
The Fiscal Burden of Illegal Immigration on United States Taxpayers
---
Introduction
A continually growing population of illegal aliens, along with the federal government's ineffective efforts to secure our borders, present significant national security and public safety threats to the United States. They also have a severely negative impact on the nation's taxpayers at the local, state, and national levels. Illegal immigration costs Americans billions of dollars each year. Illegal aliens are net consumers of taxpayer-funded services and the limited taxes paid by some segments of the illegal alien population are, in no way, significant enough to offset the growing financial burdens imposed on U.S. taxpayers by massive numbers of uninvited guests. This study examines the fiscal impact of illegal aliens as reflected in both federal and state budgets.
The Number of Illegal Immigrants in the US
Estimating the fiscal burden of illegal immigration on the U.S. taxpayer depends on the size and characteristics of the illegal alien population. FAIR defines "illegal alien" as anyone who entered the United States without authorization and anyone who unlawfully remains once his/her authorization has expired. Unfortunately, the U.S. government has no central database containing information on the citizenship status of everyone lawfully present in the United States. The overall problem of estimating the illegal alien population is further complicated by the fact that the majority of available sources on immigration status rely on self-reported data. Given that illegal aliens have a motive to lie about their immigration status, in order to avoid discovery, the accuracy of these statistics is dubious, at best. All of the foregoing issues make it very difficult to assess the current illegal alien population of the United States.
However, FAIR now estimates that there are approximately 12.5 million illegal alien residents. This number uses FAIR's previous estimates but adjusts for suspected changes in levels of unlawful migration, based on information available from the Department of Homeland Security, data available from other federal and state government agencies, and other research studies completed by reliable think tanks, universities, and other research organizations.
The Cost of Illegal Immigration to the United States
At the federal, state, and local levels, taxpayers shell out approximately $134.9 billion to cover the costs incurred by the presence of more than 12.5 million illegal aliens, and about 4.2 million citizen children of illegal aliens. That amounts to a tax burden of approximately $8,075 per illegal alien family member and a total of $115,894,597,664. The total cost of illegal immigration to U.S. taxpayers is both staggering and crippling. In 2013, FAIR estimated the total cost to be approximately $113 billion. So, in under four years, the cost has risen nearly $3 billion. This is a disturbing and unsustainable trend. The sections below will break down and further explain these numbers at the federal, state, and local levels.
Total Governmental Expenditures on Illegal Aliens
Total Tax Contributions by Illegal Aliens
Total Economic Impact of Illegal Immigration
Federal
The Federal government spends a net amount of $45.8 billion on illegal aliens and their U.S.-born children. This amount includes expenditures for public education, medical care, justice enforcement initiatives, welfare programs and other miscellaneous costs. It also factors in the meager amount illegal aliens pay to the federal government in income, social security, Medicare and excise taxes.
FEDERAL SPENDING
The approximately $46 billion in federal expenditures attributable to illegal aliens is staggering. Assuming an illegal alien population of approximately 12.5 million illegal aliens and 4.2 million U.S.-born children of illegal aliens, that amounts to roughly $2,746 per illegal alien, per year. For the sake of comparison, the average American college student receives only $4,800 in federal student loans each year.
FAIR maintains that every concerned American citizen should be asking our government why, in a time of increasing costs and shrinking resources, is it spending such large amounts of money on individuals who have no right, nor authorization, to be in the United States? This is an especially important question in view of the fact that the illegal alien beneficiaries of American taxpayer largess offset very little of the enormous costs of their presence by the payment of taxes. Meanwhile, average Americans pay approximately 30% of their income in taxes.
"Through love of having children we're going to take over."
Augustin Cebada, Information Minister of Brown Berets,
militant para-military soldiers of Aztlan shouting at U.S. citizens at an Independence Day rally in Los Angeles, 7/4/96
Anchor Baby Population in U.S. Exceeds One Year of American Births JOHN BINDER
La Voz de Aztlan has produced a video in honor of the millions of babies that have been born as US citizens to Mexican undocumented parents. These babies are destined to transform America. The nativist CNN reporter Lou Dobbs estimates that there are over 200,000 "Anchor Babies" born every year whereas George Putnam, a radio reporter, says the figure is closer to 300,000. La Voz de Aztlan believes that the number is approximately 500,000 "Anchor Babies" born every year.
The video below depicts the many faces of the "Anchor Baby Generation". The video includes a fascinating segment showing a group of elementary school children in Santa Ana, California confronting the Minutemen vigilantes. The video ends with a now famous statement by Professor Jose Angel Gutierrez of the University of Texas at Austin.
CHRISTIAN SCIENCE MONITOR
What will America stand for in 2050?
The US should think long and hard about the high number of Latino immigrants.
It's not just a short-run issue of immigrants competing with citizens for jobs as unemployment approaches 10 percent or the number of uninsured straining the quality of healthcare. Heavy immigration from Latin America threatens our cohesiveness as a nation.
MEXICO WILL DOUBLE U.S. POPULATION
At the current rate of invasion (mostly through Mexico, but also through Canada) the United States will be completely over run with illegal aliens by the year 2025. I'm not talking about legal immigrants who follow US law to become citizens. In less than 20 years, if we do not stop the invasion, ILLEGAL aliens and their offspring will be the dominant population in the United States.
FINISHING AMERICA OFF: THE FOREIGN INVASION FOR "CHEAP" LABOR
Open the floodgates of our welfare state to the uneducated, impoverished, and unskilled masses of the world and in a generation or three America, as we know it, will be gone. JOHN BINDER
But many less-skilled migrants play their largest role by simply shifting small slices of wealth from person to person, for example, by competing up rents in their neighborhood or by competing down wages in their workplace. The crudest examples can be seen in agriculture.
Overall, the Washington-imposed economic policy of economic growth via immigration shifts wealth from young people towards older people by
flooding
the market with
cheap white-collar and blue-collar foreign labor
.
"Critics argue that giving amnesty to 12 to 30 million illegal aliens in the U.S. would have an immediate negative impact on America's working and middle class — specifically black Americans and the white working class — who would be in direct competition for blue-collar jobs with the largely low-skilled illegal alien population." JOHN BINDER
The U.S.-born baby is, of course, a U.S. citizen, whose illegal alien parents are eligible to receive, on the baby's behalf, food stamps, nutrition from the Women, Infants, and Children (WIC) program, and numerous tax benefits, including the EITC.
Most importantly, the newborn is deportation insurance for its parents. Illegal aliens facing deportation can argue that to deport one or more parents would create an "extreme hardship" for the new baby. If an immigration officer agrees, we've added a new adult to the nation's population. At age 21 the former birthright citizen baby can formally apply for green cards for parents and siblings, and they, in turn, can start their own immigration chains.
The surge in Mexican breeders in America's open borders.
MEXICO'S BIGGEST EXPORTS ARE: DRUGS, POVERTY, CRIMINALS and ANCHOR BABY BREEDERS FOR 18 YEARS OF GRINGO-PAID WELFARE.
"Through love of having children, we are
AUGUSTIN CEBADA, BROWN BERETS,
THE LA RAZA FASCIST PARTY
PREGNANT WOMEN JUMP AMERICAN
BORDERS FOR THE LA RAZA WELFARE
PROGRAM TO ANCHOR AND EXPAND
MEXICO'S WELFARE STATE IN U.S.
2003: Mexican population in U.S. reported to have increased 10 percent in just three years, mostly as a result of illegal immigration. Mexicans encouraged to breed at all costs. "A baby a year" Mexican pride slogan emerges …EVERY ANCHOR BABY GETS MORE WELFARE FOR 18 YEARS. THAT CHILD IS ALSO STILL A CITIZEN OF MEXICO!
The birthrate among illegals is more than double that of legal US residents. The Pew Hispanic Center calculates that within seven years, the children of immigrants, legal and illegal, will account for one in nine school-age children in the US.
Heritage: Amnestied Illegals Will Get $9.4T in Benefits; Increase Debt $6.3T'
…. LA RAZA already gets all our jobs!
"THE AMNESTY ALONE WILL BE THE
WELFARE SYSTEM IN THE LAST 25
"The amnesty alone will be the largest expansion of the welfare system in the last 25 years," says Robert Rector, a senior analyst at the Heritage Foundation, and a witness at a House Judiciary Committee field hearing in San Diego Aug. 2. "Welfare costs will begin to hit their peak around 2021, because there are delays in citizenship. The very narrow time horizon [the CBO is] using is misleading," he adds. "If even a small fraction of those who come into the country stay and get on Medicaid, you're looking at costs of $20 billion or $30 billion per year."
THE DEMOCRAT PARTY HANDS THEIR LA RAZA PARTY BASE OF HEAVY BREEDING ILLEGALS MUCHO WELFARE!
IMMIGRATION BILL TO BRING IN AT LEAST 33 MILLION PEOPLE IN ONE DECADE
NewsWithViews.com
If the S744 amnesty bill passes, we can expect 33 million added immigrants within 10 years. That's for starters. When you add their progeny, chain migration and our own population momentum of one million annually, we face the most profound explosion of humanity within our borders ever in the history of humanity.
It's the equivalent of adding one additional New York City, Los Angeles, Houston, Philadelphia, Phoenix, San Antonio, San Diego, Dallas, San Jose, Jacksonville, Indianapolis, Austin, San Francisco, Columbus, Fort Worth, Charlotte, Detroit, El Paso, Memphis and Boston. If the bill passed, it would be the same as adding ALL of the Top 20 cities in the United States in a short 10 years. That of course does not include additional population growth driven by birth rates.
"The pending Senate immigration bill would bring a minimum of 33 million people into the country during its first decade of operation," said Roy Beck, director of www.numbersusa.org. "By 2024, the inflow would include an estimated 9.2 million illegal immigrants, plus 2.5 million illegals who arrived as children — dubbed 'Dreamers' — plus roughly 3.4 million company-sponsored employees with university degrees, said the unreleased analysis.
"The majority of the inflow, or roughly 17 million people, would consist of family members of illegals, recent immigrants and of company-sponsored workers. The estimate is likely the first of several that will be produced by advocates as the Senate grapples with the immigration bill developed by the "Gang of Eight" senators.
"The 844-page bill was released last week, and was scheduled for debate and amendment in the Senate's judiciary committee starting April 25. However, the amendment process was held up for a week by Republican Senators. Advocates for the bill have yet to release any estimates of the future inflow."
"Nobody has a number that is based on the bill right now that's accurate," Lynn Tramonte, deputy director of the pro-immigration America's Voice Education Fund, told the Christian Science Monitor in an April 25 article. "It'll take a bit more [analysis] to get a specific number about how things will change."
"An April 20-22 Fox News poll of 1,009 registered voters showed that 55 percent of respondents want a reduction in the current number of legal immigrants," said Beck. "Currently, the country accepts 1 million immigrants and 700,000 temporary company-sponsored workers each year. The bill would boost that to roughly 3 million immigrants and 1 million company-sponsored workers per year. Forty-five percent of non-whites, 53 percent of independents and 62 percent of people without college degrees, favor a reduction in legal immigrants. Only 18 percent of Republicans and 29 percent of independents favor an increase in legal immigration, the Fox poll reported."
The current population of the United States is 316 million. That estimate includes 40 million immigrants, both legal and illegal. Opponents of the immigration bill are already highlighting the potentially large inflow.
"I believe the interest that needs to be protected is the national interest of the United States, and that includes existing workers today, workers whose wages have been pulled down, without doubt, by a large flow of low-wage labor into the country," Alabama Republican Sen. Jeff Sessions said during one of three hearings on the pending bill. "This bill would continue that in a way that's very disturbing to me."
Beck said, "Estimates of a 33 million inflow are conservative … [because they do] not attempt to project increases in these categories that are certain to occur in future years," once many of the new immigrants seek green cards for their overseas relatives. Also, some categories of immigrants are uncapped, and the analysis does not attempt to project increases in these [family unification] categories that are certain to occur in future years.
"The pending bill allows illegal immigrants to bring their overseas spouses and children into the country. If that provision is implemented, it could more than double the [illegal immigrant inflow] number shown in the chart, bringing the total inflow to 40 million by 2024."
The analysis shows an inflow of roughly 3.4 million university trained immigrants. That estimate does not include graduates who get green cards under the family unification route, or the uncapped inflow of doctors and PhD-carrying scientists. Roughly 1.8 million Americans graduate from college each year, including 300,000 with degrees in science and engineering. Population-growth forecasts will also contribute to the emerging fight over the bill's cost, because the award of a green card — or the right to live in the United States — confers access to some government benefits.
"It is important to note here that each of the individuals represented in this chart becomes eligible for Obamacare on the day a green card is issued," said Beck. "Most of those on the chart will then have to wait five years before they become eligible for all US welfare benefits … [but some] will actually become eligible for welfare immediately upon being issued a green card." Enrollment in Obamacare is expected to spike the cost of the immigration bill, partly because federal subsidies are used to offset the annual Obamacare cost of $20,000 for a family of four. All totaled, The Heritage Foundation estimate the total cost of this amnesty from a low of $3 trillion to as high as $5 trillion.
Join me, Frosty Wooldridge, with Dave Chaffin, host of the Morning Zone at 650 AM, www.KGAB.com, Cheyenne, Wyoming every Monday 7:00 a.m. to 8:00 a.m., as we discuss my latest commentaries on www.NewsWithViews.com about issues facing America. You may stream the show on your computer. You may call in at: 1-888-503-6500.
NEWS & VIEWS This Just In
Stepfather of '9-Year-Old' Girl Who Gave
Birth Admits to Fathering Baby
Posted by Lindsay Mannering
The 9-year-old girl who allegedly gave birth last month in a Mexican hospital may not be as young as originally reported. After authorities dug a little deeper, it's now believed Dafne is at least 12 or 13, or even as "old" as 15, says one doctor.
It was Dafne's mother who first claimed her daughter was impregnated when she was 8-years-old by her 17-year-old boyfriend, but it's becoming more and more clear that may not be the case. The mother's husband, Dafne's 44-year-old stepfather, has admitted to having sexwith the girl on a couple of occasions and has revealed he's the father of her child.
He's now in police custody and will be charged with child molestation for the alleged rape of his step-daughter.
The circumstances under which Dafne's birth certificate were obtained are shady -- her mother filed for one in 2011, claiming Dafne was born in 2003, making her 9. The validity of that claim is still under investigation.
Dafne's story continues to get sadder, though, believe it or not. Neighbors told MailOnline that Dafne's mother may have lied about her daughter's age for two reasons: One, because Dafne was never in school, and her mother wanted to enroll her daughter for the first time -- a feat more likely accomplished if her daughter was 8 or 9.
Or two, because Dafne's mother, an alleged prostitute, wanted to sell her daughter as a 9-year-old in the sex trade and was motivated to shave off a few years since, apparently, there's a bigger prize for girls younger than 12 or 13-years-old.
Anyone else sick to their stomach right now?
To say Dafne's story is heartbreaking or gut-wrenching is an understatement. Even though she may not have been 8 when she was impregnated, is 12 or 13 any better? Doctor's still deemed her body too young to handle a vaginal birth and had to perform a C-section. This girl was still, in fact, a child, no matter how you calculate it.
It's hard to find a silver lining to this story, but I suppose the fact that the stepfather is behind bars is a small one, and the fact that international light has been shed on Dafne's story is perhaps a slightly bigger one.
Because the more people invested in learning more about what happened and how to consequently keep this child who had a child safe from further abuse and danger, the better.
Do you think it makes a difference whether she's 9 or 12?
WHO ARE AMERICA'S OCCUPIERS?
THE LA RAZA "THE RACE" INVADERS:
AMERICA vs MEXICO: CLASHING
Anyone understand why Mexicans fail at a successful culture? Ever wonder why millions of them invade the United States in search of a better life? Have you noticed that once they arrive, they create the same kind of 'society' in the United States? Unconsciously, they create the same conditions they left behind. You can take the boy out of the ghetto, but you can't take the ghetto out of the boy. For example, in Denver in December, illegal alien Navi dragged his girlfriend to death behind his car. Illegal alien Cruz shot his girlfriend dead in the back because she wouldn't reconcile with him. Illegal alien Ruizz ran over and killed Justin Goodman, but Ruizz drove away from the scene leaving Goodman to die. In Greeley, Colorado they suffered 270 hit and run accidents in one year. Over 80 percent of hit and run wrecks in Denver involve illegal aliens. Denver boasts the drug smuggling capital of the West as well as the people smuggling mecca of the country. Illegals cheat, distribute drugs, lie, forge documents, steal and kill as if it's a normal way of life. For them, it is. Mexico's civilization stands diametrically opposed to America's culture. Both countries manifest different ways of thinking and operating. With George Bush's push to create the "Security and Prosperity Partnership of North America" by dissolving our borders with Mexico, he places all Americans at risk. Would you become friends with neighbors who throw their trash on city streets and parks, create ghettoes wherever they enclave their numbers, promote corruption, deal in violence, encourage drug use, manifest poverty, endorse exism and downgrade education? America's culture and Mexico 's culture remain diametrically opposed to one another. America's fought Mexico and won. Today, Mexico invades America with sheer numbers of poor. However, cultures rarely change and neither do their people. As you can see from the ten points below, everything about Mexico degrades everything about America. For further information, you may visit www.immigrationshumancost.org and www.limitstogrowth.org where you will find a plethora of information by a brilliant journalist Brenda Walker. Her original report may be viewed on www.Vdare.com on January 17, 2007 under the title: "Ten Reasons Why America Should Not Marry Mexico." I suggest you read more of her work. She exemplifies incisive, sobering and shocking information. These ten point stem directly from Brenda Walker's work. Let's examine why America must not entangle itself by merging with Mexico. The legal age of sexual consent in Mexico is 12 years old. Sex with children at this age and younger is socially acceptable in Mexico. For example: A Mexican Lopez-Mendez pleaded guilty to sexual assault on a 10 year old girl in West Virginia. His excuse: sex with young girls was common with his people. He said, "I was unaware that it was a crime." Mexicans remain the most sexist males next to Islamic men. Both boast the most misogynous cultures in the world. Rape and other violence toward women are not treated as serious crimes. In Mexico, a custom known as "rapto" whereby men kidnap women for sex is regarded as harmless amusement. Mexican society regards women little more than objects. Crime and violence remain mainstays of Mexican culture. Drug cartels and the Mexican army coordinate their massive efforts to promote drug distribution not only in Mexico but into the USA. Mexico City suffers the second highest crime rate in Latin America. Kidnapping remains second only to Columbia for ransom money. Beheadings, killings and gun fire erupt at drug distribution points on the US/Mexican border. Spontaneous hanging continues in Mexico. A mob beat up and burned to death two policemen on live television in 2004 in Mexico City. As Brenda Walker wrote, "Mexicans do not have the same belief as Americans that the law is central to the equitable functioning of a complex nation. It's the Third World." Mexicans abhor education. In their country, illiteracy dominates. As they arrive in our country, only 9.6 percent of fourth generation Mexicans earn a high school diploma. Mexico does not promote educational values. This makes them the least educated of any Americans or immigrants. The rate of illiteracy in Mexico stands at 63 percent. Drunk driving remains acceptable in Mexico. As it stands, 44,000 Americans die on our nation's highways annually. Half that number stems from drunken drivers. U.S. Congressman Steve King reports that 13 American suffer death from drunken driving Mexicans each day. Alcoholism runs rampant in Mexican culture. They suffer the most DUI arrests. Mexicans set the benchmark for animal cruelty. Mexicans love dog fighting, bullfighting, cock fighting and horse tripping. Those blood sports play in every arena and backyard in Mexico. They expand into America as more Mexicans arrive. They also engage in "steer-tailing" where the rider yanks the animal's tail in an attempt to flip it to the ground. In horse tripping, they run the animals at full gallop around a ring, then, use ropes to trip them at full speed. It's a death sentence as the horses break their legs, teeth, shoulders and necks—all to the delight of the cheering Mexican fans.
As La Raza confirms,
Mexicans maintain the most racist society in
North America . "For the Hispanic race,
everything; for anyone outside the race,
nothing!" Guadalupe Loaeza, a journalist,
said, "Mexican society is fundamentally racist
and classist.
The color of your skin is a key that either opens or shuts doors. The lighter your skin, the more doors open to you." Corruption becomes a mechanism by which Mexico operates. Corruption remains systemic. The Washington Post wrote, "Mexico is considered one of the most corrupt countries in the hemisphere." They feature drug cartels, sex slave trade, people smuggling, car theft cartels, real estate scam cartels, murder for money and, you must bribe your mail man to get your mail. Last, but not least, Mexicans are Marxists. They promote a one party government. As with any kind of Marxism, brutal totalitarian rule keeps the rich in power and everyone else subservient. As we allow millions of Mexicans to colonize our country, we can't help but be caught up in these ten deadly cultural traits of Mexicans.
With over
12
million Mexicans here today, the predictions
grow to as many as 20 even 40 million
Mexicans in a few decades as they come here
for a better life.
The fact remains, as they come to America for a better life, they make our lives a living hell.