12M Americans Out of Workforce as DHS Approves 30K More Foreign Workers
Nearly 12 million Americans remain out of the United States labor force as the Department of Homeland Security (DHS) approved 30,000 more foreign workers businesses can bring to the country to take blue-collar U.S. jobs.
As Breitbart News reported, Acting DHS Secretary Kevin McAleenan said this week that he would approve an additional 30,000 H-2B foreign visa workers to be brought to the U.S. by businesses to take blue-collar, non-agricultural jobs. This comes as former DHS Secretary Kirstjen Nielsen approved an additional 30,000 H-2B foreign workers in March.

Every year, U.S. companies are allowed to import 66,000 low-skilled H-2B foreign workers to take blue-collar, non-agricultural jobs. For some time, the H-2B visa program has been used by businesses to bring in cheaper foreign workers and has contributed to blue-collar Americans having their wages undercut.

Meanwhile, the latest Bureau of Labor Statistics (BLS) data notes that there are nearly 12 million Americans who are either unemployed, underemployed, or out of the workforce but wanting a job.

About 5.8 million Americans remain unemployed. Those most likely to compete against cheaper foreign workers in blue-collar and entry-level industries — U.S. teenagers and black Americans — continue to have significantly higher unemployment rates than other demographic groups.

For example, of the 5.8 million Americans unemployed, about 754,000 are teenagers with an unemployment rate of 13 percent. Likewise, there are 388,600 black Americans who are unemployed, for an unemployment rate of 6.7 percent which is more than double the white American unemployment rate and more than triple the Asian American unemployment rate.

About 2.7 million of the unemployed population either lost their job or completed a temporary job, while 1.2 million, or 21 percent of the total unemployed, said they have been unemployed for at least 27 weeks.

Similarly, 4.7 million Americans are underemployed, that is U.S. part-time workers who want full-time jobs but are unable to find them. Another 1.4 million Americans are marginally attached to the labor force. These are U.S. workers who are ready and willing to work if they could fine a full-time job.

Of those 1.4 million Americans who are marginally attached to the labor force, 454,000 say they are "discouraged" by their job prospects and do not believe there is work for them in the current labor market.

While millions remain on the sidelines of the workforce, the U.S. Chamber of Commerce has suggested that the U.S. is "out of people" in their efforts to lobby Washington, D.C. lawmakers to support an expansion of the country's legal immigration system.

For weeks, landscaping companies and lawn care businesses complained to DHS officials that there are not enough workers to fill blue collar and entry-level jobs, Breitbart News has been told. Experts, though, have warned that wage hikes that have benefited blue-collar and working-class Americans will not continue should more foreign workers saturate the labor market, decreasing the price of labor while subjecting Americans to increased competition for jobs.

John Binder is a reporter for Breitbart News. Follow him on Twitter at @JxhnBinder.
Is the migration tide starting to turn? Now even the 9th Circuit is supporting Trump
With five million people just from Latin America alone making plans to enter the U.S. illegally this year, (including about a third of Guatemala), it rather looks like there's a Europe-style migrant tide ahead for us.
Maybe that's why things seem to suddenly be braking from at least a few directions. Here's an unexpected story from the Washington Examiner:
The U.S. 9th Circuit Court of Appeals handed President Trump's administration a win on Tuesday after it ruled the government can send asylum-seekers back to Mexico to wait for a court to adjudicate their petitions.

The judges approved the policy in part due to Mexico's commitment to ensure the safety of the asylum-seekers. "We are hesitant to disturb this compromise amid ongoing diplomatic negotiations between the Untied States and Mexico because ... the preliminary injunction (at least in its present form) is unlikely to be sustained on appeal."
Coming from that far-left court, wow.
It follows three other recent stories that suggest a turning tide for illegal migration:
One, the caravans are not filling up from Central America, based on a Mexican police raid of migrants who busted though Mexico's southern borders illegally. The risk versus reward ratio got just a little more balanced with that act and so a certain percentage of would-be migrants are now reconsidering their options: either choosing to stay home, selecting another destination, or deciding to come here legally instead, in which case they would be quite welcome. Word has gotten out that caravaning is not the easy way to the U.S. its leftist organizers promise. The empty caravans signal they don't control the show anymore.
Two, Fox News and others have been reporting some very negative news highlighting the reality of illegal immigration - such as a recent story on migrants renting and recycling children in order to get unfettered access into and around the U.S. without detention. Surely that highlighting of organized cartel profiteering and human trafficking has got to give all sides in this issue some cause for consideration. Is getting into the U.S. worth the act of renting children? Should U.S. asylum law really be in the business of incentivizing this kind of human trafficking? The narrative is shifting and now maybe there really is a cause for considering what's going on at the border an actual crisis.
Third, now the New York Times has come out to admit that there is a crisis on the border. The newspaper of record turned heads the other day by putting out an editorial to argue it favors more government funding for more more comfortable beds for detained migrants, which is where they see the best point for stopping the crisis may be. (The rest of us think maybe a wall involving no detention at all would be more humane, or better still, a change in U.S. asylum laws so that these laws could be utilized by those who really need them instead of everyone facing clogged courts filled with unserious cases just playing for time). The Times wouldn't have written that editorial if they didn't think their readers were thinking this, too. Editorial pages are there to please their readers. Again, more evidence of a shifting tide.
Now the far-left Ninth Circuit has moved against form, actually handing the Trump administration a victory, complete with a little snipe that courts above them will likely do their work for them. Really? This is passing the buck, and we have never seen this sort of thing out of these people.
Slowly, surely, through a variety of signals, it seems a tide is starting to turn.
Survey: One Million
Guatemalans Say 'Very Likely'
to Migrate to U.S.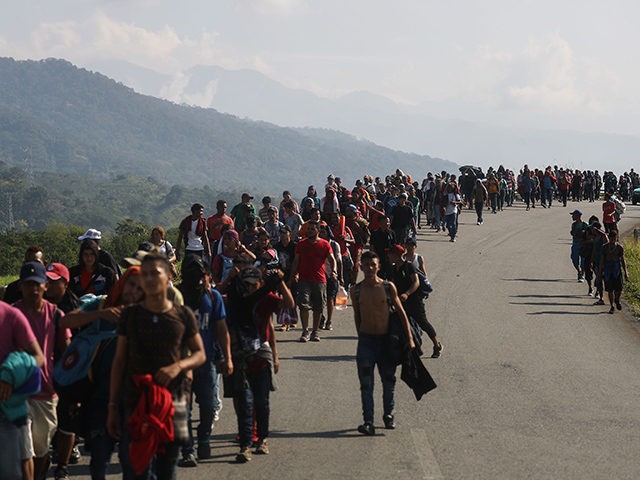 Roughly one million Guatemalans say they are "very likely" to migrate to the United States in the next three years, according to a survey posted by Guatemala's Association for Research and Social Studies.
Ten percent of Guatemalans told the survey team they strongly wish to migrate in the next three years. The nation's fast-growing population is just above 17 million, but one-third are aged below 15. This data suggests that roughly 1.2 million Guatemalans wish to migrate during the next three years, and of those, 1 million prefer to migrate to blue-collar jobs in the United States.
The survey's prediction of more mass migration to the United States comes as Democrats portray the Central American economic migration as a humanitarian emergency for Americans to solve.
But the new poll shows that Guatemalans are less concerned about crime than during a 2017 survey. The survey showed that 45.5 percent of Guatemalans believe that insecurity is still a primary problem, down from 57 percent in 2017. Also, the percentage of Guatemalans hoping to migrate dropped from 27 percent in 2017, down to 25 percent in 2019.
The Democrats' portrayal of the economic migration as a humanitarian problem pressures Democrats to oppose President Donald Trump's effort to reform the various asylum and border loopholes which drive down wages in Americans' blue-collar workplaces.
The loopholes force border officers to release nearly all economic migrants they catch at the border. Roughly 80 percent of Democrat voters tell pollsters they want those rules preserved or further loosened.
The Democrats' desire to treat Guatemalans' economic migration as Americans' humanitarian obligation is fueled by many progressives' growing moral fervor over apparent racism. Many upper-income progressives embrace the claim that racism is the root cause of the United State's economic and racial disparities and is the primary motivator in the nation's immigration policies. This moral fervor began around 2012, and is dubbed "The Great Awokening."
However, this racial perspective encourages cheap-labor migration into the nation's blue-collar workplaces. Unsurprisingly, it is backed by the many business groups which want a constant inflow of low-wage migrants to replace Americans who quit low-wage jobs. The migration also helps to prevent a labor shortage that would require investors to compete for American workers by offering higher salaries or wages.
A tweet from LAPOP sought to correct press reports about the survey, saying "Only 25.3% of Guatemalans intend to emigrate. Of this 25.3%, only 39.2% believe that it is very likely to do so in the next 3 years."
Many Guatemalans have already migrated into the U.S. labor force. Almost 58 percent of Guatemalan adults already have friends or relatives in the United States, the survey says.
Each year, roughly four million young Americans join the workforce after graduating from high school or university.
But the federal government then imports about 1.1 million legal immigrants and refreshes a resident population of roughly 1.5 million white-collar visa workers — including roughly 1 million H-1B workers — and approximately 500,000 blue-collar visa workers.
The government also prints out more than 1 million work permits for foreigners, tolerates about eight million illegal workers, and does not punish companies for employing the hundreds of thousands of illegal migrants who sneak across the border or overstay their legal visas.
This policy of inflating the labor supply boosts economic growth for investors because it ensures that employers do not have to compete for American workers by offering higher wages and better working conditions.
This policy of flooding the market with cheap foreign white-collar graduates and blue-collar labor shifts enormous wealth from young employees towards older investors even as it also widens wealth gaps, reduces high-tech investment, increases state and local tax burdens, and hurts children's schools and college educations. It also pushes Americans away from high-tech careers and sidelines millions of marginalized Americans, including many who are now struggling with fentanyl addictions. The labor policy also moves business investment from the heartland to the coasts, explodesrents, shrivels real estate values in the Midwest and rewards investors for creating low tech, labor-intensive workplaces.