"Our entire crony capitalist system, Democrat and Republican alike, has become a kleptocracy approaching par with third-world hell-holes. This is the way a great country is raided by its elite." ----

Karen McQuillan
AMERICAN
THINKER

"Mueller and the anti-Trump camp within the ruling elite know very well that the billionaire New York real estate and gambling speculator-turned president is mired in criminal activity, which is certain to be reflected in the material seized from Cohen. They have Trump by the throat, and Trump knows it."
Trump's ex-lawyer testifies before Congress
Michael Cohen hearing: A criminal administration, a reactionary opposition
Wednesday's seven-hour nationally televised hearing, in which former Trump lawyer and "fixer" Michael Cohen appeared before the House Oversight Committee, was a degrading demonstration of the reactionary character of both the pro-Trump and anti-Trump factions within the ruling class and the state.
While the members of the Republican minority in the House abased themselves as stooges for Trump, the majority Democrats wallowed in scandal-mongering, primarily over sex, in order to evade any struggle against Trump's authoritarian and militarist policies.
The hearing clearly showed through the testimony of Cohen, who worked for 10 years as Trump's legal enforcer, that Donald Trump conducts his business enterprise, the Trump Organization, like a Mafia gangster, a revelation that should surprise no one.
Cohen himself acknowledged that he had threatened people "hundreds" of times on Trump's behalf. His targets included newspaper reporters, rival business figures, people to whom Trump owed money, politicians and many others. One of his principal activities was hushing up scandals involving Trump's business and private life, in many cases by buying off those who might publicly complain or threatening to bankrupt them with punitive lawsuits.
Cohen played a key role as the bag man in Trump's efforts to block attempts by his political opponents to use sex scandals to demolish his election campaign. He brokered the efforts of the National Enquirer tabloid, owned by Trump crony David Pecker, to purchase for $120,000, and then suppress, the tell-all account of one Trump paramour, former Playboy playmate Karen McDougal, a common practice among the super-rich known as "catch and kill."
In the final weeks of the 2016 campaign, Cohen paid $130,000 to porn actress Stormy Daniels to keep quiet about her past relationship with Trump. Daniels' account would have added to the uproar already created over the "Access Hollywood" tape, which recorded Trump boasting of his ability to assault women with impunity because of his celebrity status and wealth.
The payoff to Daniels was a violation of federal campaign finance laws, according to the plea bargain Cohen entered into last year. He pled guilty to a half dozen other tax and bank fraud charges as well, most involving his non-Trump business activities as the owner of a failed Manhattan taxicab business. He also pled guilty to lying to Congress. He is to begin serving a three-year prison term in May.
Cohen agreed to become a cooperating prosecution witness for the Trump-Russia investigation headed by Special Counsel Robert Mueller and for the US attorney for the Southern District of New York, whose office is investigating myriad financial and tax charges against the Trump Organization.
The campaign finance charge was the most important, since Cohen alleged he was carrying out the instructions of Trump personally to buy Daniels' silence. Much of his testimony Wednesday concerned his role in the hush-money scheme, and Cohen presented copies of personal checks from Trump, written after he had taken office as president, as well as checks from the Trump Organization, which claimed the hush money as a business expense, calling it a retainer for Cohen's legal services.
Even more ominous, from the standpoint of Trump's legal position, was Cohen's declaration that he remains in "constant contact" with the Southern District of New York, which is investigating other, undisclosed criminal allegations against the Trump Organization, i.e., against the president, still the principal owner, and his two sons, Donald Jr. and Eric, who manage the business.
Unlike the Russia investigation, which is based on completely bogus allegations that Trump is a "Siberian candidate" controlled and manipulated by Russian President Putin, the investigation into Trump's business affairs has evidence galore. As the
World Socialist Web Site
observed
last year, after the extraordinary FBI raid on Cohen's Manhattan home and office:
Mueller and the anti-Trump camp within the ruling elite
know very well that the billionaire New York real estate
and gambling speculator-turned president is mired in
criminal activity, which is certain to be reflected in the
material seized from Cohen. They have Trump by the
throat, and Trump knows it.
House Oversight Committee Chairman Elijah Cummings laid out ground rules for the interrogation of Cohen at the beginning of the hearing, discouraging any questions that would impinge on the Russia investigation being conducted by Mueller. As a result, there was little probing of Trump's business ties to Moscow, where Cohen reportedly played a significant role in efforts, ultimately unsuccessful, to build a Trump Tower in the Russian capital.
The hearing played out by rote, with Democratic questioners focusing entirely on eliciting disparaging remarks from Cohen about Trump—the "racist, con man and philanderer" of the media headlines—while Republican questioners defended Trump (whom they barely mentioned by name) by denouncing Cohen as a convicted liar. This line of argument made little political or legal sense, since Cohen admitted to lying to Congress in order to shield Trump's business activities in Russia from investigation.
In the course of his testimony Wednesday, Cohen explained that Trump had not directly instructed him to lie, but had conveyed his intentions nonetheless, indirectly. Trump's lawyers handling the Mueller probe reviewed his (false) testimony before he delivered it, and even made changes in its content. So in lying to Congress, he was acting as the agent of the liar-in-chief in the White House.
The Democrats made every effort to limit their attacks on Trump to scandal-mongering, avoiding any discussion of the broader implications of Trump's systematic attacks on democratic rights, including his persecution of immigrants, his praise of neo-Nazis and violent police, his ban on Muslim visitors, and, most recently, his declaration of a national emergency to obtain funds to build his wall on the US-Mexico border, an action that House Speaker Nancy Pelosi called "shredding the Constitution."
After the hearing, Chairman Cummings boasted that "not one person on our side mentioned impeachment," as though that was an achievement to be proud of. Instead, there were questions on some of the more lurid allegations that have been making the rounds on the internet and at Washington cocktail parties, including claims of a tape of Trump beating his wife Melania, all of which Cohen flatly denied.
It is notable that among those who adhered to the Democratic Party line of "scandals only, no politics" were Alexandria Ocasio-Cortez and Rashida Tlaib, both members of the Democratic Socialists of America, as well as Ayanna Pressley, the African-American congresswoman from Boston who has been aligned with Ocasio-Cortez, Tlaib and Ilhan Omar as the face of the identity politics "left" in the Democratic House majority.
Ocasio-Cortez narrowly focused her questioning on Trump's building a golf course in the Bronx subsidized by taxpayer funds, from which he reaps considerable profit, as well as on a recent exposé by the New York Timesabout the tax scams in which Trump and his father engaged to avoid inheritance taxes.
The only point at which the political substance of the crisis in the US ruling elite was touched on came at the very end, when Cohen gave a closing statement. He cited Trump's olive branch to the neo-Nazi right after the Charlottesville, Virginia, riot in August 2017, when an anti-fascist demonstrator was killed. He then said he was worried that if Trump loses the 2020 election, "there will never be a peaceful transition of power."
This remarkable statement went almost unnoticed in the blanket media coverage of the hearing and was ignored by the Democrats on the panel.
What both the Democrats and Republicans sought to conceal throughout the hearing were the actual political issues being fought out behind the scenes in Washington. These relate largely to foreign policy, with the Democrats demanding a more aggressive posture toward Russia and opposing Trump's inclination to move away from confrontation with Moscow in Syria and Ukraine, as well as his maneuvers in the Far East with North Korea's Kim Jong-un.
It is noteworthy that the hearing went ahead as scheduled on February 27, the same day that Trump held his summit with the North Korean leader in Vietnam, even though it could easily have been postponed. Cohen does not report to prison until May and is completely at the disposal of Congress until then.
JUST FOLLOW THE MONEY!
Michael Cohen: 'Whole' Trump Family Potentially Compromised by Foreign Power
Former Trump lawyer Michael Cohen testified before the House Oversight Committee Wednesday that the "whole Trump family" was potentially comprised by a foreign power ahead of the 2016 presidential election.
The transcript is as follows:
REP. DEBBIE WASSERMAN SCHULTZ (D-FL): As you likely know, I served as chair of the Democratic National Committee at the time of the Russian hacks and when Russia weaponized the messages that it had stolen. But, I want to be clear, my questions are not about the harm done by any individual, by Wikileaks or the Russians. It's about the possible and likely harm to the United States of America and our democracy. I have a series of questions that I hope will connect more of these dots. Mr. Cohen, is it your testimony that Mr. Trump had advance knowledge of the Russian-Wikileaks release of the DNC's emails?

MICHAEL COHEN: I can't answer that in a yes or no. He had advanced notice that there was going to be a dump of emails, but at no time did I hear that specificity of what those emails were going to be.

WASSERMAN SCHULTZ: But you do testify today that he had advanced knowledge of there imminent release?

COHEN: That is what I stated in my testimony.

WASSERMAN SCHULTZ: And that he cheered that outcome?

COHEN: Yes, Ma'am.

WASSERMAN SCHULTZ: Did Mr. Trump likely share that information with his daughter Ivanka, son Don Jr., or Jared Kushner?

COHEN: I'm not aware of that

WASSERMAN SCHULTZ: Was Ivanka, Jared, or Don Jr. still involved in the Russian tower deal at that time?

COHEN: The company was involved in the deal, which meant that the family was involved in the deal.

WASSERMAN SCHULTZ: If Mr. Trump and his daughter Ivanka and son Donald Jr. are involved in Russia-Trump Tower deal, is it possible the whole family is conflicted or compromised with a foreign adversary in the months before the election?

COHEN: Yes.
Report: Michael Cohen Will Testify Trump Broke the Law While President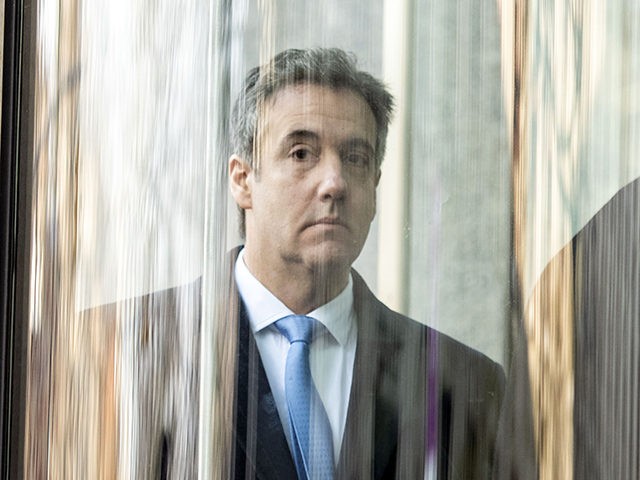 Michael Cohen, a former attorney for President Donald Trump, will testify publicly this week that the president committed criminal acts while in office, a new report states.
According to the Wall Street Journal, Cohen will provide

House Committee on Oversight and Reform investigators evidence that the president was criminally involved in hush payments made to pornographic actress

Stormy Daniels, who claims to have had an affair with the president years before he ran for the White House.

In addition to Daniels, née Stephanie Clifford, Cohen also made payments to former Playboy Playmate Karen McDougal, who also alleges to have had an affair with Trump.

The Journal, citing an individual familiar with Cohen's plans, will also detail President Trump's so-called "lies, racism and cheating," with regard to the transactions.
On December 12, A federal judge sentenced Cohen to three years in prison on nine counts, including tax evasion, campaign finance violation, and issuing false statements to a bank in connection to the payments to Daniels ahead of the 2016 presidential election.
The former Trump attorney will meet behind closed doors with Senate Intelligence Committee members on Tuesday.
President Trump has criticized Cohen, calling him a "rat" and a "weak person," along with accusing him of lying in order to receive a lighter prison sentence.
Last Thursday, an Internal Revenue Service (IRS) analyst was charged for disclosing confidential information regarding Cohen's bank records. The U.S. Attorney's Office for the Northern District of California charged John Fry with leaking a suspicious activity report (SAR), which financial institutions file upon spotting red flags associated with a transaction, to television lawyer Michael Avenatti. Fry reportedly turned down an offer to plead guilty to felony charges in exchange for probation time, and will likely face two additional charges, which include the misuse of a government computer and misuse of a Social Security number.
Michael Cohen, the former attorney for President Donald Trump, has been disbarred, according to documents released Tuesday.
The development follows Cohen's conviction for making false statements to members of Congress, according to court documents filed by Manhattan's Appellate Division, First Department and the Attorney Grievance Committee.
The New York Post first reported the longtime Trump lawyer's disbarment.
Cohen is expected to give a behind-the-scenes account of what he will claim is President Trump's lying, racism and cheating, and possibly even criminal conduct, when he testifies publicly before a House committee on Wednesday, according to several reports.
The president's former personal lawyer arrived on Capitol Hill Tuesday to begin three days of congressional appearances, starting with a closed-door interview with the Senate intelligence committee. The public won't have a chance to hear from him until Wednesday, when he testifies before the House Oversight and Reform Committee. He will go behind closed doors again when he talks to the House intelligence committee on Thursday.
White House spokeswoman Sarah Sanders said in a statement Tuesday it was "laughable that anyone would take a convicted liar like Cohen at his word, and pathetic to see him given yet another opportunity to spread his lies."
Lawmakers are alternately suspicious of Cohen, who is set to serve time in prison for lying to the House and Senate intelligence committees in 2017, and eager to hear what Cohen has to say after he turned on his longtime boss. In addition to lying to Congress, Cohen pleaded guilty last year to campaign finance violations for his involvement in payments to two women who allege they had affairs with President Trump. He is set to begin a three-year prison sentence in May. Federal prosecutors in New York have said President Trump directed Cohen to arrange the payments to buy the silence of porn actress Stormy Daniels and former Playboy model Karen McDougal in the run-up to the 2016 campaign.
President Trump has repeatedly lambasted Cohen, calling his ex-lawyer a "rat" and a "weak person," along with accusing him of lying in order to receive a softer jail sentence.
An Internal Revenue Service (IRS) analyst last Thursday was charged for disclosing confidential information regarding Cohen's bank records. The U.S. Attorney's Office for the Northern District of California charged John Fry with leaking a suspicious activity report (SAR), which financial institutions file upon spotting red flags associated with a transaction, to television lawyer Michael Avenatti.
The Associated Press contributed to this report.
THE SECRET REPORT ON TRUMP AND HIS PARASITIC FAMILY'S DESIGNS TO FLOOD AMERICA WITH CHEAP LABOR
TRUMP HOWLS ABOUT HAVING TO PAY LEGALS A LIVING WAGE AT SWAMP PALACE MAR-A-STOLEN.
"Our entire crony capitalist system, Democrat and Republican alike, has become a kleptocracy approaching par with third-world hell-holes. This is the way a great country is raided by its elite." ---- Karen McQuillan AMERICAN THINKER
CRIMINAL GLOBALIST BANKSTERS AND THE POLITICIANS THEY BOUGHT:
The Story of Goldman Sachs and Clinton, Obama and Trump corruption.
Goldman Sachs
, GE, Pfizer, the United Auto Workers—the same "special interests" Barack Obama was supposed to chase from the temple—are profiting handsomely from Obama's Big Government policies that crush taxpayers, small businesses, and consumers. In Obamanomics, investigative reporter Timothy P. Carney digs up the dirt the mainstream media ignores, and the White House wishes you wouldn't see. Rather than Hope and Change, Obama is delivering corporate socialism to America, all while claiming he's battling corporate America. It's corporate welfare and regulatory robbery—it's OBAMANOMICS TO SERVE THE RICH AND GLOBALIST BILLIONAIRES.
THE TRUMP FAMILY FOUNDATION SLUSH FUND…. Will they see jail?
VISUALIZE REVOLUTION!.... We know where they live!
"Underwood is a Democrat and is seeking millions of dollars in penalties. She wants Trump and his eldest children barred from running other charities."
THE REAL REASON SWAMP KEEPER TRUMP DECLINED TO INVESTIGATE HILLARY CLINTON AND HER PHONY CHARITY SLUSH FUND
"But what the Clintons do is criminal because they do it wholly at the expense of the American people. And they feel thoroughly entitled to do it: gain power, use it to enrich themselves and their friends. They are amoral, immoral, and venal. Hillary has no core beliefs beyond power and money. That should be clear to every person on the planet by now." ---- Patricia McCarthy - AMERICANTHINKER.com
"But if she shows any sign of weakness, her cronies will begin to desert her, those she trampled on and harmed will seek payback, and the authorities will at last stir themselves to look into things. The current investigations will continue and expand. Others will be opened. Clinton can look forward to an old age spent in courthouses and committee rooms. She will end up as one of those Mafia dons slumped in a wheelchair while the lawyers attempt to generate sympathy. And that's fine. She has earned the most Hellenic of punishments."
Michael Cohen, President Donald Trump's disgraced former personal lawyer and fixer, is reportedly set to use public testimony this week to finger Trump with a series of accusations, including that the president engaged in possible criminal conduct, used racist language, and was misleading about his net worth.
It is unclear whether Cohen has any real evidence to back up his allegations, with multiple reports claiming that Cohen will provide some sort of undisclosed evidence. Cohen's previous anti-Trump charges relied almost exclusively on his own credibility-stained testimony.
Cohen is speaking about two months before he is scheduled to begin his three-year prison sentence, spotlighting the massive credibility issues for the convicted criminal and accused liar.
Below, in no particular order, are seven major credibility issues faced by Cohen.
1 – In November, Cohen pled guilty to, among other things, lying to Congress in two separate prosecutions.
One of those prosecutions involved the so-called Russia collusion conspiracy being investigated by the office of the special counsel, Robert S. Mueller III. The other was a case before federal prosecutors in Manhattan. After being convicted for lying to Congress, Cohen is scheduled to testify to Congress yet again, this time in a televised hearing before the House Committee on Oversight and Reform on Wednesday.
2 – Cohen pled guilty to violating campaign finance laws and financial crimes, including multiple counts of tax evasion and bank fraud.
Despite being a convicted fraudster, Cohen is set to make serious accusations against Trump on Wednesday, with some or most of those allegations likely to rely on Cohen's own word.
3 – The 40-page sentencing memo from New York prosecutors in Cohen's campaign finance case paints Cohen as a deceiver who repeatedly lied.
The same memo laments that the Court "had to press Cohen to acknowledge that he understood he was lying to a bank."
4 – Manhattan prosecutors further say Cohen possesses a fleeting sense of wrongdoing, little remorse and a tendency to place blame on others.
The memo charges that Cohen's "consciousness of wrongdoing is fleeting, that his remorse is minimal, and that his instinct to blame others is strong. While he has legally accepted responsibility, the Court should consider at sentencing these transparent efforts at minimizing Cohen's false statements and criminal conduct."
5 – The Southern District of New York also charged that Cohen lived a "double life."
"For all of Cohen's outward rectitude, he has lived a double life," prosecutors argued in their sentencing memo. "While Cohen has submitted letters describing his good nature, the evidence collected and witnesses interviewed in this investigation paint a decidedly different picture — a picture of someone who was threatening and abusive when he wanted to get his way."
6 – Cohen once declared, "I'm the guy who would take a bullet for the president." Less than a year later, however, Cohen accused the president of wrongdoing in testimony and in a series of interviews and other public statements.
Cohen made his loyalty statement about the president during an interview with Vanity Fair. "I'm the guy who stops the leaks," he claimed to the magazine. "I'm the guy who protects the president and the family. I'm the guy who would take a bullet for the president."
7 – As an attorney, Cohen secretly taped his own client, Trump, and released one of those recordings to the news media.
The recording, which was made during the 2016 presidential campaign, was first broadcast by CNN in July 2018. In it, Cohen and Trump can be heard discussing alleged hush money payments to former Playboy model Karen McDougal. The tape did not make clear whether Trump actually engaged in any wrongdoing. Even the Washington Postquestioned the ethics of Cohen secretly taping Trump. Twelve more audiotapes were reportedly seized by federal agents who raided Cohen's home last year.
"Truthfully, It Is Tough To Ignore Some Of The Gross Immoral Behavior By The President"

WASHINGTON POST
"There hasn't been one Republican yet who's tried to defend the president on the substance," [Christie] said. "As the day goes on, [people are] going to get tired of hearing the attacks on Cohen's credibility. .
.
. Where
'
s the defense of the president?
"
Other Republicans on the Hill privately agreed. Most, however, mused that Jordan couldn't have done any better given his position in the minority and the fact that Republicans were defending Trump.
"Truthfully, it is tough to ignore some of the gross immoral behavior by the president," said one senior House Republican who requested anonymity to speak frankly. "The reason there was no defense is because there is no defense."
Posted at 12:40 pm on February 28, 2019
washingtonpost.com/politics/republican-focus-on-discrediting-cohen-leaves-little-time-to-defend-trump/2019/02/27/33d8f67c-3ace-11e9-aaae-69364b2ed137_story.htm
The Trump presidency: From the Manhattan underworld to the White House
1 March 2019
"The finance aristocracy, in its mode of acquisition as well as in its pleasures, is nothing but the rebirth of the lumpenproletariat on the heights of bourgeois society."—Karl Marx, The Class Struggles in France
What Marx described, in his analysis of the corruption of the bourgeoisie in France leading up to the 1848 revolution, applies with even greater force to the United States of 2019, where the bourgeoisie faces its own rendezvous with social upheaval and explosive class battles.
That is how a Marxist understands the spectacle of Wednesday's hearing before the House Oversight Committee, in which Michael Cohen, the former attorney and "fixer" for Donald Trump for more than a decade, testified for six hours about how he and his boss worked to defraud business partners and tax collectors, intimidate critics and suppress opposition to Trump's acitvities in real estate, casino gambling, reality television and, eventually, electoral politics.
What Cohen described was a seedier version of an operation that most Americans would recognize from viewing films like The Godfather: Trump as the capo di tutti capi, the unquestioned authority who must be consulted on every decision; the children, Donald Jr., Ivanka and Eric, each now playing significant roles in the ongoing family criminal enterprise; Allen Weisselberg, CFO of the Trump Organization, the consigliere in charge of finance, mentioned by Cohen more than 20 times in the course of six hours of testimony, as the man who facilitated Trump's schemes to evade taxes, deceive banks or stiff business partners.
Cohen himself was an enforcer: by his own account, he threatened people on Trump's behalf at least 500 times in a ten-year period, including business associates, politicians, journalists, and anyone seeking to file complaints or gain reimbursement after they were defrauded by one or another Trump venture. The now-disbarred lawyer admitted to tape-recording clients—including Trump but many others—more than 100 times during this period.
The incidents recounted by Cohen range from the farcical (Trump browbeating colleges and even his military prep school not to release his grades or test scores), to the shabby (Trump having his own "charitable" foundation buy a portrait of himself for $60,000), to the brazenly criminal (deliberately inflating the value of properties when applying for bank loans, while deflating the value of the same properties as much as twenty-fold in order to evade taxation).
One of the most remarkable revelations was Cohen's flat assertion that Trump himself did not enter the presidential race with the expectation that he could win either the Republican nomination or the presidency. Instead, the billionaire reality television "star" regularly told his closest aides, the campaign would be the "greatest infomercial in political history," good for promoting his brand, opening up business opportunities in previously closed markets.
These unflattering details filled the pages of the daily newspapers Thursday and occupied many hours on the cable television news. But in all that vast volume of reporting and commentary one would look in vain for any serious assessment of what it means, in terms of the historical development and the future trajectory of American society, that a family like the Trumps now occupies the highest rung in the US political system.
The World Socialist Web Site rejects efforts by the Democrats and the corporate media to dismiss Trump as an aberration, an accidental figure whose unexpected elevation to the presidency in 2016 will be "corrected" through impeachment, forced resignation, or electoral defeat in 2020. We insist that the Trump administration is a manifestation of a protracted crisis and breakdown of American democracy, whose course can be traced back at least two decades, to the failed impeachment of Bill Clinton in 1998-99, followed by the stolen presidential election of 2000.
The US political system, always dominated by the interests of the capitalist ruling class that controls both of the major parties, the Democrats as much as the Republicans, is breaking down under the burden of mounting social tensions, driven above all by skyrocketing economic inequality. It is impossible to sustain the pretense that elections at two-year and four-year intervals provide genuine popular influence over the functioning of a government so completely subordinated to the financial aristocracy.
The figures are familiar but require restating: over the past three decades, virtually all the increase in wealth in American society has gone to a tiny layer at the top. Three mega-billionaires—Jeff Bezos, Warren Buffett and Bill Gates—now control more wealth than half the American population. This process of social polarization is global: according to the most recent Oxfam report, 26 billionaires control more wealth than the poorer half of the human race.
These billionaires did not accumulate their riches by devising new technologies or making new scientific discoveries that increased the wealth and happiness of humanity as a whole. On the contrary, their enrichment has come at the expense of society. Bezos has become the world's richest man through the emergence of Amazon as the greatest sweatshop enterprise in history, where every possible second of labor power is extracted from a brutally exploited workforce.
The class of billionaires as a whole, having precipitated the global financial collapse of 2008 through reckless speculation and swindling in the sale of derivatives and other obscure financial "products," was bailed out, first by the Republican Bush, then by the Democrat Obama, to the tune of trillions of dollars. Meanwhile, the jobs, living standards and social conditions for the great mass of working people sharply declined.
As for Donald Trump, the real estate swindler, casino con man and reality television mogul is a living demonstration of the truth of Balzac's aphorism: "Behind every great fortune is a great crime."
Trump toyed with running for president on the ultra-right Reform Party ticket in 2000, after a long stint as a registered Democrat and donor to both capitalist parties. When he decided to run for president as a Republican in 2016, however, he had shifted drastically to the right. His candidacy marked the emergence of a distinctly fascistic movement, as he spewed anti-immigrant prejudice and racism more generally, while making a right-wing populist appeal to working people, particularly in de-industrialized areas in the Midwest and Appalachia, on the basis of economic nationalism.
As
World Socialist Web Site
editorial chairman David North
explained
even before the 2016 elections:
The Republican nominee for the presidency of the United States did not emerge from an American version of a Munich beer hall. Donald Trump is a billionaire, who made his money in Manhattan real estate swindles, the semi-criminal operations of casino gambling, and the bizarre world of "reality television," which entertains and stupefies its audience by manufacturing absurd, disgusting and essentially fictional "real life" situations. The candidacy of Donald Trump could be described as the transfer of the techniques of reality television to politics.
The main development in the two years since Trump entered the White House is the emergence of the American working class into major struggles, beginning with the wave of teachers' strikes in 2018, initiated by the rank and file in defiance of the bureaucratic unions. The reaction in the American ruling elite is a panic-stricken turn to authoritarian methods of rule.
The billionaire in the White House is now engaged in a systematic assault on the foundations of American democracy. He has declared a national emergency in order to bypass Congress, which holds the constitutional "power of the purse," and divert funds from the military and other federal departments to build a wall along the US-Mexico border.
Whether or not he is immediately successful in this effort, it is clear that Trump is moving towards the establishment of an authoritarian regime, with or without the sanction of the ballot box. As Cohen observed in his closing statement—in remarks generally downplayed by the media and ignored by the Democrats—he was worried that if Trump loses the 2020 election, "there will never be a peaceful transition of power."
Trump's "opposition" in the Democratic Party is no less hostile to democratic rights. They have focused their anti-Trump campaign on bogus allegations that he is a Russian agent, while portraying the emergence of social divisions within the United States as the consequence of Russian "meddling," not the crisis of capitalism, and pushing for across-the-board internet censorship.
The defense of democratic rights and genuine resistance to Trump's drive toward authoritarian rule must come through the development of an independent political movement of the working class, directed against both big-business parties, the Democrats as much as the Republicans, and against the profit system which they both defend.
Patrick Martin