Abolishing ICE Means Letting the Worst Criminals Imaginable Stay in the USA
The call to abolish ICE is repeated over and over again in American politics. This mantra is likely to be repeated with even greater frequency and intensity as the race for the Democrats' presidential nomination heats up.
But what does ICE actually do?
A quick look at some of their actions from the past few weeks reveals the agency to be an unambiguous force for good.
The street value of that much cocaine is north of one billion dollars. Though opioids have been getting almost all the attention whenever our country's drug epidemic is discussed, thousands are killed by cocaine every year, too. The number is climbing as well. The Washington Post notes that, "Overdose deaths from cocaine increased by about 18 percent each year during the five-year [2011-2016] period."
The man in question, Houcine Ghoul, was a strong supporter of ISIS, and believed in violently imposing Islam worldwide. In their press release on the matter, ICE gives this background to his case:
The investigation into Ghoul's conduct began in April 2014 when Ghoul posted a photo online that explicitly displayed support for the Islamic State of Iraq and al-Sham (ISIS), a designated foreign terrorist organization. This photo displayed an individual holding a sign with the Arabic phrase, "The victory of the Islamic State in Iraq and Syria," and then below in English, "ISIS," and "N. Carolina, USA," the state where Ghoul was then residing. The photo later appeared in an online propaganda video posted by others to display worldwide support for ISIS. Though he did not use his actual name or identity for the online accounts, Ghoul provided a self-description within the account, "Extremist, terrorist, tough, brain-washed, radical, I love explosions, booby trapping, beheading the enemy, and am among the supporters of establishing the religion with the sword."
Later, when Mr. Ghoul applied to become an American citizen, he lied and claimed to have never been affiliated with a terrorist government or advocated the overthrow of a government. Now, he's one less threat to worry about.
ICE targets the worst of the worst, and notes that while all were in the country illegally, the arrest records of this bunch also included, "assault, battery, domestic violence, traffic offenses, driving under the influence, drug possession, drug trafficking, larceny, illegal re-entry after deportation, illegal entry, resisting officers, and aggravated assault with a deadly weapon."
Looking over the details of this action also reveals how porous our southern border really is. Quite of a few of these criminals had been arrested and deported years ago. For example, one 25-year-old Honduran who had a prior conviction for aggravated assault with a deadly weapon had been deported before. Now that he has been apprehended, he faces "federal prosecution for re-entry after deportation." Another arrestee, a 32-year old Mexican had also been deported before. This guy is an active gang member with prior convictions for robbery, evading arrest, and aggravated assault.
Who wants these thugs in America?
Here again, we see how ICE only targets active criminals -- often of the most despicable sort. They make this as clear as can be:
ICE deportation officers carry out targeted enforcement operations daily nationwide as part of the agency's ongoing efforts to protect the nation, uphold public safety, and protect the integrity of our immigration laws and border controls…. During targeted enforcement operations, ICE officers frequently encounter other aliens illegally present in the United States. These aliens are evaluated on a case-by-case basis, and, when appropriate, they are arrested by ICE officers.
The rap sheet of this round-up included, "drug possession, assault, dangerous drugs, illegal entry, larceny, marijuana possession, possessing a weapon, failure to identify and identity theft." The most monstrous of them all being a Honduran man wanted for the rape of a minor.
So when politicians say they want to abolish ICE, are they saying America should give these people citizenship and leave them alone?
Another case of a horrendous human being committing crimes in the US after having been deported. This man, José Ramón Aguilar-Moreno, had been sent back to El Salvador in 2003 after he was convicted of sexually abusing a child. But he came back and started posting child pornography to Facebook. He got busted and now faces up to 80 years in prison.
When Kamala Harris says she wants to abolish ICE, is she hoping for the support of men like this?
In 2016, Michael Cerdas Molina was convicted of sexual assault against a minor in his native Costa Rica. He tried to dodge prison time by hiding out in the US. But now ICE has busted him, and he will complete his sentence in his homeland.
Under what rationale should this man have been allowed to stay here?
The prior convictions of this group is enough to give you goosebumps: "three counts of murder, two counts of rape, two counts of aggravated assault, five counts of aggravated assault with a weapon, two counts of assault, sexual assault, three counts of attempted murder, burglary, child abuse, lewd act on a minor, driving under the influence, larceny, stolen property, two counts of firearm possession, two weapon offenses, traffic offence, forgery, three counts of robbery, resisting arrest, auto theft, and seven drug convictions."
Now each and every one of them is back in Cambodia where they came from, and headed for prison, where they belong.
Supporters of terrorism, drug-peddlers, murderers, rapists, child pornographers, and violent criminals. These are just some of the terrible people ICE has rid us of in just the last three weeks.
ICE shouldn't be abolished; it should be expanded.
FROSTY WOOLDRIGE
DOUBLING AMERICA'S POPULATION: A tragedy in the making!

Do you want your children to face the ominous ecological, sociological and cultural clashes they will encounter with an added 50 million legal immigrants? Do you want your kids to face 100 different languages in your schools? In Denver, my city, we must contend with 173 different languages in our classrooms. Do you want to pay ever-increasing amounts of your taxes toward housing, feeding, medicating, educating and caring for 50 million foreign-born immigrants who lack any qualifications, any cultural affinity, and/or any educational abilities to contribute to our first world economy and society?

If you think the future will be pretty for your kids, just look at what's happening in Detroit-istan, Minneapolis-istan, Miami-istan, Los Angeles-Mexico or the murder capital of America—Chicago. If you think the 60,000 plus homeless living in tent cities in Los Angeles and 11,000 homeless in San Francisco can't be solved, how do you think we will solve millions of immigrants from Africa, Indochina, India, Mexico and heaven knows where

else in the world?



This policy of
flooding
the market with cheap, foreign, white-collar
graduates
and blue-collar
labor
also shifts enormous wealth from
young
employees towards older investors, even as it also
widens
wealth gaps,
reduces
high-tech investment,
increases
state and local tax burdens, and hurts children's schools and
college
educations. It also
pushes
Americans away from high-tech careers and sidelines millions of
marginalized
Americans, including many who are now
struggling
with fentanyl addictions. The labor policy also moves business investment and wealth from the heartland to the
coastal cities
,
explodes
rents and
housing costs
,
shrivels
real estate values in the Midwest, and rewards investors for creating low-tech,
labor-intensive
workplaces. JOHN BINDER
GAVIN NEWSOM HEADS TO EL SALVADOR TO AID THE SALVADORIAN INVASION OF THE MEXICAN WELFARE STATE OF CALIFORNIA… It's your Democrat Politician at work… FOR ILLEGALS!
Last year in fact, that game was going full speed. El Salvador's remittances hit a
record $5.47 billion
. Literally
one out of six
Salvadorans now lives in the U.S., and 680,000 of those make their home in benefit-rich California. Salvadoran politicians actually campaign for office in California, owing to the sizable number of Salvadoran voters, many of whom are here illegally., signaling that there's a lot of work to be had for the newest (and least likely to be legal) migrants in the states now, most of which is coming from California.
Here come Big Daddy, the California governor, the gringo who's already laid out a banquet of goodies for Salvadorans in California, from free health care to free education, to sanctuary state protections to enable illegals to work, coming there supposedly to find out how he can offer ... even more goodies to Salvador's uneducated lower middle classes. The idea of course is to get even more of them to come over. Big Daddy comes down with the Santa sack full of goodies. MONICA SHOWALTER
Elizabeth Warren: Crossing the Border Illegally Should Not Be a Criminal Offense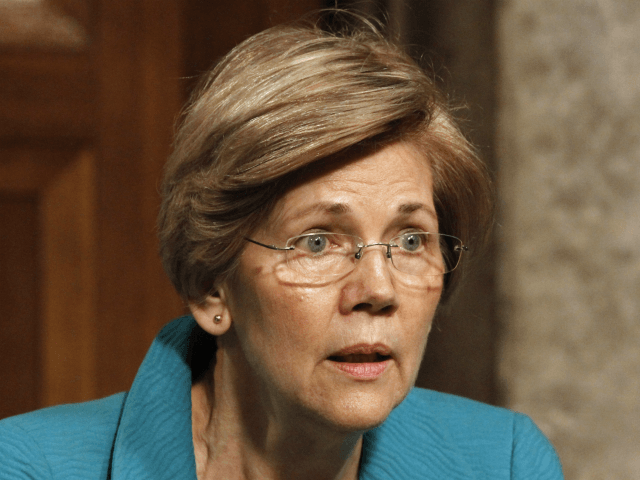 Sen. Elizabeth Warren (D-MA) does not believe it should be a criminal offense to cross the border illegally, she said during an interview with the California Nation podcast, which was posted Monday.
While the presidential candidate hit a number of issues during the broad discussion, Section 1325 of the immigration code, which makes it a criminal offense for people to cross the border illegally, became a highlight.
"Are you in favor of repealing that?" she was asked.
"
I am," Warren said, arguing that "criminalizing" illegal entry does not make people safer.
"I think that the whole notion of criminalizing the approach to coming across the border without documentation is not making anybody any safer. We just need to be in a different position on this," she said, downplaying the number of criminals and drug traffickers who take advantage of the porous border.
"It's really important on immigration that we concentrate our resources on the people who pose threats to us, and that's not children," she continued.
"It's not mamas fleeing terror from gangs down in Central America. It's not people trying to build a life who have family here," she added:
Recent U.S. Customs and Border Protection data revealed that two caravans that arrived at the U.S.-Mexico border, in October 2018 and January 2019, included "1,520 previously deported illegal aliens who had been convicted of crimes in the U.S.," Breitbart News reported.
Four were convicted of murder

Nearly 30 were convicted of sex crimes

More than 60 had been convicted for assault or aggravated assault with a deadly weapon

Two were convicted of violence against law enforcement officials
That data only reflects the illegal aliens from those two caravans alone.
There are countless stories of illegal alien crime, although many of the stories are largely ignored by the establishment media.
In January, U.S. Immigration and Customs Enforcement (ICE) arrested more than 100 immigration violators in New York. The vast majority of the illegal aliens were convicted criminals.
U.S. Immigration and Customs Enforcement (ICE) Enforcement and Removal Operations (ERO) made 188 arrests from January 14-18. Of those arrested, 107 were convicted criminals or facing charges, and 55 failed to leave the country after a final order of removal or were previously removed and returned to the U.S.
The following month, a story emerged of an illegal alien mother of nine, Celia Ruiz-Ochoa, who ran a massive drug trafficking ring after settling in the states and passed it down to her son in 2016. She is serving 17 years in federal prison:
Federal authorities say Ruiz-Ochoa often trafficked the drugs into the U.S. by air and by land. She was so successful that she rose to the top of an international drug trafficking ring which contributed to the opioid crisis in Ohio, WCPO reported Thursday.
Additionally, the majority of w
orking-class Americans
say
current immigration policies are driving up crime in the U.S.
The latest Gallup survey finds that among Americans with less than a college degree, more than one-in-two, or 51 percent, said immigration to the U.S. has made crime across the country worse. About 41 percent said immigration has not had much impact on crime, and only seven percent said immigration has decreased crime.

Overall, more Americans say immigration is driving up crime than those who say immigration is decreasing crime. About 42 percent of Americans said immigration makes crime worse, while about 50 percent said immigration has no impact on crime. Only seven percent of Americans believe immigration decreases crime.
The "criminal offense" topic bubbled up during the recent Democrat debate, with former HUD Secretary Julián Castro (D) hitting Beto O'Rourke (D) over his purported support of Section 1325.
"Let's be very clear. The reason that they're separating these little children from their families is that they're using Section 1325 of that act, which criminalizes coming across the border to incarcerate the parents and then separate them," Castro said on the debate stage.
"Some of us on this stage have called to end that section, to terminate it. Some, like Congressman O'Rourke, have not," he continued. "And I want to challenge all of the candidates to do that."
Voters can add Warren – a top tier Democrat candidate – to the list of candidates who support decriminalizing illegal entry into the United States.