Bloomberg: Unacceptable Presidential Candidate
An unapologetic advocate for open borders.
By Michael Cutler
FrontPageMag.com
https://www.frontpagemag.com/fpm/2019/12/bloomberg-uacceptable-presidential-candidate-michael-cutler/
Part III: Like in Europe, America's Broken Asylum System Enables Terrorist Infiltration Over the U.S.-Mexico Border
By Todd Bensman
Townhall.com
https://townhall.com/columnists/toddbensman/2019/12/09/part-iii-like-in-europe-americas-broken-asylum-system-enables-terrorist-infiltration-over-the-usmexico-border-n2557629
Exclusive Video: Chaos Erupts in Texas Border Town as Los Zetas Cartel Attempts Complex Smuggling Operation
RIO BRAVO, Texas — Chaos erupted in a small Texas border town as Los Zetas smugglers launched a complex smuggling operation. Border Patrol agents responded to an illegal crossing that quickly tied up agency resources in the area, enabling smugglers to move higher-value cargo elsewhere.
What had only moments earlier been a quiet neighborhood became a scene of chaos as Laredo Sector Border Patrol agents and a U.S. Customs and Border Protection (CBP) Air and Marine Operations (AMO) helicopter aircrew leaped into action following the illegal crossing of a few migrants. Agents captured at least one in the presence of the Breitbart News team while the complex Los Zetas-connected smuggling operation unfolded.
Shortly after Breitbart News stopped at a well-known river crossing area in Rio Bravo, a monitoring Border Patrol agent quickly drove off in response to illegal activity. As the Breitbart crew followed, multiple Border Patrol vehicles responded and the AMO helicopter quickly appeared overhead to provide air cover and communications to the ground-based agents. Breitbart News witnessed the initial runner who led agents on a foot pursuit through the neighborhood.
"This is territory that is controlled by Los Zetas," Breitbart Border and Cartel Chronicles Projects Director Brandon Darby explained. "This is a neighborhood that is a heavy smuggling neighborhood for Los Zetas."
"We saw Border Patrol looking for someone, and there are multiple things going on," Darby said describing the chaos that quickly erupted in the neighborhood. "What's going on is they use one person to come in and run to distract the authorities while they are doing something else."
During an April 2015 interview with Darby, Border Patrol Agent Hector Garza, speaking in his role as the then-president of the National Border Patrol Council Local 2455, confirmed that the areas directly across the river from Laredo and its surrounding communities are controlled by the Los Zetas Cartel.
As Darby described the unfolding scene, he said, "What's happening is people in the U.S. connected to Los Zetas and the Los Zetas smuggling operation is occurring. We're getting to see the CBP response. We're getting to see Air and Marine. We're getting to see Border Patrol agents in action. And we're also getting to see the cartel-connected smugglers and scouts in action in this U.S. neighborhood — Rio Bravo, Texas."
A Breitbart News videographer captured the moment when Border Patrol agents and a Homeland Security Investigations special agent took one of the runners into custody. The situation became tense while processing the captured illegal alien as what appeared to be a scout vehicle pulled up directly behind the Border Patrol vehicle to document the situation.
"We've seen guys walk past on cell phones," Breitbart News Editor-in-Chief Alex Marlow recounted. "They're eyeing us. They're counting our cars. They're counting how many people are here."
"Some people are driving by and waving and acting nice," Marlow explained. "Others are driving by and making very aggressive gestures." He and Darby noted that many of the same vehicles drove by repeatedly. "We're seeing a lot of action on these streets, where we had been driving all morning and there had been very little action … almost no pedestrians, almost no automobile traffic. Then, all of a sudden, this is the most happening neighborhood in town."
Darby explained that the cartel smugglers set up complex operations like this where they run a few people across the border to tie up and distract Border Patrol resources. He explained the decoys provide cover for "a drug load or maybe they're trying to cross a load of people who have given them money — who have given them a significant amount of money or agreed to pay a significant amount of money."
"So they send one of their own, one of the neighborhood guys who can run fast," Darby continued. "They send him across and get Border Patrol to look somewhere else, and they can get their load across."
NYT Columnist: American 'Snakes and Vermin' Support Donald Trump's Immigration Policy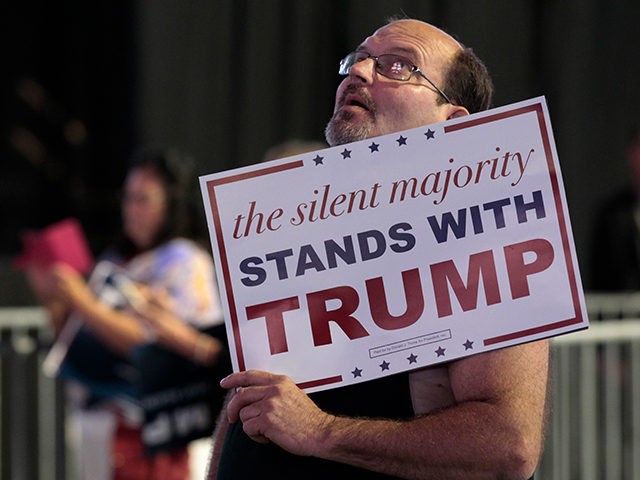 [Donald] Trump's genius in 2016 lay in his willingness — indeed, his eagerness — to openly and aggressively unleash the forces of racial and ethnic hostility that Republican elites had quietly capitalized upon for decades. Trump will be a formidable candidate next year because he is prepared to look under the rocks of the American belief system and see the snakes and vermin that have camped there in the dark.
Edsall's crack-up is understandable: He shares the belief mass migration has little impact on the distribution of wealth, opportunities, or economic security in the United States. That view is commonplace among socially isolated journalists and academics, so Edsall ends up quoting academics who wrote:
Given the modest economic impacts of immigration estimated in most studies, the depth of anti-immigrant sentiment is puzzling.
The impact of mass migration is primarily psychological, says another academic cited by Edsall:
Driving the opposition to immigration, [U.K. professor Eric] Kaufmann writes, are voters "whose

psychological

makeup inclines them to see difference as disorder and change as loss."

This is not "about competition for jobs or services," according to Kaufmann, "but instead mainly about majority-ethnic and what I term 'ethno-traditional' national identities. Conservative voters feel that these are being unsettled by the rapid ethnic shifts sweeping across western countries."
In reality, ordinary Americans' wealth, security, and status are deeply damaged by the federal government's policy of inflating the labor supply with roughly 1 million legal immigrants per year, just as 4 million young Americans enter the labor force.
Immigration is shifting wealth and opportunities from the young to the old, from the heartland to the coasts, the ordinary to the clever, and from wage earners to stockholders. In turn, immigration has reshaped politics so much that Democrats' 2020 candidates are now competing for Democrats' voters by offering ever more help to foreign workers to take jobs, houses, and careers from Democrat-voting workers and graduates.
But that NAS report declined to put a dollar figure on that 5.2 percent.
Well, wages comprise almost 60 percent of the nation's $21,000 billion economy or roughly $12.5 trillion. In turn. 5.2 percent of $12.5 trillion is $650 billion. So the NAS's 5.2 percent "immigration tax" caused by legal and illegal immigration adds up to $650 billion per year lost by employees because of competition from lower-cost immigrants.
The $650 billion lost to the immigration tax does not disappear — roughly 90 percent goes to employers and investors, according to the NAS report.
Business lobbyists routinely deny any connection between supply, demand, and wages in the labor market. But business executives regularly tell each other that surplus labor drives down wages and that labor shortages drive up wages.
True, the year-on-year growth rate of average hourly earnings for all employees has edged down from 3.4% in February to 3.1% now. But our broader wage tracker has continued to trend higher and stands at 3.3% now, up from 3.0% in [the first quarter of 2019]. The acceleration has been even more pronounced among lower-paid workers … And our more comprehensive lower-income wage tracker has accelerated to 4.3% year-on-year.
The bill implements a wage freeze for the year 2020 [for 250,000 H-2A visa workers]. This is a very important matter for employers, [and] wages are expected to increase by another seven to eight percent next year. Under this bill, those wage increases won't happen.

…

These are significant wage reforms — a recent report by the CATO institute found that the bill, if enacted, would have saved farmers $324 million in labor expenses in 2019 alone.
Fresh out of jail, Rita Parker just landed her highest-paying job ever. She started work on Dec. 9 at a Tulsa factory of a heating and air conditioning manufacturer, earning

$14

an hour. The most she'd ever made before was

$8.50

, managing a convenience store. "My main worry getting out was that I wouldn't get a good job," says the 28-year-old, who served about nine months for drug possession. "A job will definitely help me stay sober. The shifts are so long, so I won't have time to twiddle my thumbs."
More cheap labor is good for CEOs because it cuts their payrolls. But investors get much more from immigration than reduced payrolls.
The federal government has chosen to add a huge population of more than 46 million legal and illegal immigrants people to the country, so the wealth shift is also huge.
That overall decline means that wage earners lost one-eighth of their 1966 share of annual income to investors. But investors grew their share of the new wealth by one-third, or from 34 percent to 42 percent, according to the Bureau of Labor Statistics:
Immigration cannot get all the credit for this vast income transfer. Immigration and guest-workers bring foreign workers to Americans' jobs — while trade and technology help send jobs to lower-priced workers in China and India, allowing the stock market to gain from the coming of immigrants and the going of jobs.
Immigration also helps to change the economic demography of the United States.
Migrants tend to grab new jobs in the coastal because they are far more mobile than heartland Americans who are rationally reluctant to leave their homes and their support networks of family and friends.
It will cap the ever-skyrocketing wage growth [for H-2A workers] in this country to 3.25 percent a year. Some states next year are facing a 9.5 percent increase. On top of that, it will allow full-time employers, like dairies, to be able to take advantage and utilize the H-2A program.
The inflow of visa-workers is also pushing Americans out of high-tech jobs and out of cutting-edge research careers — and so has helped India grow its economy and China to steal hugely valuable knowledge and secrets from Americans.
The elites' sense of solidarity is increasingly directed towards the poor and grateful immigrants who are glad to accept the new cheap-labor rules that steer more wealth to the allied progressive and business elites.
The immigrants also impose divisive diversity on coherent American communities, much to the advantage of the business establishment.
Pro-migration advocates said the refugees were needed to satisfy employers' demands for a bigger supply of workers:
North Dakota's Republican governor, Doug Burgum, signaled in November that the state would continue to accept refugees by sending a letter of consent to Secretary of State Mike Pompeo. In a

statement

issued Monday, he said he had "serious concerns that denying resettlement to a handful of well-vetted and often family-connected refugees would send a negative signal beyond our borders at a time when North Dakota is facing a severe workforce shortage and trying to attract capital and talent to our state."
Locals worried about their children's' future:
"I've heard that most of the refugees coming in are women and children, and I understand that they need an education and to learn to speak English,"

said

a heavily bearded man who introduced himself as a sixth-generation inhabitant of North Dakota. "But we need to think about our kids here, too, before we start worrying about somebody else's."
The event could have been portrayed as a straightforward fight over the business demand for cheap labor, and the locals' demands for a tight labor market that would help them get better pay for themselves and their children.
"Look at the room and tell every immigrant here that they are not welcomed," said Geraldine Ambe, who moved to Bismarck from Cameroon and is now a U.S. citizen. She said her aunt and her husband and their four children "ran from Nigeria to seek protection. "Please look at her face and tell her 'we can't help you,'" Ambe said.
One woman, an immigrant, said the business she and her husband own badly needed more workers. "We are just talking about 25 people tonight," she said. "We need 25,000."
Under the watchful eyes of the national media, the country's five commissioners voted to accept more refugees.
Unsurprisingly, few reporters in the establishment media have covered this important fight — likely because they share Edsall's denial of economics in immigration,