HUD Providing $2 Billion in Grants to Help Homeless Across U.S.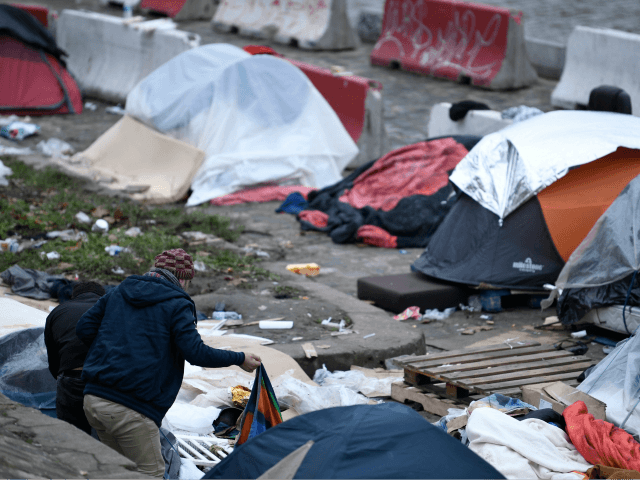 Housing and Urban Development (HUD) Secretary Ben Carson announced on Friday that his agency is turning to money appropriated for its fiscal year 2018 budget to provide $2 billion in grants for homeless programs in all 50 states, the District of Columbia, and three U.S. territories.
Carson told reporters on a conference call that HUD had felt the pinch from the partial government shutdown that President Donald Trump ended Friday, but money Congress has already appropriated to the agency was used to fund the grants.
"They are certain programs … that are critical to the safety and health of the individuals and families we serve," Carson said on the call. "That's why HUD is making sure our homeless assistance grants — we call them Continuum of Care Grants — go forward."
Carson said state programs depend on federal financial assistance to help the estimated half a million people who experience homelessness "on any given night," in the United States.
"Renewing these grants will allow these providers to continue their work …. and serve our most vulnerable neighbors," Carson said.
In December, HUD released its 2018 annual Homeless Assessment Report to Congress. It shows only a 0.3 percent increase in homelessness from the previous year. But some homeless populations saw a decrease — a development Carson lauded.
The number of homeless veterans fell by 5.4 percent, and homeless families with children decreased by 2.7 percent.
On a state-by-state level, 31 states and the District of Columbia have experienced a decrease in homelessness, while 19 percent have seen an increase, according to the report.
Carson said the grants are part of a public/private partnership with the goal to "end homelessness." This can be accomplished through action, such as dealing with zoning restrictions and educating the public about housing assistance programs. Carson said:
This is a joint effort between the federal government and the local government to remove those obstacles and also to educate people. Educating people is critical because a lot of people when they think about government assistance for housing they think about these gigantic complexes that the government comes in and builds without any appropriate support and then leaves and they start deteriorating.
"The government doesn't do that anymore," Carson said.
Carson said the new strategy is using private and public investments to develop smaller, mixed-income housing under local jurisdiction, "without disrupting the character of the neighborhood."
The amount of the HUD grants ranges from California with the largest at $381,008,456 for 694 projects, followed by New York, $196,623,135 for 475 projects, and $164,698 for three projects in the Virgin Islands. the press release announcing the grants said:
HUD Continuum of Care grant funding supports a broad array of interventions designed to assist individuals and families experiencing homelessness, particularly those living in places not meant for habitation, located in sheltering programs, or at imminent risk of becoming homeless. Each year, HUD serves more than a million people through emergency shelter, transitional, and permanent housing programs.
You can view the complete list of grants here.
In the last two years, ICE officers made 266,000 arrests of aliens with criminal records, including those charged or convicted of 100,000 assaults, 30,000 s ex crimes, and 4,000 violent k illings. Over the years, thousands of Americans have been brutally k illed by those who illegally entered our country, and thousands more lives will be lost if we don't act right now.
FACTS ON THE "REAL LATINO AMERICA" OF MEXICAN OCCUPIED LOS ANGELES:
(these are highly DATED stats on Mexico's second largest city)
This is another "fact" spun from the 2004 op-ed by Heather Mac Donald, whose article refers to a single Los Angeles gang and the conjecture of an unnamed federal prosecutor.
1.
"40% of all workers in L.A. County are working for cash and not paying taxes. . . . This is because they are predominantly illegal immigrants working without a green card." The Mexican tax-free economy in Los Angeles County is estimated to be in excess of $2 billion dollars a year.
2.
"95% of warrants for murder in Los Angeles are for illegal aliens . . . "
3.
"75% of people on the most wanted list in Los Angeles are illegal aliens."
4.
"Over 2/3 of all births in Los Angeles County are to illegal alien Mexicans on Medi-Cal, whose births were paid for by taxpayers." The County of Los Angeles hands Mexico's anchor baby breeders more than a BILLION DOLLARS a year in welfare.
5.
"Nearly 35% of all inmates in California detention centers are Mexican nationals here illegally." California has the largest and most expensive prison system in the country. Half the inmates are now Mexicans. Half the murders in California are by Mexican gangs.
6.
Over 300,000 illegal aliens in Los Angeles County are living in garages.
7. "The FBI reports half of all gang members in Los Angeles are most likely illegal aliens from south of the border."
8. "Nearly 60% of all occupants of HUD properties are illegal."
9. 21 radio stations in L. A. are Spanish speaking.
10. In L. A. County 5.1 million people speak English, 3.9 million speak Spanish.
THE NEW PRIVILEGED CLASS: Illegals (unregistered democrats)!
This is why you work From Jan - May paying taxes to the government ....with the rest of the calendar year is money for you and your family.
Take, for example, an illegal alien with a wife and five children. He takes a job for $5.00 or 6.00/hour. At that wage, with six dependents, he pays no income tax, yet at the end of the year, if he files an Income Tax Return, with his fake Social Security number, he gets an "earned income credit" of up to $3,200..... free.
He qualifies for Section 8 housing and subsidized rent.
He qualifies for food stamps.
He qualifies for free (no deductible, no co-pay) health care.
His children get free breakfasts and lunches at school.
He requires bilingual teachers and books.
He qualifies for relief from high energy bills.
If they are or become, aged, blind or disabled, they qualify for SSI.
Once qualified for SSI they can qualify for Medicare. All of this is at (our) taxpayer's expense.
He doesn't worry about car insurance, life insurance, or homeowners insurance.
Taxpayers provide Spanish language signs, bulletins and printed material.
He and his family receive the equivalent of $20.00 to $30.00/hour in benefits.
Working Americans are lucky to have $5.00 or $6.00/hour left after Paying their bills and his.
The American taxpayers also pay for increased crime, graffiti and trash clean-up.
Cheap labor? YEAH RIGHT! Wake up people!
LA RAZA AMERICA: A Mexicans welfare state
MEXICO INVADES, OCCUPIES, PLUNDERS AND VOTED DEM FOR MORE!
There is also financial and political carnage perpetrated against our nation:

(FIGURES ARE HIGHLY DATED AND GOING UP EVERY WAVE OF INVASION)

1. $11 Billion to $22 Billion is spent on welfare to illegal immigrants each year by state governments (CALIFORNIA SPENDS $30 BILLION PER YEAR IN SOCIAL SERVICES TO ILLEGALS. LOS ANGELES COUNTY CHIPS IN A BILLION PER YEAR FOR THE LA RAZA ANCHOR BABY BREEDERS).
*
2. $22 Billion dollars a year is spent on food Assistance programs such as
food stamps, WIC, and free school lunches for illegal immigrants.
*
3. $2.5 Billion dollars a year is spent on Medicaid for illegal immigrants.
*
4. $12 Billion dollars a year is spent on Primary and secondary school
education for children here illegally and they cannot speak a word of
English!
*
5. $17 Billion dollars a year is spent for Education for the American-born
Children of illegal immigrants, known as Anchor babies.
*
6. $3 Million Dollars a DAY is spent to incarcerate illegal immigrants.
*
7. 30% percent of all Federal Prison Inmates are illegal immigrants. Nearly half the inmates in CA are Mexicans.
*
8. $130 Billion Dollars a year is spent on Illegal immigrants for Welfare & Social Services by the American taxpayers.
*
9. $400 Billion dollars a year in suppressed American wages are caused by the illegal immigrants.
*
10. In 2006, illegal immigrants sent home $45 BILLION in remittances to their Countries of origin.
*
11. The Dark Side of Illegal Immigration: Nearly One million sex crimes committed By Illegal Immigrants In The United States.
12. From $40 to $60 billion hauled back to Mexico from heroin sales!