THEY REALLY HAVE NO IDEA HOW MANY HAVE INVADED!
"Meanwhile, Acting Department of Homeland Security
(DHS) Secretary Kevin McAleenan has admitted that his
agency is merely acting as a checkpoint for illegal aliens, with
all adult border crossers arriving with children getting
released into the interior of the U.S. mere months' time, these
adult border crossers — now living freely in the country —
are
receiving work permits to take U.S. jobs."
Illegal Immigration Soars to Clinton Levels, 1M Illegals Expected this Year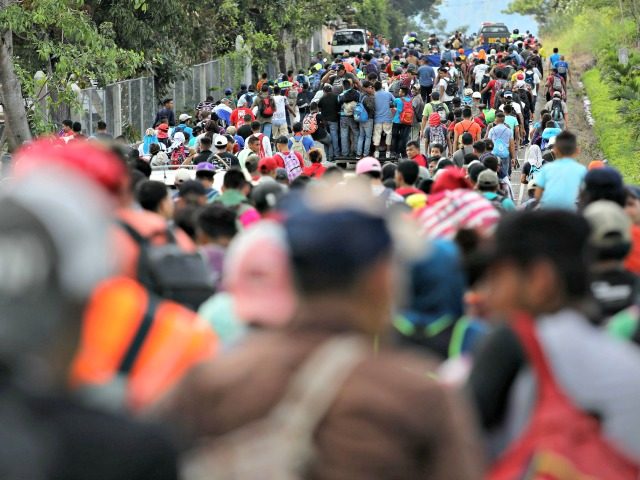 Illegal immigration at the United States-Mexico border for last month surpassed every month of May under the Bush and Obama administrations, taking the U.S. back to a level of border crossings not seen since President Bill Clinton.
As Breitbart News reported, more than 132,000 apprehensions were made in May by U.S. Border Patrol on the southern border. This is a two-decade record high for illegal immigration at the U.S.-Mexico border in May.
Not since May 2000 has the country seen this level of illegal immigration heading into the summer. In May 2000, more than 166,000 border apprehensions were made at the southern border. Clinton was president at the time.
Illegal immigration last month was more than nine times the level of May 2017 and more than three times the level of May 2018 illegal immigration totals.
This month, Prince Policy Advisors researcher Steven Kopits projects that illegal immigration at the southern border will still cross over to more than 100,000 border apprehensions.
Kopits projects that for calendar year 2019, more than one million border apprehensions will be conducted at the U.S.-Mexico border — indicating that more than one million illegal aliens will be caught attempting to enter the country. This does not include the roughly 500,000 illegal aliens who are expected to successfully cross into the U.S. this year, undetected by Border Patrol.
Should illegal immigration hit more than a million border apprehensions this year, it would be more illegal immigration to the country than the last two years combined. Such a rate of illegal immigration would also take the U.S. back to levels not seen since Fiscal Year 2006, when President Bush oversaw massive totals of border crossings.
Meanwhile, Acting Department of Homeland Security (DHS) Secretary Kevin McAleenan has admitted that his agency is merely acting as a checkpoint for illegal aliens, with all adult border crossers arriving with children getting released into the interior of the U.S.mere months' time, these adult border crossers — now living freely in the country — are receiving work permits to take U.S. jobs.
Simultaneously, the overwhelming majority of the 42 miles of newly constructed barriers at the southern border has been to replace older barriers — nearly the exact approach that was taken by the Bush and Obama administrations.
Previously, sources have told Breitbart News that the number of miles of new border wall on land that did not previously have a barrier is close to zero. This indicates that DHS has yet to expand the barriers at the southern border.
John Binder is a reporter for Breitbart News. Follow him on Twitter at @JxhnBinder.
Rally Against illegal immigration & Amnesty at White House Sat June 8

For National Release | June 7, 2019


Share & Discuss this event by email and on (FACEBOOK HERE) . (ALIPAC HERE) .. (TWITTER HERE) .. (GAB HERE)

(Washington, DC) Activists and guest speakers from across America will demonstrate against illegal immigration and Amnesty legislation near the White House in the southwest corner of Lafayette Square this Saturday, June 8 from 11am to 4pm.

Several major news outlets plan to attend and Couy Griffin and Leo Portugal of Cowboys for Trump plan to ride horses into DC and over the memorial bridge to arrive at the event between 11-12 noon.

Only racially inclusive peaceful organizations and activists are invited along with members of the media and public. Americans of many races and walks of life are working together to pressure lawmakers to stop Amnesty and illegal immigration on June 8.

Rally speeches will be recorded and released at a later date and organizers hope to live stream the entire event on the Facebook pages of Raymond Herrera of We The People, America (View LiveSTREAM HERE)

and William Gheen, President of Americans for Legal Immigration PAC, (

View LiveStream HERE)

starting at 11:10am Saturday, June 8.

Supporters are encouraged to watch the event from home and share the live streams with others during and after the broadcast.

The Stand Up America and Stop Illegal Immigration Rally will call on lawmakers in Congress and the White House to stop trying to pass legislative Amnesty for illegal immigrants and bring the current unprecedented flow of fake asylum seeking illegals at our border to a stop.

Stopping DACA Amnesty, Dream Act Amnesty bill HR 6, Catch and Release Presidential policies, birthright citizenship, fake asylum seeker claims, drug smuggling, de facto Amnesty, ballot access, work permits, and taxpayer flights for undocumented immigrants will be addressed along with other grievances.

Articles about illegal immigration written by best selling author Ann Coulter and Daniel Horowitz of Conservative Review will be read at the podium to accompany the distinctive speeches of the speakers listed below.

The current speaker list for the event includes, but is not limited to:

Raymond Herrera and Wes Parker of We The People, America

William Gheen of ALIPAC

Ivan Garcia-Hidalgo of the Hispanic Leadership Council

Stewart Rhodes of Oath Keepers

Angel Family member Jeanne Reid, whose brother was killed by an illegal alien

Hessie Harris & Shakil Hamid of Help Save Maryland

Johsie Cruz Candidate for Congress (R-GA/4) & Latinos for Trump of Georgia

Carlos Alfredo Torres Latinos for Trump of Georgia

Couy Griffin and Leo Portugal of Cowboys for Trump

Virginia Kreiger of Angel Families

"While presiding over the largest drug epidemic in U.S. history, members of our leadership continue to support, protect and enable the Mexican drug cartels, human traffickers, criminal gangs and criminal illegal aliens that are killing approximately 50,000 of our children every single year. The primary duty of our governance is the protection and security of the people, in this respect our leadership has failed miserably," said Virginia Kreiger of Angel Families.



"The goal of those who seek open borders and universal amnesty is the disenfranchisement, displacement, and replacement of American citizens.

We will never surrender our religion, identity,country, traditions, heritage or history," said Hessie Harris of Help Save Maryland.
"I am a Trump supporter. But I have a duty, under my oath to speak out. President Trump is NOT utilizing his power as Commander-in-Chief to secure the border. For just one example, he could federalize the New Mexico National Guard and deploy them back to the border now that the leftist Governor of New Mexico has pulled them off. Why hasn't he done that?" said Stewart Rhodes of Oath Keepers.

Rhodes added, "And he can also deploy the regular US military to the border, in strength, to actually seal it between ports of entry. By failing to use his powers as Commander-in-Chief, he is failing in his duty to defend this nation and to see that the laws as faithfully executed. He can't blame that on Congress or the courts. He hasn't even tried."
Americans who oppose illegal immigration and legislative Amnesty for illegals like

the Dream Act Amnesty HR 6 which passed the House this week are encouraged to attend and bring American flags and appropriate signs.

For more information about the Stand Up America and Stop Illegal Immigration protest in DC at the White House on June 8, or to schedule interviews with guest speakers, please visit www.ALIPAC.us

###
AMERICA: YOU'RE BETTER OFF BEING AN ILLEGAL!!!
This annual income for an impoverished American family is $10,000 less than the more than $34,500 in federal funds which are spent on each unaccompanied minor border crosser.
A
study
by Tom Wong of the University of California at San Diego discovered that more than 25 percent of DACA-enrolled illegal aliens in the program have anchor babies. That totals about 200,000 anchor babies who are the children of DACA-enrolled illegal aliens. This does not include the anchor babies of DACA-qualified illegal aliens. JOHN BINDER
"The Democrats had abandoned their working-class base to chase what they pretended was a racial group when what they were actually chasing was the momentum of unlimited migration". DANIEL GREENFIELD / FRONT PAGE MAGAZINE
the depression is already here for most of us below the super-rich!
Trump and the GOP created a fake economic boom on our collective credit card: The equivalent of maxing out your credit cards and saying look how good I'm doing right now.
*
Trump
criticized Dimon
in 2013 for supposedly contributing to the country's economic downturn. "I'm not Jamie Dimon, who pays $13 billion to settle a case and then pays $11 billion to settle a case and who I think is the worst banker in the United States," he told reporters.
*
"One of the premier institutions of big business, JP Morgan Chase, issued an internal report on the eve of the 10th anniversary of the 2008 crash, which warned that another "great liquidity crisis" was possible, and that a government bailout on the scale of that effected by Bush and Obama will produce social unrest, "in light of the potential impact of central bank actions in driving inequality between asset owners and labor."
*
"Overall, the reaction to the decision points to the underlying fragility of financial markets, which have become a house of cards as a result of the massive inflows of money from the Fed and other central banks, and are now extremely susceptible to even a small tightening in financial conditions."
"It is significant that what the Financial Times described as a "tsunami of money"—estimated to reach $1 trillion for the year—has failed to prevent what could be the worst year for stock markets since the global financial crisis."
*
"A decade ago, as the financial crisis raged, America's banks were in ruins. Lehman Brothers, the storied 158-year-old investment house, collapsed into bankruptcy in mid-September 2008. Six months earlier, Bear Stearns, its competitor, had required a government-engineered rescue to avert the same outcome. By October, two of the nation's largest commercial banks, Citigroup and Bank of America, needed their own government-tailored bailouts to escape failure. Smaller but still-sizable banks, such as Washington Mutual and IndyMac, died."
*
The GOP said the "Tax Cuts and Jobs Act" would reduce deficits and supercharge the economy (and stocks and wages). The White House says things are working as planned, but one year on--the numbers mostly suggest otherwise.
Rising urban rents are reducing the economic incentives for young people to migrate into bigger towns and cities for better-paying careers, say U.K. and U.S. studies.
"Work from the US has shown that while there are higher earnings to be found in more productive states, the [economic gain from] moving to these better-paying areas have diminished since the mid-1990s because higher housing costs have absorbed much more of the gain," says the British study titled "Moving Matters: Housing Costs and Labor Market Mobility."
The British study and the subsequent media coverage carefully ignored the most important factor in rising housing costs: the growing influx of international migrants who are raising the demand and prices for housing.
The British report notes that the rising housing costs hit young British people the hardest, making it more difficult for them to form their own families. Because "moving matters especially for those at the beginning of their working lives, we can see once again that the housing choices of today's younger people are bearing down on their living standards to a greater extent than they did for previous generations at the same age," the U.K. study said.
More young people are getting stuck where they grew up or went to university because they cannot afford rents in places where they can earn more money, according to the Resolution Foundation think tank. It found the number of people aged 25 to 34 starting a new job and moving home in the last year had fallen 40% over the last two decades.

Whereas previous generations were able to move to big cities such as London and Manchester or regional hubs like Leeds and Bristol to develop their careers, the current millennial generation is enduring a slump in mobility caused by rising rents, which can wipe out the financial gains of a move.
The study also says the rising rents are pushing more people into longer commutes:
Those that choose to move to cheaper housing cost areas but stay in the same job – or to move both job and home but to live in a cheaper area further away from where the job is located – will need to travel further to work each day … [and] the average travel-to-work time for all age groups has increased over time, from 25 minutes for 25-34 year olds in 1996, for example, to 32 minutes in 2017.
The British study matches a 2017 U.S. study about widening wage gaps in the United States that said that "rising housing prices in high-income areas deter low-skill migration [by Americans into wealthier cities] and slow income convergence" between rich and poor.
The U.S. study titled "Why Has Regional Income Convergence in the U.S. Declined?" noted:
Lawyers continue to earn much more in the New York area in both nominal terms and net of housing costs, but janitors now earn less in the New York area after subtracting housing … for lawyers in the New York area, housing costs are equal to 21% of their income, while housing costs are equal to 52% of income for New York area janitors. While it may still be worth it for lawyers to move to New York, high housing prices offset the nominal wage gains for janitors [who move to New York] …

In the mid-twentieth century, low- and high-skill workers moved from low-income to high-income places. In recent years, as high-skill workers move to high-income places, low-skill workers leave. We call this phenomenon "skill sorting".
Like the U.K. study, the U.S. study does not identify the impact of international immigration on housing costs.
But many other studies show that immigrants concentrate in coastal cities and that immigrants spike housing costs. Both factors combine to help price Americans out of coastal cities — and so deny them the decade-by-decade benefit of better careers and rising real estate wealth.
Investors also admit that immigration boosts housing and real estate prices. Breitbart News reported in May:
EIG's April 2019 proposal for more imported workers and consumers admits that the current immigration policy favors large cities, saying:

It currently serves to increase the regional disparities highlighted above: the fastest-growing decile of counties has proportionally more skilled immigrants than the slowest-growing one by a factor of eight. What is more, the 20 most populous U.S. counties currently contain 37% of the country's skilled immigrants compared to only 19% of the country's total population.

More broadly, the 5% of counties with the highest home prices have over half of the country's skilled immigrants, and 90% of skilled immigrants live in the top one-third of counties with the highest housing prices.

The group also admitted that more immigration raises housing prices, which is bad for home buyers, such as young married Americans seeking to start a family. "Cheaper housing is good for first-time home buyers and renters," says the EIG proposal, which is titled "Could a Heartland Visa help Struggling Regions?"
The problem is made worse because new legal and illegal immigrants can move faster from one city to another when employers begin to hire many people for a new factory or a construction project. The migrants move faster than natives because they have fewer family ties to keep them in one area, but also because their tight ethnic networks provide them with critical contacts needed to win jobs, apartments, and social support in unfamiliar cities.
Also, poor immigrants will gladly pool their wages to crowd into expensive apartments near their U.S. jobs, such as in South Arlington near Washington, DC. But that common sense practice also spikes rental prices and so blocks the arrival of young Americans who do not want to lower their living standards when they move into the bigger cities. This displacement process keeps many Americans out of urban careers and housing markets, even as real estate investors loudly cheer for more immigration and more renters.
These housing factors were not relevant in the decades before the 1965 immigration law, when it was common for poor Americans in West Virginia and other heartland states to follow their relatives down the "Hillbilly Highway" to jobs in Detroit, Baltimore, and other industrial cities. Their internal migration helped create the suburban middle-class from the 1950s onwards — but that middle-class is now shrinking amid rising immigrant numbers and rising housing prices.
Each year, roughly four million young Americans join the workforce after graduating from high school or university.
But the federal government then imports about 1.1 million legal immigrants and refreshes a resident population of roughly 1.5 million white-collar visa workers — including approximately one million H-1B workers — and approximately 500,000 blue-collar visa workers.
The government also prints out more than one million work permits for foreigners, tolerates about eight million illegal workers, and does not punish companies for employing the hundreds of thousands of illegal migrants who sneak across the border or overstay their legal visas each year.
This policy of inflating the labor supply boosts economic growth for investors because it ensures that employers do not have to compete for American workers by offering higher wages and better working conditions.
This policy of flooding the market with cheap, foreign, white-collar graduates and blue-collar labor also shifts enormous wealth from young employees towards older investors, even as it also widens wealth gaps, reduces high-tech investment, increases state and local tax burdens, and hurts children's schools and college educations. It also pushes Americans away from high-tech careers and sidelines millions of marginalized Americans, including many who are now struggling with fentanyl addictions. The labor policy also moves business investment and wealth from the heartland to the coastal cities, explodes rents and housing costs, shrivels real estate values in the Midwest, and rewards investors for creating low-tech, labor-intensive workplaces.