Jerry Brown 'Un-Appointed' Latina to Make Room for Crony's Wife on State Board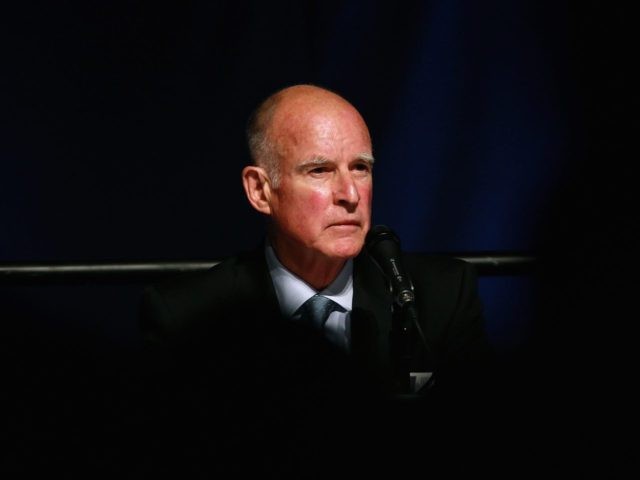 California Governor Jerry Brown has a pattern of appointing cronies — sometimes unqualified ones — to state boards, according to columnist Dan Walters of Calmatters.org.
Walters cites several examples — including a case in 2011 where Brown rescinded the appointment of a Latina woman, Isabel Barreras, by his predecessor, Gov. Arnold Schwarzenegger, to make room for "Natalie Berg, the wife of one of Brown's oldest and closest friends, the late San Francisco lobbyist and political activist, Peter Finnegan."
That "was not the last example of Brown's penchant for appointing close aides and personal friends to state positions, some prestigious and powerful, and others carrying hefty salaries," Walters writes.
One particularly egregious example was the appointment of choir director Juan Pedro Gaffney to the state Workers' Compensation Appeals Board, which is usually made up of attorneys and experts who understand workplace disability law. Gaffney had been a classmate of Brown's 60 years ago at St. Ignatius High School.
He adds: "Brown has always portrayed himself as a transformative political figure, but in his second gubernatorial incarnation he's adopted the traditional trappings of politics, including giving jobs to those closest to him."
As Breitbart News noted in 2014, Brown also had a pattern of appointing graduates of Yale Law School — his alma mater — to high judicial posts, even when they did not seem to have the experience to qualify.
He will soon appoint a fourth appointee to the California Supreme Court, meaning that he will have appointed a majority of the court's seven judges, setting the direction of California law and policy for many years to come.
Joel B. Pollak is Senior Editor-at-Large at Breitbart News. He is a winner of the 2018 Robert Novak Journalism Alumni Fellowship. He is also the co-author of
How Trump Won: The Inside Story of a Revolution
, which is available from Regnery. Follow him on Twitter at @joelpollak.
JERRY BROWN WILL RETIRE TO A JESUIT MONASTERY AND PRAY OVER THE MUCKED-UP MESS HE CALLS MEXIFORNIA!
California Attorney General Xavier Becerra and Former Los Angeles Mayor Antonio Villaraigosa….. Members of the racist, violent, fascist M.E.Ch.A. separatist movement.
http://mexicanoccupation.blogspot.com/2017/11/california-attorney-general-xavier.html
"Many wonder why Xavier Becerra was chosen by Brown. But all anyone has to do is peek into the radical California Legislature, and fanatical Gov. Jerry Brown, to see the trend of militant Marxist, Socialist, Jesuit, Liberation Theology, Latino activism on the increase."
CALIFORNIA DMV GIVES ILLEGAL VOTERS A SURGE
The Once 'Golden State' Is Badly Tarnished
CRIMINALS WIN BIG IN CALIFORNIA SANCTUARY RULING
Bush appointee upholds protections for false-documented illegals.
California Gets 'F' Grade from 'Truth in Accounting'
The non-partisan "Truth in Accounting" project, which analyzes government financial reports, has awarded California an "F" grade for claiming surpluses instead of a $269.9 billion deficit.
Skyrocketing crime rate in California called 'good progress' after jails emptied