did you ever hear of HOMELESSNESS before Obama and his banksters showed up???
Barack Obama Lectures World on Racial, Wealth Inequality in South Africa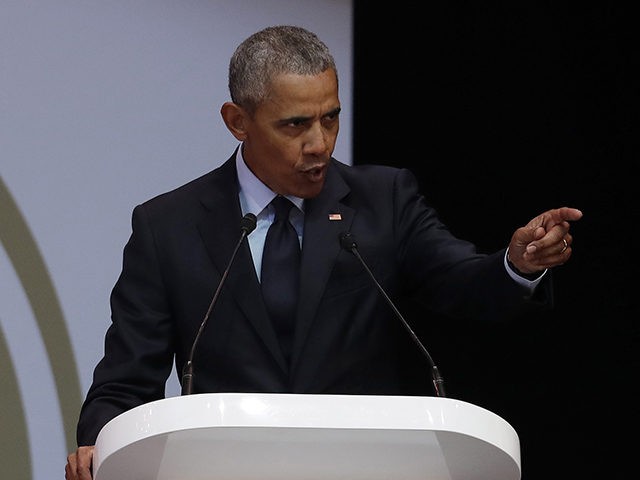 Former President Barack Obama on Tuesday delivered the 16th annual Nelson Mandela lecture in Johannesburg, South Africa and called for greater global wealth redistribution, scolding the rich for having more money than they need.
"For almost all countries, progress is going to depend on an inclusive market-based system – one that offers education for every child, that protects collective bargaining and secures the rights of every worker," Obama began. "That breaks up monopolies to encourage competition and small and medium-sized businesses and has laws that root out corruption and ensures fair dealing in business, that maintains some form of progressive taxation so that rich people are still rich, but they're giving a little bit back to make sure that everybody else has something to pay for universal healthcare and retirement security, and invest in infrastructure and scientific research that builds platforms for innovation."
The former president has raised eyebrows over his opulent lifestyle since departing the White House. Obama in February of 2017

vacationed

in the British Virgin Islands with Virgin Group founder and billionaire Richard Branson and

joined

Oprah and Bruce Springsteen on a luxury cruise on Hollywood mogul David Geffen's $590 million yacht in April of that year.
In a bizarre moment, the former president then criticized himself for amassing too large of a fortune. "I should add, by the way, right now I'm actually surprised by how much money I got, and let me tell you something, I don't have half as much as most of these folks or a tenth or a hundred thou— there's only so much you can eat, there's only so big a house you can have, there's only so many nice trips you can take. I mean, it's enough," he lamented.
Obama also offered up criticism of the current state of race relations in the United States. "It is a plain fact that racial discrimination still exists in both the United States and South Africa," Obama told attendees of the speech at Ellis Park Arena. "And it is also a fact that the accumulated disadvantages of years of institutionalized depression have created yawning disparities in income, and in wealth and in education, and in health, in personal safety, in access to credit."
Obama opened by describing today's times as "strange and uncertain," adding that "each day's news cycle is bringing more head-spinning and disturbing headlines." These days "we see much of the world threatening to return to a more dangerous, more brutal, way of doing business," he said.
This is the former president's first visit to Africa since leaving office in early 2017. He stopped earlier this week in Kenya, where he visited the rural birthplace of his late father. Obama's speech highlighted how the Nobel Peace Prize winner, who was imprisoned for 27 years, kept up his campaign against what appeared to be insurmountable odds to end apartheid, South Africa's harsh system of white minority rule.
The Associated Press contributed to this report.
THE INVITED INVADING HORDES: IT'S ALL ABOUT KEEPING WAGES DEPRESSED!
"In the decade following the financial crisis of 2007-2008, the capitalist class has delivered powerful blows to the social position of the working class. As a result, the working class in the US, the world's "richest country," faces levels of economic hardship not seen since the 1930s."
"Inequality has reached unprecedented levels: the wealth of America's three richest people now equals the net worth of the poorest half of the US population."
"Like Katrina, Hurricane Harvey has lifted the lid on the ugly reality of American society, exposing colossal levels of social inequality, pervasive poverty and ruling class criminality."
"The reason why these warnings have been ignored is not hard to fathom. They have been resolutely opposed by corporate interests, including the real estate industry, Wall Street and Big Oil. Their ability, operating through bribed politicians of both parties, to veto and block elementary measures to protect the American people, exemplifies the complete subordination of all social needs under capitalism to the selfish drive of a corporate-financial oligarchy to accumulate ever greater levels of personal wealth and profit."
SOARING POVERTY AND DRUG ADDICTION UNDER OBAMA
"These figures present a scathing indictment of the social order that prevails in America, the world's wealthiest country, whose government proclaims itself to be the globe's leading democracy. They are just one manifestation of the human toll taken by the vast and all-pervasive inequality and mass poverty.
WALL STREET TO THE AMERICAN PEOPLE: DIE YOUNG… your company pension dies with you!
OPIOID AND ALCOHOL ADDICTION KILLS OF MIDDLE AMERICA
OBAMA-CLINTONOMICS to serve the filthy rich
The same period has seen a massive growth of social inequality, with income and wealth concentrated at the very top of American society to an extent not seen since the 1920s.
"This study follows reports released over the past several months documenting rising mortality rates among US workers due to drug addiction and suicide, high rates of infant mortality, an overall leveling off of life expectancy, and a growing gap between the life expectancy of the bottom rung of income earners compared to those at the top."
OBAMA'S CRONY BANKSTERISM destroyed a 11 TRILLION DOLLARS in home equity… and they're still plundering us!
Barack Obama created more debt for the middle class than any president in US
history, and also had the only huge QE programs: $4.2 Trillion.
OXFAM
reported that during Obama's terms, 95% of the wealth created went to
the top 1% of the world's wealthy.
AMERICA: ONE PAYCHECK AND TWELVE ILLEGALS AWAY FROM HOMELESSNESS!


A dashcam video of downtown Los Angeles on Christmas day reveals a stunning sight: hundreds of tents and lean-tos on the sidewalks that serve as shelter for the homeless. The scene is reminiscent of a third-world country. RICK MORAN / AMERICANTHINKER com
HOMELESS CRISIS IN LOS ANGELES, MEXICO'S SECOND LARGEST

CITY, WORSENS BY THE DAY…. Approximates the great depression