Bernie Sanders and Biden would end deal with Mexico stemming Central American migration: Ex-Trump Border Patrol chief
SAN ANTONIO

—

Mexico's military deployment to block Central American migration remains "very active" nine months after President Trump threatened tariffs if it did not do so, but the deal could fall apart if either of the leading Democratic candidates is elected, according to a former top U.S. border official.
Mexico has "made the calculation that this is in their interest, and it will continue to be so long as they believe that stick is out there," said Ron Vitiello, a 34-year Border Patrol agent who was Trump's first Border Patrol chief. The deployment of thousands of Mexican troops to its southern border came to fruition last June after Trump told Mexico it would face 5%-25% tariffs on all trade if it did not do dramatically more to prevent migrants, primarily families, from passing through Mexico on their way to the United States.
Vitiello described Mexico's continued use of troops along its southern border with Guatemala and internally in the country as something he had asked for throughout his career while he was stationed on the border in leadership roles.
"They've done this before, but never to this scale or sustainment," Vitiello said about the troop deployments.
Last May, U.S. border officials encountered 144,000 people at the southern border. More than 90% had illegally crossed, and the remainder sought asylum at ports of entry. Many more went undetected. Mexico responded with troops on its northern and southern borders, as well as inside the country along popular travel routes. By August, the number of people encountered by border law enforcement was half the May rate, according to Customs and Border Protection data.
A Border Patrol agent based in the southern border's busiest region in South Texas described at the time how part of the Mexican military's success at the U.S.-Mexico border was due to keeping the cartels from allowing migrants to cross. Criminal organizations maintain control of land on the Mexico side of the border and charge migrants to cross the river. They were not letting as many people cross because it would draw attention and prompt a response from the nearby Mexican military.
Vitiello said he does not think Mexico has a reason to stop cooperating unless one of two things happens.
"The [Mexican] domestic politics could eat them up," Vitiello said. But he added: "I don't think they're going to get to that place. Their economy is not that good. They rely on trade. They're not going to be eager to pay a 25% tariff."
If Trump loses the November election, Vitiello does not think either of the Democratic front-runners, former Vice President Joe Biden and Vermont Sen. Bernie Sanders, would continue to hold the threat of tariffs over Mexico in return for their deployment of troops to block migrants from Central America traveling to the U.S. The Biden and Sanders campaigns did not respond to requests for comment.
An unraveling of Trump policies could prompt a surge even greater than last year's humanitarian crisis and with nowhere near enough immigration detention space to hold people, Vitiello said. Immigration and Customs Enforcement has just over 50,000 adult beds and even less bed space for families, which can legally be held no more than 20 days.
Under Trump, the Department of Homeland Security has implemented several policies and programs that it says will counter "loopholes" it says incentivize migrants to flee home countries plagued with extreme poverty and crime. Those policies include the court-challenged Migrant Protection Protocols program, or the Remain in Mexico policy, which mandates asylum-seekers wait in Mexico while their cases are heard in tent courts on the border, and increasing the number of repatriation flights of people who are returned to countries of origin.
"Without MPP, we're right back where we were a year ago," he said. "Congress could avoid another crisis at the border in very similar terms by making sure kids who were trafficked get relief and safeguards, setting standards for immigration detention, and still protecting the border."
"They've been derelict in ignoring it," he added.
After working as Border Patrol chief, Vitiello became deputy commissioner of CBP and acting director of ICE in the Trump administration before leaving government.
"The American Southwest seems to be




slowly returning to the jurisdiction of




Mexico without firing a single shot." --


- Excelsior, the national newspaper of


Mexico




When There Was Just Biden and Bernie
Sunday's Democrat "debate" goes down without a live audience on CNN.
Before Sunday's Democrat "debate" on Sunday, sans live audience on CNN, Joe Biden was on a roll in the primaries and the party's number one contender for the White House, hailed by establishment media as The Man Who Will Beat Trump. Bernie Sanders was coming off a string of defeats but still standing and ready to throw down with Joe, stationed a good ten feet away. That was perhaps in deference to the coronavirus, subject of the initial questions.
"My heart goes out," said Joe. "This is bigger than any one of us." The former vice president would get testing kits, bring in the World Health Organization and deal with the economic fallout quickly, with interest-free loans and such.
"Shut up this president right now," countered Sanders, charging that Trump was "undermining the doctors" and "blabbering with unfactual information." From there it was a quick pivot to his campaign boilerplate. The virus "exposes the weakness and dysfunctionality of our healthcare system." The USA was the only major country not to offer health care to all the people and a "bunch of crooks" are running the pharmaceutical industry. And Wall Street, and so on.
For Biden the virus was "like being attacked from abroad, like a war." So Biden would deploy the military, and the crisis had nothing to do with co-pays or anything like that. Biden did note that Italy has a "single payer" health system and it was "not working," in the crisis.
Univision's Ilia Calderón, sitting in for Jorge Ramos, asked what would happen to the "undocumented" during the pandemic. Both Democrats assured the television audience that all would be covered and not deported. And how were the candidates faring their own selves?
Sanders had stopped conducting rallies, had staff working from home, and was not shaking hands. Biden said he had no underlying conditions, adding "knock on wood" as he touched his own head with a smile. Biden was not shaking hands either, and not going into crowds.
The hosts asked Biden about the "revolution" Bernie had been touting, and Joe said "revolution will disrupt." For example, how would Medicare for all get passed? Biden touted his plan to restore Obamacare because "people want hope and need it now."
The Democrat duo battled over bankruptcy law, tuition-free college, the minimum wage and gun control. The television audience could believe that, on most issues, the differences were only a matter of details.
"Look, if Bernie is nominee I will support him and campaign for him," Biden said. "The existential threat to America is Donald Trump." The front-running Biden didn't disagree with the Green New Deal in principle, but said "I fundamentally disagree with president on everything." Trump must be defeated "to restore this country's soul."
For his part, Sanders could not deal with a president who is a "pathological liar," as well as
a "racist, sexist and homophobe." He would do "everything humanly possible to defeat Trump." On the other hand, Ilia Calderón wanted to know why Cubans in Florida should support Sanders, who has been praising the "dictator" Castro.
Sanders claimed he had opposed "authoritarianism" in Cuba and around the world. But to say "those administrations" had never done anything to benefit the people "is a mistake." China, for example, had made progress in reducing poverty. Biden recalled Sanders' support for Castro, the Sandinistas in Nicaragua, and even the Soviet Union.
Calderón asked Biden if it had been a mistake to deport millions of people during the Obama administration. Biden said "I didn't speak" out and "took much too long to get it right." In his first 100 days as president, Biden said, "no one will be deported" and after that, "only felons get deported." And Joe wanted a path to citizenship for the "11 million" a figure Sanders also used, though the true number is now
upward of 22 million
, with 10 million in California alone.
"Nobody is talking about open borders," said Sanders, who would restore DACA, and end ICE raids. Both candidates would "surge" judges to the border and agreed that police must not turn over the "undocumented" to immigration authorities.
Joe Biden said "our future rests with the Latino community," which was like the Irish and Italian immigrants. And according to Joe, "xenophobia is a disease."
Biden went on record that he would select a woman as his running mate and as president would appoint the first black woman to the U.S. Supreme Court. Bernie Sanders was not as certain that a woman would be his running mate and neither candidate was naming names.
Aside from "knock on wood," Biden was reasonably coherent, but still seemed like the Tom Shillue knock-offs on the "Greg Gutfeld Show." In similar style, Bernie's "pathological liar" recalls Joe Piscopo's perfect rendition.
Neither candidate would remind the audience of Democrats such as Harry Truman or John F. Kennedy. Neither seemed particularly confident that they could actually defeat Donald Trump on November 3. As the president says, we'll have to wait and see what happens.
JOE BIDEN'S PLAN TO RESOLVE AMERICA'S HOUSING AND HOMELESS CRISIS IS TO HAND 40 MILLION LOOTING ILLEGALS AMNESTY SO THEY MAY LEGALLY BRING UP THE REST OF MEXICO!
"Make no mistake about it: the Latino community holds this election in your hands. Some of the closest contests this November will be in states like Florida, Colorado, Nevada and New Mexico -- states with large Latino populations."
PRESIDENTIAL CANDIDATE BARACK OBAMA
"I know how powerful this community is. Just think how powerful you could be on November 4th if you translate your numbers into votes."
PRESIDENTIAL CANDIDATE BARACK OBAMA
MEXICO BANKRUPTS CALIFORNIA HOSPITALS - MEX CONSULATES URGE LOOTING OF LEGALS
While the Obama Administration halts deportations to work on its secret amnesty plan, hospitals across the U.S. are getting stuck with the exorbitant tab of medically treating illegal immigrants and some are finally demandin
g compensation from the federal government
Joe Biden Promises to Restart 'Catch and Release' of Migrants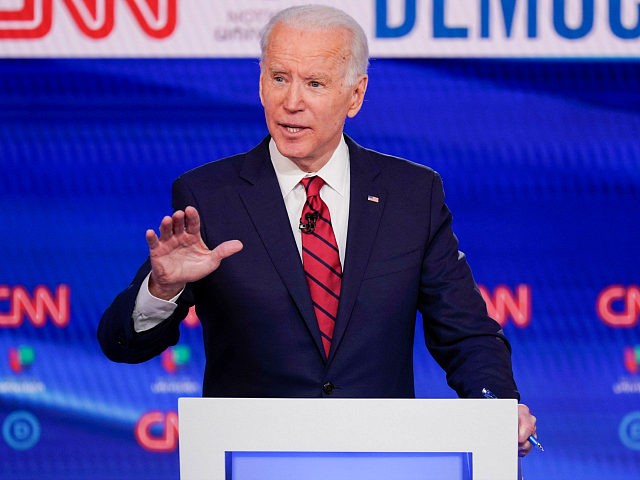 Democrat frontrunner Joe Biden said Sunday he will restart the catch and release of southern migrants into Americans' workplaces, neighborhoods, and K-12 schools.
"No one, no one would be put in jail while waiting for their [asylum] hearing," Biden told the audience during CNN's Democrat debate.
President Donald Trump has largely blocked the huge 2019 inflow of Latin American migrants into blue-collar jobs by ending catch and release policies, which allow migrants to get the U.S jobs they need to pay off their smuggling debts to the cartel-affiliates coyotes.
By ending catch and release, Trump created an economic deterrent to further migration, causing an immediate crash in migrant numbers. In May 2019, for example, 140,000 migrants paid thousands of dollars to be smuggled across the U.S. border. In January, only 30,000 people migrated to the border because many would-be migrants understood they would not be released to get a U.S. job.
The shutdown of catch and release also pressured U.S. employers to raise Americans' wages — and to keep jobs open for sidelined Americans. In 2019, wages for blue-collar Americans rose roughly five percent, while wages for white-collar Americans rose by less than four percent.
Released migrants can also hide from enforcement authorities and use their U.S. paychecks to hire coyotes for their spouses. The jobs can also fund the coyotes who bring their children up to the border's "Unaccompanied Alien Children" loophole and then into the K-12 schools needed by Americans'.
In May 2019, roughly 80,000 migrants were allowed into the United States because the rush of 140,000 migrants overwhelmed the border defenses. In February 2002, 95 percent of migrants were denied release and were instead redirected home or to wait in Mexico until an asylum court can hear their plea, border officials told Breitbart News.
However, the officials also said they released 2,000 people into the United States. They were released for reasons of health and to serve as witnesses in court cases, officials said.
OBAMA'S LONG HISTORY OF HISPANDERING FOR THE ILLEGALS' VOTES