HEATHER MAC DONALD
WINDOW INTO THE DEPRAVED GHETTO BLACK CULTURE of VIOLENCE, HATE AND RACISM
BLACK LIVES MATTER? Life doesn't matter to America's ignorant ghetto blacks period!
THERE IS NO SUB-CULTURE IN THE WORLD THAT MURDERS AND ABORTS ITS OWN MORE THAN AMERICA'S GHETTO BLACKS!
GHETTO BLACKS AND THEIR MURDER AND MAYHEM
BLACKS LOOT VICTIMS OF HURRICANE FLORENCE… "It's our right!"
COAST TO COAST BLACKS ARE OUT OF CONTROL!
"The only other explanation is one that just happened to be true: crime
in Oakland, one of America's most dangerous cities, is a black

thing, wildly out of proportion. Anyone who cannot see that is in full
denial, deceit, and delusion."
GHETTO BLACK MAN GOES ON RAMPAGE
"Court filings charge that Lewis then loaded several backpacks with as many Apple iPhones, watches, and other items as he could before exiting the store. He is also accused of stealing items from another local store that day as well as stealing items from that same Target on other occasions."
THE GHETTO BLACK MAN CRIME TIDAL WAVE.
TWO MEN FILM THEIR R APE OF 9-MONTH-OLD BABY
Police: Thieves Douse 71-Year-Old Man with Bleach and Beat Him During Home Invasion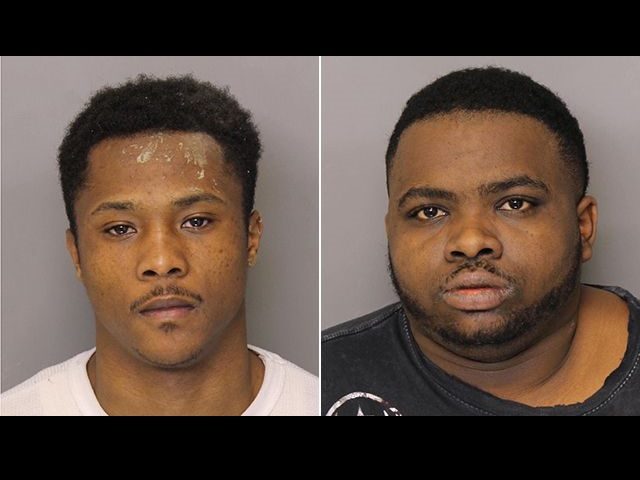 Two elderly Maryland men were beaten and robbed during a home invasion, police say. One victim was doused in bleach while the other was beaten with a golf club.
Authorities
report
that a 71-year-old man and his elderly roommate were robbed and beaten at gunpoint on Thursday. The violent thieves followed the 71-year-old victim as he was walking home and pulled a gun on him forcing him into the home, according to CBS affiliate WJZ-TV.
The three assailants poured bleach on the man and demanded money and valuables as they beat him.
A second man was in the house already, police said. A 60-year-old man tried to defend himself with a golf club, but the men were armed with guns and quickly took the club away.
Officer Jennifer Peach of the Baltimore County Police said they feel that the attack was "targeted," but would not elaborate on why they think that.
Officials claimed that Dwayne White Jr., 19, and Kwiesi Alston, 20, are suspects in the home invasion.
The suspects have been hit with a string of charges including attempted murder. They are currently being held without bond.
Police have not identified the third suspect.
Follow Warner Todd Huston on Twitter @warnerthuston
.
Georgia sisters accused of beating 3-year-old to death for taking cupcake
Two Sisters Accused of Fatally Beating 3-Year-Old for Taking a Cupcake
Two sisters in Georgia who are accused of fatally beating a three-year-old boy for grabbing a cupcake from the kitchen are set to go on trial this week.
Black Violence: The Terror That Dare Not Speak Its Name
Shocking moment customer sends female store clerk crashing to the ground as he punches her in the face after his card was declined

Suspected Serial Killer Samuel Little Suspected in More Than 90 Murders
Former NFL Player Justin Crawford Arrested for Having Sex with a 12-Year-Old Girl
Justin Crawford, a former Georgia high school and college football star and NFL flameout, has been arrested and accused of having sexual contact with a 12-year-old girl, police say.
Two Men Accused of Filming, Raping 9-Month-Old Girl
Two men are accused of raping a nine-month-old girl in Tennessee and taping the horrific attack.
Michigan man accused of being a serial rapist may have HUNDREDS of victims after police find a trove of tapes of women being sexually assaulted in his home
Heartless dognappers are caught on surveillance video stealing 10-week-old puppy named Chipper over a fence and speeding off in a Cadillac
RELATED ARTICLES
SHARE THIS ARTICLE
Chamber of Commerce President Shot, Killed Near Memphis National Civil Rights Museum
Memphis Chamber of Commerce president Phil Trenary was shot and killed Thursday night near the National Civil Rights Museum.
Judge Declares Bill Cosby a 'Sexually Violent Predator'
NORRISTOWN, Pa. (AP) — A judge declared Bill Cosby a "sexually violent predator" on Tuesday as he prepared to sentence the 81-year-old comedian for drugging and sexually assaulting a woman over a decade ago.
DC police investigating murder of white jogger as a hate crime
Store surveillance video reveals a man going on a rampage at a Seattle Target store that he allegedly terrorized on three occasions, according to
KIRO 7
.
You know when you see a headline of "looters" you're going to be looking a blacks!
HEATHER MAC DONALD
WATCH: Robbery Suspect Flees After Deli Clerk Takes Away His Gun

NYPD
18 Sep 2018
191
A deli clerk in the Bronx wrestled the gun away from a would-be robber Monday and everything was caught on surveillance video.
Watch: Teens Rob Store After Watching Clerk Suffer Heart Attack
and you know she's (he?)black!
Woman Gets 3 Years in Jail for Throwing Dog Off San Francisco Parking Garage

ANTI-SEMITE LOUIS FARRAKHAN SPOTTED IN THE FRONT ROW AT ARETHA FRANKLIN'S FUNERAL
Louis Farrakhan, the anti-Semitic leader of the Nation of Islam, managed to snag a front-row seat at Aretha Franklin's funeral on Friday.
A live broadcast of the Queen of Soul's funeral shows Farrakhan seated in the same row with Rev. Al Sharpton, Rev. Jesse Jackson and President Bill Clinton.