DEMOCRAT PARTY CONTROLLED CITIES LIKE BALTIMORE, LOS ANGELES, CHICAGO AND NEW YORK ARE ALL SANCTUARY CITIES AND IN MELTDOWN!
YOU WILL NOT HEAR OUT OF THE BIG MOUTHS OF THESE POLS A WORD ON AMERICA'S HOMELESS! THEY'RE GAGGING ON AMNESTY! AMNESTY! AMNESTY! GIVE OUR DEM VOTING ILLEGALS MORE!
Bernie Sanders Blasted Elijah Cummings' District as a 'Third World Country'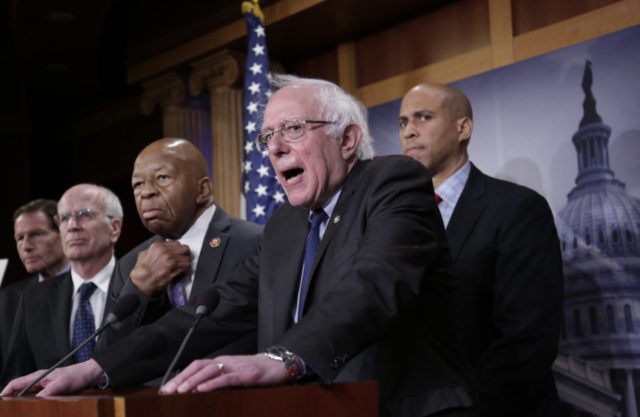 Sen. Bernie Sanders said on Sunday he thinks it's "unbelievable" that President Trump "attacks American cities" when asked about Trump's tweet calling Democratic Rep. Elijah Cummings' Baltimore district a "disgusting, rat and rodent infested mess."
However, Sanders sounded a different tune in 2015 when he likened Cummings' West Baltimore district to a "Third World country."
"Anyone who took the walk that we took around this neighborhood would not think you're in a wealthy nation. You would think that you were in a Third World country," Sanders
said
during a tour of the city in the aftermath of riots over the April 2015 death of Freddie Gray, an African-American man who died after falling into a coma while in police custody.
The Baltimore Sun
reported
that Sanders toured the neighborhood where Gray was arrested "hoping to reach out to African-American voters in his bid for the Democratic presidential nomination." The neighborhood falls inside Cummings' district.
Speaking to CNN on Sunday, Sanders
slammed
Trump over the president's tweets pointing out the dismal living conditions in Cummings' district. "It's unbelievable that we have a President of the United States who attacks American cities, who attacks Americans," he told CNN's Jake Tapper on "State of the Union."
Sanders' 2015 "Third World" comments are not his onely statements criticizing the living conditions in Baltimore.
In 2016, the politician sounded off about Baltimore's "poorest boroughs," saying that residents have "lifespans shorter than people living under dictatorship in North Korea."
The spat comes as Trump responded to criticism characterized by the president as Cummings' "shouting and screaming at the great men & women of Border Patrol about conditions at the Southern Border."
Trump described Cummings' district as "a disgusting, rat and rodent infested mess."
"If he spent more time in Baltimore," the president tweeted, "maybe he could help clean up this very dangerous & filthy place."
The president has since doubled and even tripled down:
Trump also went after Nancy Pelosi's district in San Francisco.
Flashback: Bernie Sanders Cited North Korea to Slam Conditions in Baltimore: 'That Is a Disgrace'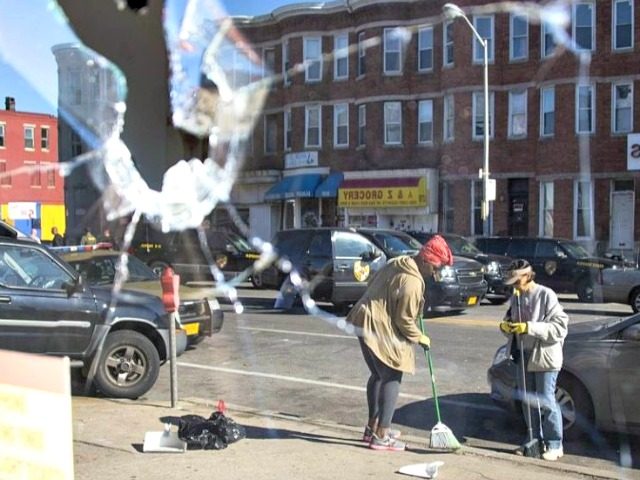 Sen. Bernie Sanders (I-VT) once referenced North Korea to slam the conditions and lifespan of residents in Baltimore's "poorest boroughs," calling it a "disgrace."
This comes in the wake of far-left politicians slamming President Trump over criticisms of House Oversight Committee Chairman Elijah Cummings (D-MD), who represents Baltimore's district.
In 2016, Sanders slammed the conditions in Baltimore's "poorest boroughs," claiming that residents have "lifespans shorter than people living under dictatorship in North Korea."
"That is a disgrace," he added in May 2016.
Days later, he added: "Horribly, someone born in Baltimore's poorest neighborhood can expect to live 20 years less than a person born in the wealthiest area."
This comes in the wake of criticisms from far-left lawmakers aimed at Trump, who slammed Cummings Saturday for "shouting and screaming at the great men & women of Border Patrol about conditions at the Southern Border."
Trump wrote:
Rep. Elijah Cummings has been a brutal bully, shouting and screaming at the great men & women of Border Patrol about conditions at the Southern Border, when actually his Baltimore district is FAR WORSE and more dangerous. His district is considered the Worst in the USA as proven last week during a Congressional tour, the Border is clean, efficient & well run, just very crowded. Cumming District is a disgusting, rat and rodent infested mess. If he spent more time in Baltimore, maybe he could help clean up this very dangerous & filthy place.
Trump doubled down hours later:
House Speaker Nancy Pelosi (D-CA) described Trump's criticism as "racist."
"@RepCummings is a champion in the Congress and the country for civil rights and economic justice, a beloved leader in Baltimore, and deeply valued colleague," she said. "We all reject racist attacks against him and support his steadfast leadership."
She was not the only prominent Democrat to accuse Trump of racism:
It remains unclear if Sanders will address his previous remarks on the city, or if fellow 2020 contenders consider his criticisms "racist" as well.
Baltimore's weakest link and the border
You may wonder what the connection between the city of Baltimore and our national border is, since Baltimore is not a border city. I'll tell you: Elijah Cummings.
Elijah Cummings is a politician currently serving in his 13th term in the U.S. House of Representatives, having served since 1996. His district includes the Maryland counties of Baltimore and Howard. He previously served in the Maryland House of Delegates. He is a member of the Democratic Party and current chair of the U.S. House Committee on Oversight and Reform.
As any career politician seeking re-election, Mr. Cummings puts on shows in the House, as he did on July 16, 2019. During a congressional hearing on "The Trump Administration's Child Separation Policy," Cummings took Kevin McAleenan, the acting Homeland Security Secretary, to task for the way illegal immigrant children are treated in detention centers.
"You feel like you're doing a great job, right?" Cummings asked McAleenan.
"We're doing our level best in a very challenging situation," McAleenan said.
"What does that mean?" Cummings said, raising his voice and interrupting McAleenan.
"What does that mean when a child is sitting in their own feces, can't take a shower?" irrupted Cummings. "Come on, man. What's that about?"
Cummings didn't yell at his four female colleagues in "The Squad" when the four Democrats voted against a border funding bill, causing problems with the leadership of their own party.
Cummings didn't shout at the parents for dragging their children and babies 2,000-plus miles from Central America in the burning heat.
Also, Cumming didn't scream at the smugglers for dumping the children into the care of U.S. Border Patrol.
The Trump administration has been very blunt about the border crisis when the overwhelming flow of migrants overran the border and burned through our resources. But Cummings was busy denying there was ever a crisis. Now he can scream all he wants about the border facilities. Refusing to change the immigration laws that let everyone pass the southern border, and then ask for free care, is only Cummings' fault as well as every other Democrat's.
So, we've established that Cummings is very passionate about the illegals.
Let's get now to the second issue. Cummings' passion for his Baltimore residents. His district includes half of Baltimore City, most of the majority-black precincts of Baltimore County and most of Howard County.
With racial unrest, poverty, crime, and drug addition, Baltimore has long been among the most widely cited cases of urban decay in post-industrial America. So, it's hardly shocking that Baltimore, especially the Baltimore ghetto, has lost 35 percent of its population since 1945. What is left is a city littered with deserted streets, corroded factories, and thousands of vacant row houses that look like oversized tombstones.
When will Cummings' be "cumming" again to help the residents that he represents in the abandoned wasteland that Baltimore has become?
You feel like you're doing a great job, right, Cummings? Come on, man. What's that about?
When you hear Democrats' fake indignation over migrant detention facilities, you know that they won't fix it, but blame it on someone else.
Elijah Cummings is the weakest link of Baltimore. He's nothing but a political hack.
TIBERIU DIANU has published several books and a host of articles on law, politics, and post-communist societies. He currently lives and works in Washington, DC and can be followed on
THE GLOBALIST DEMOCRAT PARTY FOR BILLIONAIRES OPEN BORDERS FOR ENDLESS HORDES OF "CHEAP" LABOR
"Chamber of Commerce President and chief executive Tom Donahue
told
the Washington Post in April that the U.S. needed more legal immigration because the country is "out of people." The chamber has pushed for legal protection for so-called "Dreamers" and led political resistance to efforts to deport more illegal border crossers."
They want no borders, no allegiance to a nation state, no citizenship classification connected to a single country. TOM TANCREDO
2020 Census Citizenship Controversy Exposes True Open Borders Agenda
As usual, the dustup about the census including a question about citizenship has nothing to do with what the loony left claims as their motivation to exclude it. They say it's all about being sensitive to the hurt feelings and paranoia of people who are illegally present in the U.S. And, by the way, asking the question it is not a Donald Trump trick to ferret out those folks who are hiding under their blankets, afraid that the next knock on the door will be the jackbooted ICE agents, come to drag them from their beds and put them on boxcars headed for concentration camps.
A brief history lesson here. The Constitution of the United States directs the President to conduct a Census every ten years, and that has been done without controversy since 1790. And with rare exceptions, the question on citizenship has been part of it from the beginning. Yet, its inclusion in the 2020 Census has become controversial. The reasons for the opposition to the citizenship question tell us a lot about the declining health of our American constitutional republic.
The vehement opposition to the 2020 Census question on citizenship is a symptom of a deep divide in the body politic, a chasm that only grows wider and deeper as politicians postpone a decision over the meaning of the Constitution's opening words, "We the People."
There is a chasm as wide as the Grand Canyon separating individuals who believe that "We the People" means we the citizens of the United States and those who believe it means, we the global citizens who temporarily inhabit this territory. To one group having an accurate count of both citizens and noncitizens resident in each state is vital to the constitutional purposes of the Census, but to the "global citizen" contingent that count is not only unnecessary, it is slanderous, racist and, well -- undemocratic!
It is important to understand that this debate over the 2020 Census's citizen/noncitizen numbers is not a debate over counting illegal immigrants residing in the United States. This controversy goes deeper than the debate over whether the official U.S. Census estimate of 11.3 million illegal aliens resident in the country is accurate or woefully inaccurate.
The political resistance to the traditional citizenship question as part of the decennial Census derives its passion and intensity from the ideological goal of transforming the nature of political representation in our republic. In that world, an elected representative in any city council, school board, county commission, state legislature, Board of Regents, or the U. .Congress, is duty bound to represent any resident of his or her district with the same passion and integrity whether that resident be a citizen, a Chinese or German foreign student at a local university, a legal resident alien born in Egypt or an illegal alien who swam across the Rio Grande. Should foreign students at the University of Colorado vote in Boulder city elections? Why not, if every "person" is entitled to "equal representation"?
The population count produced by the 2020 Census will be the foundation for Congress' adoption of revised apportionment of the 435 seats in Congress. Does a new apportionment based on new Census numbers mean a count based on all persons, all citizens, or something else? Such questions will be debated in Congress and litigated all the way to the Supreme Court before we know the answers, but the debate must begin with an accurate count in the Census. Will we get one?
When the national debate over illegal immigration and border security was heating up back in 2005 and 2006 in response to amnesty proposals in Congress, I was roundly criticized for suggesting the opposition to amnesty was rooted in opposition to secure borders.
I was attacked by some prominent leaders of the Republican Party for saying that the U.S. Chamber of Commerce saw illegal aliens as cheap labor and the Democrat Party saw them as future Democratic voters.
I
take no pleasure in observing in 2019 that Democratic leaders in Congress are aggressively advocating open borders as a path to a permanent Democratic majority. And there is an even bigger picture that elitist leftists are trying to paint for us all. They want no borders, no allegiance to a nation state, no citizenship classification connected to a single country.
They want a kumbaya world of global citizens that can be governed by people who "know better." Think I am wrong? Try to find a recent college or high school grad who can tell you what it means to be an American other than by saying it means abiding in a place called America. The members of what I call the Cult of Multiculturalism infect our schools, our media, and pop culture. The philosophy permeates the West -- its repercussions and can be seen playing out all over Europe.
Only a short decade ago, a world-famous Harvard political scientist, Samuel P. Huntington, wrote a landmark book aptly titled Who Are We? America's National Identity Crisis. He believed that America's unprecedented achievements and unparalleled prosperity had their foundation in our nation's European heritage, a heritage under siege by the formidable forces of multiculturalism. So eliminating the citizenship question in the Census is a just another step down the road to the elitist utopia promised by Marx and Engels.
Eventually we will come to the step when jackbooted government agents really will be pulling people out of their beds and sending them off to "re-education" camps."
After all, some people might resist the America that Barack Obama promised to thoroughly transform.
House Democrats, 39 Republicans Pass 'Temporary' Amnesty for Venezuelans
House Democrats and 39 Republicans passed a plan to provide asylum in the United States to potentially millions of Venezuelans fleeing their socialist dictator.
Rep. Don Bacon (R-NE)

Rep. Michael Bost (R-IL)

Rep. Tom Cole (R-OK)

Rep. Dan Crenshaw (R-TX)

Rep. John Curtis (R-UT)

Rep. Mario Diaz-Balart (R-FL)

Rep. Sean Duffy (R-WI)

Rep. Brian Fitzpatrick (R-PA)

Rep. Jeff Fortenberry (R-NE)

Rep. Mike Gallagher (R-WI)

Rep. Anthony Gonzalez (R-OH)

Rep. Tom Graves (R-GA)

Rep. Vicky Hartzler (R-MO)

Rep. Jaime Herrera Beutler (R-WA)

Rep. Clay Higgins (R-LA)

Rep. French Hill (R-AR)

Rep. Will Hurd (R-TX)

Rep. David Joyce (R-OH)

Rep. John Katko (R-NY)

Rep. Peter King (R-NY)

Rep. Adam Kinzinger (R-IL)

Rep. Brian Mast (R-FL)

Rep. Michael McCaul (R-TX)

Rep. Tom Reed (R-NY)

Rep. Cathy McMorris-Rodgers (R-WA)

Rep. Francis Rooney (R-FL)

Rep. Austin Scott (R-GA)

Rep. John Shimkus (R-IL)

Rep. Chris Smith (R-NJ)

Rep. Ross Spano (R-FL)

Rep. Elise Stefancik (R-NY)

Rep. Bryan Steil (R-WI)

Rep. Steve Stivers (R-OH)

Rep. Glenn Thompson (R-PA)

Rep. Michael Waltz (R-FL)

Rep. Steve Womack (R-AR)

Rep. Rod Woodall (R-GA)

Rep. Ted Yoho (R-FL)

Rep. Don Young (R-AK)
A handful of Republican and Democrat lawmakers are continuing to tout a plan that gives amnesty to nearly a million illegal aliens in exchange for some amount of funding for President Trump's proposed border wall along the U.S.-Mexico border.
MAGA vs. the U.S. Chamber of Commerce
Chamber of Commerce Demands More Immigration: 'U.S. Is Out of People'
The United States Chamber of Commerce is vowing to continue fighting President Trump's shaping of the Republican Party into a pro-U.S. worker party of blue collar working and middle class Americans.
The U.S. Chamber of Commerce and other business groups are considering ways to challenge the new tariffs on goods imported from Mexico.