ONLY BARACK OBAMA IS MORE OF A PHONY
THAN PHONY BERNIE SANDERS WHO QUICKLY
JOINED HILLARY CLINTON'S CAMPAIGN FOR
BANKSTERS AND ILLEGALS!


"Sanders also said nothing about the role of the Obama
administration, which had overseen, up till now, the largest
transfer of wealth from the poor to the rich in American
history after the 2008 crash."
PATHOLOGICAL VIOLENCE, OPIOID ADDICTION, STAGGERING POVERTY, SOARING JOBLESSNESS FOR LEGALS AND POVERTY FOR ALL….. While the rich only get SUPER RICH!
Bernie Sanders promotes illusions in the Democrats in speaking tour of Midwest


By Tom Hall
4 December 2017
Bernie Sanders appeared at rallies in Kentucky, Ohio and Pennsylvania this weekend as part of a three-day "Protecting Working Families" tour sponsored by the Democratic Party-aligned Moveon.org and the Not One Penny Coalition. The tour wrapped up last night with an appearance in Reading, Pennsylvania.
Sanders' speaking tour passed through Midwestern factory and ex-factory towns, which have been devastated by decades of deindustrialization and cuts to social spending. Dayton, Ohio was formerly a manufacturing center for GM, before the company eliminated virtually all production in the city in the 1980s and 1990s.
The city is now one of the centers of the opioid epidemic, which kills tens of thousands of people each year nationwide.
Akron, Ohio, the former center of the rubber industry, went through similar plant closures and is now ravaged by a heroin epidemic.
Louisville, Kentucky, where Sanders addressed the audience remotely from Washington, DC, is a major transportation hub with an increasingly restive working class. Autoworkers in the area put up a huge resistance to the 2015 sellout contract pushed by the United Auto Workers, and there have been repeated threats of strikes by UPS mechanics and airplane pilots.
The Democrats suffered major declines in this region during last year's election, which (with the exception of Kentucky), voted for Barack Obama in 2008 and 2012 but voted for Trump in 2016.
A major factor behind the support
for Trump in this part of the country was the
political prostration by Sanders himself
before Hillary Clinton in the general election.
For all of his talk about leading
"political revolution" against the
"billionaire class," Sanders backed
Clinton, a shill of Wall Street and the
Pentagon, who has nothing but
contempt for the tens of millions of
workers devastated by the 2008
financial crash and Obama's pro-
corporate policies.
This all but guaranteed that the only way for voters to register their social discontent within the narrow framework of the American two-party system was to vote for Trump, who appealed to widespread social anger in an attempt to corral it in a right-wing direction.
Sanders denounced the Republicans' tax plan as "class warfare" and the "biggest act of thievery in the modern history of this country" at his appearance in Dayton. "This is a moral outrage, it is bad economics, and we will not allow them to get away with it," Sanders declared.
Predictably, Sanders said nothing about the role of the Democratic Party, which accepts the basic framework of the Republican tax plan and has made tax cut proposals of their own.

Their basic concern is that they have been shut out of a process which had previously been bipartisan political theater, with the Democrats providing a "compromise" solution which still results in historic cuts to social spending.
Sanders also said nothing about the role of the Obama administration, which had overseen, up till now, the largest transfer of wealth from the poor to the rich in American history after the 2008 crash.
For all of Sanders' denunciations of Republican "class warfare," the basic thrust of Sanders' remarks was to inure his audience to the full political significance of the tax cuts, which demonstrates not only the deep crisis of the American ruling class, but the basic incapacity of the capitalist system, a system based on exploitation in which "class warfare" is not one of a number of possible policies but a basic and indelible feature, to satisfy even the most elementary social needs.
Sanders, on the other hand, would have his audience believe that either one of the two parties of the American ruling class could decide not to practice class warfare and return to "good economics" in which the interests of the capitalists are reconciled with the interests of the working class.
Sanders' promotion of illusions in capitalism's ability for self-reform found a particularly cynical expression in a statement published yesterday on his official Senate website, which called on Trump to abide by his 2016 campaign pledges and reject Republican plans to cut Medicare, Medicaid and Social Security. "Mr. President, you told the American people time and time again you were not going to cut Social Security, Medicare and Medicaid. Today, get on the phone. Tell Paul Ryan, tell Mitch McConnell that you will veto any bill that cuts Social Security, that cuts Medicare, that cuts Medicaid," Sanders wrote.
On one level, Sanders' pathetic appeal to the fascistic billionaire president to reject a plan for which Trump himself is chiefly responsible for is simply ridiculous. However, Sanders' statement has a more insidious logic, promoting illusions in the economic program of the Trump campaign, based on national protectionism which scapegoated immigrants and foreign workers for poverty and joblessness in America and which was bound up with his attempt to cultivate a new far-right movement in the United States.
Sanders' hostility to the political independence of the working class is demonstrated by the fact that the Vermont Senator shares Trump's basic nationalist orientation. Since first entering Congress more than a quarter century ago, Sanders has attacked trade with China and other countries under the fraudulent banner of defending American jobs. After the 2008 financial crisis, Sanders co-sponsored a bill with Republican Senator Chuck Grassley to restrict the federal visa program for companies that received federal bailout money. During his primary campaign in 2015, Sanders denounced unrestricted movements across national borders during an interview as a "Koch brothers proposal" that would effectively end the American nation state.
After the 2016 election, Sanders declared his readiness to work with Trump on trade war measures, stating that he would "work with anybody who wants to work together to develop a trade policy which tells corporate America they have to look beyond their greed."
Sanders remains the most popular politician in the country, according to various public opinion policies. While the support for Sanders is an initial and contradictory indication of a growing move to the left and mass opposition to social inequality, Sanders himself intervened in the election to prevent this opposition from escaping the political control of the Democrats and developing into an independent, genuinely socialist movement of the working class.
Acutely aware that the party's reactionary politics have engendered mass hostility, which was expressed most strikingly in the debacle in the 2016 elections, a section of the Democrats have sought to integrate Sanders more closely into the Democratic Party leadership. Sanders, along with his supporters in the trade union bureaucracy and pseudo-left organizations like the Democratic Socialists of America, are trying to reprise his role in the 2018 mid-term elections and beyond.
Their aim is to contain the growing social opposition to Trump and political radicalization of workers and youth within the confines of the Democratic Party, which is conducting a McCarthyite campaign against supposed "Russian interference" and a right-wing identity politics campaign over alleged sexual abuse cases. What Sanders and the Democratic Party fear the most is the emergence of powerful movement of the working class against social inequality and war, and for genuine socialism.
There is growing momentum for a potential Sanders presidential run in 2020. Last month, the

Hill

published the results of a poll of top Democratic Party strategists who proclaimed Sanders to be the favorite among potential primary candidates. Sanders also delivered a pro-war foreign policy speech in Fulton, Missouri in September, at the site of Winston Churchill's "Iron Curtain" speech proclaiming the start of the Cold War, which was widely seen as preparation for a 2020 presidential run.
"He is now in a very different position than he's ever been in before. He's just stepping into the role," senior adviser Ari Rabin-Havt told

Politico

in a recent article on Sanders' presidential aspirations. "Let's be clear: He's in charge of outreach for the caucus. So when people say he's doing a better job of reaching out? Well, yeah, he's doing his job. This is a new phase of his career."
Sanders apportioned role is to use left-
sounding demagogy to cover up the actual
politics of the Democrats, who have
responded to the defeat suffered in last year's
election by moving even further to the right.
THE WAR ON AMERICA'S MIDDLE-CLASS
waged by D.C., U.S. Chamber of Commerce,
the La Raza Fascist Party and Mexico!
The Washington-imposed economic policy of mass-immigration
floods
the market with
foreign labor
and
spikes profits and Wall Street values
by
cutting salaries
for manual and skilled labor offered by blue-collar and white-collar employees. It also drives up
real estate prices
,
widens wealth-gaps
, reduces
high-tech investment
, increases
state and local tax burdens
, hurts
kids' schools
and
college education
, pushes Americans
away from high-tech careers
, and sidelines at least 5 million marginalized
Americans
and their families, including many who are now struggling with
opioid addictions
. NEIL MUNRO
95 MILLION AMERICANS (Legals) HAVE NO
WORK AS THE BORDERS ARE FLOODED
WITH FOREIGNERS SUCKING UP JOBS,
WELFARE AND VOTING DEMOCRAT FOR
OBAMA'S CRONY BANKSTERISM destroyed a TRILLION DOLLARS in home equity… and they're still plundering us!
Barack Obama created more debt for the middle class than any president in US
history, and also had the only huge QE programs: $4.2 Trillion.
OXFAM reported that during Obama's terms, 95% of the wealth created went to
the top 1% of the world's wealthy.
JAMES WALSH
THE OBAMA HISPANICAZATION of AMERICA
How the Democrat party surrendered America to Mexico:
"The watchdogs at Judicial Watch discovered documents that reveal how the Obama administration's close coordination with the Mexican government entices Mexicans to hop over the fence and on to the American dole." Washington Times


Obama Campaigners Dropped Another $101,000 into Alabama Senate Race from D.C. on Friday, Total Now $2.8 Million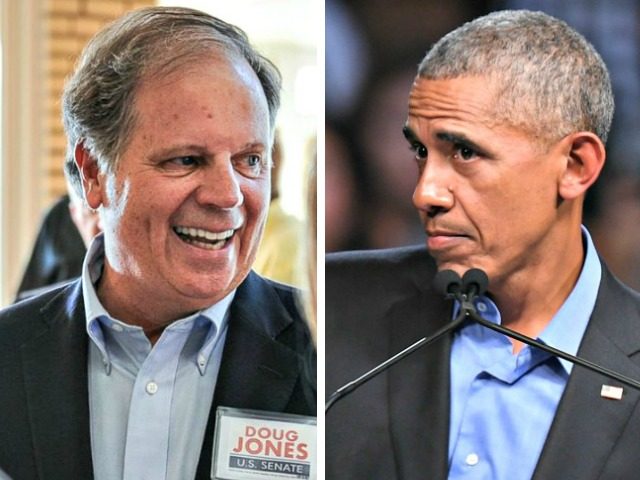 Three secretive Washington, D.C. consulting firms founded by former Obama campaign staffers have provided millions of dollars in advertising services, apparently entirely on credit, toHighway 31, a shell independent expenditure organization based in Birmingham, Alabama that supports liberal Democrat Doug Jones and opposes conservative Republican Roy Moore, in the 26 days since its formation on November 6.
On Friday, two of these Washington, D.C. based firms dropped another $101,612 into the Alabama U.S. Senate race on Friday, bringing the total spent to date by three firms run by Obama campaign alumni as apparent "in-kind" contributions to Highway 31 to $2.8 million in less than one month.
Jones and Moore face off in the Alabama U.S. Senate special general election to be held next week on December 12. The Real Clear Politics Average of Polls shows Moore currently holds a 2.5 point lead.
Waterfront Strategies, a Washington, D.C. based wholly owned subsidiary of GMMB Consulting, founded by former Obama campaign staffer Jim Margolis, has spent between $1.1 million and $1.9 million on behalf of Highway 31.
Bully Pulpit Interactive, a Washington, D.C. based consulting firm founded by former Obama campaign official Andrew Bleeker, has spent between $800,692 and $1.6 million on behalf of Highway 31.
Putnam Partners, a Washington, D.C. based consulting firm founded by former Obama campaign staffer Mark Putnam, has spent between $32,000 and $850,000 on behalf of Highway 31.
An exact number on the amount spent on behalf of Highway 31 by each of these three Washington, D.C. based consulting firms run by former Obama campaign staffers cannot be determined as of yet because reports filed by Highway 31 for the period covering November 23 and November 29 include amendments to prior reports.
The three former Obama campaign staffers running these three firms–Margolis, Bleeker, and Putnam–participated at very high levels of the Obama campaigns of 2008 and 2012.
GMMB Consulting founder Jim Margolis "served as senior advisor to President Obama in both the former President's campaigns for the White House, leading each cycle's advertising effort and helping direct the campaign as part of the core strategic team," according to the company's website:
Jim also co-produced the two Obama Presidential Inaugurals and both of Mr. Obama's national conventions. In the 2016 presidential election, Jim served as senior advisor to former Secretary of State Hillary Clinton, leading her paid advertising effort and producing the 2016 Democratic convention in Philadelphia.
Bully Pulpit Interactive founder Andrew Bleeker "was the lead digital marketing strategist on both of President Obama's campaigns as well as a senior advisor to Secretary Clinton," according to his company's website.
Putnam Partners founder Mark Putnam played a significant role in both the 2008 and 2012 Obama campaigns, according to the Putnam Partners company website:
Mark's highest profile project was writing and producing Barack Obama's 2008 election eve 30-minute television special that aired simultaneously on seven networks and was viewed by over 35 million people. The Washington Post television critic Tom Shales called it "somehow both poetic and practical, spiritual and sensible…a montage of montages, a series of seamlessly blended segments."

In 2012, Mark continued his work on the Obama Media Team, creating many nationally aired television ads, including the "47 Percent" ad that the Los Angeles Times and Politico both called "the best" ad of the campaign. National Journal called it "haunting" and The Guardian said it was "the one that really packed the most devastating punch."

Mark also wrote and produced the Michelle Obama biographical films "South Side Girl" and "Michelle" for the 2008 and 2012 Democratic conventions. "South Side Girl" was called "intimate" and "emotional" by Newsweek, and The New York Times called it "vivid."

In his book, The Audacity to Win, Obama campaign manager David Plouffe called Mark "one of the best producers in our party."
An independent expenditure report signed by Highway 31 treasurer Edward Still and filed electronically at 5:23 p.m. eastern on Saturday with the Federal Election Commission stated that Waterfront Strategies spent $99,009 on Friday in support of liberal Democrat Doug Jones for a media buy whose "Date of Public Distribution/Dissemination = 12/01/2017" in an order placed, but apparently not paid for, by Highway 31.
That same report stated that Putnam Partners spent $2,603 for "Media Production Costs" whose "Date of Public Distribution/Dissemenination=12/01/2017." These funds were apparently expended by Putnam Partners on behalf of Highway 31, but Highway 31 has apparently not paid a dime to Putnam Partners or any other vendor because, as of November 20, at least, it has no assets and no cash.
Total spending by Obama campaigners for Highway 31 advertising in support of liberal Democrat Doug Jones on Friday, December 1 was $101, 612, bringing their total spending since November 6 to $2,818,989.
An independent expenditure report signed by Highway 31 treasurer Edward Still and filed electronically at 5:00 p.m. eastern on Friday with the Federal Election Commission stated that Waterfront Strategies spent $733,464 on Thursday in opposition to conservative Republican Roy Moore for a media buy whose "Date of Public Distribution/Dissemination = 11/30/2017" in an order placed, but apparently not paid for, by Highway 31, bringing their total spending from November 6 to $2,717, 376.
Highway 31 has filed no reports with the FEC to show how much it spent during the seven day period between November 23 and November 29, but by comparing the report filed on spending that took place on November 30, and comparing it to the statement of activities for the period between November 6 and November 22, we know that vendors to Highway 31–almost certainly the three Washington, D.C. based consulting firms run by former Obama campaign staffers, spent $829,068 either in support of Doug Jones or in opposition to Roy Moore.
Because Highway 31 has failed to provide the FEC with any reporting on its activities during this seven day period, it is impossible to determine how much was spent by which Washington, D.C. based consulting firm run by former Obama campaign staffers during this period.
On November 22, Highway 31 filed its first statement of activities with the FEC, which showed that it had no cash, no assets, and owed the Obama campaign staffer run media companies $1,154, 844 for expenses incurred by them on its behalf between November 6 and November 22.
Bully Pulpit Interactive spent $800,692, Waterfront Strategies spent $309,690, Putnam Partners spent $29,716, and other vendors spent $14,746 on behalf of Highway 31 during this 17 day period.
Those services, therefore, were provided entirely on credit and, in the event Highway 31 never pays for those services, will constitute an "in-kind" contribution from the Obama staffer run media companies to Highway 31.
Highway 31 has subsequently filed no further information about its financial status with the FEC. While it is possible that between November 23 and December 1, it received contributions and has paid its Obama staffer run media vendors the $1.1 million in debt run up for advertising services delivered prior to November 23, and the additional $1.7 million in advertising services delivered between November 23 and December 1, there is no evidence whatsoever to demonstrate such payments have been made, or that Highway 31 has the capability to make those payments.
Breitbart News asked Highway 31 executive director Adam Muhlendorf to provide details about the organization's financial resources as of close-of-business Friday, but has received no response.
Specifically, Breitbart News asked how much cash Highway 31 has in the bank as of Friday, how much it has paid advertising vendors, and how much it currently owes advertising vendors.
Breitbart News also asked Muhlendorf whether or not Highway 31 has received any contributions, how much it has received in contributions, and the names and addresses of any donors who have given more than $2,000, if any.
Muhlendorf has not responded to any of these questions.
December 3, 2017
Bloviating abroad, Obama reminds us why we elected Trump
Miss him yet? Former President Obama is back, taking big-dollar speaking engagements in places like Paris, and unintentionally reminding us why we elected Trump.
Based on his speech for a group of communications executives called 'Les Napoleons,' he thinks women make better leaders than men, men are 'having problems' with sex harassment, global warming's Paris Treaty is coming back, and 'global challenges' must be faced.
Agence Presse-France has a couple of versions of the ex-president's Paris speech yesterday and it's godawful. They can be read here and here.
What Obama's speech was full of provides a handy checklist for why we voted for Trump. To wit, it includes:
"I grant you that at the moment we have a temporary absence of American leadership on the issue," Obama said, to laughter in the audience packed with French CEOs and former ministers.

But the US remains on track to meet its targets, he said, thanks to the action of some states, cities and because it made "business sense".
Business sense? For starters, what would Obama, community organizer in chief, know about business sense? Obama seems to be opaque to the reality that the Paris climate accord cost millions in productivity, tacked on insane costs and empowered a eurochicken-style bureaucracy, looking to expand its power. As for absence of leadership, ask again why so many nations want out of that accord based on our lead? The French, if they have any sense, should appreciate the fool's existential absurdity.
Asked to list leadership qualities for the future, Obama advocated "more focus on putting women in power, because men seem to be having some problems these days."
"Not to generalise, but women seem to have a better capacity than men do, partly because of their socialisation," said the 56-year-old Democrat who left office in January.
A better capacity for leadership? Despite the evidence of history? Then some claptrap about 'socialization'? And he's the one (being a man) declaring the change? This calls to mind the patronizing statement he made to Hillary Clinton in 2008, that she's 'likeable enough.' Spare us this patronizing boob who seems to think we are stupid and easily fooled.
"We discussed the big challenges of the planet and especially the subject of the climate. We are confident the accord will be implemented," [Former socialist President Francois] Hollande tweeted afterward.
Yeah, sure, after Obama flew in on a million dollar jet and racked up carbon burning. Did these giants of former leadership, these washed up has-beens, really discuss 'big challenges of the planet.' Is it 1994 yet?
Phony Nod to the Opposition:
"Going forward we need to modernise our economies in a way that is inclusive," he said.
"I think for example that the European Union needs to recognise that micro-managing every single aspect of life within Europe gets people frustrated," he said.
Guess he read about Brexit and President Trump's election. He had eight years to do something about those issues and only made them worse. Yeah, sure, now he cares about this.
So there are ways of streamlining and improving the functioning of the European Union, but the European project itself, the Union itself is something that is worth preserving," he added.
Yeah, yeah, we remember the 'streamlining' talk from him in the campaign of 2008. He didn't streamline. He ballooned the government and its debt to untold levels. But he's still talking about 'streamlining.'
"If we can adapt to change we can make extraordinary progress. Hope is not being blind to problems," Obama said. "Hope is facing problems and then still believing that we can work them out."



Hope. Change. Ad nauseum. How 'bout a little change to your schtick, Barry-o?
What we are seeing here is an empty suit with absolutely nothing to say. He hasn't changed a bit after all these years and now stands for the 'resistance,'luxury quarters, edition. He obviously intends to keep sniping at President Trump on foreign shores, for big dollars. AFP reports that the whisper number is $400,000 a pop. What a pathetic picture this is. Keep talking, Obama. All you do is remind us why we voted for Trump.
THE LEGACY OF A LOOTER: THE BARACK OBAMA STORY
"Obama is no fool and he understands -- having encouraged Black Lives Matter and the war on police and law enforcement, having facilitated ballooning welfare rolls and doubling student debt to $1.35 trillion, having presided over a flood of immigrants illegally crossing the southern border, and having pushed unprecedented deficit spending that added nearly a trillion dollars annually to the federal debt and doubling that debt in eight years to $20 trillion -- that the U.S. is nearer collapse than at any previous time. And every Marxist knows that socialist transformation first requires collapse of the old order."
BARACK OBAMA and ERICK HOLDER: BUILDING OBAMA'S MUSLIM-STYLE DICTATORSHIP requires destroying white middle class first. BLACKS HAVE ALREADY SELF-DESTRUCTED!
"

The cost of the Dream Act is far bigger than the Democrats or their media allies admit. Instead of covering 690,000 younger illegals now enrolled in former President Barack Obama's 2012 "DACA" amnesty, the Dream Act would legalize at least
3.3 million illegals
, according to a pro-immigration group, the Migration Policy Institute."
THE PSYCHOPATH WHO WOULD BE DICTATOR FUNDED BY HIS
CRIMINAL CRONY BANKSTERS AND REELECTED FOR A THIRD TERM BY
MICHAEL BARONE:
The Lawlessness of the Obama Administration: A never-ending story