THE MOVEMENT TO ELECT JEFF SESSIONS PRESIDENT
This country may not survive many more pondscums looters like psychopath OBAMA, serial rapist CLINTON, charity fraudster and pay-to-play Hillary and TRUMPER, the ho chasing, tax evading, bankruptcy addicted used car salesman!
PELOSI'S OPEN BORDERS FOR MORE CHEAP LABOR
The Mexican Army made two
seizures
in Ensenada on August 17 (1,036 pounds of meth, heroin, and fentanyl) and August 18 (1,653 pounds of meth, fentanyl, and marijuana).
The Mexican Army
discovered
an active drug lab on August 25 in Tecate and seized four tons of methamphetamine.
The Mexican Federal Police
seized
350 pounds of methamphetamine in an active drug lab in Tijuana on August 26.
The Mexican Federal Police
seized
20,000 fentanyl pills in an active lab in Mexicali on September 10.
The Mexican Federal Police
seized
550 pounds of methamphetamine in Tijuana on September 12.
The Mexican Army
seized
1,055 pounds of methamphetamine near the Arizona border on September 14.
John Dean: Congress Will Have Little Choice 'Other Than to Start Impeachment Proceedings' After Cohen Filing
Friday on CNN's "OutFront," former Nixon White House counsel John Dean said the Michael Cohen sentencing memo means eventually Congress will "start impeachment proceedings" against President Donald Trump.
Dean said, "I don't know that this will forever disappear into some dark hole of unprosecutable presidents. I think it will resurface in the Congress. I think what this totality of today's filings show that the House is going to have little choice the way this is going other than to start impeachment proceedings."
MEXICO THANKS TRUMP FOR HIS PRETEND WALL AND NO E-VERIFY!
Watch: Jared Kushner Awarded Mexico's Highest Honor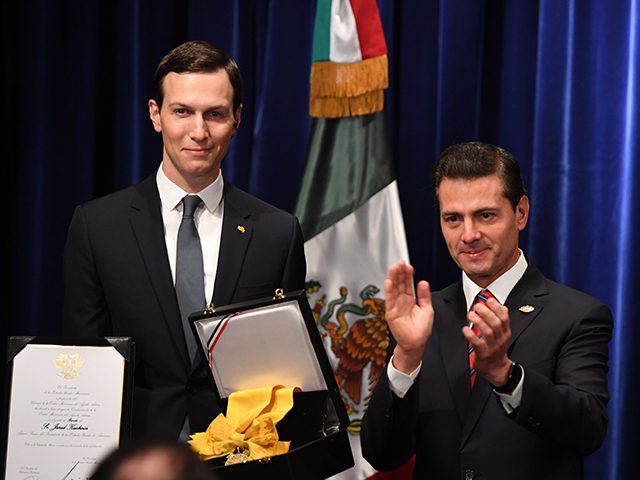 Mexican president Enrique Peña Nieto on Friday morning awarded senior White House advisor Jared Kushner Mexico's highest honor for foreigners — the Order of the Aztec Eagle — at the G-20 summit in Buenos Aires, Argentina.
Mexico's Foreign Relations Department said Kushner was given the award for his contribution to the negotiation of United States–Mexico–Canada Agreement (USMC) — the pending free trade pact between the United States, Mexico, and Canada. Kushner "played a fundamental role during the whole process, displaying decisive support for the trade talks … thus achieving satisfactory results," the Mexican Foreign Relations Department said in a statement.
Some prominent Mexicans fumed over Kushner receiving the Order of the Aztec Eagle. Historian Enrique Krauze blasted the Mexican government's decision to award the honor as a "supreme humiliation and cowardice."
In a brief speech, Kushner lauded the U.S.-Mexico relationship and praised Nieto for "always put[ting] Mexican interests first even when it wasn't popular."
The top White House aide then praised President Trump for his ability to "accomplish a lot of great things."
"While there has been a lot of tough talk, I have seen the genuine respect and care that President Trump has for Mexico and the Mexican people and I do believe we have been able to put that in the right light," he added.
Kushner also joked that helping to revamped NAFTA was the equipment to earning his "PhD in trade."
"I believe we are at a historic place in the relationship between our two countries," said Kushner.
Confirmed: Trump's Housekeeper At His New Jersey Golf Course Is An Illegal
TRUMP WAS NEVER GOING TO BUILD THE WALL….after all he hires ILLEGALS to tend to SWAMP PALACE at Mar-a-lago!


A fifth-generation Californian laments his state's ongoing economic collapse.

By Steve Baldwin

American Spectator, October 19, 2017

What's clear is that the producers are leaving the state and the takers are coming in. Many of the takers are illegal aliens, now estimated to number over 2.6 million.
The Federation for American Immigration Reform estimates that California spends $22 billion on government services for illegal aliens, including welfare, education, Medicaid, and criminal justice system costs.
EL TRUMPO SAYS HELL NO! TO PAYING LIVING WAGES TO LEGALS AT SWAMP PALACE MAR-A-LAGO!
No one should take Trump's performances on border security, jobs for legals or his pretend wall seriously. No more seriously than the rest of his twitter drivel.
Tucker Carlson Says Trump Has Failed to Keep His Promises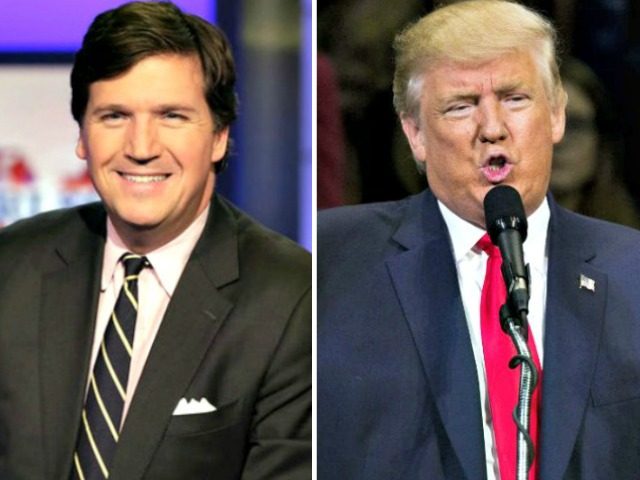 "You saved my a rse again and again… So, I'll save yours like Bush and Obama did!
WHO IS FINANCING ALL THE TRUMP AND SON-IN-LAW'S REFINANCING SCAMS???
"I doubt that Trump understands -- or cares about -- what message he's sending. Wealthy Saudis, including members of the extended royal family, have been his patrons for years, buying his distressed properties when he needed money. In the early 1990s, a Saudi prince purchased Trump's flashy yacht so that the then-struggling businessman could come up with cash to stave off personal bankruptcy, and later, the prince bought a share of the Plaza Hotel, one of Trump's many business deals gone bad. Trump also sold an entire floor of his landmark Trump Tower condominium to the Saudi government in 2001."
"The Wahhabis finance thousands of madrassahs throughout the world where young boys are brainwashed into becoming fanatical foot-soldiers for the petrodollar-flush Saudis and other emirs of the Persian Gulf."
AMIL IMANI
I recommend that Ignatius read Raymond Ibrahim's outstanding book
Sword and Scimitar
, which contains accounts of dynastic succession in the Muslim monarchies of the Middle East, where standard operating procedure for a new monarch on the death of his father was to strangle all his brothers. Yes, it's awful. But it has been happening for a very long time. And it's not going to change quickly, no matter how outraged we pretend to be. MONICA SHOWALTER
Wyden: Trump Is Already Interfering in Mueller Investigation
During Friday's Democratic Weekly Address, Senator Ron Wyden (D-OR) touted legislation to protect Special Counsel Robert Mueller and said that President Trump has already interfered in Mueller's investigation.
Transcript (via FedNews) as Follows:
"Hello. I'm Ron Wyden, United States Senator from Oregon. This week, America looked back at the remarkable life of President George Herbert Walker Bush.

He cared deeply about our country, and his career in public service began long before he sat in the Oval Office. He was a decorated Navy pilot. He served two terms in Congress. He was a diplomat, a leader in the intelligence community, and Ronald Reagan's Vice President.

As President, he signed legislation that protected Americans with disabilities, and he strengthened clean-air rules and raised national education standards. He also set the country on the path to a balanced budget. It was all done in bipartisan cooperation with Democrats in the Congress.

That's what Americans want their elected officials to do — set aside partisan divisions and do what's right for our communities and our country.

That brings me to one of the key issues that Americans are focused on today.

There is bipartisan support for legislation protecting the Mueller investigation into Russia and Donald Trump. Information that's just recently come to light shows why that's so needed.

Donald Trump has claimed for years that he had no business ties with Russia. It is now clear that that's been false.

Deep into 2016 — after Donald Trump had secured the Republican nomination — longtime Trump 'fixer' Michael Cohen was negotiating a deal with Russian officials to build a Trump Tower in Moscow. Trump family members knew about it. There was even a proposal to give a $50 million penthouse as a 'gift' to Vladimir Putin.

So here's why this is so important. From the beginning, I have said a top priority for this investigation is to follow the money. Following the money has uncovered massive corruption and revealed a growing web of lies told by the President, his aides, and his closest associates. The pattern of Trump flattering Putin and misleading the public while seeking to profit from Russian money is impossible to just ignore.

And meanwhile, it's not a matter of IF he will interfere with the Mueller investigation — the interference is already happening. The president attacks Mueller on a daily basis. He dangles potential pardons like carrots to influence potential witnesses. He installed an acting attorney general, Matt Whitaker, whose prior prejudicial comments suggest that he is hostile to the investigation, that includes even musing about ways of killing it behind the scenes.

So here's the bottom line. The Mueller investigation is rooting out crime and corruption that Trump and his associates are desperate to cover up. That's why the president is lashing out.

There is bipartisan legislation at the ready that would defend Bob Mueller against Trump's attacks on his work, but Leader McConnell has blocked it at every turn. That cannot go on any longer. The Congress must make clear that nobody in America — not even the President — is above the law. That is one of the founding principles of our nation.

It is time for Republicans in Congress to put country over party and work with Democrats to protect the Bob Mueller investigation. Thank you very much."