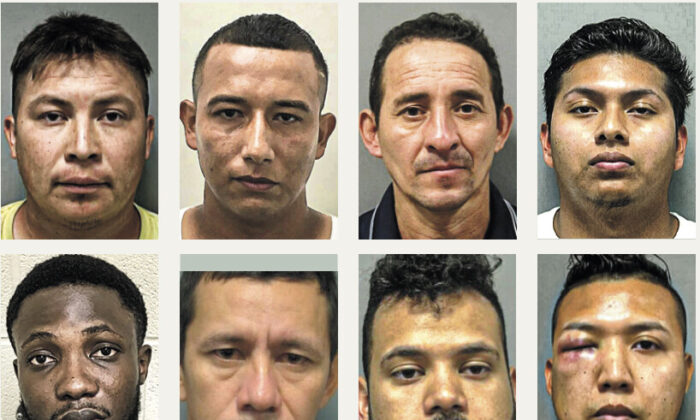 Sanctuary Policies Denounced After String of Rapes in Montgomery County
September 25, 2019
Updated: September 26, 2019
ROCKVILLE, Md.—A recent rash of alleged rapes in Maryland's Montgomery County is magnifying the tension between sanctuary policies and immigration enforcement.
The first case that sparked the controversy came to light in late July, when two illegal immigrants were charged with repeatedly raping an 11-year-old girl over the course of a month in 2018.
The two men, Carlos Palacios-Amaya and Mauricio Barrera-Navidad, are Salvadoran nationals who are in the country illegally, according to Immigration and Customs Enforcement (ICE).
The men allegedly raped the girl in her own home on separate occasions after being introduced by her brother, according to court documents.
The victim, a student at Neelsville Middle School, said Palacios-Amaya would ask her to skip school so she would be home alone. He also recorded a video on his cellphone of one of the assaults, court documents say.
ICE said Palacios-Amaya was deported on June 5, 2014, and reentered the country undetected. Barrera-Navidad had been ordered removed by an immigration judge in December 2016. Both of their trials have been set for early 2020.
Two other cases of illegal immigrants allegedly raping children came to light in quick succession. The first was a Salvadoran national, Nestor Lopez-Guzman, who allegedly molested his 12-year-old stepdaughter over a six-month period, and assaulted her younger brother. ICE lodged a detainer on Lopez-Guzman, 46, and took custody of him. However, ICE said he has since been released, after posting an immigration bond.
When asked why ICE would release the man, a spokesperson said its "custody decisions concerning bond amounts are determined on a case-by-case basis." ICE said it takes into account several factors, including a positive identification of the individual, known criminal record, history of immigration arrests and violations, manner of entry into the United States, "ties to the community and support network, if any, and probability of detainee appearing for court appearances and for removal, if ordered, and otherwise complying with all conditions of release."
The next case against a child was that of Emilio Carrasco-Hernandez, who was charged with second-degree rape and sexual offenses for allegedly raping his 15-year-old stepdaughter in her grandmother's bedroom in August.
According to the court documents, Carrasco-Hernandez, 37, violated the girl several times over the course of a week and "she had trouble using the bathroom because it was very painful and stinging."
ICE said Carrasco-Hernandez, a Honduran national, was deported on April 6, 2017, and reentered the country undetected. Following his most recent arrest, ICE placed a detainer on him.
Also in August, Nelson Reyes-Medrano, 46, was arrested and charged for first-degree rape, sexual abuse of a minor, and first-degree assault.
According to court documents, Reyes-Medrano allegedly raped the 16-year-old daughter of his girlfriend in their home last year. The man held a knife to the victim's neck, ordered her to remove her clothing, and forcibly raped her, the document states.
Reyes-Medrano, a Salvadoran who is illegal in the country, is being held without bond, and ICE lodged a detainer on Aug. 14 to take custody once he is released by the county.
In one of the most brutal attacks, a woman was punched in the head and face multiple times before being raped and left for dead in a Silver Spring apartment block on Aug. 16.
An illegal immigrant from Honduras, 27-year-old Honduran Kevin Mendoza, has been charged with first-degree rape, attempted second-degree murder, and first-degree assault.
He is being held without bond and the trial is set for January 2020. ICE has lodged a detainer with Montgomery County for eventual custody of Mendoza.
Another Salvadoran illegal immigrant, Rodrigo Castro-Montejo, was charged with two counts of second-degree rape in mid-August.
Castro-Montejo, 25, has pleaded not guilty, and his lawyers have filed a motion to suppress evidence and dismiss the case.
He was released from jail after paying $1,000 (10 percent of the $10,000 bond set), despite an ICE detainer being placed on him. ICE accused the jail of only calling a local ICE agent to alert them of the release, rather than the agency's 24-hour number. The local ICE agent was on vacation at the time and didn't receive the message from the jail, meaning Castro-Montejo was released instead of being handed to ICE.
Three more cases have emerged in the first half of September, two involving illegal immigrants, and one man who was born in Honduras, but about whom ICE said it didn't have anything public to share about his immigration status.
Nigerian national Oluwakayode Adebusuyi was charged with second-degree rape, assault, and false imprisonment on Aug. 28. Court documents allege that Adebusuyi offered a drunk woman his car to sleep in while outside a club where they had a mutual friend. The woman told investigators that Adebusuyi raped her while she was unconscious and then drove to her neighborhood and left her on the road, screaming for help.
Adebusuyi was also arrested in August 2018 for assault, sexual charges, and false imprisonment, but the prosecution dropped the case.
On Sept. 1, ICE lodged a detainer with the Montgomery County Detention Center for Adebusuyi.
Josue Gomez-Gonzalez, a 23-year-old illegal immigrant from El Salvador, was charged with rape and assault after he and a woman friend spent several hours drinking heavily at a local park, according to court documents. ICE filed a detainer with the Montgomery County Detention Center on Sept. 12.
Wilder Francisco Hernandez-Nolasco, a native Honduran, was hit with multiple second-degree rape charges and other sexual offenses on Sept. 11.
Court documents allege the 21-year-old raped and sexually assaulted his 6-year-old step-sister on multiple occasions at two Silver Spring homes they lived in over the course of a year. The court documents state that Hernandez-Nolasco threatened the girl not to tell anyone, or else she would be "grounded for 100 days."
ICE has said it has nothing public to share about Hernandez-Nolasco's immigration status.
Backlash Against Sanctuary Policies
Michelle Malkin, author and political commentator, helped organize a Sept. 13 protest against Montgomery County's sanctuary policies, which she says are harming local citizens and harboring illegal alien criminals.
She said the recent rapes could be the tip of the iceberg. "These were only eight that we know about, and I think that's what's most chilling to me."
"There is very close cooperation between all sorts of federal agencies along with agencies underneath it at all levels," she said, referencing agencies such as the FBI and DEA. "Why would we exempt immigration from that? Who's responsible for the tropes and the propaganda that have brainwashed [people] into thinking that this is one area that we can never allow that kind of communication to keep people safer? It's insane."
On July 22, just days before the slew of rapes hit the headlines, Montgomery County Executive Marc Elrich signed an executive order that prohibits county officials from asking anyone their immigration status or to assist in an immigration investigation without a court order. It also closes nonpublic areas of county jails to ICE agents.
Malkin suggests frustrated local police officers could be leaking the rape case information.
"They've been gagged, they've had their hands tied behind their backs, and I can't imagine how frustrating it must be to finish the end of a shift and know that your county leaders and supervisors have ordered you not to communicate vital information that might save lives or spare suffering," Malkin said.
Politicians have been strengthening Montgomery County's sanctuary policies over the past 15 years, which have protected illegal aliens from federal immigration authorities, as well as provided benefits such as driver's licenses and in-state tuition.
Elrich said on Aug. 27 that he might amend portions of the executive order, but released no specifics. He met with ICE agents from the Baltimore Field Office on Sept. 11, after which both sides said it was a productive meeting, according to local reports.
The Montgomery County Council released a statement on Sept. 5, saying rape and sexual assaults "are despicable acts of violence that unfortunately occur across all cultures and communities."
The statement focuses on the council's commitment to building a "safe and inclusive community," while accusing the Trump administration, conservative news outlets, and "neo-Nazi sympathizers" of spreading false information.
"These individuals and organizations should be ashamed for spreading false information seeking to establish baseless, illogical, and xenophobic connection between a person's failure to obtain legal status and their propensity to commit a sex crime," the council states.
Brad Botwin, director of the community group Help Save Maryland, which helped organize the Sept. 13 rally, called the council members who support sanctuary policies "corrupt and incompetent."
"Unlike other rapes with citizens committing the rapes, these are people that should not even be here. And I think that's the crux of the issue, that they refuse to acknowledge. These people should not be here," Botwin said.
"Had they let ICE do their job, had they let the Montgomery County Police do their job, those eight or nine rapes maybe would not have happened. Because somewhere along the way, these illegal aliens … one way or another, they crossed paths with the police."
Rapes Increasing
The number of reported rapes in Montgomery County has been
steadily increasing
over the past several years, according to Montgomery County Department of Police reports.
From 2009 through 2014, the number held steady at between 102 and 129 rapes per year. In 2015, the number jumped to 278, mainly due to reporting changes aligning with a new FBI definition, as well as adding child rapes (previously counted under child abuse) to the number.
Since then, the number increased to 309 in 2016, 398 in 2017, and 509 in 2018, according to the latest annual police report.
Sheriff Chuck Jenkins, from neighboring Frederick County, said many Montgomery County police officers have told him, "'Sheriff, we wish we could, we wish we could do what you're doing, in Montgomery County—we're frustrated, we're tired, our hands are tied, we're handcuffed, we can't enforce the law, we can't cooperate with ICE.'"
Jenkins says his county is safer specifically because he cooperates with ICE in the 287(g) program.
"I truly think there's a direct correlation. We have one of the lowest crime rates in the region. And we don't have the magnitude of gang crime," he said.
"Why as a society, are we tolerating this? Where does it stop?" Jenkins said of the rapes. "So I think the citizens down there really need to hold [Elrich] accountable—recall, throw him out of office, whatever."
Casa de Maryland
Pro-sanctuary advocacy organization Casa de Maryland (formerly known as Central American Solidarity Association) has worked closely with the Montgomery County leadership, as well as Maryland state politicians, to push for broader sanctuary policies and benefits for illegal immigrants.
Earlier this year, Casa de Maryland was vociferous in its support for the state legislature to
pass several bills
that would severely hinder ICE operations in Maryland. The legislation ultimately failed.
However, on its website, Casa touts its success in blocking a program in Fairfax, Virginia, between county jails and ICE that would have allowed ICE access to illegal immigrants in jail.
The group said it is "moving to expand that victory in other localities and departments."
It's also pushing for a permanent amnesty for Deferred Action for Childhood Arrival recipients, as well as those with temporary protected status.
Casa de Maryland received more than half of its almost $10 million in revenue from government sources in fiscal 2016, according to its IRS 990 Form published on the Citizen Audit
website.
Casa de Maryland didn't return a request for comment about the alleged rapes in Montgomery County and whether they might impact the group's cause.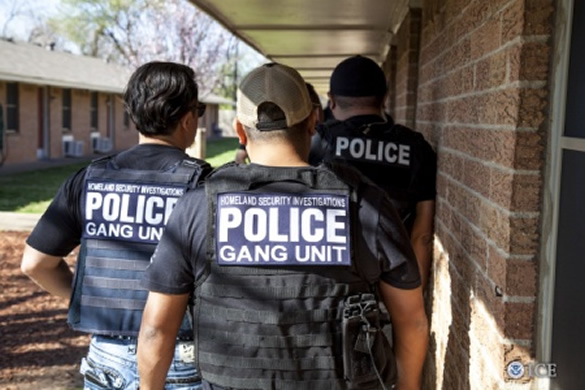 Maryland Democrats Pushing for State to Become Sanctuary for Illegal Immigrants
Comments
March 13, 2019
Updated: March 13, 2019
Sheriff Chuck Jenkins ended up with two suspected cartel hitmen in his Frederick County, Maryland, jail last week. Maryland State Police made the arrests after discovering drugs and guns in their vehicle.
Jenkins said the only way that jail officers were able to determine the two men were in the United States illegally and were alleged hitmen was through his county's cooperation with Immigration and Customs Enforcement (ICE).
But, Jenkins said, that cooperation could soon be blocked if a raft of new bills pass the Maryland legislature—effectively rendering Maryland a
sanctuary
state for illegal aliens, by shielding them from
immigration
authorities.
Jenkins said that if he was prohibited from communicating with ICE and honoring a detainer from the agency, the alleged hitmen could have been released on a bond—with no one knowing their cartel connections.
The sheriff serves in one of three Maryland counties—along with Anne Arundel and Harford—that currently cooperates with ICE through its 287(g) program. The program allows for ICE to be alerted when an
illegal alien
is booked into a county correctional facility.
"The only inquiries that we make are once an individual is arrested and taken to our booking center at the jail. Everybody is asked two questions: 'Where were you born?' and, 'What country are you a citizen of?'"
If the detainee answers anything other than "the United States," an immigration status check is conducted using the federal database.
Deputies never ask for an individual's immigration status while responding to an incident, during a traffic stop, or while conducting an investigation, Jenkins said.
Severing ICE
The bill that Jenkins is most concerned about is
House Bill 913
(HB 913), which would essentially sever communication between local or state law enforcement and ICE.
"They've got these laws written so tightly, you couldn't even pick up the telephone and make a call to ICE," Jenkins said.
HB 913 would also prohibit cooperation with an ICE detainer, which is a request by the immigration agency to hold an illegal alien until an agent can pick him or her up. Detainers also ask a local or state jail to alert ICE when an illegal alien is to be released from custody. Under HB 913, ICE would have to instead produce a federal judicial warrant. Both require probable cause, but a judicial warrant requires a judge to sign off.
The bill would also prevent correctional officers from supplying ICE the address of a person released from jail and their time of release, said Maryland House Delegate David Moon, a Democrat and HB 913 sponsor.
"However, they would not restrict ICE from accessing this information," Moon said.
Fifty-six Democrats co-sponsored the bill.
"I do not consider this as a sanctuary bill," Moon said.
Jenkins disagrees. He said ICE doesn't have any information on illegal aliens who have never been apprehended before, and HB 913 would prevent immigration authorities from knowing about those aliens.
"There is no way for ICE to really know, unless they cooperate with local law enforcement," he said. "ICE doesn't necessarily know if an arrestee is an illegal alien. If he's never been encountered by law enforcement—either in the interior or on the border—there's no way to know because there's no record of them."
Jenkins said the safest way is the current method, in which most of the cooperation and transfer of custody takes place through the corrections system.
He said he doesn't view ICE detainers any differently than those issued from agencies such as the FBI, the U.S. Marshals, or the Bureau of Alcohol, Tobacco, Firearms and Explosives.
"We will detain someone for any other federal agency. So why not ICE?" he said.
Jenkins testified against the bill on March 5 on behalf of all 24 elected sheriffs in Maryland.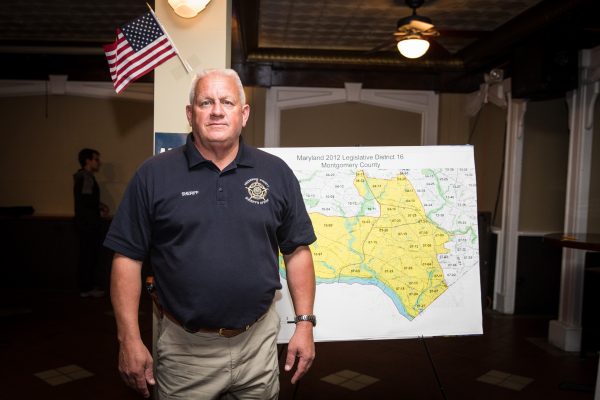 Public Safety
Gary McElhaney, assistant secretary with Maryland's Department of Public Safety and Correctional Services, said the implications of the sanctuary bills are particularly pertinent for Department of Corrections (DOC) inmates.
"Twenty-five percent of the undocumented immigrants in the DOC system are there for murder; 30 percent for sex crimes. So over half our undocumented population in the DOC is in for serious crimes. And we do alert the Department of Homeland Security when those folks are to be released," he said.
Under the new bill, that alert would be forbidden. And the bill goes even further, to prohibit detainers and warrants from other states being honored.
"The state would be obligated to release a detainee or an inmate who does not have a federal judicial warrant—which excludes detainees and inmates who have outstanding state warrants," McElhaney said during a bill hearing on March 5 in Annapolis.
"This would result in an inordinate amount of erroneous releases and would severely jeopardize public safety."
However, he said, the inmate wouldn't be released if they are a U.S. citizen. If an inmate is a U.S. citizen, and was about to be released after serving a murder sentence, for example, but another state had issued a detainer or warrant for that inmate, the inmate would be turned over to that state.
Another way the bill would shield illegal immigrants from ICE is for charges that don't require fingerprinting.
"For DUI arrests or other arrests related to traffic or other infractions, there are no fingerprints taken, and therefore, ICE would not automatically be notified," said Tom Williams, legislative liaison for the Maryland State Police, at the bill hearing.
California, which enforced statewide sanctuary policies at the beginning of 2018, has come under fire for several
high-profile cases
, in which illegal aliens were released instead of being turned over to ICE and then went on to commit serious crimes.
For instance, police officer
Ronil Singh
was killed while conducting a traffic stop early on Dec. 26, 2018, in Newman, California. Gustavo Perez Arriaga, the illegal alien who has been charged with Singh's murder, had twice been arrested on drunk-driving charges, but not turned over to ICE.
Enforcement-Free Zones
While law enforcement officers testified vehemently against the bills, advocacy groups argued that they are essential.
Aside from HB 913, two other bills have been introduced to the House of Delegates. One,
HB 1165
, says that unless it's required by law, no government agent can inquire about an individual's immigration status. The other,
HB 1273
, requires hospitals and schools to develop policies restricting ICE from operating on their premises, in conjunction with the state's attorney general, Brian Frosh.
Delegate Jheanelle Wilkins, sponsor of HB 1273, said the bill would provide illegal immigrants enforcement-free zones.
"Our hospitals and our schools really should be safe places that are protected. And it's critical for the health and educational outcomes of our residents that everyone is welcome and safe," Wilkins said on March 5.
She accused ICE of not fully enforcing its 2011 policy of avoiding enforcement operations in sensitive locations such as schools, hospitals, and churches. Nora Eidelman, deputy director of Community Legal Services of Prince George's County, said she wants the scope of the bill expanded to include courthouses.
Several illegal immigrants testified, saying they are scared they will be asked about their immigration status.
"I'm scared to go around and go about my business with the fear of being labeled as illegal," one woman said through a translator.
Vicky Cutroneo, who spoke on behalf of the Board of Education for Howard County, said her board adopted a set of policies in 2017 that rejected immigration enforcement on school property.
"Even after we made that resolution, families really are afraid to come to meetings, to advocate. I know that when we give away laptops, they're afraid to come and get the laptop," Cutroneo said.
But Jenkins said HB 1273 is totally unnecessary.
"Boards of Education, higher learning institutions, and hospitals don't participate in immigration enforcement whatsoever; at all," he said. "And that's certainly by their own policy, we all understand that. There is no enforcement in those locations. Those locations are not targeted by ICE."
"The legal age of sexual consent in Mexico is 12 years old. Sex with children at this age and younger is socially acceptable in Mexico. For example: A Mexican Lopez-Mendez pleaded guilty to sexual assault on a 10 year old girl in West Virginia. His excuse: sex with young girls was common with his people. He said, "I was unaware that it was a crime." FROSTY WOOLDRIGE
Anyone understand why Mexicans fail miserably at creating a successful civilization? Ever wonder why millions of them invade the United States in search of a better life? Have you noticed that once they arrive, they create the same kind of 'society' in the United States? Unconsciously, they create the same conditions they left behind. You can take the boy out of the ghetto, but you can't take the ghetto out of the boy.
For example, in Denver in December, illegal alien Navi dragged his girlfriend to death behind his car. Illegal alien Cruz shot his girlfriend dead in the back because she wouldn't reconcile with him. Illegal alien Ruizz ran over and killed Justin Goodman, but Ruizz drove away from the scene leaving Goodman to die. In Greeley, Colorado they suffered 270 hit and run accidents in one year. Over 80 percent of hit and run wrecks in Denver involve illegal aliens. Denver boasts the drug smuggling capital of the West as well as the people smuggling mecca of the country. Illegals cheat, distribute drugs, lie, forge documents, steal and kill as if it's a normal way of life. For them, it is.
Mexico's civilization stands diametrically opposed to America's culture. Both countries manifest different ways of thinking and operating.
With George Bush's push to create the "Security and Prosperity Partnership of North America" by dissolving our borders with Mexico, he places all Americans at risk.
Would you become friends with neighbors who throw their trash on city streets and parks, create ghettoes wherever they enclave their numbers, promote corruption, deal in violence, encourage drug use, manifest poverty, endorse sexism and downgrade education?
America's culture and Mexico's culture remain diametrically opposed to one another. America's fought Mexico and won. Today, Mexico invades America with sheer numbers of poor.
However, cultures rarely change and neither do their people.
As you can see from the ten points below, everything about Mexico degrades everything about America. For further information, you may visit
www.immigrationshumancost.org
and
www.limitstogrowth.org
where you will find a plethora of information by a brilliant journalist Brenda Walker. Her original report may be viewed on www.Vdare.com on January 17, 2007 under the title: "Ten Reasons Why America Should Not Marry Mexico." I suggest you read more of her work. She exemplifies incisive, sobering and shocking information.
These ten point stem directly from Brenda Walker's work. Let's examine why America must not entangle itself by merging with Mexico.
The legal age of sexual consent in Mexico is 12 years old. Sex with children at this age and younger is socially acceptable in Mexico. For example: A Mexican Lopez-Mendez pleaded guilty to sexual assault on a 10 year old girl in West Virginia. His excuse: sex with young girls was common with his people. He said, "I was unaware that it was a crime."
Mexicans remain the most sexist males next to Islamic men. Both boast the most misogynous cultures in the world. Rape and other violence toward women are not treated as serious crimes. In Mexico, a custom known as "rapto" whereby men kidnap women for sex is regarded as harmless amusement. Mexican society regards women little more than objects.
Crime and violence remain mainstays of Mexican culture. Drug cartels and the Mexican army coordinate their massive efforts to promote drug distribution not only in Mexico but into the USA. Mexico City suffers the second highest crime rate in Latin America. Kidnapping remains second only to Columbia for ransom money. Beheadings, killings and gun fire erupt at drug distribution points on the US/Mexican border.
Spontaneous hanging continues in Mexico. A mob beat up and burned to death two policemen on live television in 2004 in Mexico City. As Brenda Walker wrote, "Mexicans do not have the same belief as Americans that the law is central to the equitable functioning of a complex nation. It's the Third World."
Mexicans abhor education. In their country, illiteracy dominates. As they arrive in our country, only 9.6 percent of fourth generation Mexicans earn a high school diploma. Mexico does not promote educational values. This makes them the least educated of any Americans or immigrants. The rate of illiteracy in Mexico stands at 63 percent.
Drunk driving remains acceptable in Mexico. As it stands, 44,000 Americans die on our nation's highways annually. Half that number stems from drunken drivers. U.S. Congressman Steve King reports that 13 American suffer death from drunken driving Mexicans each day. Alcoholism runs rampant in Mexican culture. They suffer the most DUI arrests.
Mexicans set the benchmark for animal cruelty. Mexicans love dog fighting, bullfighting, cock fighting and horse tripping. Those blood sports play in every arena and backyard in Mexico. They expand into America as more Mexicans arrive. They also engage in "steer-tailing" where the rider yanks the animal's tail in an attempt to flip it to the ground. In horse tripping, they run the animals at full gallop around a ring, then, use ropes to trip them at full speed. It's a death sentence as the horses break their legs, teeth, shoulders and necks-all to the delight of the cheering Mexican fans.
As La Raza confirms, Mexicans maintain the most racist society in North America. "For the Hispanic race, everything; for anyone outside the race, nothing!" Guadalupe Loaeza, a journalist, said, "Mexican society is fundamentally racist and classist. The color of your skin is a key that either opens or shuts doors. The lighter your skin, the more doors open to you."
Corruption becomes a mechanism by which Mexico operates. Corruption remains systemic. The Washington Post wrote, "Mexico is considered one of the most corrupt countries in the hemisphere." They feature drug cartels, sex slave trade, people smuggling, car theft cartels, real estate scam cartels, murder for money and, you must bribe your mail man to get your mail.
Last, but not least, Mexicans are Marxists. They promote a one-party government. As with any kind of Marxism, brutal totalitarian rule keeps the rich in power and everyone else subservient.
As we allow millions of Mexicans to colonize our country, we can't help but be caught up in these ten deadly cultural traits of Mexicans. With over 12 million Mexicans here today, the predictions grow to as many as 20 even 40 million Mexicans in a few decades as they come here for a better life.
The fact remains, as they come to America for a better life, they make our lives a living hell.
Illegal immigrants are easily able to migrate into Virginia and other states because Congress does not provide border agencies with the legal authority, funds, and resources to catch, jail, and deter migrants, or to jail the many employers who hire hard-working, compliant, low-wage illegal aliens who live in the United States.