Sharpton on SCOTUS Affirmative Action Decision: 'Sticking a Dagger in Our Back'
MSNBC host Al Sharpton said Thursday on "José Díaz-Balart Reports" that the U.S. Supreme Court ruling on affirmative action programs for college admissions was a "dagger in our backs."
Sharpton said, "Well, I think that this is tantamount to sticking a dagger in our back because what they have said now is that it is unconstitutional to even consider race. And given the racial history of the country, let's not act like blacks are behind because there's something in our genes that made us behind. It was against the law for us to even read and write until 160 years ago. We were enslaved for 246 years. So it is to completely throw to the wind the history of why we needed affirmative action in the first place."
He continued, "So now you have a right-wing Trump court, let's not forget Trump nominated a third of the sitting court, nine members, three of which Trump put on there, that is saying well, we'll protect the voting rights on Thursday, Friday and Monday and then we're going to pull the rug from under you."
Sharpton added, "I think it is unimaginable not to consider race, given the history of this country and given the data that we still see in this country. Blacks are still 10% less in terms of family wealth than whites. We are still less in education. So either you're saying we're genetically inferior or that there's something that is unequal in society and is unequal because of law."
Follow Pam Key on Twitter @pamkeyNEN
CAN YOU THINK OF A SINGLE THING BARACK OBAMA OF THE BANKSTER REGIME OF BARACK OBAMA, ERIC HOLDER AND 'CREDIT CARD' JOE BIDEN EVER DID FOR BLACK AMERICA? BUT DO A SEARCH FOR OBAMA AND LA RAZA 'The Race'!!!
THE CRIME TIDAL WAVE IN OBAMAVILLE, CHICAGO
When You're Running Out Of Excuses...
https://www.youtube.com/watch?v=n8i5wUDkKJY
In America, former president but lifelong Marxist Barack Obama can slander proponents of secure borders as racists, and nobody bats an eye. Babbling Vice President Harris can promise to disburse federal funds for victims of Hurricane Ian based on Americans' skin color, and corporate news talking heads applaud.
THE MEXICAN FASCIST PARTY OF UNIDO US, FORMERLY KNOWN AS LA RAZA, 'THE RACE', THE FASTEST GROWING POLITICAL PARTY IN AMERICA FUNDED BY THE DEMOCRAT PARTY!
Unidos US, for those who are not familiar, is the current incarnation of the "National Council of La Raza", which bills itself as "the nation's largest Hispanic civil rights and advocacy organization". Hardly a MAGA front group.
Obama Rings the Reparations Bell
As Black Lives Matters and their allies rev up the call for reparations, it is time to revisit what Milton R. Konvitz wrote in 1976 for the celebration of the Bicentennial of American Independence[1]:
In the late 1960s, when militant blacks staged demonstrations in various churches demanding a half-billion dollars in 'reparations' for three hundred years of subjugation and discrimination, a writer in an Anglo-Jewish journal formulated a demand for 'reparations from various nations on behalf of the Jewish people, including demands to the Vatican for the harm done by teaching that the Jewish people were guilty of deicide and for the promotion of the blood libel; on Spain for the Inquisition and for the expulsion of Jews in 1492; on Germany France, Austria, and Italy, as successors of the Holy Roman Empire, for imprisoning Jews in ghettos; on Arab governments for oppression of the Jews for hundreds of years; on Russia for forcing Jews to live in the Pale of Settlement, for prohibiting them from owning land, for imposing on Jews a quota system that severely restricted their admission to high school and to the universities.
As far as Italian-Americans, should they too demand reparations? How many people are aware of the worst lynching in America — the mass murder of Italian-Americans in New Orleans in 1891? Moreover, "Sicilians were viewed by many Americans as culturally backward and racially suspect," writes historian Manfred Berg. Because of their dark skin, they were often treated with the same contempt as black people. In fact, "many Southerners looked down on these Italians as 'white Negroes.'"
Then there are the Chinese, who had to deal with "the Chinese Exclusion Act of 1882. Although the Chinese composed only 0.002 percent of the nation's population, Congress passed the Chinese Exclusion Act to placate worker demands and assuage concerns about maintaining white 'racial purity.'"
Moreover, "[f]rom the burning of Boston's Charlestown Convent in 1834 and the rise of the single-issue, anti-immigrant Know Nothing party in the 1850s ... to the No Irish Need Apply signs of the 1890s — immigrant Catholics faced the brunt of Protestant America's rage."
Yet Obama, our first black Caucasian president, demands reparations for black Americans.
Former President Obama said earlier this week that the case for reparations for Black Americans is "justified," but he added that the "politics of white resistance and resentment," among other issues, made the prospect of pursuing the issue during his presidency a "non-starter."
White resistance from a man who was voted in by 43% of white voters!
There's not much question that the wealth of this country, the power of this country was built in significant part — not exclusively, maybe not even the majority of it — but a large portion of it was built on the backs of slaves[.]
So who is a living slave today in America today, Mr. Obama? Am I supposed to give you reparations, when my ancestors were suffering in the ghettos of Russia?
Obama claimed that he feared "that reparations would be an excuse for some to say 'we've paid our debt' and to avoid the much harder work of enforcing our anti-discrimination laws in employment and housing; the much harder work of making sure that our schools are not separate and unequal; the much harder work of providing job training programs and rehabilitating young men coming out of prison every year; and the much harder work of lifting 37 million Americans of all races out of poverty[.]"
Obama is a master of linguistic jujitsu. Schools are no longer separate but equal. Also, what do reparations have to do with training programs? And yes, when will young men be expected to take responsibility for their actions? Oh, and by the way, impoverishing other Americans to pay for these reparations demands hardly keeps people out of poverty, but it certainly causes racial resentment.
Moreover, as Victor Davis Hanson asks, do we distinguish between African-Americans born in the United States and African and Caribbean immigrants with no histories of ancestors who lived under Jim Crow or were American-based slaves? How white or Asian or Latino can one be and still qualify for black reparations?
Furthermore, "[i]n our age of identity politics, will Armenian- and Jewish-Americans have equal or more compelling claims as well? Both groups arrived following the genocides of their own people. Many had relatives who perished due to discriminatory immigration laws that denied them entry into the United States. Nearly 8 million Jews and Armenians were murdered in the Nazi and Turkish genocides. Those totals are 23,000 times greater than the 3,500 blacks believed to have been lynched from 1882–1968 (a period during which 1,300 whites were also lynched)."
Yet "[t]he case for reparations for Black Americans has picked up more traction on Capitol Hill in recent months after the country saw widespread protests against police brutality and racial inequality following the police killing of George Floyd."
You mean George Floyd, the violent criminal and poster boy for the left, where protests led to massive destruction?
Under the bill, the commission tasked with exploring reparations would examine slavery and discrimination in the country since 1619.
Like clockwork, Marxists distort history and insist that 1619 is the beginning of America. But America was not even a declared country! The entire 1619 project is a dishonest account of history.
Proponents for the cause to provide restitution for black Americans say reparations could be essential to helping address inequities and continued effects of slavery that presently exist for the black community.
What continued effects? Obama employs a non sequitur. Obama and his allies count on the fact that "Americans across the political spectrum have failed to separate the premise of critical race theory from its conclusion. Its premise — that American history includes slavery and other injustices, and that we should examine and learn from that history — is undeniable. But its revolutionary conclusion — that America was founded on and defined by racism and that our founding principles, our Constitution and our way of life should be overthrown — does not rightly, much less necessarily, follow."
Reparations are just another spoke on the wheel of Critical Race Theory.
And right on schedule, the media support Obama when they write, "It also wouldn't be the first time the country has paid reparations. The U.S. previously paid reparations to Japanese Americans that were interned during World War II."
First off, it was a Democrat administration that enacted the unconstitutional move concerning internment. But notice the sleight of hand. Japanese internment camp reparations went directly to the families who were affected by this racist action. And eventually, the reparations ended.
Biden "continues to demonstrate his commitment to take comprehensive action to address this systemic racism that persists today."
Out comes the false "systemic racism" leftist mantra. As Theodore Dalrymple has explained, "it is true, of course that blacks in America have faced many generations of ill treatment, but such prejudice as now exists against them is not legal [emphasis mine] but the kind of informal social prejudice that is common throughout history. They also benefit from prejudice in their favor, [emphasis mine] which may in the long run be more harmful to them than prejudice against."
Most noteworthy is the last sentence. The race-driven laws being promulgated are all about identity politics. Race, not merit, is the key ingredient. Diversity, Inclusion, and Equity programs so prevalent in schools and businesses are the systemic prejudice that is being injected into our lives.
They are in, fact, better described as Discrimination, Indoctrination, and Exclusion of whites and Asians.
Dalrymple goes on to write that "the whole idea of protected groups — is a retrogression from the Enlightenment idea of treating people as equal under the law."
But Obama, tried and true Marxist that he is, will never stop pandering as long as it results in a rift in the nation that he so abhors. As Ray DiLorenzo asserts, Barack Obama, George Soros and Joe Biden "fly our flag while with beamed expression do[ing] their diligence to destroy everything [America] stands for."
Eileen can be reached at middlemarch18@gmail.com.
---
[1] Milton R. Konvitz. Torah and Constitution: Essays in American Jewish Thought, 1998
Image: Gage Skidmore via Flickr, CC BY-SA 2.0.
Michelle Obama's Exploitation of the Black Community
JAMES WALSH
THE OBAMA-BIDEN-HOLDER HISPANICAZATION of AMERICA…
first ease millions of illegals over our borders and into our voting booths!
How the Democrat party surrendered America to Mexico:
http://mexicanoccupation.blogspot.com/2014/07/james-walsh-hispanicazation-of-america.html
"The watchdogs at Judicial Watch discovered documents that reveal how the Obama administration's close coordination with the Mexican government entices Mexicans to hop over the fence and on to the American dole." Washington Times
"This is country belongs to Mexico" is said by the Mexican Militant. This is a common teaching that the U.S. is really AZTLAN, belonging to Mexicans, which is taught to Mexican kids in Arizona and California through a LA Raza educational program funded by American Tax Payers via President Obama, when he gave LA RAZA $800,000.00 in March of 2009!
The "zero tolerance" program was dismantled by Attorney General Erc Holder once it had successfully cut the transit of migrants by roughly 95 percent. Initially, officials made 140,000 arrests per year in the mid-2000s, but the northward flow dropped so much that officials only had to make 6,000 arrests in 2013, according to a 2014 letter by two pro-migration Senators, Sen. Jeff Flake and John McCain.
"The cost of the Dream Act is far bigger than the Democrats or their media allies admit. Instead of covering 690,000 younger illegals now enrolled in former President Barack Obama's 2012 "DACA" amnesty, the Dream Act would legalize at least 3.3 million illegals, according to a pro-immigration group, the Migration Policy Institute."
Obama Quietly Erasing Borders (Article)
Article Link:
http://www.wnd.com/index.php?fa=PAGE.view&pageId=240045


WIKILEAKS EXPOSES THE OBAMA CONSPIRACY TO FLOOD AMERICAN WITH DEM VOTING ILLEGALS
http://mexicanoccupation.blogspot.com/2011/05/wikileaks-exposed-obamas-la-raza-open.html
"The watchdogs at Judicial Watch discovered documents that reveal how the Obama administration's close coordination with the Mexican government entices Mexicans to hop over the fence and on to the American dole." Washington Times
Obama Funds the Mexican Fascist Party of LA RAZA "The Race"… now calling itself UNIDOSus.
http://www.breitbart.com/video/2017/11/23/omalley-obama-devastated-democratic-party-like-bad-forest-fire/
OBAMA HANDS TAX DOLLARS TO MEXICAN SUPREMACIST:
*
http://www.judicialwatch.org/blog/2011/jun/nclr-funding-skyrockets-after-obama-hires-its-vp
"This is country belongs to Mexico" is said by the Mexican Militant. This is a common teaching that the U.S. is really AZTLAN, belonging to Mexicans, which is taught to Mexican kids in Arizona and California through a LA Raza educational program funded by American Tax Payers via President Obama, when he gave LA RAZA $800,000.00 in March of 2009!
Previous generations of immigrants did not believe they were
racially superior to Americans. That is the view of La Raza Cosmica, by Jose Vasconcelos, Mexico's former education minister and a presidential candidate. According to this book, republished in 1979 by the Department of Chicano Studies at Cal State LA, students of Scandinavian, Dutch and English background are dullards, blacks are ugly and inferior, and those "Mongols" with the slanted eyes lack enterprise. The superior new "cosmic" race of Spaniards and Indians is replacing them, and all Yankee "Anglos."
LLOYD BILLINGSLEY/ FRONTPAGE mag
GLOBALIST BARACK OBAMA AND
NANCY PELOSI'S CONSPIRACY TO
SABOTAGE HOMELAND SECURITY AND
KEEP AMERICA FLOODED WITH DEM
VOTING ILLEGALS
https://globalistbarackobama.blogspot.com/2018/12/nancy-pelosi-and-obama-soros-globalist.html
"Along with Obama, Biden, Pelosi and Schumer are responsible for incalculable damage done to this country over the eight years of that administration." PATRICIA McCARTHY
"One of the most disgusting things to come out of the Obama administration was "Operation Fast and Furious," where members of the Department of Alcohol, Tobacco, Firearms and Explosives (ATF) allowed illegal gun sales to go through – commonly referred to as "gun walking" – in order to track buyers and sellers they believed were connected to the Mexican drug cartels. Nearly 2,000 firearms were sold and were eventually found throughout the United States and Mexico. Two of them were used to k ill Border Patrol Agent Brian Terry." BETH BAUMANN
Katie Pavlich's Latest Books, Fast and Furious: Barack Obama's Bloodiest Scandal and the Shameless Cover-Up are available on Amazon
Jose Angel Gutierrez, professor, University of Texas, Arlington and founder of La Raza Unida political party screams at rallies: "We have an aging white America. They are dying. They are s hitting in their pants with fear! I love it! We have got to eliminate the gringo, and what I mean by that is if the worst comes to the worst, we have got to k ill him!"
Previous generations of immigrants did not believe they were racially superior to Americans. That is the view of La Raza Cosmica, by Jose Vasconcelos, Mexico's former education minister and a presidential candidate. According to this book, republished in 1979 by the Department of Chicano Studies at Cal State LA, students of Scandinavian, Dutch and English background are dullards, blacks are ugly and inferior, and those "Mongols" with the slanted eyes lack enterprise. The superior new "cosmic" race of Spaniards and Indians is replacing them, and all Yankee "Anglos." LLOYD BILLINGSLEY/ FRONTPAGE mag
The seeds of the catastrophe now befalling our nation.
ANTI-WHITE RACISM IS ALL PART OF THE GEROGE SOROS - BARACK OBAMA DIVISIONIST PLAYBOOK. MICHELLE IS IN ON IT ALSO!
How Government is Fanning and Subsidizing Anti-White Racism
When the current occupant of the White House openly asserts that white supremacy is the greatest threat to America, it shows that demonizing whites is now an acceptable part of American life. Conservative writer Ed Brodow dubs this phenomenon the "new national sport" in the subtitle of his book The War on Whites. In a Townhall article, he says hating whites is a disease of epidemic proportions that must be called out for what it is – racism. He explains how, in the woke-perverted world of diversity, equity, and inclusion (DEI), white people – by dint of pigment alone – are the default oppressors, obliged to feel guilty and do penance for imagined crimes of "systemic racism."
This reversal has its roots in critical race theory (CRT) and Marxist ideology, which are working overtime to replace the American ideal of equality (of opportunity, not outcome) with a distorted version of equity. The word itself means fairness or impartiality. But the new discourse interprets it to mean providing special opportunities to minorities and groups perceived as disadvantaged and denying them to the majority and those perceived as advantaged.
With woke ideas well entrenched in academia and diffusing therefrom to the corporate world and government, this perverse interpretation is increasingly translating into a sidelining of whites. Although government programs are required by the Constitution to be non-discriminatory, instances abound of anti-white racism becoming their salient feature. Such discrimination even extends to COVID relief programs, as if whites were not affected (or were less affected) by the pandemic.
Fortunately, these are being challenged as unconstitutional in federal lawsuits. One involves a discriminatory COVID relief program for businesses in Massachusetts. The $75 million program is deceptively called the Inclusive Recovery Grant Program, but accepts applications only from firms owned by minorities, women, veterans, the disabled, or LGBTQ+.
Challenging this, the pro bono Pacific Legal Foundation (PLF) has filed a lawsuit on behalf of Brian Dalton, whose New England Firearms Academy cannot receive aid because he happens to be heterosexual and white. Dalton, a retired law enforcement officer, opened the academy in 2013 to provide firearms and safety training. During the pandemic, he was forced to sell assets and use his savings to cover business expenses. Upon reopening, he incurred additional costs to comply with mandated safety measures. So, he wanted to apply when the program was first announced, but found he was ineligible.
In Brian Dalton et al v. Hao and MA Growth Capital Corp, filed on May 31st at the U.S. District Court for the Commonwealth of Massachusetts, PLF attorneys argue that the program violates the 14th Amendment guarantee for "equal protection under the law." They rightly characterize the program as inclusive in name, but in fact exclusive in its application. Broadening the argument to make a case for the American ideal of individual rights, the PLF states on its website:
When the government benefits or burdens us based on traits we cannot control, it unjustly diminishes our individuality and institutionalizes and reinforces stereotypes. Such treatment also hinders opportunity. Business owners have a right to be treated as individuals, and not as part of a group to which the government arbitrarily assigns them. Our country has had a terrible history of discrimination that cannot be remedied with more discrimination.
A similar case was filed in 2021 by the Wisconsin Institute for Law & Liberty (WILL) on behalf of Tennessee restaurateur Antonio Vitolo against the Small Business Administration (SBA). The SBA prioritized women and minorities during an initial three-week period for grants from the $28.6 billion Restaurant Revitalization Fund, a COVID relief program. White males were relegated to the back of the line. On May 27, 2021, the U.S. Court of Appeals for the Sixth Circuit ruled (with Judge Bernice Donald dissenting) that such prioritizing amounted to "racial gerrymandering." It ordered the government to fund Vitolo's grant application, if eligible.
In 2020, two whites and a Chicano sued Oregon in two lawsuits for racial discrimination when it designated $62 million in COVID relief specifically for blacks, presuming that the pandemic affected them disproportionately. Under pressure from the nightly Black Lives Matter (BLM) mayhem in Portland, state officials initially defended the program. Later, though, they admitted to its potential unconstitutionality. In an editorial commentary, the WSJ called the program "blatantly unconstitutional."
U.S. District Judge Karin Immergut had denied a request from one of the plaintiffs to block disbursements, but agreed to examine the constitutional issues "later in this litigation." Eventually, the state settled both cases, paying out grants to 1,252 non-black applicants.
In December 2020, Etienne Hardre, a barbershop owner from Colorado Springs, sued the state of Colorado for denying him relief under a state program due to minority eligibility criteria. Hardre's business was hit hard by the pandemic lockdown and the restrictions under which he could reopen at reduced capacity. The program requirements were later amended, but still conferred preference to minorities. The case, however, was closed, with the judge saying in an April 19, 2021 order that it was filed before "implementing regulations had been adopted" – in short, too early.
There are other examples, too, of government programs discriminating against whites. The California Underserved and Small Producers Program (for drought relief) advantages farmers of color and illegal immigrants by awarding them 50% of available funding. A Covid relief grant in Stamford, CT, and the Source Grow Grant of Cook County, IL, both reserve one-third of funding for small businesses owned by minorities, women, the disabled, and veterans. The latter was rescinded for redesigning after PLF filed a lawsuit.
White-bashing is so pervasive now that a Rutgers professor, Brittney Cooper, had no qualms about saying "we got to take these [white] motherf*****s out," and another from Drexel, George Ciccariello-Maher, tweeting that "All I want for Christmas is White Genocide." Anti-white racist screeds abound: White Fragility, by Robin DiAngelo and Michael Eric Dyson, and How to Be an Antiracist, by Ibram X. Kendi, for instance.
Denver councilwoman Candi Lee CdeBaca believes in correcting what she perceives as past inequities committed by whites through higher taxes on white-owned businesses. Describing herself as more of an anarchist than a communist, she justifies such punitive measures to redistribute wealth to minority businesses on the grounds that capitalism was built on "stolen land, stolen labor, and stolen resources."
Throughout the university system, faculty keep such extremism alive in the classroom, fanning the embers with CRT and DEI. One technique Leftist academics have deployed successfully, as Australian authors Harry Richardson and Frank K. Salter point out in their book Anglophobia: The Unrecognized Hatred, is the weaponization of victimhood, actual or perceived. Young, impressionable minds – often catalyzed by the induced guilt of being born white – absorb these ideas and perpetuate them after graduation through activism and at their workplaces.
Race has become such a dominant factor in government funding, university admissions, and hiring and promotion decisions that there is a climate of tremendous animosity against whites, who are excluded while favored categories are given preference. Former Republican Speaker of the House, Newt Gingrich calls it a "cult of anti-white racism." What is lost to the CRT-DEI ideologues is that racism is always wrong, regardless of who is targeted.
Government benefits and special privileges must be distributed on objective criteria of need and merit, not by arbitrary classifications of race, sex, or sexual orientation. The latter is both unjust and unconstitutional under the 14th Amendment. Worse, such policies encourage privilege seeking and wallowing in victimhood, both of which demean the human spirit, its quest for excellence, and its ability to rise above circumstances. This threat to our meritocracy signals the end of an America that achieved greatness through endeavor, innovation, and excellence. We can't allow that to happen.
Graphic credit: GDJ Pixabay license
Prepare for Disparate Impact
REVIEW: 'When Race Trumps Merit: How the Pursuit of Equity Sacrifices Excellence, Destroys Beauty, and Threatens Lives' by Heather Mac Donald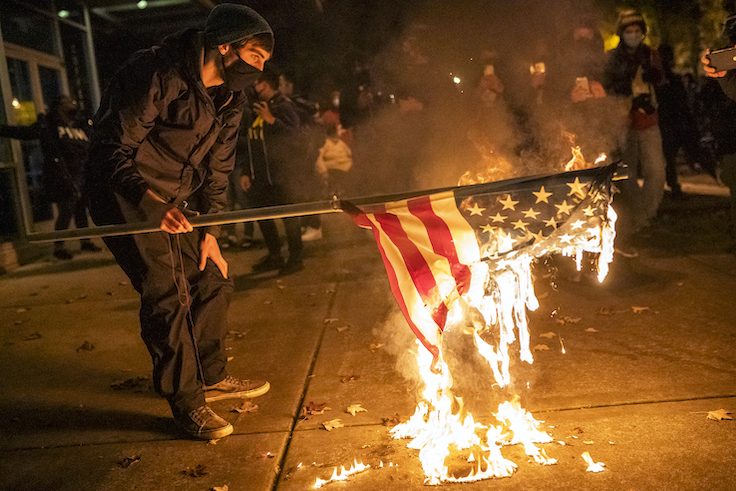 In her latest book, When Race Trumps Merit: How the Pursuit of Equity Sacrifices Excellence, Destroys Beauty, and Threatens Lives, bestselling author Heather Mac Donald skewers the ideology of "disparate impact"—a "once obscure legal theory that is now transforming our world."
According to Mac Donald, disparate impact—in which any negative or disproportionate outcome impacting black Americans is declared to be a "tool of white supremacy"—has been deliberately developed and leveraged as a cultural tool, targeting "the very fundamentals of a fair society."
Today, she argues, meritocracy, fealty to the rule of law, and even respect for our civilizational inheritance stand in the way of achieving so-called racial justice.
Mac Donald describes 2020 as a potentially "pivotal moment in American history," accelerating the notion that racism defines America. This idea, she believes, is tearing the country apart, with any protest rejected by the same "just believe" mandate used by the #MeToo movement.
Not only that, any roadblock to the achievement of "exact racial proportionality"—with the key to disparate impact being the presumption of racial proportionality with no regard for factors such as behavior and ability—is itself evidence of this same systemic racism.
In When Race Trumps Merit, Mac Donald explores three fundamental areas of American life to support her hypothesis that the country is engaging in a fit of "cultural self-cancellation" that is impoverishing the imagination, stunting the capacity for wonder and joy, and stripping the future of everything that gives human life meaning: beauty, sublimity, and wit.
The first two chapters are dedicated to science and medicine, which were hit "like an earthquake" by the "post-George Floyd racial reckoning" unleashed in 2020.
Mac Donald provides the reader with a deep dive into the racialized nature of today's scientific community, arguing that American elites have simply moved on from failing to close the academic skills gap by deciding to "break up the objective yardsticks that measure it," including dismantling the system of knowledge underpinning modern medicine. "The result," says Mac Donald, "will be a declining quality of medical care and a curtailment of scientific progress."
Mac Donald then moves on from the world of science and explores the abstract world of culture. Across 10 chapters she explores the pursuit of racial proportionality across classical music, opera, and art.
The problem with this section—compared with the former and latter sections—is that the bulk of the book is dedicated to subjective expressions of art sandwiched on either side by the comparatively objective areas of science and crime. While the critiques of certain artists under the "rise of mediocrity" might highlight the breadth of the blind pursuit of racial proportionality and the erasure of Western culture, it must be said that by placing such significance upon subjective areas of human expression—rather than objective fields of pure meritocracy—Mac Donald is in danger of diluting the strength of her overarching argument.
The third and final section is an emotionally stunning investigation of the effect of disparate impact analysis on the American criminal-justice system, "where every disparity in arrest or incarceration rates is now attributed to racism."
Presenting the decline of New York City into a haven for criminal behavior as an example, Mac Donald argues that two decades of successful efforts to combat crime have been voluntarily cast aside, with the spread of violence and predation erupting as a predictable result.
"Acknowledging the vastly higher black crime rate is taboo," Mac Donald points out, with Democrats preferring to blame the supposed systemic racism of law enforcement or—if necessary—focus on the insidious (and often imagined) presumption of white supremacy.
Under "anti-racism orthodoxy," if we are unable to discuss the root causes of higher black crime—"above all, family breakdown," Mac Donald adds—then the only way we can achieve racial proportionality regarding crime is to stop the penalization of criminal behavior.
As a result, "elite 'anti-racists' absolve blacks from responsibility for their actions," Mac Donald writes. "This patronizing attitude is today's real racism."
Providing the reader with an almost overwhelming trove of pure data—including a moving account of forgotten black victims of gang violence deemed unimportant by the mainstream media and the Democratic Party—Mac Donald proves that criminal violence is the main problem afflicting urban black communities, and not police shootings.
Analyzing the areas of science, the arts, and criminal justice, When Race Trumps Merit is not only an enthralling account of the reality of so-called anti-racism efforts in the United States, but a resolute warning of the dangers of unfettered disparate impact analysis.
"Western civilization contains too much beauty and grandeur, too much achievement, and too much innovation—from advances in the sciences to the blessings of republican self-government—to be lost without a fight," Mac Donald concludes. "It will be lost, however, if disparate impact continues to be our measure of injustice."
When Race Trumps Merit: How the Pursuit of Equity Sacrifices Excellence, Destroys Beauty, and Threatens Lives
by Heather Mac Donald
DW Books, 320 pp., $28.99
Ian Haworth is a writer, speaker, and former Big Tech insider. He also hosts "Off Limits with Ian Haworth
Published under: Anti-Racism , Book reviews , Crime , White Supremacy
Recapturing the hijacked Democrat Party
I grew up with parents who were Democrats. I lived in Chicago, Illinois; I was introduced to Democrat Richard J. Daley, the famous mayor of Chicago. My uncle was Democrat Dan Ryan, President of the Cook County Board of Commissioners, who had a major freeway named after him. I moved to the Chicago suburbs and became mayor of the city of Oak Forest. My job took me to California, where I had relationships with Los Angeles Democrat mayor Tom Bradley, Democrat California governors Gray Davis and Jerry Brown, and many other Democrat leaders. Without a doubt I know the Democrat party and its philosophy.
My parents were from the Greatest Generation. They experienced war, the Great Depression, and Democrat president Franklin D. Roosevelt. As they raised me, they made it clear that Democrats stood for workers, God, and country. They would tell me about FDR bringing the country together with his four fundamental freedoms: "freedom of speech, freedom of worship, freedom from want, and freedom from fear." In my early years I can remember listing to the radio and hearing Democrat president Harry S. Truman address the nation. I remember him talking about a sign on his White House desk that read, "The Buck Stops Here," his willingness to take responsibility for actions united the country because he was a strong leader.
Several years later, Democrat John F. Kennedy entered the scene, and he quickly became my idol. One of his speeches struck me: "The Freedom and Happiness of Man," by Thomas Jefferson, "Kennedy stated that this quotation of Jefferson has been the beacon by which the course of the Democratic Party had been chartered. He went on to say the Democrat Party was inaugurated by Thomas Jefferson in 1800, and stood firmly opposed to a strong centralized government. It stood rather for direct popular control. Jefferson's philosophy was based on the fundamental belief that the people are capable of self-government. JFK's words championed state's rights and strict constitutional interpretation. JFK brought people together.
Another individual became popular around the same time. Martin Luther King, Jr. took his inspiration from scripture and united the country with his "I have a dream" speech. Americans knew that the United States was blessed with "Greatest Generation" leaders. Their qualities united the country by finding solutions with Republicans. Together with shared values they protected the Constitution, families, freedom of speech and religion, patriotism, and commitment to high moral values.
In America in 2023, our nation's citizens are in turmoil and completely divided. Democrat leaders have surfaced who are driven by racism, extremism, wokism, transgenderism, religious hatred, corruption, and lies. These extremists do not represent historical values; they have plundered the Democrat party. Their ideologies are rampant with envy politics, socialism, and Marxism. Author J.R. Dunn analyzed "Liberal leftism has not only failed as an ideology but has proven fatal to citizens and societies around the world." These society killers have infiltrated every aspect of our society: families, education, parental rights, government, and the press/social media. They show contempt for the two-party system and those challenging their views.
What is the answer? Seniors, one of the nation's largest voting blocs, have the history, experience, and expertise to throw out these dysfunctional radicals. They must lead a crusade joined by traditional Democrats, Republicans, and other Americans, real patriots who will protect the goodness and decency of American society. We must look within ourselves with love of country and ask questions "what life do we want for our children and their children?" "Who benefits by destroying our history and the freedom and thoughts of others?" Finally, our actions must improve the lives of fellow Americans in this world that is ours.
Image: DNC
THERE IS NO GREATER THREAT TO AMERICA THAN THE DEMOCRAT PARTY
"Hate speech" accusations are designed with one outcome in mind: censorship. "Hate speech" is usually not hateful speech. What often constitutes "hate speech" is any language that opposes popular narrative. This label is causing damage to our nation. We find frequent examples of its effects in how it muffles free speech on college campuses.
Except as described under "Enhanced penalties," below, a hate crime would be a felony punishable by imprisonment for up to two years or a fine of up to $5,000, or both.
Obama suggests digital fingerprints to counter misinformation, so we know what is true or not true.

Former President Barack Obama suggested in a new interview the development of "digital fingerprints" to combat misinformation and distinguish between true and misleading news for consumers.
Who will be Obama's arbitrators? Will they be Rachel Maddow and MSNBC, Brian Stelter, WaPo, DHS, SPLC, the Justice Department? Obviously, Obama wants some kind of censorship power under the rubric of "stopping disinformation" because lying is so hard to conceal when the truth keeps getting out.
Here is a small sample of misinformation that has been spread by the leftist mainstream media, which I do not recall Obama ever complained about.
Our mostly complicit, compliant, sycophant press has no concern about facts, only Democrat power
Glazov Gang: Obama's Russia Collusion
The baseless accusations against President Trump begin to make sense.
A Cabal of Sociopaths
Michelle Obama's Exploitation of the Black Community
Anti-White Racism
How I came to write "the war on whites."
DC School Board Approves Curriculum Centered on Critical Race Theory
The Unhinging of America