"Mexicans cheat, distribute drugs, lie, forge documents, steal and kill as if it's a normal way of life. For them, it is. Mexico's civilization stands diametrically opposed to America's culture." FROSTY WOOLDRIDGE
Thousands of migrants are still arriving at the U.S.-Mexico border, hoping to be allowed into the country as asylum seekers. But many are claiming Mexican officials are asking for money to allow them to proceed across bridges that would take them to a U.S. border checkpoint.
The Los Angeles Times reported that Mexican officials are also overseeing a waiting list of migrants seeking entry into the U.S.
"The asylum seekers and immigrant-rights advocates say that has put them at risk of extortion, discrimination, and deportation, with many telling of Mexican officials demanding money to let them pass and of watching others, further down the list, cross ahead of them," the Times reported.
The Times claimed the waiting list protocol comes from the Trump administration as a way to delay entry to the migrants after a federal judge ruled that the U.S. could not enforce federal immigration law that does not allow asylum status to people who bypass official ports of entry and enter the country illegally.
But U.S. Customs and Border Protection (CBP) told the Times the agency "processes undocumented persons as expeditiously as possible" and denied it was involved in selecting who from the list enters.
"Nationality has absolutely no bearing on the processing" of asylum seekers, and those on the lists are "processed on a first-come, first-serve basis," the agency said.
CPB told the Times it "does take into consideration persons with medical emergencies, unaccompanied alien children, the disabled, and gives priority as we can, bearing in mind the day-to-day availability of resources, case complexity, holding space, port volume and enforcement actions."
The waiting list, CPB officials said, is a way to manage the ongoing crush of migrants on two bridges from Mexico to the United States.
Cuban asylum seeker Elvis Gonzalez Rodriguez said that when he arrived at the old bridge last week, a uniformed Mexican immigration official demanded he pay $1,000 to cross. Gonzalez, 23, refused, and the official made him leave. At the newer bridge, a backpack containing his passport and cash was stolen, he said. He returned to the old bridge and was forced off by Mexican immigration officials three more times.

Another Cuban asylum seeker said a uniformed Mexican immigration official demanded $500 to get her across the old bridge after she arrived at Matamoros airport in mid-October. She said she gave the official her passport and $300 at the airport, then got nervous.
"He didn't seem trustworthy, so I left," said Rosa Maria, 50, who did not give her full name for fear of retribution, according to the Times.
Rosa Maria said she had received calls on her cell phone from people who said they paid Mexican officials $100 to $300 to bypass being put on the list and to gain entry into the U.S.
"Cuban asylum seeker Leonardo Mederos, 30, said he paid a smuggler $4,000 to get him to a border bridge to the west in Reynosa, a Gulf cartel stronghold, where the smuggler assured him he would be able to cross and join relatives in Miami," the Times reported.
CBP said of Mexican officials allegedly seeking payment from migrants: "Mexico is a sovereign nation, and our authorities do not cross international boundaries. Actions of Mexican officials, or people in Mexico, should be addressed to the government of Mexico including any actions taken on the Mexican side of bridges and in the border cities of Mexico."
WE SAT AND WATCHED WHILE THEY DESTROYED OUR COUNTRY!
We are now in the process of destabilizing our own country. FROSTY WOOLDRIGE
Welfare for Refugees Cost Americans $123 Billion in 10 Years ….
YOUR TAX DOLLARS AT WORK!
Democrats are throwing blacks under the bus by appealing for the Hispanic vote by calling for open borders.
WILL MEXICO ELECT ALL FUTURE U.S. PRESIDENTS?
"Mexicans cheat, distribute drugs, lie, forge documents, steal and kill as if it's a normal way of life. For them, it is. Mexico's civilization stands diametrically opposed to America's culture." FROSTY WOOLDRIDGE
TRUMP PARTNERS WITH MEXICO TO GET MEXICANS INTO OUR VOTING BOOTHS TO VOTE FOR MORE LA RAZA SUPREMACY and EXPANSION OF THE MEX WELFARE STATE.
"Mexicans cheat, distribute drugs, lie, forge documents, steal and kill as if it's a normal way of life. For them, it is. Mexico's civilization stands diametrically opposed to America's culture." FROSTY WOOLDRIDGE
Trump initially tried to investigate real interference in our elections. He set up a commission to investigate voter fraud chaired by Kansas secretary of state Kris Kobach. But when the liberal media cried that the commission was all about voter suppression,
Trump folded like a cheap umbrella
. He shut down the commission before it could complete its research into what is probably massive voter fraud on the part of Mexican and other foreign nationals. ED STRAKER
Washington Post: Human Smugglers Reward Migrants Who Bring Children to the Border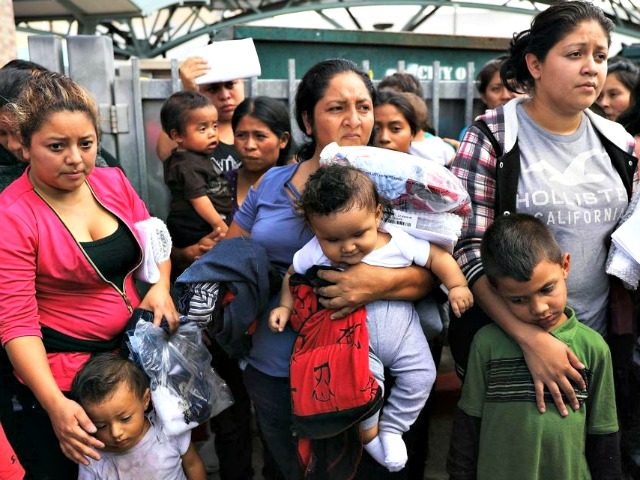 Human smugglers slash their $10,000 per-person price when migrants bring children up to the U.S. border to exploit asylum loopholes, says the Washington Post.
Reached by phone in Kansas City, [Denys Adelmo] Mejia said he saved thousands of dollars by traveling with a child. His smuggler would have charged $10,000 if he had been traveling alone, he said; with Elizabeth Dayana, it cost $4,500 for both of them. He has three years to pay this off — in monthly installments — or his mother could lose her house.

"When you come with a child, [the smuggler] only delivers you to the Border Patrol," said Mejia. "When you're coming alone, they have to take you all the way across the desert."
The loopholes have been created, cheered, and widened by American progressives, including lawyers at the ACLU and many elite legal firms, activists at pro-migration groups, Democrats in Congress, and reporters in many media outlets. The resulting inflow of illegal immigrants is cheered on by business groups because it delivers new wage-cutting workers and more consumers to their doors.
The reward for bringing children is so high that villages are losing many children and migrants even are making deals to bring other people's children, and then claim them as their own kids at the U.S. border, the
Post
reported
:
"This is the most serious problem that we have," said Juan Jose Arita Rivera, the town's mayor.
Between April and Setepmber, U.S border officials separated 170 migrants from the children they incorrectly claimed to be their own children, the
Washington Post
said. The
article
includes two examples of children being brought northwards by migrants who are not their parents.
The rising inflow of faked families comes as Democrats continue their loud complaints that President Donald Trump's policies are causing "family separation" among migrants.
The article notes that many of the migrants bring the children who are cousins and buy faked documents from corrupt officials. Once the migrants are caught at the U.S. border and then released from the crowded detention facilities, they head to towns and cities that contain populations of prior migrants. This practice helps the migrants quickly land jobs — and the ability to get childcare — from prior migrants.
For example, the migrant in Kansas City, Mejia, lives with in-laws in Kansas City:
He and the [smuggled] girl now share a duplex with Mejia's brother and his brother's wife. Mejia wears an ankle bracelet as he waits for his asylum case to move through immigration courts. Because he cannot work legally or get a driver's license, he said he cannot enroll Elizabeth Dayana in school.
This form of chain-migration has delivered massive numbers of Central Americans into the United States — and has now produced the caravans of migrants either waiting at or traveling to the U.S. border.
In fiscal year 2018, for example, more than 100,000 migrants used this progressive-opened loophole to migrate into the United States, past the guards and fences at the border. Nearly all were released because of furious progressive opposition to Trump's short-lived policy of holding adults at packed detention centers while sending the children to shelters run by the Department of Health and Human Services.
Once released, migrants must convince judges to approve their asylum. The vast majority are rejected — but most remain in the United States because few are caught and sent home by immigration officers.
The growing population of illegal economic migrants hiding in the United States helps grow the economy for older investors by cutting wages and salaries for Americans, and by driving up real-estate costs for young Americans.