TRUMPS INFORMS NARCOMEX:
THE PACT BETWEEN MEXICO AND TRUMP… NO WALL, NO REAL ENFORCEMENT.
Save America Immigration Plan



01) Make E-Verify mandatory
02) End Chain Migration
03) End the Lottery Visa
04) End the H / L-series visa programs
05) Make English the Official Language
06) Abolish Birthright Citizenship
07) Rescind the Immigration Act of 1965
08) Pass a law requiring National Voter ID
09) Halt ALL types of Immigration until such a time as our borders are secured
10) BUILD the WALL
11) Make illegal entry into the country a felony
12) Arrest and prosecute persons responsible for allowing sanctuary status of cities/states
13) Make VISA overstays in the country a felony
14) Begin massive deportations of persons illegally in our country
DHS Keeps Mileage of Newly Built Border Wall a Mystery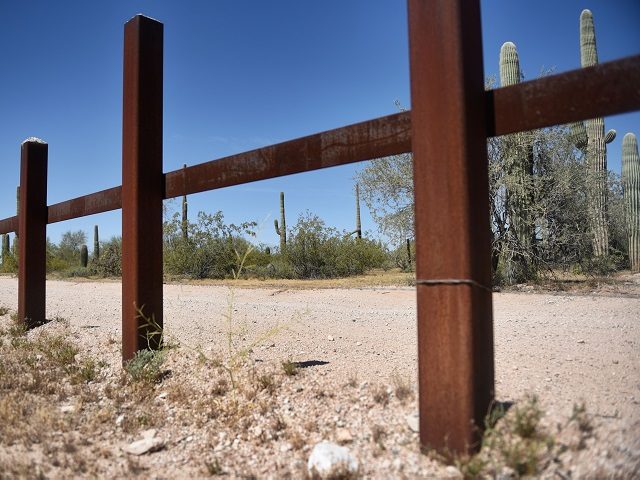 The total mileage of new border wall constructed on land that did not previously have a barrier built on it at the United States-Mexico border remains unknown, as the Department of Homeland Security (DHS) has kept the number a mystery.
F
or months, the Customs and Border Protection (CBP) agency has touted the construction of a "new border wall system" at the southern border, citing that 38 miles as of March 21 have been built along the nearly 2,000-mile long border.
In a statement provided to Breitbart News two months ago, a CBP spokesperson said the 38 miles of newly constructed wall system "provides new capability by replacing ineffective or dilapidated infrastructure, such as Normandy-style barriers designed only to stop vehicles, not people on foot."
CBP officials also said that the 38 miles of border wall system is part of a 115-mile wall construction project using money from the Fiscal Years 2017 and 2018.
DHS, though, has refused for months to reveal the mileage of border wall that has been constructed at the southern border in areas that did not previously have barriers built. Breitbart News has made multiple requests to CBP officials, as well as a high-ranking DHS official, over the last two months and has yet to confirm the total mileage of new border wall on new land.
Every administration since the early 2000s has replaced border barriers at the U.S.-Mexico border, as the Trump administration has continued doing. The Obama administration, for example, constructed an 18-foot border fence that replaced an existing barrier in the Sunderland Park, New Mexico region.
Meanwhile, the majority of the U.S.-Mexico border has remained open as DHS replaces existing fencing rather than expanding border barriers to new land areas that would otherwise have stayed open.
In March, National Border Patrol Council President Brandon Judd told Breitbart News that no new border wall on new land where there were previously no barriers has been built by the Trump administration. To date, Judd said, Trump's DHS has only renovated existing border fences and constructed border wall that has replaced existing fencing.
This week, a lawyer for the House of Representatives told an Oakland, California judge that less than two miles — 1.7 miles, exactly — of the border wall has been built at the southern border using the $1.57 billion that Congress allocated to the project last year.
Following the report, White House Press Secretary Sarah Huckabee Sanders claimed that the figure was incorrect and that more than 100 miles of border wall have been built, though that number would contradict totals from CBP.
"There is over 100 miles, I think, it is close to 115 miles have been finished," Sanders told Fox News of wall construction.
At the same time, rumors have circulated that U.S. Border Patrol Chief Carla Provost is expected to leave the agency after only serving officially in the lead position for about a year.
DHS did not respond with the total mileage of new border wall on new land in time for this publication.
John Binder is a reporter for Breitbart News. Follow him on Twitter at
@JxhnBinder
.
ANN COULTER: WILL THE GLOBALIST DEMOCRAT PARTY FOR BANKSTERS AND BILLIONAIRES DESTROY AMERICA?
I would also go to all of the working class that are in America, construction workers in particular
. Their salaries have not just stagnated, they have gone down in the last 20 years.

These are the least among us. We are the only ones not speaking out of self-interest

. …
Most of the people who are advocating for open borders
… they

have a vested in interest in having either the cheap labor or the Democratic voters

. Their neighborhoods aren't the ones being overwhelmed.

They get the cheap maids, the cheap nannies, and then they strut around like they're Martin Luther King

.
No,

you are talking in your self-interest, Chamber of Commerce, and Koch brothers, and Nancy Pelosi, and Chuck Schumer

. It's Donald Trump and our side who are actually caring about our fellow Americans — the kids who are getting addicted to black tar heroin. …
The heroin problem in this country is 100 percent a problem of not having a wall on the border. And 70,000 Americans are dying every year
. That's more that died in the entire Vietnam War.

That is a national emergency

. ANN COULTER
ANN COULTER EXPOSES TRUMP'S "WALL" HOAX
In fact, Trump is steadily moving in the precise opposite direction of what he promised.
Illegal immigration is on track to hit the highest
levels in more than a decade, and Trump has
willfully decided to keep amnesty advocates Jared,
Ivanka, Mick Mulvaney, Marc Short,
and
Mercedes Schlapp in the White House. For
all
his talk about immigration, did he ever
consider hiring people who share his MAGA
IS A SECOND REVOLUTION BREWING? THE AMERCAN PEOPLE vs WALL ST. MEX INVADERS, CONGRESS, THE WHITE HOUSE, AND THE HISPANIC CAUCUS OF LA RAZA?
TAKING BACK OUR NATION FROM THE MEXICAN OCCUPIERS
THE COMING REVOLUTION... get on board or live in a graffiti covered Mexican dumpster. If you think we're exaggerating, in today's Los Angeles Times there's an article on dump off of garbage etc., in Mexican occupied district of Los Angeles. Collected it would equal in volume a twelve story building... THE MEXICANS ARE HERE.
As Sirota's book suggests, there is a new revolution brewing. And it's brewing all over the country by small groups and even individual activist determined to take back our nation from the corporate pillage, corruption, and 38 million illegals waving their Mexican flags.
The invasion of 38 million Mexicans since the "amnesty" of '86 didn't happen by accident. It has been entirely calculated by our elected and their corporate paymasters. The objective is to depress wages which currently hovers in the figure of $200 billion per year. Add to that figure what it costs to subsidize this "cheap" labor, the welfare costs, which over around $300 billion per year. And then you have the genocide of American culture by the Mexicans who have utter contempt for the Mexican welfare state Washington, on behalf of big business, as fronted by the U.S. Chamber of Commerce, and fought for in the trenches by the ACLU, has created in encourage their invasion. They hate our laws, ordinances, flag, language, and culture.
A glance at the American corporate donors to La Raza, the racist Mexican supremacist front would shock you. Would it shock you even more that your tax dollars are paid out to La Raza, which takes money from the Government of Mexico?
The following is a partial list of politicians that are La Raza members working for open borders, amnesty (illegal Mexicans are not interested in citizenship) and no wall. The ultimate goal of Mexico is to continue successfully using the United States as their welfare system, cut a deal whereby the illegals can hop the border, give birth, pillage, make their pesos and then return home.
Virulently racist Mexicans serving Congress are Joe Baca of California, Loretta Sanchez and sister Linda, also of California. Luis Gutierrez, the rabidly Mexican racist Congressman from Illinois Chicago. Grace F. Napolitano (D- CA) and Xavier Becerra.
Here's Napolitano's quote in Congressional Quarterly on Barack Obama and the representative for illegals in Congress:
"Unless I see something inherently helpful to our community, I'm going to sit back and see what happens," Napolitano said. Napolitano and some of her Hispanic colleagues are informally boycotting Obama campaign events aimed at reaching out to Clinton supporters because the candidate himself has not asked for their help. (NAPOLITANO'S COMMENT ON "OUR" COMMUNITY, IS NOT THAT OF THE AMERICA PEOPLE. IT IS MEXICAN ILLEGALS WHOM SHE REPRESENTS IN CONGRESS)
Here's Becerra's quote from the same article in Congressional Quarterly:
But the wound was exacerbated earlier this week when Rep. Becerra, one of Obama's most prominent Hispanic supporters, told Politico that he advised the Obama campaign that he could wrap up Hispanic backing by saying "Just give him to me for a week, and I will deliver the Latino vote." (NO ILLEGAL FRONT HAS FAILED TO SEE OBAMA HISPANDER TO THEM TO DATE)