TEL AVIV – In an extraordinary on-camera spat with Democratic leaders Tuesday, President Donald Trump invoked a wall built by Israel in a threat to shut down the federal government if he doesn't get the $5 billion needed to build his proposed wall between the United States and Mexico.
"
I am proud to shut down the government over border security," Trump said during a heated exchange in the White House Oval Office with House Minority Leader Rep. Nancy Pelosi (D-CA) and Sen. Chuck Schumer (D-NY), the minority leader of the Senate.
"If you really want to find out how effective a wall is, just ask Israel," Trump said. "[It's] 99.9 percent effective and our wall will be every bit as good as that, if not better."
It was not immediately clear which wall Trump was referring to, the West Bank security barrier or Israel's border fences — some of which are still in the process of being built.
The West Bank barrier, which Israel began constructing during the Second Intifada in 2002, has been largely credited with stemming the wave of terror attacks during the first half of the decade that claimed the lives of more than 1,300 Israeli civilians.
Prime Minister Benjamin Netanyahu has in the past said Israel's wall on the border with Egypt, built to stem the flow of illegal African migrants, could serve as a model for the U.S.
A third wall, built with sophisticated tunnel detection technologies, has been established along the border with the Hamas-run Gaza Strip. Israel is also building a similar wall along its border with Lebanon in the north to prevent attacks from Lebanese terror group Hezbollah.
Trump has said that his proposed wall would prevent drug dealers and criminals from infiltrating the country.
The meeting marked the first since the Democrats won the House of Representatives in last month's election.
Democrats have made it clear that they will not budge on the $1.6 billion earmarked for border security.
"You don't have the votes," Pelosi said.
"Elections have consequences, Mr. President," stated Schumer. "We shouldn't shut down the government over a dispute, and you want to shut it down."
Pelosi added that come December 21, if Trump went through with his threat she would call it a "Trump shutdown."
Trump later said he wasn't averse to "owning" a possible shutdown. "If we have to close down the country (over) border security, I actually like that in terms of an issue," he said.
POSTED! NO LEGAL NEED APPLY!!!
WEST HOLLYWOOD WELCOME MAT FOR ILLEGALS...

Not a single employer of illegals ever prosecuted in this LA RAZA SANCTUARY CITY where they print voting ballots in Spanish so illegals can vote for more!
Over 95% DACA Applications, Renewals for Illegal Aliens Approved Under Trump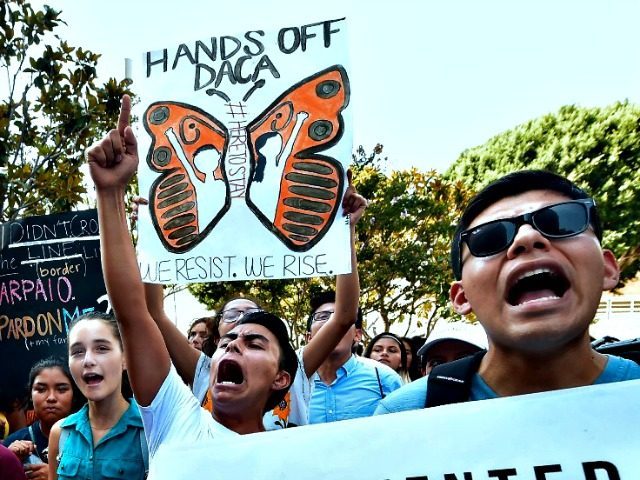 More than 95 percent of illegal aliens who applied for or renewed their Deferred Action for Childhood Arrivals (DACA) status — which provides temporary amnesty — received approval in the past two years of President Trump's administration.
Newly released data on the DACA program reveals that approval and renewal rates for the almost 700,000 DACA-enrolled illegal aliens remain extremely high.
Although Attorney General Jeff Sessions ended DACA last year, the program's termination has been held up in the courts, hence already enrolled illegal aliens are allowed to renew their temporary amnesty. That renewal is good for two years.
The data, analyzed by the Center for Immigration Studies, reveals that in Fiscal Years 2017 and 2018, there was more than 95 percent approval rate for eligible illegal aliens who applied for or renewed their DACA status.
In Fiscal Year 2017, the approval rate for DACA was one of the highest since 2012, with eligible illegal aliens having a more than 97 percent chance of receiving the temporary amnesty if they applied. In Fiscal Year 2018, when DACA illegal aliens rushed to renew their status, the approval rate was more than 96 percent.
Every year, in fact, of the DACA program — except for Fiscal Year 2014 — had a more than 95 percent approval rate for illegal aliens who applied for the temporary amnesty.
The data also highlights that the vast majority of the hundreds of thousands of illegal aliens enrolled in DACA are from Mexico. Nearly 80 percent are from that country, while the second largest group of DACA illegal aliens are from Central America, including El Salvador and Honduras — both of which suffer from severe gang problems and rampant crime.
Most recently, proponents of DACA in the Republican and Democrat establishment have touted the idea of trading an amnesty for DACA illegal aliens in exchange for some funding for Trump's proposed border wall.
Such a plan, however, would render the border wall useless in its intended goal to reduce illegal and legal immigration to the country to increase the U.S. wages of America's working and middle class. A DACA amnesty would cost American taxpayers about $26 billion, more than the border wall, and it would drive future migrations, both illegal and legal, to the country for generations.
John Binder is a reporter for Breitba
CBP: Illegal Families Crossing Border at a Rate That Will 'More Than Double Last Year's Record Number'
(CNSNews.com) – Customs and Border Protection (CBP) Commissioner Kevin McAleenan said Tuesday that at the rate that illegal immigrant family units have entered the U.S. in the last 30 days, they will more than double last year's record number of family units.

"At the border, we face changing trends in illegal crossings that impact security, exploit our laws and challenge our resources and personnel. To put this aspect of our mission in context, one day of crossings, last Monday, December 3rd highlights the trends that we are confronting," McAleenan said in his opening statement before the Senate Judiciary Committee.

"On that day, we saw the highest numbers of arrivals at our southwest border in years – 3,029 illegal entries in inadmissible persons arrived at our border last Monday. Eighty-five percent of them crossed illegally. CBP apprehended or encountered 1,731 members of family groups and 350 unaccompanied children," he said.

"This means that the illegal crossings and inadmissibles last Monday included over 1,100 children in a single day. This snapshot is emblematic of the steady trends that we've been seeing for many months - increasing crossings overall with a dramatic surge in a percentage of family units and a growing proportion of central Americans coming to our border," McAleenan added.

"More broadly for the last 30 days, we've seen over 2,000 unlawful entries between ports and undocumented arrivals at ports of entry each day. Over 1,070 family members are arriving on a consistent basis. To put this in perspective, we'll more than double last year's record number of family units at this rate," he said.
McAleenan also addressed the notion that the current numbers are lower than historical peaks and that some have concluded that there is no crisis. On the contrary, he said, "it is indeed both a border security and a humanitarian crisis."
"
I've heard a number of commentators observe that even at these levels, the numbers we are seeing are lower than historical peaks and as a result, there suggests that we are seeing at the borders today is not a crisis. I fundamentally disagree with this assessment. From the experience of our agents and officers on the ground, it is indeed both a border security and a humanitarian crisis," he said.
"What many looking at the total numbers fail to understand is the difference in what is happening now in terms of who is crossing, the risks that they are facing in the journey and the consequences for our system," the commissioner said.
"First, up until this decade, most of those crossing the border illegally were single adult males. Now the majority crossing are family units and unaccompanied children. This was fewer than 10 percent up until the year 2012 – 59 percent of crossings last month were families and unaccompanied children," he said.
The commissioner said illegal immigrants from Central America crossing the border have surpassed those from Mexico.
"Second, migration from Mexico remains at historically low levels while the majority of illegal border crossings now come from three countries in Central America: Guatemala, Honduras, and El Salvador. Central America has now exceeded Mexican migration four out of the last five years and reached 70 percent of crossings last month," he said.
"November was the first month in recorded history where more people arrived from another country than Mexico, with Guatemala exceeding Mexico by 3,000. The third major trend is a dramatic increase in claims of fears of return or asylum claims. Between 2000 and 2013, fewer than one percent of those encountered at our border claimed asylum," McAleenan said.
"Last year at ports of entry, the number of asylum claims more than doubled to 38,269. Nearly 31 percent of those deemed inadmissible at ports of entry claimed asylum," he added.
The commissioner credited the "increases in demographic changes in crossings" to vulnerabilities in immigration law which are "well-known to smugglers and migrants."
"These weaknesses in our laws now represent the most significant factors impacting border security, and they include the asylum gap where approximately 80 percent of individuals meet the initial credible fear bar in the asylum process while only 10 to 20 percent are found to have valid asylum claims at the end of their immigration court proceedings," McAleenan added.
DACA Amnesty Would Render Border Wall Useless, Cost Americans $26B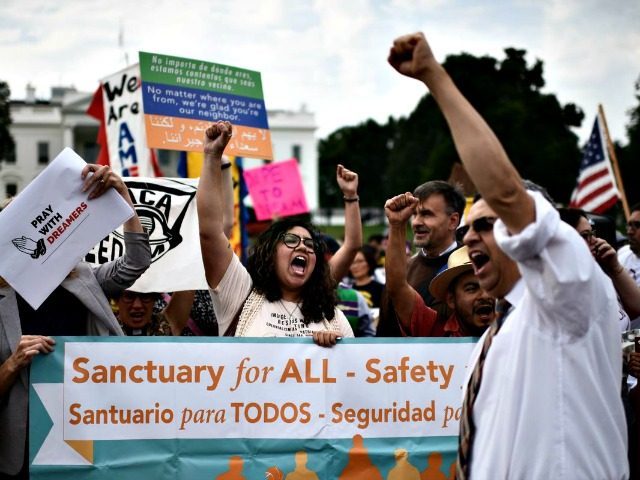 A deal in which President Trump accepts an amnesty for millions of illegal aliens enrolled and eligible for President Obama's Deferred Action for Childhood Arrivals (DACA) program in exchange for minor border wall funding would be counterproductive to the "America First" goals of the administration, depressing U.S. wages in the process ahead of the 2020 election.
As Breitbart News has extensively chronicled, Attorney General Jeff Sessions ended the DACA program last year, although it's official termination has been held up in court by left-wing judges.
Since then, a coalition of establishment Republicans and Democrats have sought to ram an amnesty for up to 3.5 million DACA-enrolled and eligible illegal aliens through Congress, an initiative supported by the donor class.
Such a plan, most recently, has been touted in an effort to negotiate a deal in which Trump receives anywhere between $1.6 tand $5 billion for his proposed U.S.-Mexico border wall in exchange for approving a DACA amnesty for millions.
The amnesty would render the border wall useless, as it would not only trigger increased illegal immigration at the border — which is already set to hit the highest annual level in a decade next year — but increased legal immigration to the country.
Last year, Department of Homeland Security (DHS) Secretary Kirstjen Nielsen admittedthat even discussion of a DACA amnesty increased illegal immigration at the southern border, as migrants surge to the U.S. in hopes of making it into the country to later cash in on the amnesty.
Kansas Secretary of State Kris Kobach previously predicted that a DACA amnesty would trigger an immediate flood of a million illegal aliens arriving at the U.S.-Mexico border. In 2014, when Obama enacted DACA by Executive Order, the temporary amnesty caused a surge at the southern border, as noted by the Migration Policy Institute.
In terms of legal immigration, a DACA amnesty would implement a never-ending flow of foreign relatives to the DACA illegal aliens who can be readily sponsored for green cards through the process known as "chain migration."
According to Princeton University researchers Stacie Carr and Marta Tienda, the average number of family members brought to the U.S. by newly naturalized Mexican immigrants stands at roughly six. Therefore, should all 1.5 million amnestied illegal aliens bring six relatives each to the U.S., that would constitute a total chain migration of nine million new foreign nationals entering the U.S.
If the number of amnestied illegal aliens who gain a pathway to citizenship under an immigration deal were to rise to the full 3.3 million who would be eligible for DREAM Act amnesty, and if each brought in three to six foreign family members, the chain migration flow could range from 9.9 million to 19.8 million foreign nationals coming to the U.S.
At this rate of chain migration solely from a DACA amnesty, the number of legal immigrants arriving to the U.S. with family relations to the amnestied population would potentially outpace the population of New York City, New York — where more than 8.5 million residents live.
Should the goal of Trump's proposed border wall be to reduce illegal immigration and eventually incentivize lawmakers to reduce legal immigration levels — where the U.S. imports 1.5 million immigrants every year — to raise the wages of America's working and middle class, a DACA amnesty would have the opposite impact, increasing illegal and legal immigration levels.
The president has also touted the wall as a benefit to American citizens in terms of cost. A border wall is projected to cost about $25 million, a tiny figure compared to the $116 billion that illegal immigration costs U.S. taxpayers every year.
A DACA amnesty, coupled with a border wall, would have steep costs for American citizens — wiping out the cost-benefit to taxpayers of the wall.
For example, a DACA amnesty would cost American taxpayers about $26 billion, more than the border wall, and that does not include the money taxpayers would have to fork up to subsidize the legal immigrant relatives of DACA illegal aliens. And because amnesties for illegal aliens tend to be larger than initially predicted, the total cost would likely be even higher for taxpayers.
Additionally, about one in five DACA illegal aliens, after an amnesty, would end up on food stamps, while at least one in seven would go on Medicaid, the CBO has estimated.
The number of DACA illegal aliens who will go on Medicaid following an amnesty is likely to be much larger than what the CBO reports.
Previous research by the Center for Immigration Studies indicates that the average immigrant household in the U.S. takes 44 percent more Medicaid money than the average American household. The research also noted that 56 percent of households led by illegal aliens have at least one person on Medicaid.
Another study, reported by Breitbart News, indicates that the CBO estimate of DACA illegal aliens who would end up on Medicaid after an amnesty is the lowest total possible of illegal aliens who would go on the welfare program.
Meanwhile, a DACA amnesty would drag increasing U.S. wages down for the country's working and middle class, delivering benefits to the business lobby while squashing the intended goals of the Trump administration ahead of the 2020 presidential election.
The plan is also likely to hit the black American community
the hardest,
as they are forced to compete for blue collar jobs against a growing illegal and legal immigrant population from Central America.
On Tuesday, Trump said he would be willing to shut down the federal government in order to secure funding for his proposed border wall. Democrat leaders Sen. Chuck Schumer (D-NY) and Rep. Nancy Pelosi (D-CA) have previously indicated that they would be willing to swap an amnesty in exchange for funding border "security measures."
John Binder is a reporter for Breitbart News. Follow him on Twitter at
@JxhnBinder
.
THE INVASION THAT AMERICA INVITED
Simultaneously, illegal immigration next year is on track to
soar
to the highest level in a decade, with a potential 600,000 border crossers expected.
"More than 750 million people want to migrate to another country permanently, according to Gallup research published Monday, as 150 world leaders sign up to the controversial UN global compact which critics say makes migration a human right."

VIRGINIA HALE
Reducing the inflow of illegals, such as by building a wall; and

Mandating the departure of others through deportation.
Retirement benefits at the age of 61, instead of the usual 62;

A 10 percent bonus on the Social Security benefit while the beneficiary is abroad;

Free one-way plane tickets for the principal and the dependents; and

Checks totaling $5,000, half on arrival in the home country, and the other half a year later, but only paid in person, at a U.S. consulate or embassy.
Study: More than 7-in-10 California Immigrant
Welfare
More than 7-in-10 households headed by immigrants in the state of California are on taxpayer-funded welfare, a
new study
reveals.
NON-CITIZEN HOUSEHOLDS
ALMOST
TWICE
AS
LIKELY
TO BE ON
WELFARE
Majority of Non-Citizen Households in US Access Welfare Programs, Report Finds
It Pays to be Illegal in California
Majority of Non-Citizen Households in US Access Welfare Programs, Report Finds