Debate: Biden Praises Obama, Obamacare Despite Endorsement Silence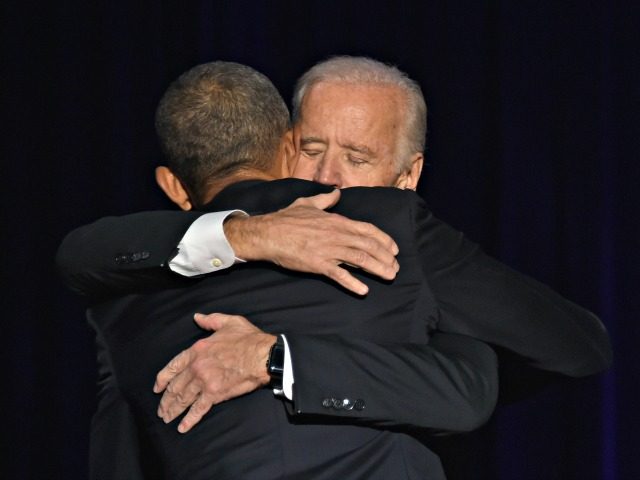 Former President Barack Obama has yet to endorse his former Vice President, Joe Biden, for the 2020 Democrat presidential nomination, but Biden repeatedly praised Obama during his first debate appearance on Thursday in Miami.
He also praised Obama's signature health care law, the Affordable Care Act or Obamacare.
NBC moderator Jose Diaz-Balart asked Biden about the three million people who were deported during the Obama-Biden administration and whether someone should be deported if his only offense was not being in the country legally.
"Depending if they committed a major crime, they should be deported," Biden said. "And the president was left in a — President Obama I think did a heck of a job."
Biden balked at the idea that Obama was anything like President Donald Trump.
"To compare him to what this guy is doing is absolutely, I find, immoral," Biden said.
And when Chuck Todd said that Obama had not achieved what he wanted to do regarding climate change, Biden defended Obama before answering a question about what would be his first priority if elected.
"I think you're so underestimating what Barack Obama did," Biden said. "He's the first man to bring together the entire world, 196 nations, to commit to deal with climate change, immediately."
"So I don't buy that. But the first thing I would do is make sure that we defeat Donald Trump, period.
"Vice President Biden, I want to put the question to you," NBC's Lester Holt said. "You were an architect — one of the architects of Obamacare. So where do we go from here?"
Biden offered an emotional answer, citing the death of his wife and young daughter in a car accident and his son Beau's unsuccessful cancer battle and his gratitude for access to medical care.
"The fact of the matter is that the quickest, fastest way to do it is to build on Obamacare, to build on what we did," Biden said.
"And, secondly — secondly, to make sure that everyone does have an option. Everyone, whether they have private insurance or employer insurance and no insurance, they, in fact, can buy in, in the exchange to a Medicare-like plan," Biden said. "And the way to do that — we can do it quickly."
"Look, urgency matters," Biden said. There's people right now facing what I faced, and what we faced, without any of the help I had. We must move now. I'm against any Democrat who opposes and takes down Obamacare and any Republican who wants to get rid of Obamacare.
Follow Penny Starr on Twitter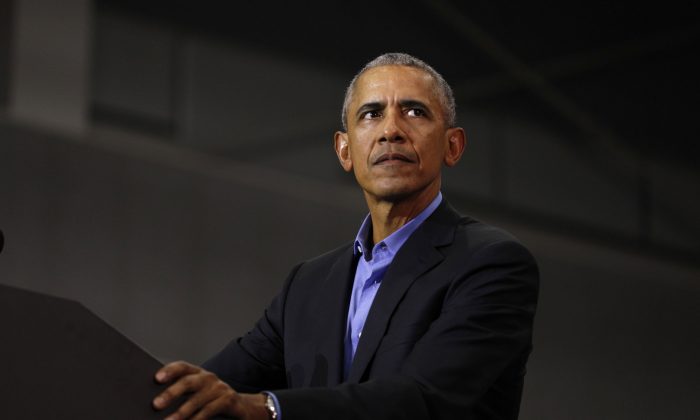 Barack Obama: A Lifelong Story of Russian Collusion
Frank Marshall Davis
Alice Palmer
"The trip was extraordinary because we were able to sit down with our counterparts and with the seats of power in three major capitals—Prague, Berlin and Moscow. We visited with foreign ministers, we talked with the editors of the major newspapers in these three cities. …

"It was a very unusual trip because we were given access. … Every effort was made to give us as much as we asked for. … We came back feeling that we could speak very well about the interest of the socialist countries in promoting peace."
"We Americans can be misled by the major media. We're being told the Soviets are striving to achieve a comparatively low standard of living compared with ours, but actually they have reached a basic stability in meeting their needs and are now planning to double their production."
David Axelrod
"Translation World Publishers was an outlet for the distribution of Soviet propaganda … this publishing house was subsidized by Soviet funds and was created by known Communists to serve the propaganda interests of the U.S.S.R."
"The false charge that Goldwater was a racist was only one of the smear campaigns used against his candidacy by the Soviets and their surrogates. The American Communists covertly assisted in this 'active measures' campaign.

"A 1963 booklet claimed that Goldwater was conspiring with the John Birch Society to organize a 'putsch,' or violent insurrection, to take over the United States in 1964. The booklet, 'Birch Putsch Plans for 1964,' contained no address for the publisher, Domino Publications. The author used the not-very imaginative pseudonym, 'John Smith, as told to Stanhope T. McReady.' There was nothing to tie this publication to the communists until an ad for the book appeared in the pro-communist National Guardian for April 25, 1963, listing the publisher as 'Domino Publications, Suite 900, 22 West Madison Street, Chicago, Illinois.'

"This was in fact the address of Translation World Publishers, which was registered under the Foreign Agents Registration Act as an agent of the Soviet Union. The co-owners, LeRoy Wolins and David S. Canter, were identified by the House Committee on Un-American Activities as members of the Communist Party USA."
Valerie Jarrett
"Good news! Good news! Project Vote, a collectivity of 10 church-based community organizations dedicated to black voter registration, is off and running. Project Vote is increasing its rolls at a 7,000-per-week clip. … If Project Vote is to reach its goal of registering 150,000 out of an estimated 400,000 unregistered blacks statewide, 'it must average 10,000 rather than 7,000 every week,' says Barack Obama, the program's executive director."
Council for a Livable World
"Resuming a drive toward disarmament that he had largely shunted aside over the past two years, Mr. Obama will propose trimming the number of strategic warheads that each of the two big nuclear powers still maintains by up to a third, taking them below the 1,550 permitted in the treaty he signed with Russia in his first term, a senior administration official said. That would leave each country with just over 1,000 weapons.

"Mr. Obama will also declare that he will work with NATO allies to develop proposals for major cuts in tactical nuclear weapons, which are not covered by the existing treaty. Russia, which has far more tactical nuclear weapons deployed than the United States and Europe do, has firmly resisted such cuts. There are fears that its tactical weapons are in parts of Russia where they risk being seized by terrorist groups.

"Mr. Obama will also announce that he will host a final nuclear security summit meeting in the United States just before he leaves office. …

"'The most important thing he could do is lay out the broad agenda for the next three and a half years,' said John Isaacs, executive director of the Council for a Livable World, an advocacy group.

"In addition to further reductions, Mr. Isaacs said, there are several policy changes Mr. Obama could take that would move the country further away from cold war-style national security. He said the president could take nuclear weapons off high alert and change nuclear doctrine to say that the only purpose of such weapons would be as a deterrent."
How Many Russian Agents Do You Know?