25 MINUTE VIDEO OF ACTUAL MEX INVASION. Illegals pour over Texas rancher's property.
FOR EVERY ILLEGAL CAUGHT AT BORDER IT IS ESTIMATED THAT ABOUT 8 GET THROUGH AND ARE LOOTING US NOW
!
You truly want wider open borders with NARCOMEX?
IMAGES OF AMERICA UNDER LA RAZA MEX OCCUPATION… gruesome!
1800 Migrants Illegally Enter El Paso Sector in One Day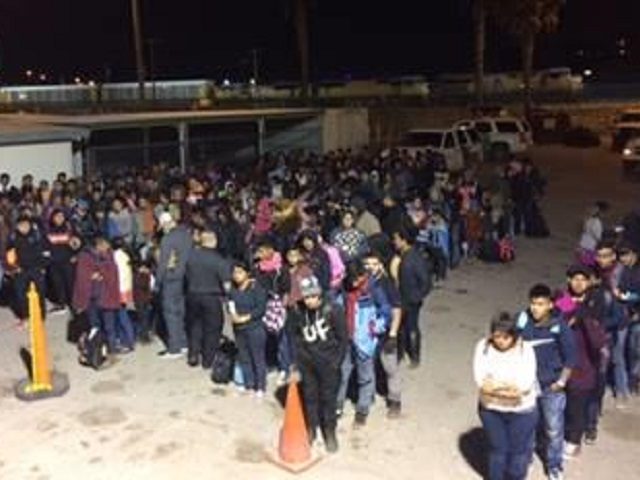 El Paso Sector Border Patrol agents apprehended more than 1,800 migrants who illegally crossed the border Tuesday. More than half crossed into the El Paso Metropolitan Area.
Lordsburg Station agents patrolling near the remote Antelope Wells Port of Entry in the New Mexico boot heel region encountered a group of 230 shortly before 1 a.m. on April 16, according to El Paso Sector Border Patrol officials. The agents began the long task of medically screening, processing, and transporting the migrants to the station.
About five minutes after the apprehension of the first group, another set of agents encountered a group of 360 migrants just west of Mount Cristo Rey in Sunland Park, New Mexico, officials reported.
The agents working in the Antelope Wells Port of Entry area encountered yet another large group of 130 migrants at about 11:45 p.m. to close out their day.
In total, the El Paso Sector agents apprehended a total of more than 1,800 migrants on Tuesday — at least half entering in the El Paso Metropolitan area, officials stated.
During the first six months of Fiscal Year 2018, El Paso Sector agents apprehended less than 11,000 migrants who illegally crossed the border from Mexico. So far this fiscal year, that number has skyrocketed to more than 71,000.
"It is very clear that the cartels and their smugglers know the weaknesses in our laws," Acting Department of Homeland Security Secretary Kevin McAleenan said during a visit to the Texas border this week. "They know that family units and unaccompanied children will be released with no consequences for their illegal entry"
During a press briefing earlier this month, U.S. Border Patrol Chief Law Enforcement Operations Director Brian Hastings expressed concern about the cartel tactic of crossing large groups of migrants in remote areas, Breitbart News reported.
"The resources that we're pulling away from national security have a negative effect on law enforcement mission," the operations director explained. "Currently each day we're pulling approximately 40 percent of our agents on the Southwest border, and diverting them specifically for the humanitarian need, that is to care for, transport and process family units and UACs."
"Not only does this divert our resources, but as we've seen recently, smuggling organizations are utilizing these large groups as a diversion to enable the movement of smuggling of narcotics," Hastings stated. "Approximately 60 large groups so far this year have been encountered in remote locations which causes us particular concern because they're generally the furthest away from our processing centers, medical services, contract transportation, and even our stations."
Hastings blamed the problem on immigration and asylum laws and court rulings.
"Specifically," Hastings said in response to a question from The New York Times. "What we look at the biggest problem being for us appears to be TVPRA and [the Floressettlement agreement] and then just going through the system quicker in a more – adjudicating the cases quicker, if you will. We need some assistance with CIS and additional attorneys in order to expedite these cases and the credible fear claims quicker."
Due to the massive numbers of apprehensions and laws restricting migrant detention and lack of funds and bed spaces allocated by Congress, Border Patrol officials have initiated a policy to release migrants directly into the community after medical screenings and criminal background investigations.
The overwhelming number of releases forced the mayor of Yuma, Arizona, to issue a "State of Emergency" declaration earlier this week. "Migrants being released into the community faster than they are departing, and shelters and the staff to run them are at max capacity," a tweet on the City of Yuma Twitter page states quoting Mayor Douglas J. Nichols. "A state of emergency is declared."
The mayor explained that when the shelters reach capacity, the City is forced to release the migrants onto the streets. "That means they are likely to be on the street and there would be a whole cascading effect of people walking around the city," he explained.
Bob Price
serves as associate editor and senior political news contributor for the Breitbart Border team. He is an original member of the Breitbart Texas team. Follow him on Twitter
@BobPriceBBTX
and
Facebook
.
Nolte: Beto O'Rourke Says His Campaign Sacrifices Make Up for Miserly Charitable Donations
Fake Hispanic Beto O'Rourke was confronted at a town hall about his miserly campaign donations and responded in such a narcissistic fashion, I suffered a Barry Obama flashback.
He culturally appropriates like Indian Princess Elizabeth Warren.

He drives like Ted Kennedy.

He marries into money like John F'n. Kerry.

He

gives to charity

like Joe Biden.
The 2020 Democrats: Beto O'Rourke
Beto O'Rourke Immigration Plan: No Walls; Amnesty for Dreamers, Parents, 'Millions More'
Former Rep. Beto O'Rourke (D-TX) isn't yet a candidate for the Democrat presidential election, but he is already making clear his stance on immigration — open borders and amnesty for all of the people in the country illegally.
What's Beto's Problem with the Constitution?
Texas Finds 95,000 Non-US Citizens Registered To Vote -- 58,000 Have Actually Voted In Recent Elections
Top 5 Voter Fraud Cases Along Texas Border in 2018… which are the only counties that voted for La Raza Beto!
In a year fraught with voter fraud allegations, many of which resulted in prosecutions across Texas, counties along the Mexican border stood out as hotbeds for investigative activities.
FORMER MEXICAN PRESIDENT ENDORSES BETO O'ROURKE
Texas Democrats asking non-citizens to vote
Safe Spaces: How Sanctuary Cities are Giving Cover to Noncitizens on the Voter Rolls
Public Interest Legal Foundation, August
Immigration and Customs Enforcement (ICE) has released hundreds of migrants in El Paso, Texas over the past few days, including 186 on Christmas Day.
Beto: 2020 Will Be 'Mother of All Tests' for Democracy
Saying "there's never been a darker moment" in America in his lifetime, Rep. Robert Francis "Beto" O'Rourke (D-TX), a potential 2020 presidential candidate, said on Friday that President Donald Trump's reelection campaign will be the "mother of all tests for this democracy."
GLOBALIST FOR BANKSTERS, THE SUPER RICH and OPEN BORDERS
ADVOCATES TO FINISH OFF THE AMERICAN MIDDLE-CLASS.
There's a reason why Soros, Bezos, Zuckerberg, Bloomberg, Gates and the Koch Brothers love the Obomb!
"Democrats Move Towards 'Oligarchical Socialism,' Says Forecaster Joel Kotkin."
MULTI-CULTURALISM and the creation of a one-party globalist country to serve the rich in America's open borders.
"Open border advocates, such as Facebook's Mark Zuckerberg, claim illegal aliens are a net benefit to California with little evidence to support such an assertion. As the CIS has documented, the vast majority of illegals are poor, uneducated, and with few skills. How does accepting millions of illegal aliens and then granting them access to dozens of welfare programs benefit California's economy? If illegals were contributing to the economy in any meaningful way, CA, with its 2.6 million illegals, would be booming." STEVE BALDWIN – AMERICAN SPECTATOR
GEORGE SOROS PARTNERS WITH BARACK OBAMA and ERIC HOLDER TO CREATE A GLOBALIST REGIME FOR THE BILLIONAIRE CLASS and CRONY BANKSTERS…. Open borders and endless hordes of illegals will make it happen!
YOU WONDERED WHY OBAMA-HOLDER WORKED SO HARD TO SABOTAGE AMERICAN VOTING FOR MORE ILLEGALS???
Those are the subliterate, low-skill, non-English-speaking indigents whose own societies are unable or unwilling to usefully educate and employ them. Bring these people here and they not only need a lot of services, they are putty in the hands of leftist demogogues as Hugo Chavez demonstrated - and they are very useful as leftist voters who will support the Soros agenda.
JAMES WALSH
BARACK OBAMA'S HISPANICAZATION of AMERICA…
first ease millions of illegals over our borders and into our voting booths!