DHS: 2.6 Million H-1B Foreign Workers Approved to Enter US in Last Decade
More than 2.6 million H-1B foreign guest worker visas have been approved by the U.S. federal government over the last decade, new data from the United States Citizenship and Immigration Services (USCIS) reveals.
Every year, more than 100,000 foreign workers are brought to the U.S. on the H-1B visa. Most recently, that number ballooned to potentially hundreds of thousands each year, as universities and non-profits are exempt from the cap. With more entering the U.S. through the visa, American workers are often fired and forced to train their foreign replacement.
The USCIS data shows that between 2007 and 2017, the H-1B visa, which imports foreign workers to take American jobs, the program has grown exponentially. The vast majority of visa-holders are from India.
In the last decade, U.S. companies tried to outsource nearly 3.5 million American jobs to foreign workers through the H-1B visa. Of those, officials in the U.S. government approved 2.63 million applications for foreign workers to come to this country.
In 2016 alone, former President Obama's last full year in office, almost 350,000 foreign workers were approved to be imported to take American jobs. In the process, U.S. workers, who have spoken to Breitbart Texas in the past, were replaced.
Despite the H-1B visa program being touted by big business elites and the open borders lobby as a way to diversify the U.S. workforce, roughly 70 to 80 percent of the foreign workers imported every year are from India.
Pro-American worker advocates' assertions that the H-1B visa is discriminatory towards older Americans specifically are backed up by the latest data. The overwhelming majority of the foreign workers coming to the U.S. on the H-1B visa, who often replace older American workers, are between the ages of 25 and 34-years-old.
Though President Donald Trump has yet to end or reform the H-1B visa to protect American workers, he has called for a "full legal review" of the program headed up by the Department of Justice, the Labor Department, and the Department of Homeland Security.
John Binder is a reporter for Breitbart Texas. Follow him on Twitter at
@JxhnBinder
.
Cheap-Labor Lobby Gears Up to Capture DHS from John Kelly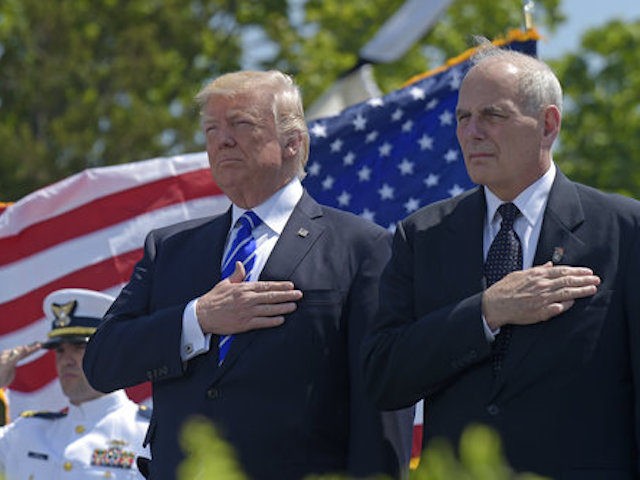 Business-allied GOP leaders will push one of their own for the top slot at the Department of Homeland Security, despite President Donald Trump's apparent preference for senior military executives, say immigration reformers.
Texas Rep. Michael McCaul, the chairman of the
House Committee on Homeland Security,
sought the top immigration job in late 2016. Instead, Donald Trump picked retired General John Kelly, who is now moving over to become the White House Chief of Staff, leaving behind a small but growing group of pro-Trump advisors and officials.
McCaul is part of the GOP's corporate wing, which vehemently openly opposes Trump's election-winning promise to reform U.S. immigration system in favor of U.S. employees, and away from the GOP's business donors.
His critics label him "No-Wall-McCaul," because he has sided with the cheap-labor groups which oppose Trump's symbolic-and-concrete border wall between American employers and the world's bottomless supply of cheap labor.
In 2015, for example, McCaul's 2015 State of Homeland Security Address was overwhelmingly focused on the threat of "terror," which was mentioned 54 times, but the text did not include any mention of the words that won the election for Trump — "wall," "fence," "worker," "employee," "job," "wage," or "salary." The speech was so focused on terrorism that it did not even use the words "immigration," "illegal," or "alien."
McCaul also published a December 2016 op-ed which included the phrase "In the meantime, we can't forget about American workers" 500 words after the first sentence. Worse, McCaul was touted

for the job by President Barack Obama's homeland secretary Jeh Johnson, who implemented had Obama's open doors border policy. "I don't know anybody who is stronger on border security in Congress that I have dealt with," Jeh Johnson said about McCaul.
That endorsement "should be the kiss of death," said Jessica Vaughan, the policy director at the non-partisan Center for Immigration Studies.
On Friday, McCaul announced a new bill that would allow the Congress to spend $10 billion on a package of programs for border defense, including a wall and more temporary surveillance technology. The bill, however, does not appropriate any actual funds to build the border wall, which is already authorized by a 2006 law. According to the bill text:
The Secretary shall upgrade existing physical infra- 14 structure of the Department of Homeland Security, and 15 construct and acquire additional physical infrastructure, 16 including— 17 (1) U.S. Border Patrol stations; 18 (2) U.S. Border Patrol checkpoints; 19 (3) mobile command centers; and 20 (4) other necessary facilities, structures, and 21 properties.
In 2015, Trump's Attorney General, then Sen. Jeff Sessions, opposed McCaul's border security bill, which sought to spend money on a variety of non-wall, virtual barriers. Other pro-employee advocates doubt McCaul's willingness to shrink the cross-border labor supply which cuts' American wages:
The process to replace Kelly is going to be "incredibly nasty," said one immigration reformer, because Trump's immigration policy must be pushed against vehement bipartisan opposition by a determined and effective leader. Trump has recognized that he wants tough deputies to handle the tough job of immigration enforcement, partly because a good DHS leadership will help Trump to stay above the day-to-day fight.
Trump has already made clear he wants tough deputies to handle the tough job of immigration enforcement, partly because a good DHS leadership will help Trump to stay above the day-to-day fight.
Another establishment nominee could be Rudy Giuliani, who was one of Trump's early backers. But he is an advocate for amnesty and is tied to the investment groups in New York. Those investment houses would lose billions of dollars as Trump's enforcement policies and immigration reforms gradually push up U.S. wages.
Similarly, the GOP's establishment leaders would likely back Frances Fragos Townsend, who worked as the homeland security advisor to President George W. Bush, who tried twice to push through a cheap-labor-and-amnesty bill. "That's the kind of person they would like," said an amnesty opponent.
Corporate groups want to run the department, in part, because it delivers roughly 1.5 million foreign contact-workers each year to companies around the country. Kelly has fought against the expansion of these cheap-labor programs, saying he knows they hurt American workers.
Pro-American groups are cheering their favorite pro-employee candidate, immigration expert Kris Kobach.
He has a deep knowledge of immigration and the guest-worker programs, and he fully supports Trump's "Hire American" mantra. His confirmation would be difficult because Democrats have already spent much effort building up hate against Kobach for his pro-American immigration reforms, and for his efforts to clear illegal off U.S. voter rolls. Immigration reformer Mark Krikorian is pushing Kobach:
Zuckerberg's Open Borders Group Backs GOP, Dem Resurrection of DREAM Act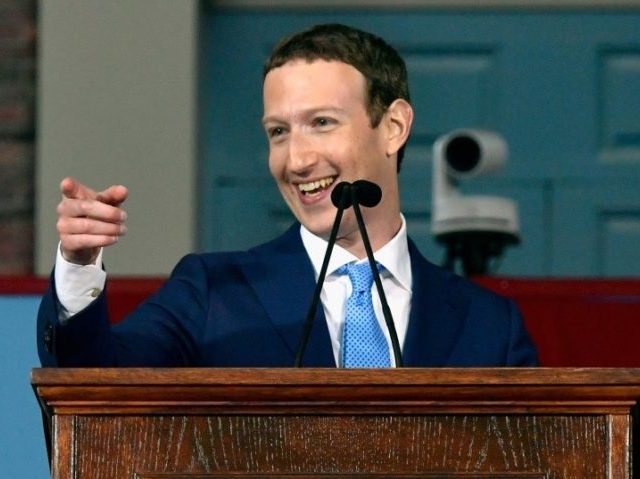 Facebook CEO Mark Zuckerberg's open borders organization is backing a bipartisan plan that could potentially legalize an estimated 12-30 million illegal aliens in the United States.
FWD.us, a pro-amnesty, pro-foreign labor organization funded by the elites of Silicon Valley, California – including Zuckerberg, Microsoft co-founder Bill Gates and former Microsoft CEO Steve Ballmer – is backing the resurrection of the DREAM Act in the House and Senate.
Rep. Lucille Roybal-Allard (D-CA) and Rep. Ileana Ros-Lehtinen (R-FL) have now introduced their own version of the amnesty plan, which mirrors proposals pushed by Sen. Lindsey Graham (R-SC) and Sen. Dick Durbin (R-IL).
"We applaud Congresswoman Ileana Ros-Lehtinen and Congresswoman Lucille Roybal-Allard for introducing legislation to allow Dreamers who are already contributing to their communities to continue to live and work in the US," FWD.us President Todd Schulte said in a statement. "This bill builds on the important progress made by the Senate's bipartisan Dream Act, which was introduced in the Senate last week, and the RAC Act."
Zuckerberg's group also claimed that President Donald Trump would either need to pass the DREAM Act or continue the Deferred Action for Childhood Arrivals (DACA) program, which gives temporary amnesty to young illegal aliens.
"The threat of a DACA repeal is real and consequences for Dreamers are clear: either DACA remains in place or there is a Dream Act signed into law, otherwise the result is that nearly 800,000 young people would lose their jobs immediately and be subject to immediate deportation," Schulte said.
The DREAM Act was an Obama-era amnesty plan that would have legalized young illegal aliens living in the U.S., though it could be amended to include all illegal aliens living in the country. Due to public backlash and grassroots movements like the Tea Party, the bill failed.
Silicon Valley tech elites have a direct interest in continuing the flow of mass immigration into the U.S. via illegal immigration, amnesty programs, or foreign guest worker visas.
Every year, Silicon Valley tech firms like Facebook, Google, and Microsoft import tens of thousands of foreign guest workers through the H-1B to take American jobs. The firms also lobby through FWD.us to stop all funding and infrastructure plans for Trump's proposed border wall along the U.S.-Mexico Border.
John Binder is a reporter for Breitbart Texa

s. Follow him on Twitter at
@JxhnBinder
.
Explained: Why Less Immigration Helps American Workers
By Joe Guzzardi
Right Side News, July 21, 2017
. . .
Although the effect of substantial immigration increases is apparent in most of the BLS' recognized occupational categories, nowhere is it more apparent than in construction. Only a few decades ago, the construction industry was comprised of mostly unionized American workers. They earned middle-class salaries, and had pensions and other benefits.
Today the industry is Latino-dominated and heavily non-union, with workers paid at the margin. A UCLA study found that in sprawling California, the share of immigrants in construction rose from 13 percent in 1980 to about 43 percent. In Los Angeles Country, immigrant labor's impact on construction is even greater; during the same 35-year period UCLA studied, the percentage shifted from 24 percent Latino to 70 percent. Builders could always find recently arrived immigrants willing to work for less.
The relationship between a larger labor pool and declining wages isn't rocket science, but rather basic economics. Less immigration benefits everyone. Between 1920 and 1965, immigration was dramatically restricted, and income inequality dropped. But after 1965, when low-skilled immigration and employment-based visas increased – and enforcement declined – income inequality soared to its current historically high level.
Millions of Americans are unemployed or under-employed while more than eight million illegal immigrants hold jobs, the majority non-agricultural. More immigration is good for employers, but bad for American workers.
. . .
http://www.rightsidenews.com/editorial/us-opinion-and-editorial/explained-less-immigration-helps-american-workers/
HOW MANY MILLIONS DOES YOUR COUNTY PAY OVER TO THE INVADERS TO KEEP THEM COMING AND VOTING DEM FOR MORE?
We've got an even more ominous enemy within our borders that promotes "Reconquista of Aztlan" or the reconquest of California, Arizona, New Mexico and Texas into the country of Mexico…. AND IT IS THE DEMOCRAT PARTY!
Map 1: Sanctuary Cities, Counties, and States
The sanctuary jurisdictions are listed below. These cities, counties, and states have laws, ordinances, regulations, resolutions, policies, or other practices that obstruct immigration enforcement and shield criminals from ICE — either by refusing to or prohibiting agencies from complying with ICE detainers, imposing unreasonable conditions on detainer acceptance, denying ICE access to interview incarcerated aliens, or otherwise impeding communication or information exchanges between their personnel and federal immigration officers.
A detainer is the primary tool used by ICE to gain custody of criminal aliens for deportation. It is a notice to another law enforcement agency that ICE intends to assume custody of an alien and includes information on the alien's previous criminal history, immigration violations, and potential threat to public safety or security.
The Center's last map update reflected listings in an ICE report published on March 20, 2017.
Map 2: Sanctuaries at Risk of Disqualification From Federal Law Enforcement Funds
Updated July 27, 2017
The Department of Justice announced yesterday that sanctuary jurisdictions will lose access to certain federal law enforcement grants in 2017 if they prohibit officials from communicating with ICE, if they block ICE from interviewing jail inmates, and if they fail to notify ICE of the pending release of criminal aliens ICE is seeking to deport. These particular grants, known as the Byrne Justice Assistance Grants, are the largest source of federal criminal justice funds for state, local and tribal authorities.
Sanctuary Cities List
California
Connecticut
New Mexico
Colorado
Alameda County
Berkley
Contra Costa County
Los Angeles County
Los Angeles
Monterey County
Napa County
Orange County
Orange County
Riverside County
Sacramento County
San Bernardino County
San Diego County
San Francisco County
San Mateo County
Santa Ana
Santa Clara County
Santa Cruz County
Sonoma County
Arapahoe County
Aurora
Boulder County
Denver County
Garfield County
Grand County
Jefferson County
Larimer County
Mesa County
Pitkin County
Pueblo County
Routt County
San Miguel County
Weld County
East Haven
Hartford
Alachua County
Clay County
Hernando County
Clayton County
DeKalb County
Benton County
Cass County
Franklin County
Fremont County
Greene County
Ida County
Iowa City
Iowa City, Johnson County
Jefferson County
Marion County
Monona County
Montgomery County
Pottawattamie County
Sioux County
Chicago
Cook County
Butler County
Harvey County
Sedgwick County
Shawnee County
Story County
Amherst
Boston
Cambridge
Lawrence
Northhampton
Somerville
Baltimore
Montgomery County
Prince George's County
Hall County
Sarpy County
Middlesex County
Newark
Ocean County
Union County
Benalillo
New Mexico County Jails
San Miguel
Clark County
Washoe County
Franklin County
Ithaca
Nassau County
New York City
Omondaga County
St. Lawrence County
Wayne County
Baker County
Clackamas County
Clatsop County
Coos County
Crook County
Curry County
Deschutes County
Douglas County
Gilliam County
Grant County
Hood River County
Jackson County
Jefferson County
Josephine County
Lane Countyn
Lincoln County
Linn County
Malheur County
Marion County
Marlon County
Multnomah County
Polk County
Sherman County
Springfield
Tillamok County
Umatilla County
Union County
Wallowa County
Wasco County
Washington County
Wheeler County
Yamhill County
Bradford County
Bucks County
Butler County
Chester County
Clarion County
Delaware County
Eerie County
Franklin County
Lebanon County
Lehigh County
Lycoming County
Montgomery County
Montour County
Perry County
Philadelphia
Pike County
Westmoreland County
Providence, Rhode Island
Rhode Island Department of Corrections
Dallas County
Travis County
Arlington County
Chesterfield County
Monteplier
Winooski
Chelan County
Clallam County
Clark County
Cowlitz County
Franklin County
Jefferson County
King County
Kitsap County
Pierce County
San Juan County
Skagit County
Snohomish County
Spokane County
Thurston County
Walla Walla County
Wallowa County
Whatcom County
Yakima County
Milwaukee
ZOGY POLL ON MEX RACISM AND VIOLENCE….. Half the murders in CA
are by Mex gangs, and 93% of murders in La Raza-Occupied Los Angeles are by
"In Mexico, a recent Zogby poll declared that the vast majority of Mexican citizens hate Americans. [22.2] Mexico is a country saturated with racism, yet in denial, having never endured the social development of a Civil Rights movement like in the US--Blacks are harshly treated while foreign Whites are often seen as the enemy. [22.3] In fact, racism as workplace discrimination can be seen across the US anywhere the illegal alien Latino works--the vast majority of the workforce is usually strictly Latino, excluding Blacks, Whites, Asians, and others."
SICK OF THE MEX FLAG WAVERS?
An American immigrant is not someone supported by government funds in a "relocation" center; flown over here at government expense; given a cash allowance, free housing, and medical care; and then eased onto local public assistance: Section 8 rental grants, food stamps, WIC, AFDC, clothes from one government-sponsored charity or another, Medicaid, and public schooling, with free lunch and breakfasts and even help with furniture.
That's not an immigrant. That's a future Democrat voter.
----- RICHARD F. MINITER – AMERICAN THINKER COM
THE LA RAZA LOOTERS: THEY ALL VOTED DEMOCRAT FOR MORE WELFARE!
HERITAGE FOUNDATION:
Amnesty would add 100 million more illegals and cost Legals trillions
!
WE ALSO GET THEIR CRIMINALS! HALF THE MURDERS IN MEXIFORNIA ARE NOW BY LA RAZA MEX GANGS…. 93% OF ALL MURDERS IN MEX-OCCUPIED LOS ANGELES ARE BY MEXICANS… THEY ARE THE MOST VIOLENT CULTURE IN THE WESTERN HEMISPHERE… THEY DON'T JUMP OUR BORDERS, JOBS AND LAWS TO BECOME AMERICAN… THEY DO SO AS LOOTERS.
Literally, LA RAZA DEM Gov Jerry Brown headed down to the open border with NARCOMEX to meet the dictator of Mexico and proclaimed "California is Mexico's second home!"
Gov. Jerry Brown, on a trip to Mexico, seeks to position California as a more welcoming place for immigrants... $35 BILLION PER YEAR IN WELFARE NOT WELCOMING ENOUGH?!?
We've got an even more ominous enemy within our borders that promotes "Reconquista of Aztlan" or the reconquest of California, Arizona, New Mexico and Texas into the country of Mexico…. AND IT IS THE DEMOCRAT PARTY!
UNDERSTANDING AMERICA'S LA RAZA MEX OCCUPIERS AND THEIR CULTURE THEY IMPOSE BUT WE PAY FOR:
AMERICA vs MEXICO: CLASHING CULTURES
more at this link
– post on your Facebook and email broadcast
Illegals cheat, distribute drugs, lie, forge documents, steal and kill as if it's a normal way of life. For them, it is. Mexico's civilization stands diametrically opposed to America's culture.
The legal age of sexual consent in Mexico is 12 years old. Sex with children at this age and younger is socially acceptable in Mexico. For example: A Mexican Lopez-Mendez pleaded guilty to sexual assault on a 10 year old girl in West Virginia.
HILDA SOLIS WAS BARACK OBAMA'S SECRETARY OF ILLEGAL LABOR BEFORE MEXICANS VOTED HER IN AS LOS ANGELES COUNTY SUPERVISOR WHERE SHE IS RAPIDLY EXPANDING THE MEX WELFARE STATE IN LOS ANGELES COUNTY.
HILDA SOLIS – The Mexican Fascist Party of LA RAZA "THE RACE" building LA RAZA SUPREMACY over Legals and the Mexican welfare state in America's open borders.
"Labor Secretary Hilda Solis, a former California congresswoman with close ties to the influential La Raza movement, announced the
"We Can Help"
project with great fanfare a few days ago."
Notice how we never hear the phony populist Trump talking about E-VERIFY!
AMERICA: NO LEGAL NEED APPLY!
"The percentage of foreign-born workers in the U.S. labor force has more than tripled over the last four decades and while the U.S. represents just 5 percent of the world's population it attracts 20 percent of the world's immigrants, according to a new report."
Open the floodgates of our welfare state to the uneducated, impoverished, and unskilled masses of the world and in a generation or three America, as we know it, will be gone.
Those most impacted are middle class and lower middle class. It is they whose jobs are taken, whose raises are postponed, whose schools are filled with non-English speaking children that absorb precious resources for remedial English, whose public parks are trashed and whose emergency rooms serve as the local clinic for the illegal underground.
In Mex-occupied CA, Mexican gangs now commit nearly half of all murders. In Los Angeles, Mexicans commit 93% of the murders. Really want open borders?
WHILE YOU WERE SLEEPING, MEXICO WAS LOOTING, MURDERING and SENDING BILLIONS BACK TO MEXICO!
THE COUNTY OF MEX-GANG INFESTED LOS ANGELES PUTS OUT ONE BILLION DOLLARS TO ILLEGALS!
Nearly 1 Million Illegal Aliens Now Have Driver's Licenses in California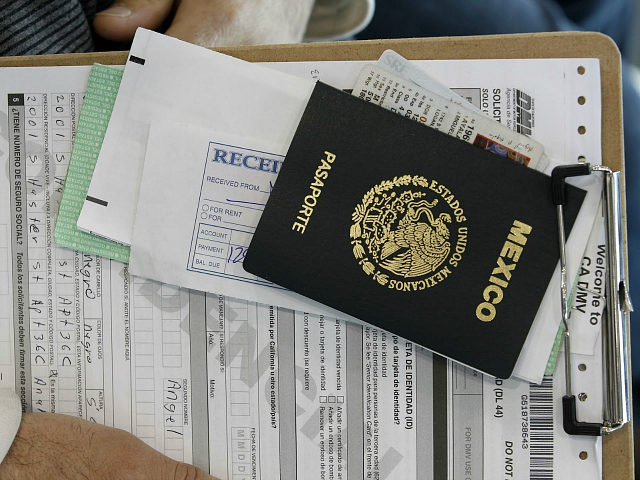 The State of California is on track to issue a total of one million driver's licenses to illegal aliens by the end of 2017.
In 2013, California lawmakers passed legislation that allowed illegal aliens to obtain driver's licenses if they can prove to the Department of Motor Vehicle (DMV) their identity and state residency. The plan was one of the largest victories to date by the open borders lobby.
Years later, an estimated 905,000 illegal aliens have driver's licenses in California, according to the Sacramento Bee, despite issuances beginning in 2015. The number of illegal aliens in California with driver's licenses is likely to surpass one million before the end of this year.
In the first half of 2017 alone, more than 83,000 illegal aliens received driver's licenses in California.
Soros groups are currently pushing a plan that would make it illegal to not rent a residence to an illegal alien because of their immigration status, Breitbart Texas reported.
New York, California Moving to Permit Illegal Aliens to Practice Law?
Attorney General Eric H. Holder Jr., delivers remarks following President Barack Obama's statement announcing Holder's departure, in the State Dining Room of the White House, Sept. 25, 2014. Attorney General Holder will remain at the Department of Justice until his post is filled. (Official White House Photo by Chuck Kennedy)
Sapna Rampersaud has written an article for National Review Online's The Corner titled
"Illegal Immigrants Can Now Defend the Laws They Break,"
detailing how the states of New York and California have moved to permit illegal aliens to practice law. This is the kind of thing one might expect to see as a headline on the satirical website The Onion, but, sadly, it's true.
Actually, they've been headed that way for some time. John Feere, previously a legal policy analyst here at the Center, wrote about
California's efforts
clear back in January of 2014, and commented on the back flips achieved by the California Supreme Court in deciding that permitting illegal aliens to practice law was copacetic:
"[N]ew lawyers must take an oath to 'support the Constitution of the United States" and must also pass an ethics exam. The California Supreme Court explained in its holding that it "assumes' that a licensed illegal alien 'will make all necessary inquiries and take appropriate steps to comply with applicable legal restrictions.' The Committee of Bar Examiners explained that 'there is no reason to believe' Garcia [the illegal alien applicant seeking approval to practice law] 'cannot take the oath and faithfully uphold his duties as an attorney.'
"It is unclear why the court and the bar examiners would assume such things. Illegal immigrants regularly fail to comply with a whole host of laws. Within Garcia's own circle of family and friends one can identify a variety of potential legal violations, if media reports are accurate.
"Garcia admits to working a number of jobs prior to law school, and depending on how he obtained the work, he may be liable under False Personation of a U.S. Citizen (18 U.S.C. § 911), Fraud and False Statements (18 U.S.C. § 1001), and Social Security Fraud (42 U.S.C. § 408), just to name a few examples. We estimate that nearly half of working illegal aliens have filled out I-9 Forms and are likely in violation of these statutes. If the Obama administration decided to enforce federal immigration law, Garcia could potentially face many years in jail and significant fines. It is important to remember that these crimes often create real victims."
In addition to Feere's very cogent observations, I'm also wondering how, exactly, an attorney who is illegally in the United States can be deemed an
"officer of the court."
Aren't the two things, when put together, inherently oxymoronic? An alien who has no lawful status must inevitably engage in deception and subterfuge in order to remain in the United States without being apprehended. That doesn't sound like the kind of upright behavior required of officers of the court.
Moving
back to the article
on The Corner, Rampersaud has her own version of the "Mr. Garcia" described above:
"One such lawyer is Lizbeth Mateo. Born in Mexico, Mateo and her family illegally crossed the border when she was 14 and have been residing in California ever since. In 2013, Mateo returned to Mexico knowing she had no legal visa to come back and, as part of what became known as the Bring Them Home Campaign, returned to the U.S. border with eight other children and demanded unauthorized reentry into the U.S. — which she was granted. Having graduated from Santa Clara University School of Law and working jobs that required the use of a stolen Social Security number, Mateo now spends her time as an immigration lawyer 'preparing legal strategies to help undocumented immigrants stay in the country' — all while flaunting her own undocumented status."
"This example illustrates the extent to which certain states both accept and encourage illegal immigration. Mateo is praised for being a 'leader' and a 'bold advocate' but should instead be described as what she is: a lawbreaker. Mateo has taken an oath of office to uphold the Constitution, but breaks federal law every day. Square that circle."
She's right. You can't square that circle. But one thing I can say for certain is this: It takes more than just a state license to practice immigration law because, of course, immigration laws are federal in nature. Attorneys who wish to represent aliens before the Executive Office for Immigration Review (EOIR), the Justice Department division that handles the immigration courts and Board of Immigration Appeals, must register with and be approved by the EOIR director.
While I don't see any particular prohibition of illegal aliens in the provision of the federal regulations governing such registration, at 8 CFR Section 1292.1, it would defy logic and make a mockery of the immigration courts for the director to approve such an application for registration.
There is also the issue of fairness to the illegal alien being represented by another illegal alien: What happens if his lawyer is arrested before his hearing is completed, thus leaving him high and dry? For EOIR to permit such a situation to occur would be tantamount to malfeasance. On the other hand, it defies logic that certain states have already taken that step-too-far, and that, too, seems to me to smack of malfeasance.
Maybe it's time that Attorney General Jeff Sessions steps in to require his new EOIR director to amend the regulation and make the prohibition against illegal alien lawyers representing other illegal aliens in the immigration courts crystal clear.
Meantime, if an illegal alien attorney shows up in court to represent an alien respondent in removal proceedings, perhaps the presiding immigration judge will have the good sense to summon immigration agents to arrest the attorney and place him or her into proceedings as well. After all, they're fair game. Being a lawyer shouldn't intrinsically place anyone above the law, should it?
Dan Cadman is a retired INS / ICE official with thirty years of government experience. Mr. Cadman served as a senior supervisor and manager at headquarters, as well as at field offices both domestically and abroad.
John Binder is a reporter for Breitbart Texas. Follow him on Twitter at
@JxhnBinder
.
THE MEX-OCCUPIED COUNTY OF LOS ANGELES ALONE HANDS HEAVY BREEDING MEXICANS MORE THAN A BILLION DOLLARS YEARLY FOR ANCHOR BABY BREEDING. MEXICANS WILL DOUBLE AMERICA'S POPULATION BY 2050.
"Through love of having children we're going to take over."
Augustin Cebada, Information Minister of Brown Berets,
militant para-military soldiers of Aztlan shouting at U.S. citizens at an Independence Day rally in Los Angeles, 7/4/96
HERITAGE FOUNDATION:
Amnesty would add 100 million more illegals and cost Legals trillions
!
Literally, LA RAZA DEM Gov Jerry Brown headed down to the open border with NARCOMEX to meet the dictator of Mexico and proclaimed "California is Mexico's second home!"
Gov. Jerry Brown, on a trip to Mexico, seeks to position California as a more welcoming place for immigrants... $35 BILLION PER YEAR IN WELFARE NOT WELCOMING ENOUGH?!?
We've got an even more ominous enemy within our borders that promotes "Reconquista of Aztlan" or the reconquest of California, Arizona, New Mexico and Texas into the country of Mexico…. AND IT IS THE DEMOCRAT PARTY!