"Since the end of the Clinton presidency, Hillary and Bill
have parlayed their White House tenure into a personal
fortune in the hundreds of millions of dollars. The two have
collected over $140 million in the 15 years since the end of
the Clinton administration, while workers were losing their
jobs, retirement savings and homes. A major part of this
windfall has come in the form of speaking fees from big
corporations and banks. In the first 15 months after she left
her post as Obama's secretary of state in 2012, Hillary
Clinton took in $5 million in such rewards for services
rendered."
"During their years in the White House, the Clintons shifted
the Democratic Party further to the right, repudiating any
program of social reform or redistribution of wealth from the
bottom to the top in favor of traditional Republican
nostrums. Their strategy of "triangulation" included new
draconian prison sentencing laws and the termination of the
sixty-year-old federal welfare program called Aid to Families
with Dependent Children, driving millions of the poorest
Americans into destitution."
"At the same time, the Clintons oversaw the final dismantling
of any serious banking regulation, marked by the repeal of
the 1930s Glass-Steagall Act and its separation of commercial
and investment banking."
P
aul Krugman smears Bernie Sande
rs
Paul Krugman smears Bernie Sanders
By Barry Grey
9 April 2016
New York Times columnist and economist Paul Krugman has penned another in a series of unprincipled and dishonest attacks on Bernie Sanders on behalf of the Democratic Party establishment and the presidential campaign of Hillary Clinton.
Krugman has made a name for himself as the academic mascot of what remains of the liberal wing of the Democratic Party. For this he has been amply rewarded, including with a tenured professorship at Princeton University, a regular column in the New York Times, a Nobel Prize and frequent visits to the White House. For all his left pretensions, however, Krugman is and has always been bitterly hostile to Marxist economics, not to mention the socialist politics that go with it.
In the wake of a wave of primary victories by the "democratic socialist" senator from Vermont, culminating in last Tuesday's landslide victory in Wisconsin, and ahead of a critical contest in New York, Krugman is seeking to discredit Sanders among sections of liberal Democrats who have been attracted to his campaign.
BLOG: TRULY, REALLY.......... HOW
CORRUPT DO YOU HAVE TO BE TO
UNPACK YOUR NEXT MOVE IN PRISON?
His Friday column, entitled "Sanders Over the Edge,"
follows
a blog he posted on the
Times
web site last Sunday
accusing Sanders of being a fifth columnist for the
Republicans. Krugman wrote: "Engaging in innuendo
suggesting,
without evidence
, that Clinton is corrupt is, at
this point, basically campaigning on behalf of the RNC
(Republican National Committee)." [Emphasis added]
Without evidence?! The entire political
history of Bill and Hillary Clinton has been
steeped in hypocrisy and corruption.
Extending back to their days in Arkansas, the
Clintons perfected the art of combining "I feel
your pain" rhetoric with deal-making with
various business interests to advance their
political careers. This included Bill Clinton's
connections with Frank Perdue of the poultry
empire and Hillary Clinton's six-year stint on
the board of directors of Wal-Mart during her husband's term as Arkansas governor.
During their years in the White House, the Clintons shifted
the Democratic Party further to the right, repudiating any
program of social reform or redistribution of wealth from the
bottom to the top in favor of traditional Republican
nostrums. Their strategy of "triangulation" included new
draconian prison sentencing laws and the termination of the
sixty-year-old federal welfare program called Aid to Families
with Dependent Children, driving millions of the poorest
Americans into destitution.
At the same time, the Clintons oversaw the final dismantling
of any serious banking regulation, marked by the repeal of
the 1930s Glass-Steagall Act and its separation of commercial
and investment banking.
Since the end of the Clinton presidency, Hillary and Bill have parlayed their White House tenure into a personal fortune in the hundreds of millions of dollars. The two have collected over $140 million in the 15 years since the end of the Clinton administration, while workers were losing their jobs, retirement savings and homes. A major part of this windfall has come in the form of speaking fees from big corporations and banks. In the first 15 months after she left her post as Obama's secretary of state in 2012, Hillary Clinton took in $5 million in such rewards for services rendered.
In an earlier period, Krugman staked out a position by criticizing the Clinton administration for its adoption of right-wing positions previously associated with the Republican Party. In August 2006, to cite one example, he complained that "in practice Mr. Clinton governed well to the right of both Eisenhower and Nixon."
Krugman also adopted a somewhat critical attitude toward Obama during the early years of his tenure as president, and was shunned by the administration as a result. But after his invitations to White House dinners declined, Krugman got the message, took his spanking like a man, and worked hard to lick his way back into the favor of the Democratic Party establishment.
The Times columnist has become a principal promoter of Obamacare, which he has sought to sell as a progressive social reform. Earlier this month, he published a column, "Learning From Obama," which hailed the administration's economic and social policies as "what progressive success looks like"—ignoring the fact that Obama's right-wing policies have led to a record growth of social inequality.
Krugman's blog on the Times is produced under the overall headline, "Conscience of a Liberal." As it turns out, this conscience does not amount to much. As an intellectual bagman for Wall Street and its favored candidate, he now has a new job to perform—attacking Sanders from the right.
In his latest piece, Krugman hones in on Sanders' call for breaking up the big banks—something that has become a focus of pro-Clinton propaganda following the publication of a New York Daily News interview in which Sanders had difficulty explaining precisely how his proposal would be carried out.
Krugman's first line of attack is to dismiss the call for downsizing the mega-banks as a preference for "easy slogans over hard thinking." He elaborates, attacking Sanders' "political theory of change, his waving away of limits" as "utterly unrealistic."
Here you have in a nutshell the intellectual
narrowness, complacency and cowardice of
American liberalism in its period of
putrefaction and reaction. Krugman and the
"liberal policy wonks" he cites as authorities
on Sanders' bank policy are incapable of
imagining anything that seems to challenge
the capitalist status quo.
This leads Krugman to construct the most shabby alibis for the financial aristocracy. He writes: "The easy slogan here is 'Break up the big banks'… But were the banks really at the heart of the financial crisis, and would breaking them up protect us from future crises?
"Many analysts concluded years ago that the answers to both questions were no. Predatory lending was largely carried out by smaller, non-Wall Street institutions like Countrywide Financial; the crisis itself was centered not on big banks but on 'shadow banks' like Lehman Brothers that weren't necessarily that big. And the financial reform that President Obama signed in 2010 made a real effort to address these problems. It could and should be made stronger, but pounding the table about big banks misses the point."
This is a pack of lies. To start with the most obvious falsehood: Lehman Brothers, with assets of $690 billion, was the fourth largest investment bank in the US when it collapsed on September 15, 2008. It had been in existence for 158 years. To call it a "shadow bank" is absurd.
As for the culpability of the biggest US banks, the US Senate Permanent Subcommittee on Investigations issued a voluminous and detailed report on the 2008 financial meltdown in April of 2011, which concluded: "The investigation found that the crisis was not a natural disaster, but the result of high risk, complex financial products; undisclosed conflicts of interest; and the failure of regulators, the credit rating agencies, and the market itself to rein in the excesses of Wall Street."
On the specific role of the big Wall Street banks, the Senate committee pulled no punches, writing: "Investment banks were a major driving force behind the structured finance products that provided a steady stream of funding for lenders to originate high risk, poor quality loans that magnified the risk throughout the US financial system. The investment banks that engineered, sold, traded and profited from mortgage related structured finance products were a major cause of the financial crisis."
Just to underscore the point, the 640-page Senate report devoted over 110 pages to the corrupt practices of Washington Mutual, the sixth largest US bank at the time of its collapse, 46 pages to Deutsche Bank, and 250 pages to Goldman Sachs. It also documented the complicity and corruption of the bank regulatory agencies and the credit rating firms.
BLOG: OBAMA'S CRONY BANKSTERS - NO PRESIDENT
IN HISTORY HAS SUCKED IN MORE DIRTY MONEY
FROM BANKSTERS..... AND THEY'VE ALREADY BOUGHT
HILLARY!
On issuing the report, the committee
chairman, Democratic Senator Carl Levin,
said the investigation had found "a financial
snake pit rife with greed, conflicts of interest
and wrongdoing.
"
As for Krugman's assurances about the effectiveness of the 2010 Dodd-Frank banking act in staving off another financial meltdown and government bailout of Wall Street, none other than the president of the Minneapolis Federal Reserve Bank, Neel Kashkari, who actually administered the $700 billion TARP bank bailout in 2008-2009, is holding forums to warn that the so-called banking "reform" will not prevent another crash and tax-payer bailout and championing the demand to break up the biggest banks.
The real problem with Sanders is not that he calls for breaking up the mega-banks, but that his anti-bank and anti-billionaire rhetoric is entirely unserious. As a defender of the capitalist system and the Democratic Party, Sanders has no intention of going after the giant financial institutions, let alone calling for actual socialist measures such as the nationalization of the banks and corporations under the democratic control of the working class.
What concerns Krugman and other figures in the Democratic Party is that Sanders' rhetorical sallies might be taken seriously by the public, presaging the development of a genuinely anti-capitalist movement among working people and youth.
In his column, Krugman goes on to attack the Sanders campaign for suggesting that Clinton's "Wall Street connections, which are real," have "distorted her position." How dare they imply, Krugman protests, that bribes in any way impact the actions of the bribe-taker!
From there he proceeds to denounce Sanders for pointing to Clinton's campaign contributions from the fossil fuel industry, calling such statements "just plain dishonest" and reflective of a "campaign that has lost its ethical moorings." There are disputes as to how much cash Clinton has taken from the oil and gas industry, but nobody denies that it adds up to a minimum of hundreds of thousands of dollars, and perhaps millions.
At this point in his column, Krugman becomes truly indignant. "And then there was Wednesday's rant about how Mrs. Clinton is not 'qualified' to be president."
What was Sanders' crime? The fact that he raised "what he considers Mrs. Clinton's past sins, including her support for trade agreements and her vote to authorize the Iraq war—for which she has apologized…"
In Krugman's book, voting to authorize an unprovoked and illegal war based on lies that killed hundreds of thousands of Iraqis, injured millions more, killed and wounded thousands of Americans, turned millions into refugees and destroyed an entire society is a mere peccadillo. But he is correct when he implies that, far from disqualifying a presidential aspirant, mastering the arts of deceit, political skullduggery and mass murder are a prerequisite for holding the office.
Sanders' own response to the attacks by Clinton and the likes of Krugman is defensive and bankrupt. In as much as he himself is a supporter of capitalism dedicated to reviving the Democratic Party, he does not and cannot answer her effectively.
In the end, that his program of mild social reform comes under vicious attack from the mainstream Democratic Party only demonstrates how far to the right this party has moved and how bankrupt are all claims that it can be turned into an instrument of progressive change.
OBAMA-CLINTONOMICS: Serve the Rich, Obama's Crony
Banksters, and the Mexican Fascist Party of LA RAZA to
keep wages depressed and corporate profits even greater!
"If you think about it, the Clintons are like
lots of other politicians. They love money,"
Schweizer agreed. "They love taking peoples'
money, and I would say with the Clintons, you
kind of have it on steroids."
Peter Schweizer: The Clintons
'Function as a Kind of Political Mafia'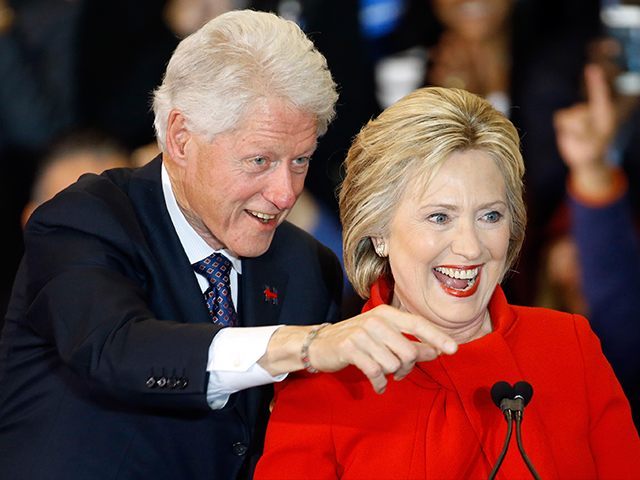 Untold Story of How and Why Foreign
Governments and Businesses Helped Make
Bill and Hillary Rich,

discussed

the influence
foreign donors wield in America through Bill
and Hillary Clinton on

Breitbart News
Daily

Wednesday morning.
SiriusXM host Stephen K. Bannon offered a backhanded salute to the Clintons for tapping into the new breed of wealthy foreign entrepreneurs early on.
"Bill Clinton's a slick, smart guy," said Bannon. "He looked out over the world and said, 'Hey, you have all these billionaires, all these entrepreneurs, and they're not clubbable… they really can't get into the U.S. government, and they can't get relationships, because they're just not the kind of guys that went to Oxford or Cambridge. They're not the Party of Davos types… there's a whole system of international entrepreneurs that have gotten their wealth in various and sundry ways — some appropriate, and some a little less so — and that's what Clinton set up the Global Initiative, and the Clinton Foundation, really to get access to that capital market."
"If you think about it, the Clintons are like lots of other politicians. They love money," Schweizer agreed. "They love taking peoples' money, and I would say with the Clintons, you kind of have it on steroids."
"But you have this pesky problem in the United States: you can't take foreign money for a presidential campaign," he continued. "It's against the law. You can't be a foreign corporation and set up a Super PAC for a campaign… You've got these rules in the United States that say foreign entities can't give. So the Clintons say, 'Hey, we've just got to figure out a way around that.'"
A key part of the Clinton system is the infamous speeches given by Bill and Hillary to foreign interests and corporations seeking favor with the U.S. government, raking in fantastically inflated speaking fees.
"It's a way, effectively, to get around those campaign laws," Schweizer explained. "Hillary Clinton running for President in 2008, if you're a foreign oligarch, you can't give to her campaign, but you can have Bill Clinton give a 20-minute speech for half a million dollars, or you can make a $5 million donation to the Clinton Foundation, and you've got
access
every bit as much as if you had raised money for their political campaign. That's really what the Clintons have done."
Schweizer warned that if the Clinton's tactics for harvesting foreign cash were not dealt with, they will become commonplace. "You're gonna have politicians in the future imitating them, setting up their own foundations," he predicted.
Bannon noted the enormous success of
Clinton Cash
was due, in part, to Democrats embracing Schweizer's book, driving up Clinton's negatives on honesty, and reinforcing the disdain
voters feel for her as part of a corrupt trans-national machine.
"Everything Democrats love — whether it's global warming, whether it's the rainforest, whether it's environmental initiatives, it's nuclear proliferation, it's arms trading, it's human trafficking — you can go across the board, and you see the punch list of the do-good Left… the Clintons literally monetized the bad guys," said Bannon.
Schweizer noted there was a significant gulf between the reaction of Democrat voters to the Clinton scandals and the way Democrat politicians running against Clinton handle those issues
very
gingerly, including Sanders. He found a clear contrast between the delicate Democrat primary and the rambunctious Republican race, using the fate of the Bush dynasty in 2016 as an example.
"We saw what happened on the Republican side. There was not fear, there was not intimidation. For all the criticisms that people have leveled against the Bushes, the fact of the matter is, there has been a free-for-all open primary," said Schweizer. "Flip that and look at the Democratic side. If you are Bernie Sanders, or you are a Bernie Sanders ally, if you aggressively go after Hillary Clinton, you are going to face retaliation in multiple ways. You're gonna get retaliation when trying to get something done on Capitol Hill — it's not gonna happen, because Clinton allies are going to shut you down. If you are an organization, they're going to sap up your donors."
"The Clintons function as kind of a political Mafia,"

he said, recalling how reporters from major mainstream media outlets told him the consequences of writing a harsh story about the Bushes usually boiled down to "a terse email" complaining about unfair reporting, while reporters who write stories critical of the Clintons are liable to find teams of Clinton political operatives storming into the editor's office and demanding they be fired.
Schweizer said one of the great lingering questions of the 2016 race was whether Republicans would raise these issues during the general election, unlike the way Clinton's Democrat opponents have given her a pass. He worried there were already consultants whispering in Republican ears, telling them to ignore Clinton corruption and keep the race focused on issues like tax policy.
That would be a mistake, because as Schweizer observed, "When people elect a President, they are electing a
person.
The character and the trustworthiness of that person is key."
"Over fifty percent of
Democrats
will say that Hillary Clinton does not tell the truth, and they don't trust her," he pointed out, adding that Hillary was involved in a deep partnership with someone else American voters have very good reason to distrust: former President Bill Clinton, whose speaking fees "tripled overnight" after his wife became Secretary of State… giving the American people a taste of what will happen if the Clintons are allowed to move back into the White House.
Breitbart News Daily airs on SiriusXM Patriot 125 weekdays from 6:00AM to 9:00AM EST.
You can listen to the full interview with Peter Schweizer below:
Clinton has also held several fundraisers in
Mexico
. One of the co-hosts of a February fundraising dinner was Wal-Mart lobbyist Ivan Zapien, who relocated to Mexico with the company in 2015. Clinton served on the board of Wal-Mart from 1986-1992.
Clinton rakes in cash overseas
Greg Nash
By
Jonathan Swan
-
03/20/16 10:30 AM EDT
Hillary Clinton
's campaign has held more fundraisers on foreign soil than any other candidate running for president in 2016.
The Clinton campaign has held at least 13 fundraisers overseas so far, involving celebrities such as jazz singer Tony Bennett and fashion editor Anna Wintour, according to
tracking
of political fundraising invitations by the nonpartisan Sunlight Foundation.
Clinton's offshore fundraisers, which tap wealthy U.S. citizens and permanent resident living abroad, have spanned from London, where the campaign has held at least eight fundraisers, to Munich, Mexico City, and Durban, South Africa. None of the Clinton campaign's foreign events, so far as the invitations suggest, have featured the candidate herself, though surrogates including her daughter Chelsea, have hosted the high-priced gatherings.
No other candidate running for president this cycle has done anything remotely approaching the amount of overseas fundraising as Clinton's campaign has done to date.
The former secretary of State has dwarfed her rivals in expatriate cash, raised at least $495,000 so far from Americans living abroad, according to The Hill's analysis of federal election records.
Clinton's rival in the Democratic primary race,
Bernie Sanders
, has raised less than a quarter of that, and the three Republicans still in the race have raised relatively miniscule amounts from Americans abroad.
Ted Cruz
has raised just $23,000 overseas;
Donald Trump
— who has a "donate" button on his website but doesn't hold fundraisers — took in $1100; and John Kasich has raised only $50 from overseas donors, according to figures disclosed in the most recent reporting period.
Even Jeb Bush, who has a wide political network overseas through his family's connections, only raised slightly more than $200,000 from Americans living abroad.
No foreign fundraising invitations could be found by the Sunlight Foundation for any other candidate besides Clinton. One of the rare examples of a foreign fundraiser for a 2016 presidential candidate found on the public record is former Arkansas Gov. Mike Huckabee, who went to Israel last year in part to
raise money
for his campaign.
While overseas fundraisers are hardly a new practice for well-known establishment candidates; the Clinton campaign is on pace to exceed even what the sitting President
Barack Obama
managed in 2012, assuming she becomes the Democratic nominee.
Throughout the two years of the 2012 presidential cycle, President Obama's campaign held at least 13 fundraising events on foreign soil in countries as far-reaching as
China
and
Egypt
, according to the Sunlight Foundation. Republican nominee Mitt Romney's campaign held at least four fundraisers in
London
and
Jerusalem
.
Long-time Democratic fundraiser Kenneth Christensen, whose D.C.-based consulting firm Christensen & Associates helps candidates set up their finance operations, says he's not surprised that the Clinton campaign has established a more powerful offshore finance machine than any other candidate.
"Obviously with the Clintons they have a lot of experience in doing that. They give lots of speeches overseas, and they run into a lot of people," Christensen told The Hill in a telephone interview Friday. "A lot of that fundraising overseas are relationships they already have."
Christensen, who is focusing on Democratic congressional races this cycle, indicated it would be professionally negligent not to take full advantage of Clinton's relationships to finance what is becoming an expensive primary race against a well-funded Bernie Sanders campaign. The Clinton advantages include her global connections as a former secretary of State, her family's foundation, and above all, the
unparalleled donor network
established by both Bill and Hillary Clinton over several decades.
Clinton's offshore fundraisers so far this cycle have included a post-concert reception at London's Royal Albert Hall with Tony Bennett, a "discussion" between Chelsea Clinton and Anna Wintour, and a Munich Fashion Week event with former ambassador Melanne V
Clinton has also held several fundraisers in Mexico. One of the co-hosts of a February fundraising dinner was Wal-Mart lobbyist Ivan Zapien, who relocated to Mexico with the company in 2015. Clinton served on the board of Wal-Mart from 1986-1992.
The Federal Election Commission, which regulates campaign fundraising, stipulates that "foreign nationals are prohibited from making any contributions or expenditures in connection with any election in the U.S." But the FEC allows that both U.S. citizens and "green card" holders living abroad (individuals lawfully admitted for permanent residence in the U.S.) "are not considered foreign nationals and, as a result, may contribute."
"I would expect a professional campaign to take advantage of all their fundraising opportunities," Christensen said. "She's capitalizing on it now to make sure she's running an aggressive and professional fundraising operation."
THE AMERICAN MIDDLE CLASS
VS
THE BANKSTER-OWNED DEMOCRAT PARTY and GOP
THE LA RAZA MEXICAN FASCIST PARTY BASE OF THE

DEMOCRAT PARTY
WALL STREET'S LOOTING CRIMINALS
THE FAILED POLICIES OF OBAMA'S OPEN BORDERS

AND NO LEGAL NEED APPLY PHONY RECOVERY
CAN WE REALLY AFFORD ANOTHER WALL STREET -OWNED PRESIDENCY THAT CLINTON 2 WOULD ESTABLISH???
Whiteout Press
Independent news at its best. If it's blacked-out, covered-up or censored, you can find it here!
March 23, 2016
Statistic of the Week:

The amount of assets/wealth the average adult has in each country:
Belgium - $150,348
UK - $126,472
Norway - $119,634
Japan - $96,071
France - $86,156
Canada - $74,750
Netherlands - $74,659
-from Credit Suisse via Institute for Policy Studies
IT WAS BILL CLINTON WHO UNLEASHED WALL
STREET'S BIGGEST CRIMINAL BANKSTERS ON US.
IT WAS BILL CLINTON WHO HANDED PARDONS TO
NUMEROUS CRIMINAL BILLIONAIRES.
IT IS BILL CLINTON THAT OPERATES THE PHONY
CLINTON FOUNDATION WHICH IS FUNDED BY CRIMINAL
CRONY BILLIONAIRES, DICTATORS AND BANKSTERS
THAT OWN HILLARY!
Strike 2: Bill Clinton again hits Obama and his 'awful legacy':

For the second time this month,
Bill Clinton has slammed President Obama's economy, the latest a
junking of his whole seven-plus years in office as an awful legacy.
In comments video-captured and distributed by the Republican
National Committee, Hillary Clinton's hubby said, If you believe
we've finally come to the point where we can put the awful legacy
of the last eight years behind us, and the seven years before
that...then you should vote for her. A quick calculation of his years
would mean that the gravy years were when he was president.
AMERICA'S DRIFT TO CIVIL WAR or
REVOLUTION
The strangled American middle class
vs
Wall Street's Looters, the Mexican Fascist
Party of LA RAZA "The Race", and both
corporate bought and owned political parties!
more here:
http://mexicanoccupation.blogs...
AMERICA'S DRIFT TO REVOLUTION OR
CIVIL WAR
To this, we say: we hear you.
The
system
is
corrupt. The economy
is
rigged.
Big

campaign contributors

do

pull the strings in

Washington.
Working people are right to be angry about trade policy and the
betrayal of the middle class, working families, and the poor by an
elite establishment that profits from the status quo.
"This dangerous power vacuum has fueled frustration and
created an entirely new breed of disenfranchised voters who
are fed up with the status quo. These are real people, their
anger is palpable, and it's not going away anytime soon."
THE DAILY SIGNAL
Why Washington's Political Class Is Losing Control
Commentary By
The Washington political establishment has hit the panic button. Not because they are afraid of any one individual or candidate, but because they are afraid of losing their own political power.
The Washington political establishment
has hit the panic button.
This town is filled with well intentioned people who believe they are doing the right thing, but far too many have lost their way after years in Washington. Politicians pay more attention to special interests groups and powerful lobbyists writing checks to their next campaigns than listening to the people back home who sent them here in the first place.
This dangerous power vacuum has fueled frustration and
created an entirely new breed of disenfranchised voters who
are fed up with the status quo. These are real people, their
anger is palpable, and it's not going away anytime soon.
The Daily Signal is the multimedia news organization of The Heritage Foundation. We'll respect your inbox and keep you informed.
A recent survey of likely Republican primary voters showed that 86 percent believe that "people like me don't have any say about what the government does." Another recent exit poll in my home state of Georgia showed that six in ten Republicans felt "betrayed" by their political party.
>>> To Read More on This, See Conservatives Win When They Run on Conservative Ideas.
This sentiment is something I heard countless times during my campaign for the United States Senate just over a short year ago. It is what pulled me to get involved personally to try and make a difference. But this is not just happening in Georgia. People across America are angry, frustrated, and scared because they feel as though Washington is not listening to them.
A growing number of Americans are more motivated by this feeling of frustration than any individual political ideology.
A growing number of Americans are more motivated by this feeling of frustration than any individual political ideology. The rise of career politicians has completely shifted the political paradigm from just liberal versus conservative. There is now a disconnect between the Washington political class and everybody else—the insiders versus the outsiders.
When most Americans look at the federal government, all
they see is years of failed policies that have made life harder
for them and their families, and a political class that is well
connected and uninterested in giving them a say in how to
right the ship.
People are still hurting, and they are weary of Washington's penchant for business as usual.
Georgians sent me—someone who had never run for elected office—to the United States Senate to try and do something about it and change the system. In state after state this year, voters have voiced support for presidential candidates who are not part of the political class.
This is a growing movement, and it is bigger than any one candidate or election victory. Unless the political establishment is willing to learn from the anger felt by millions of Americans who feel left behind, this will not end in November.
True to form, though, political elites prefer tearing down individuals to understanding what created this movement. This movement of Americans wants nothing to do with Washington, and neither endorsements nor criticisms are going to change that.
No matter who our Republican presidential nominee is at the end of this process, one thing is clear: We cannot allow Democrats to double down on the failed policies of the last seven years.
A better course of action would be a candid examination of what can be done to regain the trust of the American people.
Let's start with simply listening to them.
"Let's start with simply listening to them"
BLOG:
EVEN WITH POLLS DOCUMENTING THAT
ONLY 9% OF THE AMERICAN PEOPLE
APPROVE OF CONGRESS, IT IS BUSINESS AS USUAL;
ENDLESS LOOTING FOR THEIR PAYMASTERS ON WALL
STREET AND SURRENDERING MORE OF OUR BORDERS,
JOBS AND WELFARE TO INVADING MEXICANS!
HILLARY CLINTON SAYS MILLIONS MORE VOTING
ILLEGAL SHOULD BE HANDED OBAMACARE!
CLINTON'S PLATFORM IS SIMPLE: BUILD THE MEX
WELFARE STATE ON AMERICA'S BACK TO BUY THEIR
THEY ALREADY GET MILLIONS OF OUR JOBS AND


THE AMERICAN THINKER
MORE HERE
NO ONE SERVES HIS PAYMASTERS ON WALL STREET MORE THAN
BARACK OBAMA!
HE SMELLS THOSE SPEECH FEE BRIBES ALREADY!
AND HILLARY IS OBAMA'S CLONE!
Drug prices have also been a theme in the presidential campaign. The
Democratic frontrunner Hillary Clinton, for example, released a campaign
advertisement earlier this month attacking the "predatory pricing" of
Valeant Pharmaceuticals. Like the congressional hearing, this is all for
show.

Of all the presidential candidates, Clinton is the top recipient of
donations from the pharmaceutical and health products industry,
taking in $410,460 according to data from the Center for Responsive
Politics.
US drug prices doubled since 2011
By Brad Dixon
18 March 2016
According to a new
report
by the pharmacy benefits manager Express Scripts, the average price of brand-name drugs increased by 16.2 percent last year. Between 2011 and 2015, branded prescription drug prices have nearly doubled, rising 98.2 percent. Since 2008, the prices have increased by a whopping 164 percent.
Drug spending rose by 5.2 percent in 2015. This was about half the increase seen in 2014, the year of the largest hike since 2003.
The report is based upon prescription use data for members with drug coverage provided by Express Scripts plan sponsors. In assessing changes in plan costs, the report distinguishes between the relative contributions from changes in patient utilization (e.g. more patients being prescribed the drug) and changes in the unit price of the drug (e.g., price hikes).
In the late 1980s and early 1990s, most drug spending was on traditional drugs (small-molecule, solid drugs) to treat conditions such as heartburn, depression and diabetes. The recent trend has been a shift to specialty drugs. Still, within traditional therapy categories there were significant increases in spending on medications to treat diabetes, heartburn and ulcers, and skin conditions.
Diabetes medications remain the most expensive of the traditional drug categories. Drug spending in this category increased by 14 percent, with the hike being equally influenced by increased utilization of the drugs and rise in unit cost. Three diabetes treatments—Lantus, Januvia and Humalog—were among the top five drugs in terms of spending across all traditional therapy classes.
Although not discussed in the report, an investigation by
Bloomberg News
last year
found
evidence of "shadow pricing" by drug manufacturers, where companies raise their prices immediately after their competitors do so. The investigation found that the prices of diabetes drugs Lantus and Lemivir had increased in tandem 13 times since 2009, and evidence of similar shadow pricing for the drugs Humalog and Novolog.
Heartburn and ulcer drugs saw a 35.6 percent increase in spending, almost solely due to the rise in unit cost. Although 92.3 percent of the medications filled in this category were generic, the price unit trend was heavily influenced by the increase in prices of branded drugs such as Nexium, Dexilant and Prevacid.
Treatments for skin conditions also saw a significant increase of 27.8 percent in spending, again due almost completely to rises in the unit costs of the medications. The report notes that these increases occurred for both generic and branded therapies, largely due to industry consolidation through mergers and acquisitions leading to less competition in the market. While 86.3 percent of the drugs filled were generic, many of the generic versions saw sharp increases in unit cost, including the two most widely used corticosteroids, clobetasol (96.2 percent) and triamcinolone (28 percent).
While the overall spending increase for traditional therapy classes was nominal (0.6 percent), the primary factor for the increase in spending came from specialty medications. Specialty medications require special education and close patient monitoring, such as drugs to treat cancer, multiple sclerosis or cystic fibrosis. Spending on specialty drugs rose by 17.8 percent in 2015. The report found that 37.7 percent of drug spending was for specialty drugs in 2015, and the figure is expected to rise to 50 percent by 2018.
Spending in this category was topped by inflammatory conditions—such as rheumatoid arthritis, inflammatory bowel diseases and psoriasis—which rose by 25 percent, driven by a 10.3 percent increase in utilization and 14.7 percent rise in unit cost. The average cost per prescription in 2015 was $3,035.95. The medications Humira Pen and Enbrel, which captured more than 66 percent of the market share for this class, saw unit cost increases of more than 17 percent.
Spending on oncology therapies increased by 23.7 percent, due to both increased use (9.3 percent) and increased unit cost (14.4 percent). New cancer therapies average $8,000 per prescription and the average cancer regimen is around $150,000 per patient. Between 2005 and 2015, the anti-cancer drug Gleevec, manufactured exclusively by Novartis, has seen its price more than triple, with an annual cost of $92,000. In 2015, the year prior to the drug's patent expiration, Novartis increased the unit cost of the drug by 19.3 percent. This is a common practice for companies facing patent expiration.
Drug spending on cystic fibrosis treatments rose by a significant 53.4 percent, largely based on increases in unit cost (40.9 percent vs. 13.3 percent from patient utilization). This rise was largely due to use of the new oral combination therapy, Orkambi, which became available in mid-2015. The drug costs more than $20,000 per month.
The report forecasts that between 2016 and 2018 spending will increase annually by 7-8 percent for traditional drugs and around 17 percent for specialty drugs.
The prices of generic drugs have on average decreased, although there are notable exceptions. Pharmaceutical companies like Horizon Pharma, Turing Pharmaceuticals, and Valeant Pharmaceuticals have purchased generic drugs and then significantly hiked their prices.
The report notes the emergence of "captive pharmacies" in 2015 as another factor responsible for higher drug spending. Captive pharmacies are owned or operated by pharmaceutical manufacturers and tend to promote their manufacturer's drugs, rather than generic or other low-cost alternatives. The report gives as examples the arrangements between Valeant Pharmaceuticals and Philidor Rx Services, and between Horizon Pharma and Linden Care Pharmacy.
The Express Scripts data matches the findings released earlier this year by the Truveris OneRx National Drug Index, which found that branded drugs rose by 14.8 percent in 2015.
Despite the widespread media publicity of the notorious drug price hikes by companies like Turing and Valeant, pharmaceutical companies have continued to
inflate prices in 2016
, with Pfizer leading the way with an average price hike of 10.6 percent for 60 of its branded drugs.
Workers are rightly outraged at the skyrocketing price of drugs. A Kaiser Family Foundation poll conducted last year found that 74 percent of respondents felt that the drug companies put profits before people.
The political establishment, however, has sought both to exploit this anger for electoral support and to direct it into safe channels that do not disrupt the status quo.
A congressional
hearing
held in January placed a spotlight on the price-gouging practices of HYPERLINK
Valeant Pharmaceuticals
and
Turing Pharmaceuticals
, whose dubious activities were highlighted in a pair of congressional
memos
. The purpose of the hearing, however, was not probe the underlying causes of the sharp rise in drug prices. Instead, legislators sought to safeguard the profits of the pharmaceutical industry as a whole through a verbal lambasting of the industry's most notorious culprits.
Drug prices have also been a theme in the presidential campaign.
The Democratic frontrunner Hillary Clinton, for example, released
a campaign advertisement earlier this month attacking the
"predatory pricing" of Valeant Pharmaceuticals. Like the
congressional hearing, this is all for show. Of all the presidential
candidates, Clinton is the top recipient of donations from the
pharmaceutical and health products industry, taking in $410,460
according to data from the Center for Responsive Politics.
Clinton's rival, Bernie Sanders, who has stated that he will support Clinton if he loses the Democratic nomination, received $82,094 in donations from the industry. Sanders has proposed a series of minor reforms to address drug prices, such as the re-importation of drugs from Canada, allowing Medicare to negotiate prices with drug manufacturers, and decreasing the patent life of branded drugs.
None of the candidates, including the "democratic socialist" Sanders, challenge the private ownership of the pharmaceutical industry in which everything from research and development and clinical testing to drug pricing and promotion are subordinated to the profit interests of corporations.
.............. what would have happened to this once great nation if
instead of handing billions in welfare to criminal banksters, and
millions of our jobs to illegals.... we handed free education to
but then we wouldn't need to import boatloads of educated people
OBAMA-CLINTONOMICS: TRANSFERRING THE NATION'S
WEALTH TO THE 1%, JOBS AND WELFARE TO ILLEGALS
TO KEEP WAGES DEPRESSED AND BUILD THE DEM
PARTY BASE WITH MEX FLAG WAVERS
"My greatest worry is working all my life, constantly chasing debt
and never being to own a house or have children," writes a
millennial named "Gemma" in a section of the series entitled
she states: "The cost of renting privately is rising, the cost of
travelling is rising, the cost of living is rising and yet the salaries
don't reflect this rise. … I am worried that capitalism is pushing
this and creating a greater wealth inequality gap. It seems
unsustainable and to be driving people apart—a recent example is
the demonization of our own NHS service and the junior doctors."
Study: Worsening conditions for young
people throughout the developed world
By Nick Barrickman
15 March 2016
Incomes for young people born between 1980 and 1994 have hit unprecedented low levels in the aftermath of the 2008 financial collapse, according to a recent investigative series conducted by the UK's
Guardian
publication titled "
Millenials: The Trials of Generation Y
." The study draws on income statistics from eight of the world's 15 most advanced economies, including the US, Canada, Great Britain, Australia, France, Italy, Spain and Germany to paint a picture of dimming social prospects for young people throughout the developed world.
The Guardian cites as contributing factors "a combination of
debt, joblessness, globalization, demographics and rising
house prices" which "have grave implications for everything
from social cohesion to family formation." Whereas during the
1970s and 1980s people in their 20s averaged more than the
national income, the study found that young couples and
families in five of the eight countries listed made 20 percent
less than the rest of the population today.
"It is likely to be the first time in industrialized history, save for periods of war or natural disaster, that the incomes of young adults have fallen so far when compared with the rest of society," the British newspaper states.
In the US and Italy, incomes were lower in actual figures than they were a generation ago, with Americans averaging a yearly salary of $27,757 in 2010 compared to $29,638 in 1979. The study notes that young US workers currently make less than those in retirement. In France, households headed by individuals under the age of 50 made less disposable income than recent retirees. In Italy, an 80-year-old pensioner possesses more income than someone under the age of 35.
In many cases, the 2008 financial collapse simply accelerated trends that were already underway. Housing prices in Great Britain and Australia are among the most expensive in the developed world. The average price for a home in Sydney, Australia, is $1 million in Australian dollars, more than 12 times the median household income in the city. The average home loan for first-time buyers in New South Wales is A$424,000. This figure has increased by 43 percent in the past four years alone.
According to the Australian Bureau of Statistics, housing prices have increased more sharply and for a longer period in the past 20 years than at any time since 1880. The Guardian notes that housing costs in the UK and Australia have been increasing at a "neck and neck" pace ahead of the average household income. "We're heading for a world where rates of home ownership among young people are below 50 percent for the first time," states Alan Milburn of the Social Mobility and Child Poverty Commission, adding that the UK is heading toward becoming "a society that is permanently divided." Income for those in their late 20s in the UK remain below levels seen in 2004-2005.
A recent survey by British polling firm Ipsos Mori found that 54 percent of those questioned thought the next generation was or would be worse off than the previous. "It's the highest we've measured—it's completely flipped around from April 2003," stated Bobby Duffy, managing director of Ipsos Mori's Social Research Institute of the findings.
In addition, more than a quarter of individuals in this age group live with their parents. An average woman in this age group today waits 7.1 years longer to become married than in 1981; and the average age of childbirth for young families is nearly four years later than those in 1974.
"My greatest worry is working all my life, constantly chasing
debt and never being to own a house or have children,"
writes a millennial named "Gemma" in a section of the series
Continuing, she states: "The cost of renting privately is
rising, the cost of travelling is rising, the cost of living is rising
and yet the salaries don't reflect this rise. … I am worried that
capitalism is pushing this and creating a greater wealth
inequality gap. It seems unsustainable and to be driving
people apart—a recent example is the demonization of our
own NHS service and the junior doctors."
Many others share similar nightmares.
The study comes amid other findings revealing similar declines in living standards for youth in the developed world. A 2013 Organization for Economic Co-operation and Development (OECD) report found nearly 30 million youth in the developed capitalist countries without a job or an education, the basic requirements for functioning in society.
The circumstances faced by young people throughout the world speak to a systemic breakdown of the social order in both the so-called developing and advanced countries, which has been compounded by war and militarism, consecutive attacks on living standards and cuts to social programs, which invariably hit the youngest and most vulnerable the hardest. Though not covered by the study, European nations such as Greece have been reduced to conditions unseen in the developed world, with youth unemployment at over 60 percent due to attacks on living standards demanded by the European Union and enforced by consecutive governments, both right and "left," under Syriza.
The authors of the Guardian investigation, in an effort to divert rising anger away from the social system responsible for the poverty, destruction of living standards and attendant social misery, single out the relatively-better off living conditions of retirees in order to make a case for attacking pensions and other benefits accruing to the older generation. The publication quotes a recently published interview with Mario Draghi, head of the European Central Bank (ECB), who states "in many countries the labor market is set up to protect older 'insiders'—people with permanent, high-paid contracts and shielded by strong labor laws. … The side-effect is that young people are stuck with lower-paid, temporary contracts and get fired first in crisis times."
Rather than receiving expanded employment, pay and
access to better living conditions, it is proposed that the
young and the old fight over the rapidly diminishing
resources made available by bourgeois public officials and
the wealthy.
While Draghi advocates attacking the pay and benefits of older workers, the ECB head has funneled billions into the hands of European banking institutions; recently upping the monthly total of cash infusions to €80 billion from €60 billion previously and adding to the wealth of the financial elite.
The fate of retirement benefits and wages under the profit-system is pointed to when the newspaper notes "pensioners' incomes are likely to rise for at least the next decade, after which future generations will be unlikely to benefit [due to] a drop in home ownership, weaker private sector pension schemes and the expectation that state pensions will be less generous in the future."
OBAMA-CLINTONOMICS: SERVE THE
RICH, WALL STREET CRONIES AND LA
RAZA, THE MEX FASCIST PARTY of
Then hand what is left of the American middle
class the tax bills for bailouts and Mexico's
crime wave in our open borders and LA
RAZA "The Race" welfare state on our backs!
"The Clinton family charities have outsourced many U.S. white-collar jobs to foreign college graduates instead of hiring American college graduates."
March 11, 2016
Oops! Clinton Foundation outsourced tech jobs to
H-1B visa holders
The Bill, Hillary, and Chelsea
Clinton
Foundation,
which does "wonderful work"
(if you ask Hillary), also has sought to hire a lot
of
foreign tech workers brought to the country
under the H-1B visa program to fill jobs
Americans supposedly can't be found to
The Clinton family charities have outsourced many
U.S. white-collar jobs to foreign college graduates
instead of hiring American college graduates.





The outsourcing started in 2004 and it continues to this year. When asked if the foundation is still hiring foreign white-collar workers via the controversial H-1B visa program, Vena Cooper, one of the foundation's personnel officers, responded "We do."





The foundations declined to answer questions from Breitbart News, but available data shows they sought to hire up to 130 foreign graduates. That's roughly half the number of 250 jobs outsourced by Disney last October, which has reignited political criticism of the middle-class outsourcing program.





The 130 foreign graduates sought by the Clinton's foundations were and are not immigrants. Instead, they're temporary "guest" workers who fill outsourced professional jobs for up to six years.



The Clintons' foreign graduates have been hired via the H-1B visa program that also is used by Disney and U.S. corporations and universities to employ a population of roughly 650,000 young and cheap foreign professionals in business, design, healthcare, software, science, education, p.r. and media and pharmaceutical jobs. After their six years in the United States, most H-1Bs return
home with the work-experience and connections that help them compete against U.S. professionals in the global marketplace.





The young foreign H-1B professionals are also used to push down average salaries earned by experienced and older American professionals. In turn, those salary cuts boost profit margins and company values on Wall Street.



Hey, those private jets and 5-star luxury hotels favored by the traveling Clintons don't come cheap, so they've got to pinch pennies wherever they can. And besides, a lot of their money comes from foreign sources, so
they're just returning it to some of the home countries.
US employment report: Payrolls rise,
wages fall
By Barry Grey
5 March 2016
President Barack Obama seized on the February employment report, released Friday morning by the Labor Department, to tout the supposed "success" of his economic policies and paint a picture of a thriving US economy. The report, which showed a larger-than-predicted growth in private nonfarm payrolls of 242,000 jobs, confirmed that the US economy was "the envy of the world," Obama told reporters at a White House appearance.
"The fact of the matter is that the plans that we have put in place to grow the economy have worked," he boasted." He derided "an alternative reality out there from some of the political folks that America is down in the dumps." He countered, "America is pretty darn great right now."
He did not attempt to explain why the "alternative reality," which his labor secretary, Thomas Perez, attributed to "fear-mongers and fact-deniers," is believed by tens of millions of Americans, whose anger over economic injustice is dramatically reflected in the current election campaign.
One does not have to look too closely at the Labor Department's report, however, to get an idea of what is fueling the social indignation of working people in the eighth and final year of the Obama administration. Behind the top-line number for new jobs and the quasi-fictional official unemployment rate of only 4.9 percent, ongoing trends with disastrous consequences for the working class are evident. They account for two other important indices in the report: a decline in average earnings from the previous month of 3 cents, or 0.1 percent, to $25.35, bringing the increase for the year down to just 2.2 percent, and a fall in the average private-sector workweek of 0.2 hours to 34.4 hours, a two-year low.
These two figures arise from the fact that the vast bulk of new jobs created in February were low-wage and a huge percentage were part-time. The low-paying service sector—retail, bars and restaurants, health care—accounted for 245,000 jobs. The reality of recession in basic production was reflected in a 16,000 decline in manufacturing and the loss of another 19,000 mining jobs, bringing to 171,000 the total decline in mining since September 2014. The only better-paying industrial sector that saw an increase was construction, which recorded a gain of 19,000.
Another figure highlights the hollow and socially regressive character of Obama's so-called "recovery." The financial cable network CNBC pointed out that according to the Labor Department's household survey, which is the basis for the unemployment rate figure (the figure on payroll growth is derived from a separate survey of business establishments), full-time jobs increased in February by only 65,000, while part-time positions increased by 489,000. This means that a mere 11.7 percent of new jobs in February were full-time!
These statistics point to the fact that the American ruling class, through its instrument, the Obama administration, has utilized the financial crash of 2008, for which it was responsible, to fundamentally reorganize the US economy, transforming it into a low-wage system. The millions of decent-paying jobs that were destroyed have been largely replaced by poverty-wage, part-time and temporary jobs.
The median household income has fallen sharply. Pensions and health benefits have been gutted, schools closed by the thousands, teachers and other public workers laid off by the millions. At the other end, the Federal Reserve and the US Treasury have pumped trillions of dollars into the financial markets, driving up the stock market and bringing the concentration of wealth at the very top to unprecedented levels. This is what Obama lauds as "success."
Meanwhile, millions of Americans remain mired in long-term unemployment. The number of long-term unemployed, defined as without work for 27 weeks or more, was essentially unchanged at 2.2 million in February. This number has not shifted significantly since last June. The long-term jobless accounted last month for 27.7 percent of the unemployed, a far higher percentage than in any previous period categorized as an economic recovery.
A broader measure of unemployment that includes people working part-time but wanting full-time work and those too discouraged to seek employment registered 9.7 percent last month, nearly double the official jobless rate. There are, in addition, millions of people who have dropped out of the labor market and are not even counted in government employment reports.
While the employment-to-population ratio edged up to 59.8 percent and the labor force participation rate rose slightly to 62.9 percent, both measures remain extraordinarily low by historical standards.
The impact of soaring social inequality and falling living standards for broad sections of the population is reflected in a growing crisis in the retail sector. This week, sporting goods chain The Sports Authority filed for Chapter 11 bankruptcy protection and announced it was closing at least 140 of its 463 stores and laying off 3,400 of its 13,000 employees. This follows recent announcements by Walmart, Sears/Kmart and Macy's of hundreds of store closures and thousands of layoffs.
Hillary Clinton repeatedly claims that she is the
champion of the little guy. It has always been a
risible claim, but if any of her supporters
(including at the Post) are actually paying
attention to the scoundrel, this latest gambit ought
to disabuse them of the notion.
March 7, 2016
The last refuge of the scoundrel Hillary
Samuel Johnson's aphorism that patriotism is the last refuge of a scoundrel doesn't apply to Hillary Clinton in her email scandal, because nobody – not even her die-hard supporters – would believe her if she said that she set up the private email server in the interests of the United States. Rather, the last refuge of this scoundrel is to blame everybody else she dealt with at the State Department, in the process impugning not only her own close aides, but career diplomats and other nonpolitical professionals who deserve better.
This strategy is reflected in the campaign's current mantra that "everybody," including former secretaries Colin Powell and Condoleezza Rice, at one time or another sent emails that were later determined to be classified. A recent Washington Post analysis of Hillary's released classified emails demonstrates that she directly sent at least 104 to various aides and officials, and that they too, including the current secretary of state, John Kerry, occasionally sent out emails through nonsecure servers that were later deemed classified. However, what the analysis also shows is that these government officials, when they did use unsecured servers, at least used government accounts, which provide a measure of security, not a private home-brewed server like Mrs. Clinton's.
The Post's news editors must be popping a lot of Thorazine, because their coverage of Clinton is increasingly schizophrenic. As longtime readers of the paper know, the news operation is considerably more left-leaning than the editorial side (which occasionally takes a more centrist view). News stories are routinely slanted to present the most favorable liberal perspective and mock or demean opposing outlooks. This tendency is apparent in the Clinton case as well. The Post has broken some important stories in the email scandal, like the recent revelation that the Justice Department granted former Clinton I.T. aide Bryan Pagliano immunity. And the Post's most heroic figures, Bob Woodward and Carl Bernstein, have separately suggested that the Clinton scandal is the real thing. But since Hillary is the Post's gal, they seeded the Pagliano report with expert liberal analysis that suggested that the immunity deal is either nothing to get excited about (a weird way to promote a scoop) or actually a good thing for Clinton, while omitting contrary interpretations.
The Post's analysis of her emails follows the same pattern. On the one hand, the news that Clinton herself personally authored over 100 classified items cuts against her chosen narrative that she got a lot of emails and that she can hardly have been expected to actually read and analyze them all for security issues as she received them or passed them on. On the other hand, the article goes out of its way to suggest that this was an endemic problem at State. And strangely again, the explanation is rather contradictory. We are told that the sending and receipt of classified information was the result of poor security procedures that preceded Clinton's arrival. But we are also told (in line with claims made by Clinton and her campaign) that there is a culture of "over-classification" in the government. So which is it? Were officials at State too lax about security procedures or too anal? If nothing else, one thing this controversy demonstrates is that the Clinton State Department was pretty much a mess.
But besides the country itself, which is now enduring yet more Clintonian malfeasance in the midst of a critical election, are many individuals that Clinton is cold-bloodily demeaning in an attempt to exonerate herself with the "everybody did it" canard. This rests on the weak premise that other government officials – aides, ambassadors, career officials – occasionally misidentified information as innocuous or insufficiently sensitive to merit security classification. There is little doubt this happened, and continues to happen, as government employees do their best to protect sensitive information but not bog the government down in layers of unnecessary security protocol. But none of the officials identified in the Post analysis did this deliberately by establishing a private home-brewed email system to avoid State Department classification procedures entirely – and this no less, by the head of the State Department itself.
The Post article anonymously quotes one poor soul (identified as a former senior official) whose good name has now been impugned as a careless operator: "I resent the fact that we are in this situation – and we're in this situation because of Hillary Clinton's decision to use a private email server."
Hillary Clinton repeatedly claims that she is the
champion of the little guy. It has always been a
risible claim, but if any of her supporters
(including at the Post) are actually paying
attention to the scoundrel, this latest gambit ought
to disabuse them of the notion.