Suspected Illegal Alien Marijuana Farmers Held Workers Hostage: ICE
Three brothers were taken to hospitals this week after they and a fourth brother say they nearly escaped death at the hands of abductors, possibly connected to Mexican cartels, who beat and forced them to work on a marijuana farm in Northern California from February to July.
The four men showed up on July 27 at a West Point, California home asking the resident to call 911, which the resident did. Three of the four were found to have "significant visible injuries" and the injured victims were taken to area hospitals, except one whose "severe injuries" caused him to be taken to a trauma center.
Two of the men told Calaveras County Sheriff's detectives that they were initially picked up by a woman identified as Guadalupe Sierra "Lupe" Arellano, with the understanding that they would be doing landscaping work, and were taken to a house in West Point. After several days of working there in February, the two were taken by force to a large marijuana farm nearby. The men told detectives that they were threatened and forced to work at the farm for months.
Arellano somehow obtained the victim's Modesto home address, traveled there and told their family members that the two brothers were working for her, and with marijuana, according to the Sheriff's office. Arellano offered to take two family members to see the two men, and two more brothers decided to go with her. Arellano is said to have threatened to kill the family members if anyone contacted law enforcement. After being taken to West Point, the two additional brothers were "confronted and threatened by armed men and taken to the nearby marijuana site where they were reunited with their family members and forced to work." The Sheriff's office stated that family members back at home were also threatened.
In the days leading up to their escape on July 27, 2016 the victims were beaten for complaining about the conditions of their captivity. The victims overheard a male captor or suspect ask Lupe if they "could kill the victims." "Lupe reportedly responded no because they were almost done with the marijuana harvest." "Once they were done they would kill the victims." It was also during this time that one of the male captors attempted to stab one of the victims. The suspect was holding a knife and gun at the same time.
The men then decided to escape during the night, and after doing so, it took them all night to find help.
A search warrant executed near Bald Mountain Rd. the next day uncovered 23 thousand marijuana plants valued as high as $60 million dollars. As the search warrant was carried out, a Hispanic male was seen fleeing the scene. Investigators found a backpack along the same trail the male fled on, and found a handgun inside. No arrests were made during the search of that location.
In the weeks that followed, several other search warrants were executed in Stanislaus County. Arrest warrants were issued for suspects. The District Attorney's office is considering further charges against additional known suspects.
Arellano, 43, and Medarda Urbieta, 44, were taken into custody on September 14 in Modesto and charged with human trafficking, kidnapping, battery with serious bodily injury, terrorist threats and drug related charges,

according to

NBC2 local news. The women appeared in court in San Andreas, California, but did not enter pleas.
Calaveras County Sheriff's Captain Jim Macedo said the women are believed to be in the United States illegally, according to the report. Authorities are still looking for two additional men, one of which is the brothers' nephew, in connection with the marijuana operation.
U.S. Immigration and Customs Enforcement provided the following statement to Breitbart News:
Deportation officers with U.S. Immigration and Customs Enforcement (ICE) have lodged detainers on Maria Guadalupe Arellano-Sierra and Medarda Urbieta-Estudillo, currently in the custody of the Calaveras County Sheriff's Office. The detainers request ICE be notified prior to their releases from local custody, to enable the agency to take custody to pursue possible administrative immigration enforcement action.
Marcedo remarked, "We've seen an increase in violence, theft and greed related to marijuana trafficking, and this appears to be an organized, violent group," according to the local news outlet. Macedo indicated there could be a link to Mexican drug cartels, which investigators are pursuing. It was reported that there was a religious shrine found at a Modesto home connected to the case. That shrine was denoted as one popular with Mexican drug traffickers. Arellano's lawyer denied any cartel connection to his client.
An early version of the AP article stated that the two men, initially allegedly held against their will, were first picked up as day laborers.
THE MEXICAN DRUG CARTELS NOW OPERATE IN ALL AMERICAN CITIES AND HAUL BACK OVER OUR OPEN BORDERS FROM $40 TO $60 BILLION FROM HEROIN SALES.
IMAGES OF AMERICA UNDER NARCOMEX OCCUPATION
*
The NARCOMEX drug cartels now operate in all major American cities and haul back to NARCOMEX between $40 top $60 BILLION from sales of HEROIN!
TOM TANCREDO: THE CLINTON, OBAMA AND PAUL RYAN CONSPIRACY TO SABOTAGE HOMELAND SECURITY.
FOR THE DEMOCRAT PARTY, MEXICO'S INVASION, OCCUPATION AND EVER EXPANDING WELFARE STATE KEEPS WAGES DEPRESSED, BUILD THE DEMS' LA RAZA PARTY BASE, AND DESTROYS THE GOP.
WE ARE SOON TO BE A ONE PARTY NATION WITH OPEN BORDERS FOR THE MEXICAN HORDES AS THEY JUMP OUR JOBS, WELFARE OFFICES AND VOTING BOOTHS WAVING THEIR MEXICAN FLAGS!
BARACK OBAMA AND THE LA RAZA MEXICAN DRUG CARTELS….
There's more than one way to destroy America's white middle class!
HSBC laundered hundreds of millions and perhaps billions of dollars for drug cartels responsible for the deaths of tens of thousands of people over the past two decades. The bank transferred at least $881 million of known drug trafficking proceeds, including money from the Sinaloa Cartel in
Mexico, which is known for dismembering its victims and publicly displaying their body parts.
925k CRIMINAL ILLEGALS NOT DEPORTED
OBAMA'S OPEN BORDERS TO DESTROY THE AMERICAN MIDDLE CLASS - MILLIONS OF INVADING CRIMINALS NOT DEPORTED
OPEN BORDERS KEEPS WAGES FOR LEGALS DEPRESSED AND BUILDS THE LA RAZA SUPREMACY PARTY BASE FOR THE DEMOCRAT PARTY HELL BENT ON DESTROYING THE GOP WITH AN ENDLESS INVASION BY MEXICO!
SOARING POVERTY AND DRUG ADDICTION UNDER OBAMA
"These figures present a scathing indictment of the social order that prevails in America, the world's wealthiest country, whose government proclaims itself to be the globe's leading democracy. They are just one manifestation of the human toll taken by the vast and all-pervasive inequality and mass poverty
Border Patrol Nabs Previously Deported Killer Crossing Border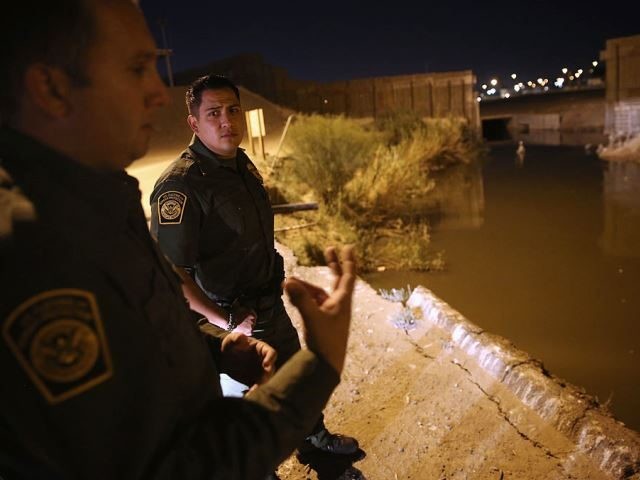 U.S. Border Patrol agents in southern California arrested a previously convicted and deported killer shortly after he illegal re-entered the country from Mexico.
Agents from the Calexico Station in the San Diego Sector encountered a 33-year-old Mexican national near the Calexico West Port of Entry on Thursday night. The agents observed the man running northward from the International Border fence, according to information obtained by Breitbart Texas from U.S. Customs and Border Protection officials.
The Border Patrol agents caught up with the man and interviewed him. During the interview, it was determined determined the man had illegally crossed the border from Mexico. They arrested him and took him to the Calexico Border Patrol Station for processing.
A background records check on the Mexican national revealed he had previously been convicted in the United States for voluntary manslaughter and weapons charges. The convictions earned the man a nine-year prison sentence in the State of California prison system. He was deported from the United States in 2012.
"While carrying out our duties as Border Patrol agents, we sometimes encounter dangerous individuals with prior criminal histories attempting to enter the country illegally," Acting Special Operations Supervisor Miguel Garcia said in a written statement. "This arrest shows how we strive to ensure the safety and well-being of our community while also enforcing immigration laws."
The Mexican national now faces additional criminal prosecution for felony Re-Entry After Removal as a convicted felon.
Bob Price serves as associate editor and senior political news contributor for Breitbart Texas. He is a founding member of the Breitbart Texas team. Follow him on Twitter
@BobPriceBBTX
.