We don't ask for financial contributions to support this POLITICALLY VERY
INCORRECT BLOG, but do appreciate you clicking on the ADSENSE ADS you find at the right and at the bottom of all posts which puts funds in our pockets to keep it going. Thanks for your support.
THE TRUMP WALL LIE! WAS IT THE FIRST BROKEN PROMISE?
"If true, it shows Trump being the ultimate cynic and not having
the
courage to state his true beliefs to the American public who
elected him. That's always been my biggest problem with Trump:
his lack of integrity and consistent belief system."
Ann Coulter, one of Trump's earliest and biggest supporters, has changed her tune now that she has seen how few of his promises the president has kept. In an interview Sunday with The Daily Caller, Coulter let it be known she still has hope ...
May 16, 2017
Trump's biggest supporter ready to 'jump ship'
Ann Coulter, one of Trump's earliest and biggest supporters, has changed her tune now that she has seen how few of his promises the president has kept.
In an interview Sunday with The Daily Caller, Coulter let it be known she still has hope in the Trump presidency, but is ready to jump ship.

[Interviewer] So there's no wall, and Obama's amnesties look like they are here to stay. Do you still trust Trump?

Coulter: Uhhhh. I'm not very happy with what has happened so far. I think everyone who voted for him knew his personality was grotesque, it was the issues.

I hate to say it, but I agree with every line in my friend Frank Bruni's op-ed in The New York Times today. Where is the great negotiation? Where is the bull in the china shop we wanted? That budget the Republicans pushed through was like a practical joke… Did we win anything? And this is the great negotiator?

... it's as if we're in Chicago and Trump tells us he's going to get us to LA in six days. But for the first three days we are driving towards New York. Yes, it is true he can still turn around and get us to LA in three days, but I'm a little nervous.

... I think all of the Trump true believers are petrified.
So here's the problem. Trump has kept a few of his promises. He nominated Neil Gorsuch for the Supreme Court. He has nominated conservative judges for circuit courts. He has begun to cut back on environmental regulation excesses.
But on everything else, he has not kept his promises. In some cases, he even has done the opposite.
Trump never proposed repealing Obamacare. He never even submitted a plan. He waited and endorsed whatever Congress came up with.
Remember Trump's promise to move our embassy in Israel to Jerusalem? How is that working out?
Remember Trump's promise to end the "DREAM" program? That never happened.
Remember Trump's promise to scrap the Paris global warming treaty? Never happened.
Remember Trump's promise to scrap the Iran deal, which he criticized tremendously as a candidate? Not a word.
Remember Trump's promise to cut taxes? He issued a vaguely worded statement but has yet to release a plan.
Remember Trump's promise to give an E.O. for religious freedom? The E.O. he issued was so ridiculously watered down by "Javanka" as to be meaningless.
Remember Trump's promise to build a border wall? He signed a bill outlawing its construction. Chuck Schumer was laughing in his face. What a great negotiator!
Remember Trump's promise to cut the fat from government? He just signed a one-trillion-dollar appropriation giving Democrats everything they wanted.
No wonder Coulter feels as though Trump is driving in the wrong direction.
Trump supporters will say, "But it's only been four months." Everything mentioned above, everything, could have been done or at least proposed in detail by the president within the past four months.
It seems almost like the Obama years again. Same blinders, different teams.
MEXICAN HEROIN POURS OVER THE NARCOMEX-U.S. BORDER
Americans die young, poor and addicted while politicians angle for more amnesty and wider open borders with the LA RAZA cartels.
THE SINS OF THE FATHERS: THEIR GLOBAL LOOTING of the POOR
THE OPEN BORDERS PARTY of GEORGE SOROS, HILLARY & BILLARY CLINTON, BARACK OBAMA and DONALD TRUMP
DONALD TRUMP, HIS PARASITIC FAMILY, HIS GOLDMAN SACHS
REGIME and GOD FATHER, GEORGE SOROS… .global looters of the poor!
THE TRUMP AMNESTY… BUILT ON THE OBAMA AMNESTY and endorsed by NARCOMEX
Open the floodgates of our welfare state to the uneducated, impoverished, and unskilled masses of the world and in a generation or three America, as we know it, will be gone.
Those most impacted are middle class and lower middle class. It is they whose jobs are taken, whose raises are postponed, whose schools are filled with non-English speaking children that absorb precious resources for remedial English, whose public parks are trashed and whose emergency rooms serve as the local clinic for the illegal underground.
BUILDING HIS RETURN TO POWER PARTY WITH ILLEGALS!


FUNDER AND LEADER OF THE MEXICAN FASCIST PARTY of LA RAZA "The Race"
During Obama's 8 year bankster regime, he openly operated and funded the Mexican fascist racist party of LA RAZA "The Race" from the White House under La Raza VP Cecilia Munoz…. Google Obama and LA RAZA!
Sen. Cornyn's 'Lipstick' Border Bill Provides Cover for 2017 Amnesty, Say Critics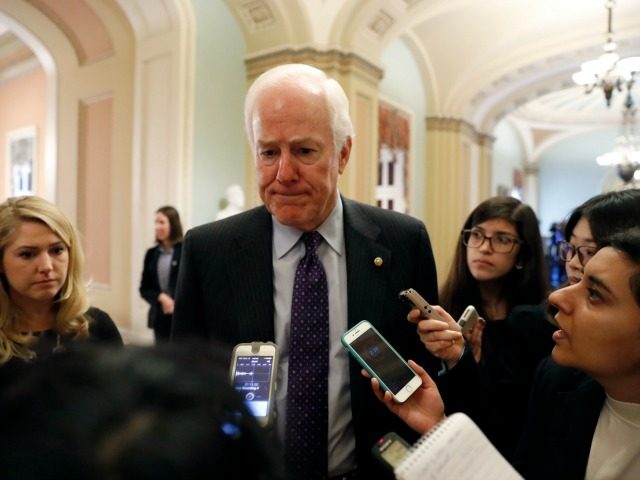 An unpublished border-security bill drafted by Texas Sen. John Cornyn does not curb employers' ability to hire low-wage illegals, and endorses less than 10 miles of extra border wall, but immigration experts say it may provide political cover for a 2017 amnesty push by Democrats and business groups.
"There are a lot of sound things and necessary things [in the bill], but there are a lot of necessary things that are conspicuously missing … it looks like more of a half-hearted attempt into fooling the public than a step forward in enforcement," said Jessica Vaughan, the policy director at the Center for Immigration Studies.
"There's nothing on E-Verify [for verifying the legality of job appliants], there's nothing on worksite enforcement at all, so I'm a little bit skeptical how much difference it would make" for actually reducing illegal immigration, said Vaughan, who described the bill as "lipstick on a pig."
"I can't help but wonder if it is designed to be combined with an amnesty," Vaughan told Breitbart. "It would be the typical kind of 'Grand Bargain' offer of some enforcement with a massive amnesty and possibly other kinds of [foreign worker] visa programs," she said.
Pro-American immigration reforms, including Vaughan, say illegal immigration can be sharply reduced at very modest cost by mandating all employers verify that each job candidate can legally work in the United States. Currently, many employers voluntarily use the free government-run E-Verify computer site, but it is not mandatory.
The Cornyn bill contains "the same stuff they've been peddling for a long time, which doesn't have any teeth in it," said Ira Melhman, a spokesman at the Federation for American Immigration Reform. "This was what they were trying to sell [in 2013] to make the 'Gang of Eight' more palatable to the public," he added.
The bipartisan 2013 "Gang of Eight" amnesty bill offered an amnesty for at least 11 million illegals plus 30 million additional immigrant workers and consumers requested by

companies and investors

— so shifting more wages and taxes from Main Street to Wall Street.
The 2013 amnesty bill was backed by every major business group, plus many GOP Senators, who also recognized it was very unpopular. In response to polls, North Dakota Sen. John Hoeven and Tennessee Sen. Bob Corker introduced a last-minute "border surge" bill to help other Senators fend off critics of the amnesty. Their border surge bill included much dramatic border-protection language and promises of major spending — but it included no penalties for business if Congress or a future president refused to implement the border surge.
Amid much media cheerleading, the Senate passed the Corker-Hoeven surge amendment and then approved the Gang of Eight's amnesty-and-cheap-labor bill by 68 votes to 32. The same process was tried in the House, where Texas Rep. Michael McCaul pushed a supposedly pro-security bill, which was so weak that the pro-amnesty Democrats included it in their amnesty bill.
This year, McCaul is working closely with Cornyn on his border bill.
Staff in Cornyn's office and in McCaul's office did not respond to questions from Breitbart.
That recent history explains why pro-American reformers fear the Cornyn legislation is the "lipstick on a pig" — the pig being a series of pro-amnesty, cheap-labor bill backed by Democrats and business lobbies.
Already, Senators are developing amnesty-style bills that might be hidden behind Cornyn's lipstick bill, Vaughan said.
That is a very large number. Each year, 4 million young Americans leave school and start looking for decent jobs that will help them get married and raise children. Under current policy the federal government imports 1 million immigrants and roughly 1 million foreign contract workers for jobs lasting several months or several years.
Democratic Senators are also developing pro-amnesty bills. For example, Illinois Sen. Dick Durbin has developed the so-called "Bridge Act" to provide amnesty for at least 750,000 foreign-born sons and daughters of illegal immigrants.
In contrast,

Arkansas Sen. Tom Cotton and Georgia Sen. David Perdue are proposing a bill that would favor highly skilled immigrants who could raise Americans' productivity and wages. Their bill would likely reduce the inflow of low-skilled immigrants, or old and sick immigrants, who get green cards via family chain migration.
In the House, the McCaul bill is being developed outside the jurisdiction of the Virginia Rep. Bob Goodlatte's judiciary committee. He is a former immigration lawyer in Virginia, which has been flipped from Republican to Democratic by the arrival of many Democratic-voting immigrants since 2000.
According to documents provided to Breitbart, Cornyn's bill would:
allow $20 billion in spending over 4 years, or $5 billion a year, but does not actually appropriate the funds.

endorse the construction of less than 10 miles extra border wall in Texas, plus less than 30 miles of border walls along rivers.

require the government spend funds on high-tech surveillance systems, such as camera-carrying balloons, which are expensive to operate and can be taken down quickly by a future Congress or president.

allow the federal government to compensate state and local governments for policing illegal immigration problems.

include Pennsylvania GOP Sen. Pat Toomey's bill to punish "sanctuary cities" which use illegal immigrants as workers and consummers.

allow quicker repatriation of migrants who claim to be youths, or so-called "Unaccompanied Alien Children."

set longer criminal penalties for coyotes who smuggle illegal immigrants, 30-year jail penalties for attacking law-enforcement officers, longer detention of dangerous illegal-immigrants, and deportations for drunk-drivers,

allow agency officials to exclude officials from countries that refuse to accept the repatriation of illegal immigrants, and to remove passports from immigrants who help illegals.

limit judges' authority to review immigration decisions by the administration, and warns judges they have to minimize their interference in administrations' immigration policymaking.
The long list of measures in the Cornyn bill includes many duplicative, unfunded, trivial or toothless sections. For example, it reaffirms immigration powers already held by the administration, micromanages border defenses, sets tough-sounding penalties for offenses that already carry strong penalties, and issues toothless warnings to judges.
But the long and dense bill still fails to include the cheapest, most effective and basic measures against illegal immigration, such as making E-Verify mandatory, or including a new law encouraging the government to check company payrolls for illegal workers, said Vaughan.
The determination to exclude the simple fixes for most immigration problems shows that the GOP Senators don't want to learn anything from 2014 — when pro-amnesty Democrats lost their majority and nine seats in the Senate — or from 2016, when outsider Donald Trump swept away the GOP establishment, she said.
"They don't have enough respect for voters — they think Americans were fooled by Trump," she said.
Even though legal immigration is gradually flipping states from red to blue, GOP Senators "think they are smart enough to preserve themselves in their positions and relationships with their donors" as legal immigration shrinks the GOP power, she said.
GOP politicians "still think they know better" that the voters, she said.
Roughly 550,000 illegal immigrants crossed the border in 2016. But legal immigration adds roughly 1 million workers, consumers and renters per year to the economy.
This legal inflow includes some very skilled workers and some people who become very successful entrepreneurs, but it also dumps a lot of unskilled workers into the country just as a new generation of technology is expected to eliminate many types of jobs. It also annually shifts $500 billion from employees to employers and Wall Street, and it forces state and local government to provide $60 billion in taxes to businesses via routine aid for immigrants, and it pushes millions of marginal U.S. workers out of the labor force and into poverty, crime and opioid addiction. High immigration also reduces employers' need to recruit disengaged Americans, to build new facilities in high-unemployment areas, or to buy productivity-boosting machinery or to demand that local schools rebuild high school vocational training departments for the millions of youth who don't gain much from four-year colleges.
"The growing opioid epidemic, responsible for the rising rates of HCV infections, reflects the immense social crisis in the United States in which millions of workers are facing unemployment, stagnant or falling wages, and a dramatic growth in social inequality."
"Mexican drug cartels are the "other" terrorist threat to
America. Militant
Islamists have the goal of destroying
the United States.
Mexican drug cartels
are now accomplishing
that mission – from within, every day, in virtually
every community across this country."
JUDICIAL WATCH
WHILE THESE FILTHY POLITICIANS CAN'T
STOP TALKING ABOUT AMNESTY AND NO
E-VERIFY TO KEEP WAGES DEPRESSED, WE
WILL NOT HEAR THEM TALKING ABOUT
MEXICAN HEROIN POURING OVER OUR OPEN
AND UNDEFENDED BORDERS!
"While the declining job market in the United States may be discouraging some would-be border crossers, a flow of illegal aliens continues unabated, with many entering the United States as drug-smuggling "mules."
James Walsh
US hepatitis C infections triple amid opioid epidemic
By Brad Dixon
15 May 2017
According to reports released on Thursday by the Centers for
Disease Control and Prevention (CDC), the rate of new hepatitis C
infections nearly tripled between 2010 and 2015. The rate
increases
were concentrated heavily among injectable drug
users, highlighting the relationship between the growth in new
hepatitis C infections and the ongoing opioid epidemic in the
United States.
The hepatitis C virus (HCV) attacks the liver, and can ultimately result in cirrhosis, liver cancer and liver failure. The CDC estimates that 3.5 million individuals are infected with the disease in the United States, making it the most common blood-borne virus in the nation.
In 2014, 19,659 deaths were associated with HCV, an all-time high and more than the combined deaths of the 60 other infectious diseases tracked by the CDC, including HIV, pneumococcal disease and tuberculosis.
The two reports were published in the CDC's latest issue of

Morbidity and Mortality Weekly Report

(MMWR).
According to the

first report

, the number of newly reported HCV cases grew from 850 in 2010 to 2,436 in 2015, an increase of 294 percent. These figures, however, are undoubtedly lower than the actual rate of new infections because it can take years before individuals with HCV display symptoms, leaving most cases undiagnosed. The CDC estimates that the true figure for new infections in 2015 to be closer to 33,900.
The generation of baby boomers, those
between the ages of 52 and 72, is the group
most likely to be infected with HCV.
The largest increase in rates of new infections, however, has taken place among younger people between the ages of 20 and 29, most likely due to injectable drug use. This points to the relationship between the ongoing opioid epidemic and the rise in HCV cases.
"These new infections are most frequently among young people who transition from taking prescription pills to injecting heroin, which has become cheaper and more easily available in some cases," John Ward, director of the division of viral hepatitis at the CDC and an author of the first report, told CNN.
"In turn many—most in some communities—people who inject drugs become infected with hepatitis C."
The greatest increases in HCV infections correspond to the regions that have been hardest hit by the opioid epidemic: Appalachia, and rural areas of the Midwest and New England. Seven states had at least twice the national average of new HCV infections: Indiana, Kentucky, Maine, Massachusetts, New Mexico, Tennessee and West Virginia. Ten other states had lower rates, but were still above the national average: Alabama, Montana, New Jersey, North Carolina, Ohio, Oklahoma, Pennsylvania, Utah, Washington and Wisconsin.
A second report released by the CDC found that HCV infection rates among women giving birth nearly doubled between 2009 and 2014. The growing rates again matched closely to those areas of the country most impacted by the opioid epidemic.
"If I overlaid a map of the United States and looked at rates of newborn opioid withdrawal after birth, it would be very similar," Stephen Patrick, lead author of the paper and an assistant professor of pediatrics and health policy at Vanderbilt, told CBS News. "We suspect this is highly linked to the opioid epidemic."
The report found that HCV infection rates among women giving birth rose from 1.8 to 3.4 instances per 1,000 live births. The rates were the highest in West Virginia (22.6 instances per 1,000 live births) and Tennessee (10.1). The disease is transmitted from mother to infant in around 6 percent of births, although this figure could be higher, according to Patrick.
"My worry is that some infants will convert to having hepatitis C without anyone knowing, or treating the infant," Patrick said.
The development of direct-acting antiviral drugs, first approved in 2011, marked a significant advance in the treatment of HCV. Despite the immense progress on this front, only a limited segment of the population infected by HCV has benefited. This is a direct result of the high prices charged by pharmaceutical companies for these drugs.
For example, a 12-week course of Merck's Zepatier costs $54,000, while AbbVie's Viekira is priced at $83,000. However, the most widely used drugs are Gilead's Sovaldi, priced at $84,000, or $1,000 a pill, and Harvoni, priced at $94,500.
A US senate

report

released in December 2015, which summarized the findings of an 18-month investigation based on thousands of pages of internal company documents, called attention to substantial evidence that Gilead priced its HCV drugs at the highest price it thought the market could bear in order to maximize its revenue.
"There was no concrete evidence in emails, meeting minutes or presentations that basic financial matters such as R&D costs or the multibillion-dollar acquisition of Pharmasset, the drug's first developer, factored into how Gilead set the price. Gilead knew these prices would put treatment out of the reach of millions and cause extraordinary problems for Medicare and Medicaid, but still the company went ahead," said Senator Ron Wyden on the release of the report.
The high costs of these drugs, which essentially offer a cure for the disease, has led government and private health insurers to

ration access

to the drugs, especially among the most at-risk populations such as prison inmates where the HCV infection rate is nearly nine times as high as in the population as a whole.
In Louisiana for example—where health secretary Rebekah Gee is attempting to get generic versions of the drugs on the market before the patents of the branded versions expire by invoking a 1910 federal law—there are 73,000 people infected with HCV, but Medicaid can only cover 300 patients per year. One in 63 babies in the state are now born to mothers infected with the disease.
The growing opioid epidemic, responsible for the rising rates of HCV infections, reflects the immense social crisis in the United States in which millions of workers are facing unemployment, stagnant or falling wages, and a dramatic growth in social inequality.
The epidemic has been exacerbated by the actions of unscrupulous pharmaceutical companies—such as

Purdue Pharma

, maker of OxyContin, and

Insys Therapeutics

, maker of the fentanyl product Subsys—which have flooded communities throughout the country with highly addictive opioids since the late 1990s.
Once addicted to these prescription painkillers, many drug users switch to the often cheaper and more readily accessible alternative of heroin, often sharing needles and helping to spread HCV and other blood-borne diseases.
Drug manufacturers played down the addictive nature of their drugs, heavily marketed them to doctors (sometimes outright bribing doctors), and turned a blind eye to clinics and pharmacies that were clearly nothing but pill mills, allowing the drugs to pour into the black market.

Drug distributors

—such as McKesson, Cardinal Health, and AmerisourceBergen—who purchase drugs from manufacturers and then distribute them to pharmacies, have likewise ignored such abuses because they led to additional drug sales.
….. the American Middle-Class at death's door and knocking ….
Have you notice Democrat Party politicians always keep their fat mouths closed tight on the topic of the Mexican drug cartels operating across America???
THE DEATH OF AMERICA: MEXICO SERVES UP THE HEROIN.
The death toll translates into an average of one fatal overdose every 12 hours in the state of West Virginia.
THE DEATH of WHITE AMERICA
"Whites had the highest rate of overdose deaths of any ethnicity, more than double the combined death rate for blacks and Latinos.
"
MEXICO SERVES UP THE HEROIN IN AMERICA'S OPEN AND UNDEFENDED BORDERS
IMAGES OF AMERICA UNDER LA RAZA "The Race" Mexican occupation.
THE MEXICAN DRUG CARTELS NOW OPERATE IN ALL AMERICAN CITIES AND HAUL BACK OVER OUR OPEN BORDERS FROM $40 TO $60 BILLION FROM HEROIN SALES.
IMAGES OF AMERICA UNDER NARCOMEX OCCUPATION
CAUTION!
GRAPHIC IMAGES of America coming under Mex Occupation
The NARCOMEX drug cartels now operate in all major American cities and haul back to NARCOMEX between $40 top $60 BILLION from sales of HEROIN!
IMAGES OF AMERICA UNDER LA RAZA MEX
Your neighborhood will be next to fall to LA RAZA!
SOARING POVERTY AND DRUG ADDICTION UNDER OBAMA
"These figures present a scathing indictment of the social order that prevails in America, the world's wealthiest country, whose government proclaims itself to be the globe's leading democracy. They are just one manifestation of the human toll taken by the vast and all-pervasive inequality and mass poverty.
DOES ANYONE STILL BELIEVE OBAMA IS CHRISTIAN???
THE OBAMA SOLUTION TO END WHITE CHRISTIAN AMERICA:
MEXICO: AMERICA'S DRUG DEALER!
The same period has seen a massive growth of social inequality, with income and wealth concentrated at the very top of American society to an extent not seen since the 1920s.
http://mexicanoccupation.blogspot.com/2016/08/obama-clintonomics-their-crony.html
"This study follows reports released over the past several months documenting rising mortality rates among US workers due to drug addiction and suicide, high rates of infant mortality, an overall leveling off of life expectancy, and a growing gap between the life expectancy of the bottom rung of income earners compared to those at the top."
THE MEXICAN DRUG CARTELS HAVE GREATLY BENEFITED FROM BARACK OBAMA'S SABOTAGE OF HOMELAND SECURITY.
THE CLINTON "JOBS" PLAN ENDORSED BY NARCOMEX – IT'S CALLED AMNESTY!
Clinton, in the guise of a "jobs" and "infrastructure" program, promoted yet another scheme to hand out tax cuts and other incentives for companies to hire workers at poverty-level wages, with the trade unions brought in to keep the workers in line in return for a cut in the spoils.
AMERICA'S ROAD TO REVOLUTION
"Our entire crony capitalist system, Democrat and Republican alike, has become a kleptocracy approaching par with third-world hell-holes. This is the way a great country is raided by its elite." ---- Karen McQuillan THE AMERICAN THINKER.com
Plenty of money for ILLEGALS……AMERICA'S OPEN BORDERS
HOMELESS ELDERLY in AMERICA UNDER MEX OCCUPATION
A Nation dies young, poor, addicted and homeless…. It's the American dream as the rich get super rich!
According to the National Alliance to End Homelessness, the number of elderly persons who are homeless in the US will have doubled by 2050.
America's Super-rich Live 15 Years Longer!
………….. America's Bludgeoned Middle-Class Dies Young, Addicted and Poor!
WHICH SIDE OF THE EQUATION ARE YOU DIGGING YOUR CHILDRENS' GRAVES?
"Millions of middle class families have been driven to bankruptcy by illness
and medical bills."
"This dramatic contrast in life expectancy between the rich and poor is directly correlated to the growth of obscene wealth at the top among a tiny elite and entrenched poverty among growing numbers of people at the bottom."….. BUT AMERICA STILL FINDS BILLIONS TO HAND TO MEXICAN INVADERS, WHICH INCLUDES "FREE" HEALTHCARE.
In the first part of the Lancet series, "Inequality and the health-care system in the USA," the British medical journal's researchers found that these income-based disparities in US life expectancy are worsened by the for-profit US health care system itself, which relies on private insurers, pharmaceutical companies and health care chains. It is also the most expensive health system in the world.
THE OBAMA DOCTRINE OF UNLEASHING MEXICAN CRIMINALS ACROSS AMERICA FROM BORDER to OPEN BORDER
MURDER, RAPE, LOOT and vote Democrat for more!
AMERICA THE ADDICTED: 1 in 7 are addicted
MEXICO'S BIGGEST EXPORTS TO U.S.: Heroin, Criminals, Anchor baby breeders for 18 years of gringo-paid welfare.