For 8 years, Barack Obama funded with American tax dollars and operated out of the White House the Mexican Fascist Party of LA RAZA "The Race" under LA RAZA V.P. Ceclia Munoz.
It is hardly surprising Obama's game plan of destroying white middle America is to flood the nation with his American-hating Muslims.
It's all part of his scheme to destroy American and crown himself dictator for life.
google Obama, and Eric Holder and their connection to LA RAZA.
DHS John Kelly Defunds, Disinvites Islamic Groups Favored By Barack Obama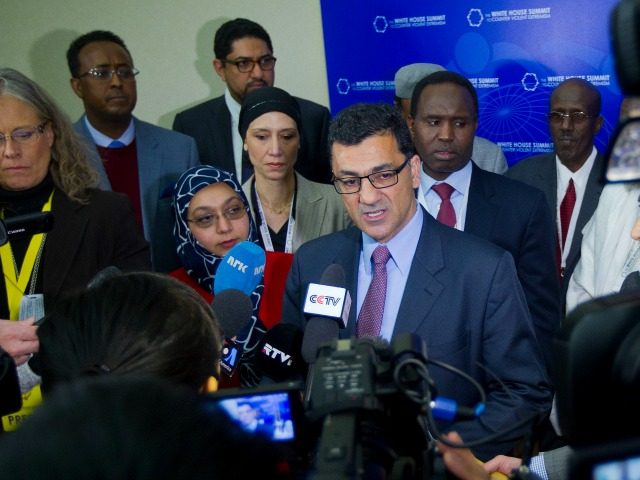 Administration officials have eliminated 2016 plans to fund Islamic groups allied to former President Barack Obama, and declined to schedule a 2017 Islamic 'Iftar' dinner where those groups were able to show their political influence to the ambassadors of wealthy Islamic countries.
They are out there doing what they think is their religion and think [it is] what they are supposed to be doing … What I've elected to do is take what little money I have in this regard and give it to what I consider to be the time-proven things — law enforcement from an outreach point of view and communities developing relationships … so that there's an open line of communication so they know if they see this [advocacy or preparation for violence] happening in the home or they see it happening — that is to say, the move towards radicalism — or they see it happening in the churches or mosques, they know to call someone before that person typically crosses the line.
The Department of Homeland Security (DHS) will award 26 grants — totaling $10 million for two years of programming — to organizations that will work to improve the security of our communities and prevent terrorism. Grantees were selected in part because of their potential to support law enforcement and other frontline defenders, to demonstrate programmatic effectiveness, and to use taxpayer resources efficiently to create independently sustainable programs. Grants were approved for local law enforcement agencies, state and local government agencies, universities, and non-profit organizations.
The notification letter we received today explained that upon further review, MPAC was excluded [from the grants] because we did not meet the criteria of working with law enforcement to counter violent extremism. This is true. Our position on this issue has consistently centered on community-led initiatives that improve mental health resources, access to counseling, and a host of other social services without [MPAC's emphasis] the involvement or spectre of law enforcement.

While we have developed working relationships with law enforcement agencies in the past to improve officer training and the reporting of hate crimes, we have never conflated this work with community responses to issues of vulnerability and alienation. To do so would fundamentally compromise our ability to provide safe and nurturing spaces. Our grant application embodied those core principles, and its ultimate rejection by the Trump administration clearly demonstrates a dramatic and worrying change in approach…

The Trump Administration's mishandling of the grant process underscores two fundamental flaws in its CVE [Countering VIolent Extremism] policy: it focuses on criminal investigations in a non-criminal space …. The exclusion of groups like MPAC point to a DHS that is ineffective in coordinating with communities and unconstitutional in its treatment of a religious minority. MPAC will continue challenging the trajectory of the Trump administration's efforts in this space by advocating for a holistic approach that empowers rather than sidelines communities, focuses on all forms of violent threats, and fosters a climate of trust over fear. We are considering all legal options in light of these changes.
Counter-terrorism and counter-violence should be defined by us … We should define how an effective counter-terrorism policy should be pursued in this country. So, No. 1, we reject any effort, notion, and suggestion that Muslims should start spying on one another. Everywhere I go either somebody tells me that officials have met with them publicly or they tell me that they know who those folks are that are representing law enforcement. So we know they have communicated one way or the other with the Muslim community… The question is how do you deal with it in a healthy, open, transparent manner? That is why we are saying have them come in community forums, in open-dialogues, so they come through the front door and you prevent them having to come from the back door.
This award was based on a proposal submitted in the summer of 2016 by Bayan Claremont, operating as a division of the Claremont School of Theology (CST), for a two-year project entitled "Flourishing Communities." This project sought to elevate the capacity of non-profits and community organizations working to improve interreligious cooperation, civic engagement, and social justice. We will continue to pursue these goals with the support of our community and those who stand with us in solidarity.
IMAGES OF THE PROPOSED OBAMA PRESIDENTIAL LIBRARY
AND MASSIVE MUSLIM MINERET TO CALL MUSLIMS TO PRAYER
AND HATRED OF AMERICA.
The Obama Presidential Library Will Be Funded by America's 9-11 Invading Saudis Who Ban Christians and Jews From Their Dictatorship.
The Obama Presidential Monument to a Psychopath Will Provide Call to Prayers in the Muslim Tradition With One Massive Minaret