Police murder and class rule in America
Police murder and class rule in America
10 August 2015
The reign of police violence in the US claimed 16 more victims over the past week.
On Friday, Christian Taylor, an unarmed 19-year-old black man, was killed in Arlington, Texas by a police officer who shot him four times. The officer, Brad Miller, was unharmed and has been placed on administrative leave.
The same day, Matthew Russo, a 26-year-old white man, died after a Hartford, Connecticut police officer responding to a "medical-related disturbance" shocked him with a Taser.
Just over a week earlier, Zachary Hammond, a white 19-year-old, was gunned down in a parking lot in Seneca, South Carolina. He was on a first date and the passenger in his car was eating an ice cream cone. An independent autopsy found that Hammond was shot from the side, contradicting police claims that he was attempting to ram an officer.
These are only the latest in an endless series of cases in which unarmed workers and youth, posing no threat to the police, are gunned down, tasered or beaten to death. The police do their best to cover up the facts, often lying on incident reports.
There have been so many unarmed people killed by police in recent months that it is impossible to list them all. It is one year since 18-year-old Michael Brown was shot dead by officer Darren Wilson in Ferguson, Missouri. Since then, 1,144 people have been killed by the police, or more than three per day. By way of comparison, fewer than 10 people are killed by police each year in Germany, and less than three in Great Britain.
The political establishment, led by the Obama administration, has responded to growing popular opposition to police brutality with empty gestures of concern, while helping shield the vast majority of killer cops from prosecution and seeing to it that the killing machine continues.
Despite the widespread protests that erupted last year, the rate at which people are killed by the police in the US has accelerated. Since the beginning of this year, there have been 705 casualties in this internal war, 45 more than had been killed by the same date last year.
What accounts for the regularity of police killings in United States? Why is this national ignominy, which makes a mockery of America's pretenses to be a beacon of democracy, so resistant to popular opposition?
To the extent that the question of police violence is discussed within the political establishment, it is universally presented as a question of race relations, in which white officers kill black people. While there is no doubt that racist and other backward sentiments are encouraged among police officers, this official explanation ignores the fact that, according to a survey compiled by the Guardian newspaper, nearly twice as many white people were killed by police this year as blacks.
The focus on race is aimed at obscuring the more basic class issues involved. In his seminal book, The State and Revolution, the Russian revolutionary leader and Marxist political theorist Vladimir Lenin wrote that the "state power" at its root was composed of "special bodies of armed men having prisons, etc. at their command."
The state, he stressed, was fundamentally "a product and a manifestation of the irreconcilability of class antagonisms." Lenin, quoting Frederick Engels, noted that the public power "grows stronger … in proportion as class antagonisms within the state become more acute."
Observing American society from the outside, as a doctor would observe a patient, one would conclude that the state, including the police and the military, is dangerously enlarged and inflamed. The symptoms of the disorder include not only systematic police brutality, but also the massive and overgrown prison system, an intelligence apparatus that spies on the views and communications of all Americans and carries out torture and assassinations, and a military apparatus that increasingly dominates domestic political life.
The American state is led by a president who revels in carrying out extrajudicial murders, including of American citizens, and boasts about people who are "gone" thanks to the US drone killing program. Millions of lives have been sacrificed in the drive of the American ruling class to dominate the world, including in the seven countries where Obama last week bragged he had authorized military action.
The violence and barbarism inflicted on the victims of US imperialism abroad are being visited ever more directly on working people at home.
The growth of militarism has paralleled the cancerous growth of social inequality in the US, driven by decades of deindustrialization, financialization and attacks on workers' living standards that have only accelerated under the Obama administration.
Beginning with the manufactured recession of 1980–82 and the breaking of the PATCO air traffic controllers strike in 1981, the working class in America has been the target of three-and-a-half decades of relentless attacks. Over this period, the capitalist ruling elite turned from productive investment to the scrapping of factories, the slashing of workers' wages and pensions, and the amassing of ever greater personal wealth by means of financial speculation.
As a result, the number of manufacturing jobs in the US fell by nearly half, from about 20 million at its peak in 1985 to about 12 million today. This deindustrialization turned large swaths of cities such as Detroit, Baltimore, St. Louis and Philadelphia into the industrial graveyards they are today.
In these devastated neighborhoods, where the unemployment rate is sometimes more than 50 percent and youth unemployment is even higher, the police operate as virtual death squads. Drawn primarily from the most backward elements of society, and encouraged to feel hatred and resentment for workers and youth, the police carry out daily acts of violence, brutality and intimidation, interpreting any reluctance to obey as a license to kill.
The American financial oligarchy has no solutions to the vast poverty and inequality that dominate American society. As with any historically doomed social class, it turns more and more openly to violence and repression to defend its power.
Andre Damon
Campus cop who shot unarmed black man dead is charged with murder - after chilling bodycam video exposed his lies about traffic stop
Ray Tensing, 25, was indicted by a grand jury for killing Samuel DuBose,

Pulled the 43-year old over on July 19 for not having a front licence plate

Prosecutor Joe Deters says the deadly shooting was '

asinine',

'senseless' and 'chicken crap'

In his statement he said Tensing 'should never have been a police officer'

The cop has turned himself in to authorities and is being held in custody

He has also been fired from the University of

Cincinnati Police Department

DuBose's mother Audrey forgave Tensing in a powerful statement

Cincinnati

police are braced for marches and demonstrations in response
Since the start of the year, at least 657 people have been killed by police in the US, according to a list compiled by the Guardian newspaper
Hundreds attend funeral of Sandra Bland
By Evan Blake
27 July 2015
On Saturday, hundreds of family members, friends and supporters attended the funeral of Sandra Bland, a 28-year-old African American woman found hanged in a Waller County, Texas jail cell on July 13, three days after being arrested during a traffic stop. The funeral was held at her lifelong church, DuPage African Methodist Episcopal Church, in Lisle, Ill., outside Chicago.
The official investigation into Bland's death, being carried out by local authorities in collaboration with the FBI, has sought to whitewash police involvement in her death.
Last Thursday, Waller County Prosecutor Warren Diepraam declared that an official autopsy found unequivocally that Bland's death was a suicide. His presentation has been reported uncritically as fact by almost every mainstream news outlet in America, in an effort to sweep the entire case under the rug.
At Bland's funeral, her family upheld her character, while maintaining that she would never harm herself. The last speaker was Bland's mother, Geneva Reed-Veal, who emphatically declared, "That baby did not take herself out of here."
Placing no confidence in the official investigation, Reed-Veal insisted, "I'm going to find out what happened to my baby. My baby has spoken. She's still speaking and no, she didn't kill herself." Her remarks brought those in attendance to their feet.
Reed-Veal spoke of a recent road trip she had taken with her daughter, during which Bland told her that she had found her life's calling, which she intended to pursue in Texas. "Her purpose was to stop all injustice against blacks in the South," Reed-Veal told mourners at the funeral.
Immediately prior to Bland's death, she had been accepted for a position at her alma mater, Prairie View A&M University, an historically black school in Prairie View, Texas. She was just getting settled in her new home, and was set to begin work in August before her encounter with the police.
While driving through Prairie View, Bland was pulled over, supposedly for failing to signal before changing lanes. Dash cam footage of the traffic stop, released last week by the Texas Department of Public Safety, shows Bland being verbally harassed, threatened and physically assaulted by state trooper Brian Encinia, who pointed his Taser at her and screamed "I will light you up!" before arresting her.
Speaking to reporters outside the church on Saturday, Rev. Theresa Dear, who had known Bland since she first began attending DuPage as a child, highlighted the fact that she was arrested because she asserted her democratic rights in the face of police intimidation, saying, "She challenged and asked the question why, 'Why should I put out the cigarette?' She asked 12 times, 'Why am I being arrested?'"
Bland's subsequent death while in jail is shrouded in mystery, with numerous indices pointing to a cover-up. Investigators have released dubious information piecemeal, creating a highly contradictory official story.
Last Wednesday, following a closed door meeting between state politicians and members of the team investigating Bland's death, authorities released two conflicting suicide-risk assessment forms allegedly completed during Bland's processing into jail.
The first form claims that Bland stated that she tried to commit suicide in 2014 by taking pills, due to a "lost baby," and that she had felt depressed and considered committing suicide in the past year. The second form, however, indicates that Bland answered "no" to the same questions regarding depression and thoughts of suicide.
At Bland's funeral, friends and family reiterated that she was a smart, assertive woman, and well known as having "healthy self-esteem," according to Dear.
Dear articulated the view shared by millions, saying, "When you are about to start a new job, when you know your family is about to bring the money for your release, when you are an activist and a fighter, you don't take your own life."
Last weekend, members of DuPage A.M.E. held a march to honor Bland's memory, while calling for a more thorough investigation into her death. Solidarity protests have also taken place in cities across the US, including in New York City (where at least a dozen were arrested), Los Angeles, Newark, Philadelphia and Austin. There have also been consistent demonstrations outside the Waller County Jail where Bland was held.
At Bland's funeral, Senator Richard J. Durbin and Representative Bill Foster, both Democrats of Illinois, declared that they had each sent letters to Attorney General Loretta Lynch, urging her to investigate Bland's death.
In fact, the Obama administration has done everything in its power to shield killer cops from prosecution. The White House has not brought federal civil rights charges against officers in any of the high-profile police murders in recent months, including the killing of Freddie Grey, Eric Garner, Michael Brown, and Tamir Rice. The administration has taken the side of the police every time a police violence case has come before the Supreme Court.
On March 4, the Justice Department upheld the initial investigation and exonerated killer cop Darren Wilson in last year's killing of Michael Brown in Ferguson, Missouri. In coming to this conclusion, they discounted the nearly two dozen witnesses who claimed that Brown had his hands up when he was killed, while giving credibility to those who corroborated Wilson's testimony.
Since the start of the year, at least 657 people have been killed by police in the US, according to a list compiled by the Guardian newspaper.
OBAMA IN SELMA: Is it his biggest hoax and lie to date?
"The lies and demagogy in Obama's Selma speech cannot conceal the huge class gulf between the government he heads and the self-sacrificing workers and youth who led the fight for civil rights. They fought for equality. He represents privilege."
Questions abound in police shooting
death of black Texas teen
DALLAS, Aug 9 (Reuters) - Texas police on Sunday were trying to figure out what prompted a black teenager to smash his car into an auto dealership, and why a white police officer still in training fatally shot the unarmed 19-year-old four times.
Christian Taylor became the latest unarmed black man to die at the hands of a white police officer after officials said he was seen on security surveillance tape vandalizing cars at an auto dealership in Arlington.
Taylor was shot four times by Arlington police officer Brad Miller, 49, who was still undergoing training with the department, Arlington police chief Will Johnson said on Saturday. The Tarrant County Medical Examiner's Office found Taylor had gunshot wounds to the neck, chest and abdomen.
But Johnson did not explain what led to what he described as a confrontation inside dealership building that led Miller to open fire on Taylor, while a second police officer used a Taser. The officers were not wearing body cameras.
Taylor's brother Joshua, 23, said the family wanted details of what happened, calling the information from the police "blurry."
"Until we get concrete facts, we won't know what happened," Joshua Taylor told Reuters in a phone interview.
"He was a really good guy. He was family-oriented. He was an A student and had he everything going for him," Taylor said, adding that his brother had "recently given his life to God."
"He was happy, everything was great. He was trying to touch people's lives," Joshua Taylor said.
His father Adrian Taylor said he had no idea what led Christian, a college football player at Angelo State University, to smash a car though the window of the dealership on Friday.
"You know, it could have been too much drinking. He could have been wrong place at the wrong time," Adrian Taylor told the CBS Dallas TV affiliate, CBS 11.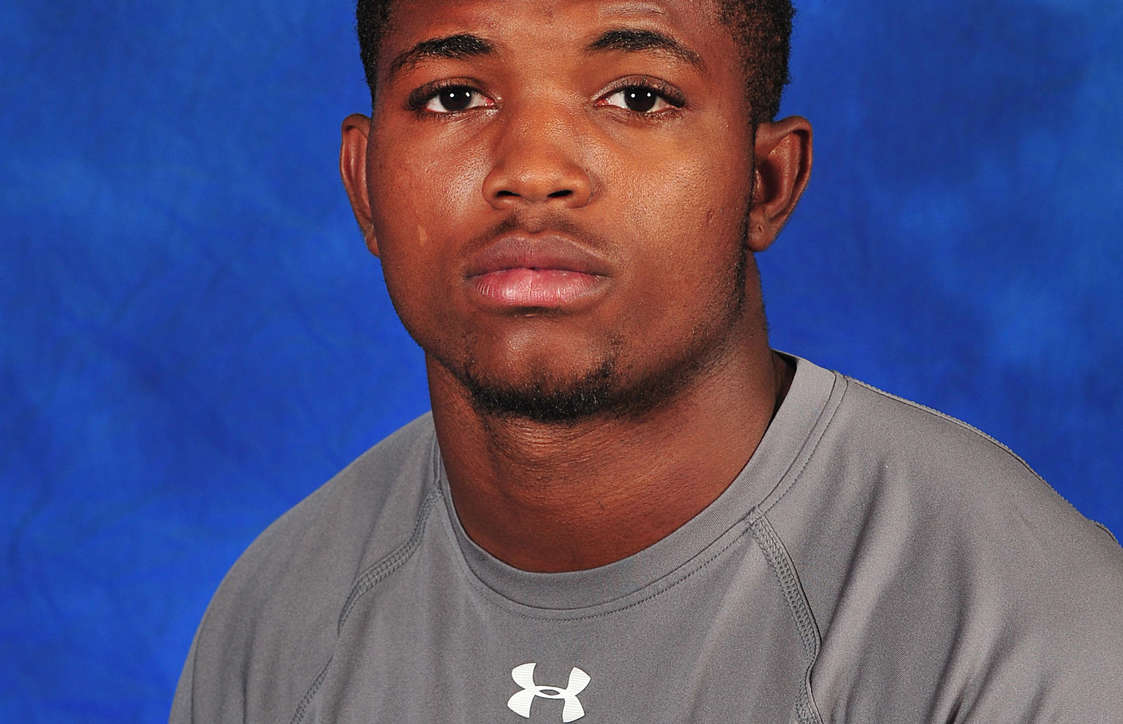 Taylor's death came just ahead of the one-year anniversary of the fatal shooting of teenager Michael Brown at the hands of a white officer in Ferguson, Missouri, that ignited protests across U.S. cities.
On a Twitter account appearing to belong to Christian Taylor, the teenager commented about police violence. "Police taking black lives as easy as flippin a coin, with no consequences smh," says one message posted in December, using the acronym for shaking my head.
Less than two weeks ago, he posted; "I don't wanna die too younggggg."
Miller was placed on leave after the shooting and Johnson said he had asked the Federal Bureau of Investigation to help investigate Taylor's death. The FBI is expected to respond to the request on Monday, an Arlington police spokeswoman said.
The two police officers were responding to a call from a security company on Friday about a burglary at the dealership in Arlington.
Police said Taylor drove his own car or a car belonging to his family into the dealership.
Edited portions of security surveillance video released to the media shows Taylor jumping on top of cars parked outside dealership and attempting to stomp out a front windshield. It does not show the shooting or the moments leading up to it.
Johnson said when the officers arrived they found Taylor had driven a vehicle into the front of the building. He ran to another part of the building, where he tried to escape through a locked door.
Taylor had a prior arrest involving the unauthorized possession of prescription painkillers, police said. He was sentenced to six months deferred-adjudication probation in December.
Joshua Taylor described the incident as "normal teenage stuff" and said Christian had "turned his life around."
(Reporting by Marice Richter in Dallas and Laila Kearney in New York; Editing by Jill Serjeant and Lisa Shumaker)