Obama Climate Change Speech Earns $3.26 Million for Personal Foundation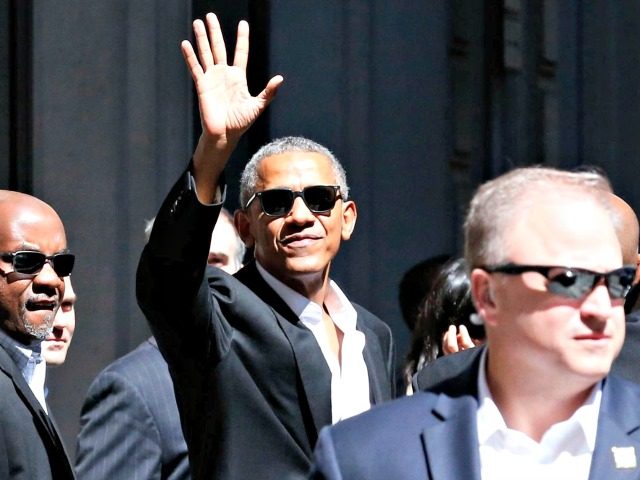 Former president Barack Obama's speech on climate change in Italy raised €3 million ($3.26m) in ticket sales for his personal foundation, according to a report from The Times.
Having travelled to Milan in a private jet, Obama settled into a presidential suite at the Park Hyatt hotel, costing roughly €8,400 a night. Meanwhile, his entourage of security occupied two separate floors across the hotel, while his security detail required a convoy of 14 cars, a helicopter, and 300 extra police.
The event, which attracted 3500 people paying €850 a ticket, raised nearly €3 million, all of which will go to the Obama Foundation dedicated to "renewal and global progress."
"When it comes to climate change, the hour is almost upon us," Obama told the summit, urging the world to "set aside our parochial differences" to create a better planet for the world's children.
"If we seize the future, there is nothing that we cannot do … I do not believe that this planet is condemned to ever-rising temperatures," Obama said. "I believe these are problems that were caused by man and can be solved by man."
Obama's visit to Italy forms part of a series of speeches in which he defends his record in office and attempts to undermine the policies of the Trump administration. In an acceptance speech after receiving the John F. Kennedy "Profile in Courage" award, Obama urged lawmakers to show "political courage" to save his landmark healthcare bill known as the Affordable Care Act.
In April, Obama agreed to a $400,000 speaking fee to give a speech at the prominent Wall Street firm Cantor Fitzgerald.
Responding to the news, Sen. Elizabeth Warren (D-MA),
widely tipped as a Democratic presidential candidate in
2020, said she was "troubled" by the revelation, adding that
money is the "snake that slithers through Washington" that
"ultimately undermines democracy."
IMAGES OF THE PROPOSED OBAMA
PRESIDENTIAL LIBRARY
AND MASSIVE MUSLIM MINERET TO CALL MUSLIMS TO PRAYER
AND HATRED OF AMERICA.
The Obama Presidential Library Will Be Funded by America's 9-11 Invading Saudis Who Ban Christians and Jews From Their Dictatorship.
The Obama Presidential Monument to a Psychopath Will Provide Call to Prayers in the Muslim Tradition With One Massive Minaret
DESTROY AMERICA TO BUILD A MUSLIM-STYLE DICTATORSHIP WHERE LA RAZA MEXICANS VOTE HIM PRESIDENT FOR LIFE
"He is intent on maximizing the damage he inflicted on the country during the two terms of his faux presidency, having now set up shop in Washington to pursue a post-presidency agenda advancing a left-wing insurgency, civil unrest, racial conflict and the destabilizing activities of a shadow."
BUILDING HIS RETURN TO POWER PARTY WITH ILLEGALS!


FUNDER AND LEADER OF THE MEXICAN FASCIST PARTY of LA RAZA "The Race"
During Obama's 8 year bankster regime, he openly operated and funded the Mexican fascist racist party of LA RAZA "The Race" from the White House under La Raza VP Cecilia Munoz…. Google Obama and LA RAZA!
THE LEGACY OF BARACK OBAMA:
Final Death of the American White Middle Class

Under the Obama administration, more Americans have found themselves consigned to economic ghettos, living in neighborhoods where more than 40 percent subsist below the poverty level.
*
Millions more now live in "high poverty" districts of 20-40 percent poverty, according to recently released report by the Brookings Institution.
THE OBAMA BOOK DEAL: Sixty-five million dollars—or even $267.5 million—is a small price to pay for the contribution the former president made to enriching the already fabulously rich, defending the American ruling elite's geopolitical interests around the world and continuing the assault on the wages, benefits and living standards of the working class.
BLACK LIVES MATTER? Who kills more blacks than blacks???
THE RACIST – B.L.M. – CORPORATE FUNDED BLACK FASCIST MOVEMENT
"And yes, professor, black criminality is just as wildly out of proportion in Washington as it is in the rest of country. Even more so."
"Obama is no fool and he understands -- having encouraged Black Lives Matter and the war on police and law enforcement, having facilitated ballooning welfare rolls and doubling student debt to $1.35 trillion, having presided over a flood of immigrants illegally crossing the southern border, and having pushed unprecedented deficit spending that added nearly a trillion dollars annually to the federal debt and doubling that debt in eight years to $20 trillion -- that the U.S. is nearer collapse than at any previous time. And every Marxist knows that socialist transformation first requires collapse of the old order."
GLOBAL LOOTING of the POOR
TRUMP, KUSHNER and FAMILY, BILL, HILLARY & CHELSEA CLINTON, MICHELLE AND "HOPE & CHANGE" PSYCHOPATH MUSLIM BARACK OBAMA!
Will they finish off America as they serve themselves and the super rich???