THE MEXICAN INVASION of AMERICA'S OPEN and UNDEFENDED BORDERS
One in every
eleven persons
born in Mexico has gone to the U.S. The National Review reported that
in 2014
$1.87 billion was spent on incarcerating illegal immigrant criminals….Now add hundreds of billions for welfare and remittances!
MICHAEL BARGO, Jr…… for the AMERICAN THINKER.COM
Sheriff Explains Why He Works With ICE
Says immigration enforcement is a national security issue and law enforcement across the country should help
October 31, 2017 4:41 pm
Last Updated: November 4, 2017 1:08 pm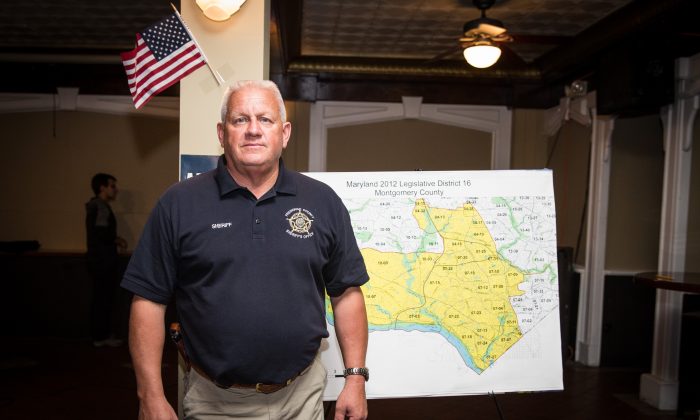 BETHESDA, Md.—Sheriff Chuck Jenkins swears by the 287(g) program, calling it a "force multiplier" for immigration enforcement and an effective way to keep criminals off the streets.
The 287(g) program was added to the Immigration and Nationality Act in 1996 under President Bill Clinton, and is a cooperation agreement between Immigration and Customs Enforcement (ICE) and a state or local law enforcement agency.
Under the agreement, designated officers are trained and supervised by ICE to perform some immigration law enforcement functions within jail settings.
When Jenkins was elected sheriff for Frederick County, Maryland, in 2006, one of his priorities was to join the program.
"I believe it's a real key piece of national security," he said at a public event on Oct. 17. "I believe it achieves the goal of keeping the county safer; it keeps the criminals from being released back onto the street and not being released back to commit more serious crimes—all the things that we find people are victims of all over the country."
Jenkins said the added workload for his department is negligible and ICE handles all the costs.
As a sheriff, I have an obligation to do everything within my power … with the legal means I have, to use every program, every resource, every tool to do what I can to protect the citizens of my county.
"Really, what we do is facilitate a process. We help ICE in determining their [an inmate's] immigration status," he said. If here illegally, they are usually placed in deportation proceedings by ICE.
"The only inquiries that we make are once an individual is arrested and taken to our booking center at the jail. Everybody is asked two questions: 'Where were you born?', and, 'What country are you a citizen of?'"
If the detainee answers anything other than "the United States," an immigration status check is conducted using the federal database. Jenkins said most people are honest, because they know that the consequences of lying are far greater.
Deputies never ask an individual's immigration status while responding to an incident, while on a traffic stop, or while conducting an investigation, Jenkins said.
"I guarantee you … nobody is out there asking questions about immigration status on the street. It just simply doesn't happen," he said.
Sanctuaries
Nationwide, many jurisdictions have
created so-called sanctuary cities, which
ban or limit local law enforcement from
cooperating with federal immigration
authorities. These sanctuaries refuse to
alert ICE when an inmate is being
released, or refuse to hold an inmate for
up to 48 hours longer in order for ICE to
take custody—even when ICE issues a
federal detainer warrant.
Last month, ICE arrested a convicted felon in New York after the NYPD had refused to honor the detainer request lodged by ICE and released him.
Pablo Garcia-Taveras, 45, a Dominican national, was previously convicted of felony criminal possession of a controlled substance and felony attempted criminal possession of a controlled substance. He had also previously been deported twice.
"Every day, our officers put their lives on the line to arrest criminal aliens who could have easily been transferred to ICE custody within the confines of a secure jail environment," said Thomas Decker, field office director for ICE's Enforcement and Removal Operations in New York.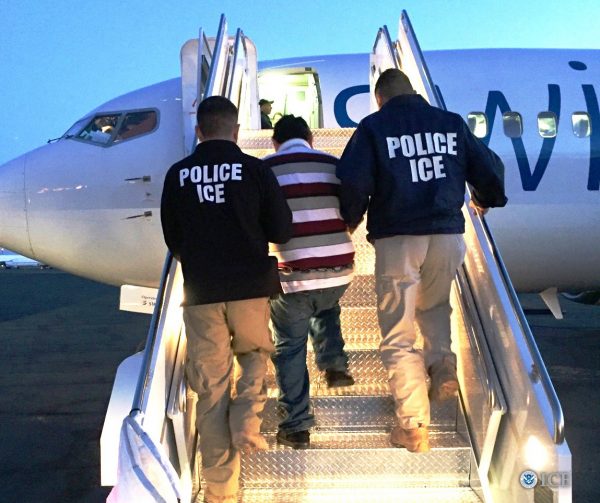 Jenkins said he doesn't view ICE detainers any differently than those from other agencies, like the FBI, the U.S. Marshals, or the Bureau of Alcohol, Tobacco, Firearms and Explosives.
"We're going to honor their detainers, we're going to honor their requests with holds on prisoners," he said.
In September, ICE arrested almost 500 individuals in sanctuary jurisdictions that deny ICE access to jails and prisons to interview suspected immigration violators, or that do not honor ICE detainers.
Of the 498 individuals taken into custody, 317 had criminal convictions, 68 were immigration fugitives, 104 were previously deported criminal aliens, and 18 are gang members or affiliates, according to ICE.
Jenkins said some politicians in his local city election have been talking about making Frederick a sanctuary city.
"The bottom line is, it can't be, because of what we're doing at the detention center," he said. "Everybody that's arrested in Frederick City comes to my jail. Therefore, you're subject to removal if you're in the country illegally. So they can call it what they want, but Frederick City and Frederick County are not going to be sanctuaries."
Jenkins is elected directly by the people in Frederick County, rather than by the county executive, which is the case in other counties, such as neighboring Montgomery County.
That gives Jenkins the freedom to join programs such as the 287(g) without political interference.
However, he said, County Executive Jan Gardner has told him she doesn't like the program.
"If she had her way, it would be gone. I told her as long as I'm sheriff, we're going to have it," Jenkins said. "As a sheriff, I have an obligation to do everything within my power … with the legal means I have, to use every program, every resource, every tool to do what I can to protect the citizens of my county."
Slimmed Down 287(g) Program
The original 287(g) program included a task force component, under which local 287(g)-designated officers were authorized to carry out immigration enforcement actions on the street. Under the task force model, officers could question individuals about their immigration status, serve warrants for immigration violations, and issue immigration detainers.
The task force part was stripped out in 2009 by the Obama administration, and 287(g) now just includes agreements that involve cooperation within jails, prisons, and detention centers.
Since 2008, when Frederick County joined the program, the sheriff's department has cooperated with ICE with 1,525 individuals who were identified as being in the country illegally and committing crimes in the county, Jenkins said.
"Almost 1,400 of those individuals with detainers were placed into removal proceedings, with eventually a final order of removal," Jenkins said. "So those people who committed crimes in our county, for the most part, are now gone."
Jenkins said that of the roughly 1,400 people, 67 were validated gang members, and of them, 18 had some type of specialized training, such as sniper or commando training, or they were martial artists, knife fighters, or trained assassins.
"They're the type of people that are coming across our borders and happened to infiltrate and get to this part of the country," he said.
Jenkins said it doesn't take a 287(g) agreement to cooperate with ICE.
"All you have to do is pick up the phone as a detention center, as a Bureau of Corrections, and say, 'Listen, I've got someone you want on a detainer. They're in my jail. I'm going to release them in 48 hours.'
"I guarantee you, ICE will show up and pick him up."
Jenkins said the citizens of Frederick County are "by and large" overwhelmingly supportive of his department.
He said the serious crime rate in the county, as categorized by the FBI and Department of Justice, is less than half of the national average.
"I'm not tying that directly and solely to our participation with ICE in the program, but that certainly plays a part," Jenkins said.
'Chilling Effect'
Jenkins said the 287(g) program gets a bad rap from media and advocacy groups, mostly because they misconstrue what the program does, and doesn't, do.
Most politicians in sanctuary jurisdictions say that cooperating with ICE creates a "chilling effect" in immigrant communities—meaning victims and witnesses of crime stop coming forward because they are afraid of being deported.
However, protections such as the U-visa already exist for illegal aliens who are victims or witnesses of crime. And law enforcement officers don't ask the immigration status of witnesses and victims of crimes, unless they themselves have been arrested for a crime.
"That's why I don't buy this argument [of] the 'chilling effect,'" Jenkins said. "The local immigrant communities want to make them safer. They don't want to be victims in their own communities. And we find that, by and large, the immigrant community cooperates with us because they know those protections are there."
Beyond only operating in jails, the 287(g)-designated officers are able to issue prosecutorial releases, which means an illegal alien could avoid being placed into deportation proceedings.
"If you're arrested and we determine that you're in the country illegally, if there is a humanitarian reason, like you've got some type of illness, cancer, you're pregnant, you're a sole provider for a family or children, or it's a very minor offense … we're going to cut [you] loose."
Jenkins said his department has issued 204 prosecutorial releases since 2015.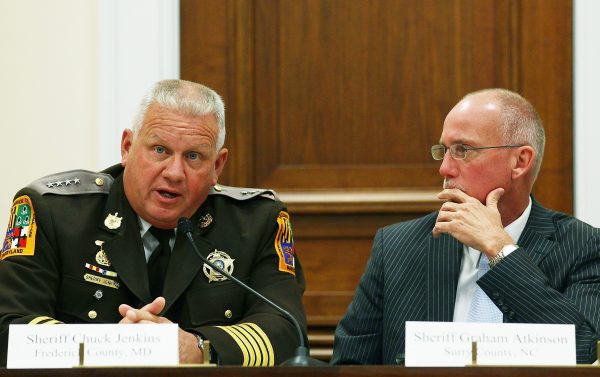 Cost of Program
Aside from the cost of sending deputies and corrections officers to South Carolina for training, there is no ongoing cost to the sheriff's department.
"Not one dollar of Frederick County taxpayer money goes into that program," Jenkins said. He said ICE pays for everything, including the training, the computers to do the database checks, the fingerprinting equipment, the language lines for interpretation, and the transportation of detainees.
"ICE has absolute oversight and supervision of the program," he said. "They look at every file, they look at every detainer—everything is reviewed for sufficiency, for legal accuracy. ICE supervisors come into our jail every day."
Jenkins said his department could not have a better relationship with ICE.
"There are not enough ICE agents out there to do the job, there simply isn't," Jenkins said. "So they need the help of law enforcement, they need the help of corrections, and they need the help of the prisons and sheriffs across the country to make this work."
Two other counties (out of 23) in Maryland—Harford and Anne Arundel—have 287(g) agreements with ICE.
In total, ICE now has agreements with 60 law enforcement agencies in 18 states—almost double the number of active programs in 2016, according to data on ICE's website.
THE ILLEGALS' CRIME TIDAL
WAVE
(Legals) safe from the foreign predators and their violence? NOT IN AMERICA'S OPEN BORDERS!
One could ask Kate Steinle, if she was still alive, what
happens when a multiple-times deported felon
continues to return to the U.S. after each deportation,
SHOCKING IMAGES OF CARTELS ON U.S. BORDERS:
"Heroin is not produced in the United States. Every gram of heroin present in the United States provides unequivocal evidence of a failure of border security because every gram of heroin was smuggled into the United States. Indeed, this is precisely a point that Attorney General Jeff Sessions made during his appearance before the Senate Judiciary Committee hearing on October 18, 2017 when he again raised the need to secure the U.S./Mexican border to protect American lives." Michael Cutler …..FrontPageMag.com
Mark Levin: 'There Is a Big, Ugly Side to Illegal Immigration'
Thursday on
Levin TV
,
nationally syndicated radio show
host Mark Levin warned about the dangers of illegal immigration saying,
"There is a big, ugly side of illegal immigration," Levin said. "There's all kinds of
crimes being committed by people who aren't supposed to be here."
Adios, California
A fifth-generation Californian laments his state's ongoing economic collapse.
By Steve Baldwin
American Spectator, October 19, 2017
What's clear is that the producers are leaving the state and the takers are coming in. Many of the takers are illegal aliens, now estimated to number over 2.6 million. The Federation for American Immigration Reform estimates that California spends $22 billion on government services for illegal aliens, including welfare, education, Medicaid, and criminal justice system costs. Liberals claim they more than make that up with taxes paid, but that's simply not true. It's not even close. FAIR estimates illegal aliens in California contribute only $1.21 billion in tax revenue, which means they cost California $20.6 billion, or at least $1,800 per household.

Nonetheless, open border advocates, such as Facebook Chairman Mark Zuckerberg, claim illegal aliens are a net benefit to California with little evidence to support such an assertion. As the Center for Immigration Studies has documented, the vast majority of illegals are poor, uneducated, and with few skills. How does accepting millions of illegal aliens and then granting them access to dozens of welfare programs benefit California's economy? If illegal aliens were contributing to the economy in any meaningful way, California, with its 2.6 million illegal aliens, would be booming.

Furthermore, the complexion of illegal aliens has changed with far more on welfare and committing crimes than those who entered the country in the 1980s. Heather Mac Donald of the Manhattan Institute has testified before a Congressional committee that in 2004, 95% of all outstanding warrants for murder in Los Angeles were for illegal aliens; in 2000, 23% of all Los Angeles County jail inmates were illegal aliens and that in 1995, 60% of Los Angeles's largest street gang, the 18th Street gang, were illegal aliens. Granted, those statistics are old, but if you talk to any California law enforcement officer, they will tell you it's much worse today. The problem is that the Brown administration will not release any statewide data on illegal alien crimes. That would be insensitive. And now that California has declared itself a "sanctuary state," there is little doubt this sends a message south of the border that will further escalate illegal immigration into the state.

Indeed, California goes out of its way to attract illegal aliens. The state has even created government programs that cater exclusively to illegal aliens. For example, the State Department of Motor Vehicles has offices that only process driver licenses for illegal aliens. With over a million illegal aliens now driving in California, the state felt compelled to help them avoid the long lines the rest of us must endure at the DMV. And just recently, the state-funded University of California system announced it will spend $27 million on financial aid for illegal aliens. They've even taken out radio spots on stations all along the border, just to make sure other potential illegal border crossers hear about this program. I can't afford college education for all my four sons, but my taxes will pay for illegals to get a college education.
JUDICIAL WATCH
ICE Director Condemns California's New Sanctuary Law
DEATH OF THE AMERICAN MIDDLE-CLASS AND THE STAGGERING COST OF MEXICO'S WELFARE STATE AND CRIME TIDAL WAVE ON AMERICAN BACKS.
Tom Homan says law will force ICE to make more arrests in communities
October 8, 2017 12:44 pm Last Updated: October 9, 2017 11:15 am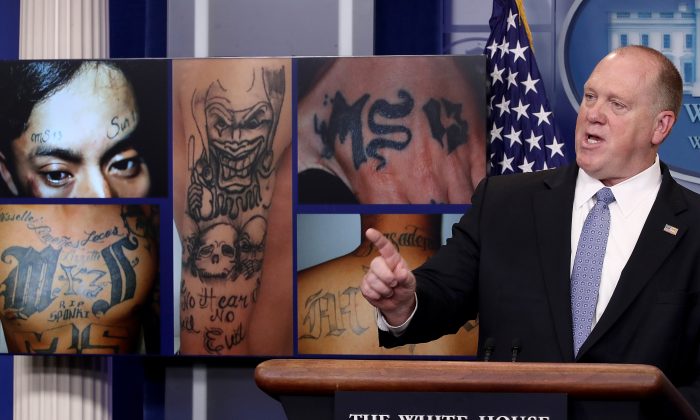 Tom Homan, acting director of Immigration and Customs Enforcement (ICE), slammed California's new sanctuary bill, warning it will force ICE to conduct "at-large arrests in local neighborhoods and at worksites."
Homan said the bill—signed by Gov.
Jerry Brown on Oct. 5—will hamper
ICE operations in California "by
nearly eliminating all cooperation
and communication with our law
enforcement partners in the state."
"[This] will inevitably result in additional collateral arrests, instead of focusing on arrests at jails and prisons where transfers are safer for ICE officers and the community," Homan said in a statement on Oct. 6.
California is the first state to pass such sweeping legislation that shields illegal aliens from immigration enforcement, although at least 300 cities and counties across the country have similar policies.
Connecticut, New Mexico, and Colorado are the other states that have sanctuary policies—some of which simply state they will not honor any ICE detainer requests, according to a map and list on the Center for Immigration Studies
website
.
BLOG: COME TO MEXIFORNIA
AND YOU WILL SEE A HELL OF A
LOT MORE MEXICANS THAT
ONLY 2 MILLION... THE ACTUAL
NUMBER IS CLOSER TO HALF OF
CA'S 35 MILLION POPULATION
AND BREED ANCHOR BABIES
FOR WELFARE LIKE BUNNIES.
Nearly one quarter (more than 2 million) of the country's estimated illegal alien population lives in California, according to the Public Policy Institute of California. The bill says that "almost one in three Californians is foreign born and one in two children in California has at least one immigrant parent"—but it doesn't specify whether "immigrant" is legal or illegal.
Senate bill 54 will go into effect on Jan. 1, 2018.
SB-54 forbids local law enforcement to communicate with immigration officials about when a criminal is about to be released from custody, except under special circumstances.
It also prevents local jails from holding inmates for up to 48 hours longer when Immigration and Customs Enforcement (ICE) makes a request for transfer—except for inmates who have committed certain violent crimes, such as murder, robbery, rape, or kidnapping.
Nationwide, for the 19-month period between Jan. 1, 2014, and Sept. 30, 2016, about 68 percent of denied detainer requests were for individuals with a criminal history, according to ICE. In fiscal 2016, under the Obama administration, the number of wanted illegal aliens handed over to federal authorities from detention facilities plummeted to
less than 3 percent
of what it was six years prior.
SB-54 bans state and local law enforcement officers from asking the immigration status of anyone during a routine stop, and they are prohibited from arresting illegal aliens based on civil immigration warrants.
The bill also prohibits state and local law enforcement agencies from using resources—including facilities, equipment, and personnel—for immigration enforcement purposes without a court warrant.
Violators could be subject to civil action, said state Senate president and author of the bill, Kevin de León.
Sacramento County Sheriff Scott Jones said the governor only signed the bill after making sure his own correctional system was exempted from the prohibition of cooperating with ICE.
"Now … it will be incumbent upon every sheriff in this state to determine how best to keep dangerous criminals from being released from their jails," Jones said in an email.
"Since the law doesn't take effect until Jan. 1, I will be using the time between now and then to determine the most effective way possible under the law to cooperate with ICE only inside our jail facilities to maximize public safety and reduce the likelihood of further victimization by dangerous criminals."
Jones said he encourages the Department of Justice to challenge SB-54 under the premise that federal immigration law supersedes state laws.
SB-54 is in stark contrast to the administration's policies of enforcing existing immigration law.
White House Press Secretary Sarah Sanders said on Oct. 5 that the governor made an "irresponsible decision" by signing the bill. She said she hopes Californians will push back on the new law.
President Donald Trump issued an executive order on Jan. 25 that vowed to end sanctuary jurisdictions. He said they "willfully violate federal law in an attempt to shield aliens from removal from the United States."
Attorney General Jeff Sessions has started clamping down on sanctuary jurisdictions by making them ineligible for some federal funding. Due to its sanctuary policies, Los Angeles already stands to lose $1.8 million, based on the fiscal 2016 amount, of Byrne JAG grants, the primary means for providing federal money to state and local law enforcement.
Devin O'Malley, spokesman for the Department of Justice, said the California decision is disappointing.
"California has now codified a commitment to returning criminal aliens back onto our streets, which undermines public safety, national security, and law enforcement," O'Malley said.
"Given the multiple high-profile incidents that have occurred in California in recent years, it is especially disappointing that state leaders have made it law to limit cooperation between local jurisdictions and immigration authorities attempting to keep Californians safe."
High-profile murders committed by illegal aliens have not convinced state politicians to do away with sanctuary policies.
Kate Steinle, 32, was fatally shot in San Francisco in 2015 by an illegal immigrant who had been deported five times.
Juan Francisco Lopez-Sanchez was detained for an outstanding drug warrant in March 2015. An ICE detainer request to local authorities was refused, and Lopez-Sanchez was released. He killed Steinle with a stolen gun in June 2015.
In 2008, 17-year-old Jamiel Shaw II was shot and killed in Los Angeles by an illegal immigrant who had just been released from jail.
California has been building its sanctuary policies since 1979, when the Los Angeles Police Department implemented Special Order 40. It prohibited police officers from asking about immigration status during routine stops.
In 2014, Brown signed a bill that reduced the maximum sentence of a misdemeanor to 364 days, down from 365. Immigrants—legal and illegal—are subject to expedited deportation if they receive a sentence of 365 days or more.
Proponents for sanctuary policies say that the policies promote trust in immigrant communities and, therefore, immigrants will come forward to report crimes—purportedly making the community safer.
AG Sessions countered that view, saying
in Miami recently
that no evidence supports the claim.
"To the contrary, Chicago has consistently had one of the lowest murder investigation clearance rates in the country," Sessions said, adding that a suspect is identified in only one of every four murders.
"Far from making Chicago safer, these policies likely make cooperation with law enforcement more difficult: If there are no real consequences for the criminal, no witness will risk their life to report the crime. That means criminals walk free and victims suffer in silence," he said on Aug. 16.
MEXICAN-OCCUPIED CA…. The La Raza Welfare State
Gov. Jerry Brown, on a trip to Mexico, seeks to position California as a more welcoming place for immigrants... $35 BILLION PER YEAR IN WELFARE NOT WELCOMING ENOUGH?!?
We've got an even more ominous enemy within our borders that promotes "Reconquista of Aztlan" or the reconquest of California, Arizona, New Mexico and Texas into the country of Mexico…. AND IT IS THE DEMOCRAT PARTY!
Sanctuary Policies Shield Convicted Criminals From Feds
Immigration agents forced to the streets to find criminal aliens released by local jails
March 1, 2017 1:06 pm Last Updated: March 3, 2017 4:39 pm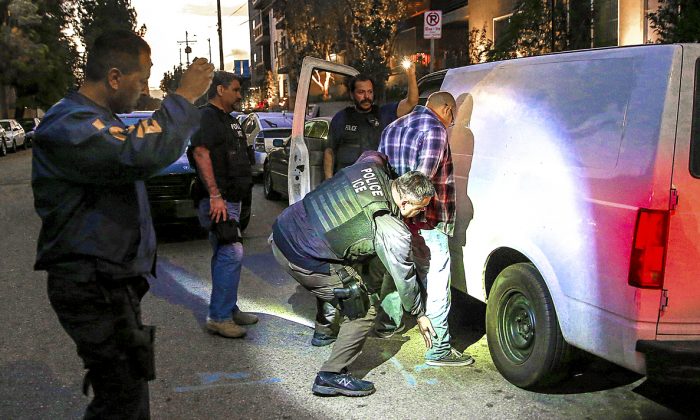 NEW YORK—The number of illegal immigrants handed over to authorities nationwide is less than 3 percent of what it was six years ago, thanks to a suite of sanctuary policies at the local level combined with a hands-off approach at the federal level in recent years.
The New York and Los Angeles metro areas are the most popular destinations for illegal immigrants in the country. New York City has an estimated 500,000 illegal immigrants, according to the mayor's office.
New York City Mayor Bill de Blasio has vowed to oppose President Donald Trump's executive order that promises to ramp up interior security and penalize jurisdictions that "willfully violate federal law in an attempt to shield aliens from removal."
De Blasio said New York City already cooperates with federal agencies when necessary. The city says it shares information with the feds if an illegal immigrant commits any of 170 crimes listed, including assault, rape, arson, terrorism, and firearms and drug offenses.
"These are serious offenses, violent crimes. This is the law of New York City, has been for years. It's been the basis for productive cooperation with the federal government," de Blasio said at a live-streamed press conference on Jan. 25.
In fiscal 2016, Immigration and Customs Enforcement (ICE) submitted 80 inmate detainers to the NYPD, according to the mayor's office. A detainer is a request to local law enforcement to hold an inmate for up to 48 hours longer, for investigation and possible transfer to ICE custody.
Of the 80 detainers lodged, only two criminals were transferred to ICE, according to the mayor's office.
The two were handed over because the city was presented with either a judicial warrant or a subpoena for their transfer to ICE, the mayor's office said.
During the same year, the Department of Correction (DOC) received $10.5 million in federal money for "criminal alien assistance," which is meant to reimburse costs related to the detention of certain illegal immigrants, according to a city official.
De Blasio says the current system is working. "It's helped to keep us safe without undermining the relationship between our police and our communities," he said.
But, according to ICE, the cooperation from city law enforcement is limited.
The vast majority of ICE's requests for the hold and transfer of inmates are ignored by the hundreds of local jurisdictions that have sanctuary policies.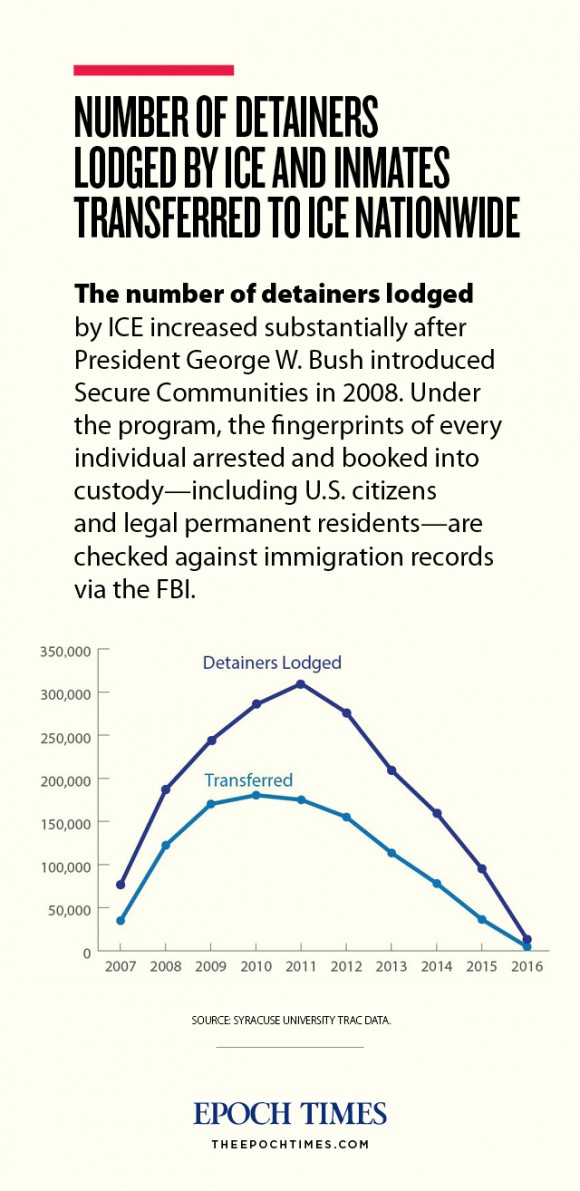 Nationwide, for the 19-month period between Jan. 1, 2014, and Sept. 30, 2016, about 68 percent of denied detainers were for individuals with a criminal history, according to ICE.
"Declined detainers result in convicted criminals being released back into U.S. communities with the potential to re-offend," the 2016 ICE report states. Moreover, now ICE must expend additional taxpayer resources to locate and arrest convicted criminals—who are at-large rather than having been transferred directly from jails into ICE custody.
A recent example in New York City involved a member of the violent MS-13 gang who was arrested in Queens by immigration agents on Feb. 16, after he was released from New York City's Rikers Island Correctional facility.
Estivan Rafael Marques Velasquez, a Salvadoran national, has a criminal past in the United States, including reckless endangerment in the second degree, criminal possession of a weapon in the fourth degree, and disorderly conduct, according to ICE.
In 2015, an immigration judge had ordered that Marques Velasquez be removed from the country.
ICE issued a detainer to Rikers Island on May 3, 2016, requesting that Marques Velasquez be handed over to them once he had served his time for disorderly conduct.
DOC did not honor the detainer and, instead, released him.
Another example was a Mexican national who was arrested by ICE on Jan. 27, four weeks after he was released from local custody when New York authorities ignored a detainer.
Luis Alejandro Villegas had been arrested on Dec. 31, 2016, for driving while intoxicated—which is listed as a priority for enforcement under the former administration's federal immigration policies.
Villegas also has a prior conviction for forcible theft while armed with a deadly weapon, according to ICE. He had previously served five years in prison and was then deported, in 2007. It's not clear when or how he reentered the country before he was arrested for the DUI.
New York City authorities don't honor ICE detainers for criminals who committed a felony more than five years prior.
According to the Center for Immigration Studies, the city's sanctuary policies are clearly violating federal laws. CIS is a nonprofit research organization based in Washington.
"When we let illegal aliens who are committing crimes stay here and they commit more crimes—those are preventable crimes," said Jessica Vaughan, the center's director of policy studies.
To maintain the integrity of the immigration system, the rules must be enforced, she said.
Out of 41 people ICE apprehended in New York during the first week of February, eight had previously been deported and two were fugitives. Nine had convictions for sex-related crimes, including three for rape and six involving children. Ten had convictions for driving under the influence.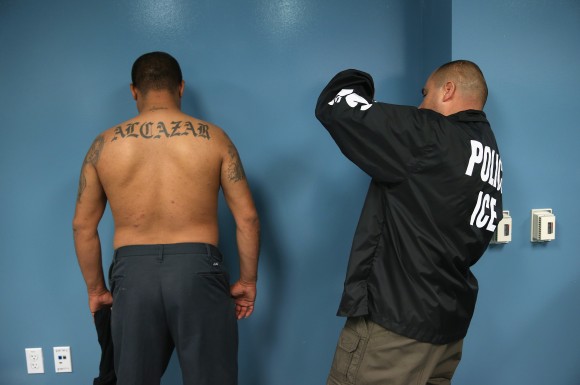 Deportation Priorities
Under President Barack Obama's immigration priorities, enforcement priorities remained mostly unchanged from previous years and were stated as "threats to national security, border security, and public safety," in a November 2014 memo by then-Homeland Security Secretary Jeh Johnson.
Broken down, that meant the top priority was to apprehend illegal immigrants who were terror suspects, had recently entered illegally, were known gang members, had been convicted of a felony, or had reentered after deportation.
The second priority was to apprehend illegal aliens who had been convicted of at least three misdemeanor offenses; of a "significant misdemeanor," which includes domestic violence, sexual abuse, burglary, firearms, and drug offenses; or of driving under the influence.

At the time, Department of Homeland Security (DHS) officials were reminded to broadly exercise "prosecutorial discretion," which essentially meant they could give anyone a free pass, based on any of the following factors:
"Length of time in the United States; military service; family or community ties in the United States; status as a victim, witness or plaintiff in civil or criminal proceedings; or compelling humanitarian factors such as poor health, age, pregnancy, a young child, or a seriously ill relative."
As a result of the priorities, in fiscal 2016, 92 percent of all 65,332 deportations from inside the United States were people previously convicted of a crime—a sharp increase from the 67 percent of criminals deported in fiscal 2011.
But those figures hide that many more were released back into society and subsequently reoffended.
The Boston Globe reviewed 323 criminal aliens released in New England from 2008 to 2012. As many as 30 percent of them went on to commit new crimes, including rape, attempted murder, and child molestation, according to a Globe report on June 4, 2016.
"The review reveals the damage inflicted on victims by criminals who were ordered to be deported when their sentences were complete, and were not, and it raises questions about how the government handled their cases," the report says. Immigration records are kept secret and the Globe spent three years getting the information through Freedom of Information Act requests, appeals, and a successful lawsuit.
Last year, ICE sent the Globe a list of criminals released nationwide from 2012 to 2016 that showed 83 percent of them were convicted felons.
In a testimony for a House committee last year, then-ICE Director Sarah Saldaña said 36,007 illegal alien criminals had been released back into communities in fiscal 2013, pending removal proceedings.
ICE does have the power to detain a removable alien indefinitely if they are "specially dangerous," according to a 2001 directive from DHS. But many have to be released after six months, in accordance with a slightly earlier Supreme Court ruling in 2001.
Some countries refuse or delay the return of their own citizens, and several take close to a year to issue travel documents for the repatriation of the criminal, according to a 2011 ICE document. Some of the most difficult countries for repatriating criminals include Somalia, Iran, Iraq, Liberia, and China.
New York's Sanctuary Policies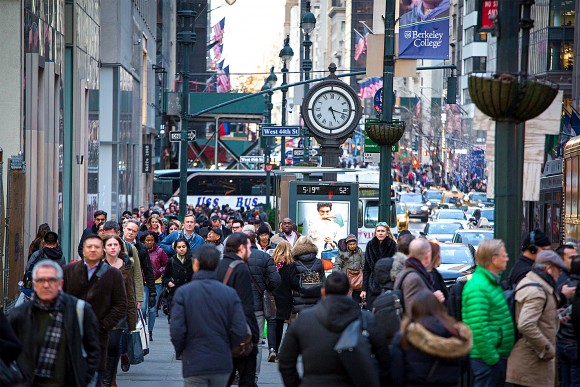 Former New York City Mayor Michael Bloomberg introduced sanctuary policies in 2011 and current Mayor de Blasio expanded them.
In October 2014, the city council passed two pieces of legislation to protect illegal immigrants, including criminals, from immigration law enforcement.
"These bills are about keeping New York families together and sending a clear message that New York is not afraid to lead on immigration," said Council Speaker Melissa Mark-Viverito at the time.
"The NYPD and DOC [Department of Correction] may no longer honor detainer requests issued by ICE unless they are backed up by a warrant issued by a federal judge," reads a council statement.
Under the 2014 legislation, ICE agents were ejected from Rikers Island and other DOC facilities in the city. And DOC personnel were restricted, with few caveats, from "communicating with ICE on such matters as release date, incarceration status, court dates, or any other information about the inmate," the statement said.
The lion's share of deportations had previously been criminals who were released from prison directly into federal immigration custody for removal.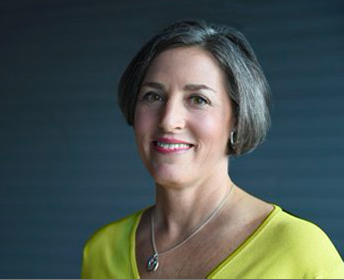 "New York City has one of the most egregious sanctuary policies in the country. The [city is] actively obstructing ICE from doing its job," said Vaughan of the Center for Immigration Studies. "And these are not grandmothers on their way to church—we're talking about people who are getting arrested and ending up in the city's jails."
On ICE's side, it has also been submitting far fewer detainers. Over the last three fiscal years in New York City, the number of detainers lodged by ICE to local law enforcement plummeted—from 5,839 in 2014, to 131 in 2016, according to numbers provided by the mayor's office. The mayor's office said there is up to a 40 percent duplication in numbers, as some are counted both by the NYPD and the DOC.
"The approach of the Obama administration was to try to accommodate sanctuaries, not to discourage them," Vaughan said.
The number of inmates actually handed over to ICE in New York during the same period saw the same trend, decreasing from 2,019 in 2014 to just two in 2016.
"It's a big problem that ICE was willing to essentially suspend enforcement in a lot of cases," Vaughan said. "But it's an even bigger problem that the city was willing to obstruct ICE even in its very limited enforcement activity."
ICE declined to comment on the drop in numbers, saying they would not interpret the city's statistics. Freedom of Information Act requests filed on Feb. 2 for ICE's statistics have not been fulfilled.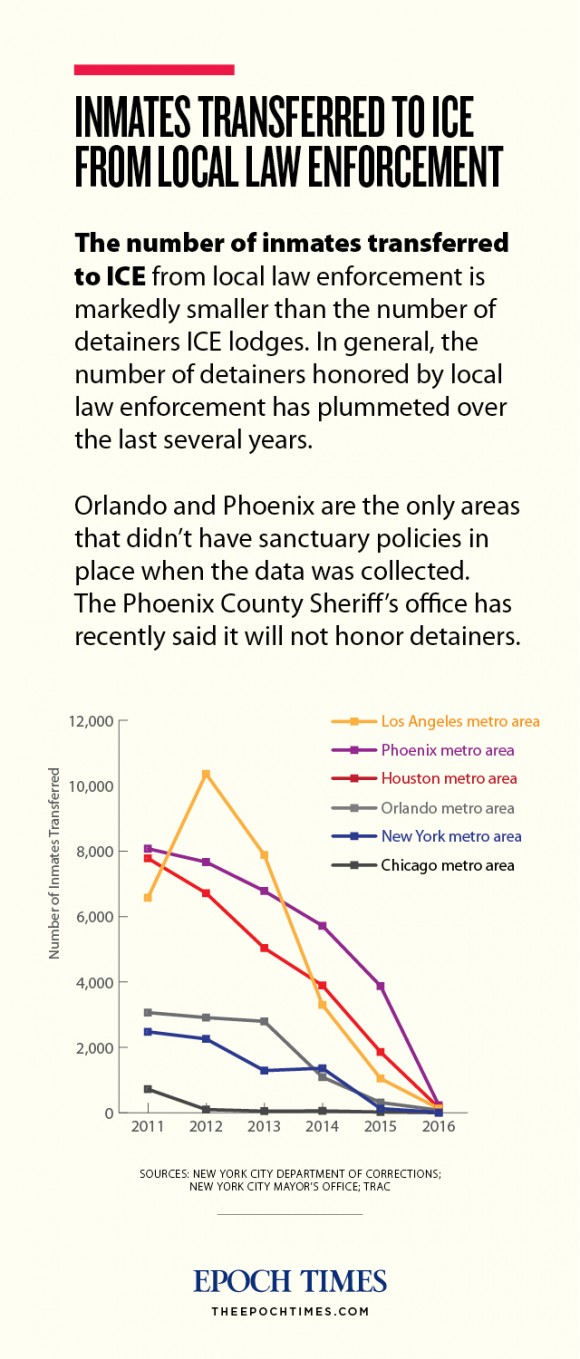 The same trend is repeated in all seven other major metro areas, according to analysis using numbers obtained by Syracuse University's Transactional Records Access Clearinghouse project. The number of detainers lodged by ICE, as well as those honored by local law enforcement, plummeted from fiscal 2014 to 2015 and then dropped again in fiscal 2016. Five of the seven areas have sanctuary policies.
Sanctuary Background
The sanctuary city designation originated in Los Angeles in 1979. More cities created sanctuary policies after 9/11, when then-President George W. Bush introduced Section 287(g) to the Immigration and Nationality Act.
Section 287(g) is an opt-in program that gives all law enforcement officers the same powers as immigration agents to investigate, apprehend, or detain suspected illegal immigrants.
ICE currently has 287(g) agreements with 38 law enforcement agencies in 16 states and credits the program with identifying more than 402,000 potentially removable aliens (mostly at local jails), from January 2006 through Sept. 30, 2015.
Many jurisdictions refused to join the program and instead established or broadened their sanctuary policies. About 300 sanctuary jurisdictions have been created in the United States, according to a map and list on the Center for Immigration Studies
website
. Seven states have sanctuary policies—California, Oregon, Colorado, New Mexico, North Dakota, Connecticut, and Rhode Island—some of which simply state they will not honor any ICE detainer requests.
While Obama pulled back on Section 287(g), Trump has reinvigorated it. His Jan. 25 executive order instructs the DHS Secretary to immediately increase the number of agreements with state governors and local officials.
New York City will not sign a 287(g) agreement, a city official has confirmed, and the mayor has been outspoken in his opposition.
"What we will not do is turn our NYPD officers into immigration agents—or our jails into holding pens for deportation policy that will only undermine the inclusiveness that has helped make New York City the safest big city in the nation," de Blasio said on Feb. 21.
But Trump has threatened to cut federal funding to jurisdictions for noncompliance.
At stake would be up to $7 billion in federal funding, according to a November report by New York City Comptroller Scott Stringer. Stringer suggests the agencies most at risk would be the Department of Homeless Services and the Administration for Children's Services, among others. He said the NYPD budget for intelligence and counterterrorism would also be at risk.
The mayor has railed against Trump's directives to enforce immigration law.
"This dramatic policy shift is hard evidence of the Trump administration's interest in needlessly tearing apart families and spreading fear in immigrant communities," de Blasio said on Feb. 21.
But former immigration agent Michael Cutler says the "splitting up families" argument is not a rational one, especially when talking about people who are here illegally.
"How many Americans right now are in prison because they didn't pay their taxes, because of reckless driving?" Cutler said. "Does anyone say, 'Oh my god, the guy has a child?'"
Enforcement Changes Under Trump
Trump is following through on his major campaign promise to enforce existing immigration law. And as a result, a much higher number of illegal immigrants are likely to be deported than in previous years.
A higher deportation rate will send a powerful message, said Vaughan, "both to people who are contemplating trying to get here and stay illegally and to other people who are living here illegally."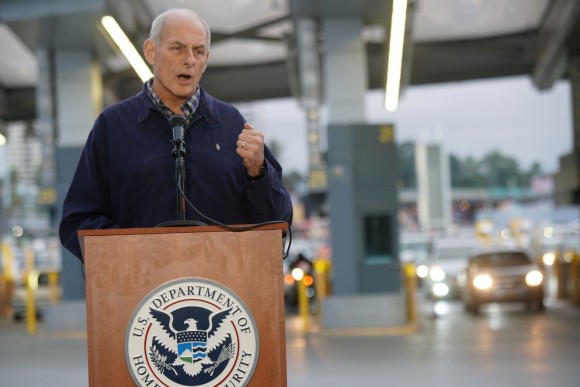 Trump's priority for enforcement focuses on convicted criminals, aliens who have been charged with a criminal offense, and those who "pose a risk to public safety or national security," including individuals involved in espionage and terror-related activities.
But DHS personnel also have "full authority to arrest or apprehend an alien whom an immigration officer has probable cause to believe is in violation of the immigration laws," the agency states.
Trump is also reinstating the Secure Communities program, in which the fingerprints of every individual arrested and booked into custody—including U.S. citizens and legal permanent residents—are checked against immigration records via the FBI.
"If these checks reveal that an individual may be unlawfully present in the United States or otherwise removable due to a criminal conviction, ICE determines what, if any, enforcement action to take," ICE states.
Trump's criteria for removal are much broader than those of previous administrations.
Secure Communities was introduced by President George W. Bush in 2008 and replaced by Obama in 2014 with the Priority Enforcement Program (PEP). PEP dialed back on the number of criminals targeted for deportation to only the most violent ones.
The Secure Communities program is mandatory, but it doesn't give local law enforcement any additional authority.
Trump also plans to hire 10,000 more immigration officers and 5,000 more Border Patrol agents.
Washington, D.C. (November 6, 2017) - There are about 300 state and local governments with laws, rules, or policies that impede federal efforts to enforce immigration laws. But what exactly does that mean to the average American citizen? Since 2014, about 10,000 criminal aliens who were released because of sanctuary policies were arrested – again – for new crimes. That's 10,000 preventable crimes. Sanctuary policies make us all less safe.
Jessica Vaughan, Director of Policy Studies
Further Reading:
JUDICIAL WATCH:
ILLEGALS VOTING IN MASSIVE NUMBERS IN MEX-OCCUPIED CA
''California is going to be a Hispanic state," said Mario Obeldo, former head of MALDEF. "Anyone who does not like it should leave."
(THIS IS DATED. MEXICO NOW HAS INVADED ALL STATES )
And M.E.Ch.A's goal is even more radical: an independent ''Aztlan,'' the collective name this organization gives to the seven states of the U.S. Southwest – Arizona, California, Colorado, Nevada, New Mexico, Texas and Utah."
ILLEGALS VOTING:
WILL MEXICO ELECT ALL FUTURE U.S. PRESIDENTS?
"Mexicans cheat, distribute drugs, lie, forge documents, steal and kill as if it's a normal way of life. For them, it is. Mexico's civilization stands diametrically opposed to America's culture." FROSTY WOOLDRIDGE
*