APPARENTLY THE AG THINKS LAWS DO APPLY TO ILLEGALS AND THEIR ABETTERS
AG Sessions: 'We're Going to Use Every Lawful Tool We Have' Against Oakland Mayor
F
riday on Fox News Channel's "Tucker Carlson Tonight," Attorney General Jeff Sessions said his department would "use every lawful tool we have to push back against" Oakland Mayor Libby Schaaf for warning illegal immigrants of a raid by Immigration and Customs Enforcement (ICE).
Sessions said, "This is a radical ideology. It's contrary to the American law. The supreme law of the land is American immigration law, and it must be enforced else we will just have open borders, and that cannot be."
He added, "We are going to use every lawful tool we have to push back against this activity. You can be sure of that. I will say, however, that ultimately, in this country, the American people have the final word. And they have got to analyze what their leaders are doing, and if they are promoting these kind of unlawful, unwise and dangerous policies, they need to be held to account. And when the political needle starts moving, I think you will see politicians start changing."
CALI VS. USA
Can leftists win the legal fight over sanctuary cities?
March 9, 2018
The Trump administration launched a long overdue legal assault this week on grotesquely unconstitutional new state laws in California that punish compliance with federal immigration laws and provide legal cover for state and local officials to continue brazenly flouting immigration laws and obstructing federal agents trying to enforce them.
Under the longstanding doctrine in American constitutional law known as "dual sovereignty," states cannot be compelled to enforce federal immigration laws, but they are obliged not to hinder their enforcement. The so-called sanctuary cities that form the bulk of the sanctuary movement really ought to be called traitor cities because they are in open rebellion against the United States, just like the slave states that seceded from the Union before the Civil War.
The sanctuary movement gave illegal aliens permission to rob, rape, and murder Americans by, among other things, stigmatizing immigration enforcement. Some left-wingers use the dreadful euphemism "civil liberties safe zones" to describe sanctuary jurisdictions. The phrase deliberately blurs the distinction between citizens and non-citizens by implying illegal aliens somehow possess a civil right to be present in the U.S.
"Immigration law "is the province of the federal government" and while there may be "a wide variety of political opinions out there on immigration," the law is on "the books and its purpose is clear," U.S. Attorney General Jeff Sessions told law enforcement officers attending the California Peace Officers Association's 26th Annual Law Enforcement Legislative Day on Wednesday in the state capital of Sacramento.
There is no nullification. There is no secession. Federal law is "the supreme law of the land." I would invite any doubters to Gettysburg, and to the graves of John C. Calhoun and Abraham Lincoln. A refusal to apprehend and deport those, especially the criminal element, effectively rejects all immigration law and creates an open borders system. Open borders is a radical, irrational idea that cannot be accepted.

The United States of America is not "an idea;" it is a secular nation-state with a Constitution, laws, and borders, all of which are designed to protect our nation's interests.
Sen. Kamala Harris (D-Calif.), a radical leftist, bristled at the attorney general's Civil War rhetoric, moaning that he has no "credibility."
"As far as I'm concerned, Jeff Sessions should be advised, and I'll advise him right now, that it's a bad idea for him to start talking about anything to do with the history of slavery or Reconstruction or the Civil War in the United States," Harris said in the leftist echo chamber known as MSNBC.
"His credibility is pretty much shot on those issues."
"I think that these folks are really mired in rolling back the clock in time, and that's not going to happen," Harris said.
"California represents the future, and they don't like it," the deluded lawmaker said. "Jeff Sessions has clearly put a target on the back of California, and California's going to fight."
Gov. Jerry Brown (D) blasted the lawsuit, describing it as "an act of war" against California that is part of "a reign of terror" against illegal aliens.
But California cannot win this battle without tearing the republic apart. Either the Golden State is part of the United States of America, bound by its laws and the Constitution's Supremacy Clause, or it is not.
This cannot end well for California where radical leftist office-holders like Oakland Mayor Libby Schaaf (D) are doubling down in their reckless defiance of the federal government. Schaaf now tips off illegal aliens about U.S. Immigration and Customs Enforcement (ICE) raids to applause from the mainstream media.
Schaaf piously insists her actions have not endangered ICE officers. "How can it be dangerous and illegal simply to tell people what the law is, what their rights are, what their resources are?" she said disingenuously. "That's all I did."
California Lt. Gov. Gavin Newsom (D), the former San Francisco mayor who is running for governor, hailed Schaaf. "We can and must protect immigrant families from Donald Trump's mass deportations," he said. "I want to thank Mayor Schaaf for her courage and hope more local leaders will follow her lead."
The new federal lawsuit unveiled by Sessions targets three new statutes in the chaotic, crime-ridden, failing "sanctuary state" that is home to more than 2 million aliens whom the Left is using taxpayer money to groom as loyal voters for Democratic Party candidates. The state laws curb the power of California's state and local law enforcement to hold, question, and transfer detainees at the request of federal immigration authorities, and punish employers for cooperating with those authorities. The seditious laws were enacted to sabotage immigration enforcement efforts and in the process protect Democrats' base.
The legal action seeks to strike down AB 450, which prohibits private employers from voluntarily cooperating with federal immigration officials—including officials conducting worksite enforcement efforts. It attacks SB 54, which prevents state and local law enforcement officials from providing information to the feds about the release date of deportable criminal aliens in their custody. The suit also places a bullseye on AB 103, which imposes a state-run inspection and review scheme of the federal detention of aliens held in facilities pursuant to federal contracts.
"We are a strong, prosperous, and orderly nation," Sessions said. "And such a nation must have a lawful system of immigration," he said. "I am not aware of any advanced nation that does not understand this fundamental tenet."
Americans are "right to insist that this country should end the illegality, create a rational immigration flow, and protect the nation from criminal aliens," Sessions said.
It cannot be that someone who illegally crosses the border and two days later arrives in Sacramento, Dubuque, Louisville, and Central Islip is home free – never to be removed. It cannot be the policy of a great nation to up and reward those who unlawfully enter its country with legal status, Social Security, welfare, food stamps, and work permits. Meanwhile those who engage in this process lawfully and patiently and wait their turn are discriminated against at every turn.
Meanwhile, the Trump administration won a rare legal victory on the Left Coast in a sanctuary jurisdictions case.
In a lawsuit brought by California Attorney General Xavier Becerra against Attorney General Jeff Sessions, U.S. District Court for the Northern District of California Judge William H. Orrick ruled Monday that he could not compel the federal government to hand over a specific $1 million grant it is withholding because the state is shielding illegal aliens from federal immigration authorities.
"The weighty and novel constitutional issues posed in this litigation deserve a complete record before they are adjudicated," the slippery black-robed politician wrote, Anthony Kennedy-style.
This decision may be good news for the Trump administration even though Orrick of March 2018 is rather baldly contradicting Orrick of November 2017.
The judge, who was appointed by President Obama, already ruled on the "weighty and novel constitutional issues" he references pretty conclusively a few months ago, coming down hard against Trump's executive order. (The judge's rulings on sanctuary jurisdictions may be read at the court's website.)
In a separate lawsuit brought by Santa Clara County and San Francisco against President Trump, Orrick granted summary judgment on Nov. 20, 2017 to the two localities. The judge made permanent his previously issued preliminary injunction against Executive Order 13768.
EO 13768, signed by President Trump on Jan. 25, 2017, states it is official administration policy that:
Sanctuary jurisdictions across the United States willfully violate Federal law in an attempt to shield aliens from removal from the United States. These jurisdictions have caused immeasurable harm to the American people and to the very fabric of our Republic.
Section 9(a) of EO 13768 is the specific provision by which federal monies are being withheld from sanctuary jurisdictions. It is also the provision specifically enjoined until the end of time by Orrick three-and-a-half months ago.
Section 9(a) states that to enforce the funding ban, "the Attorney General and the [Homeland Security] Secretary, in their discretion and to the extent consistent with law, shall ensure that jurisdictions that willfully refuse to comply with 8 U.S.C. 1373 (sanctuary jurisdictions) are not eligible to receive Federal grants, except as deemed necessary for law enforcement purposes by the Attorney General or the Secretary."
Orrick found Section 9(a) was "unconstitutional on its face" and that the counties proved it "has caused and will cause them constitutional injuries by violating the separation of powers doctrine and depriving them of their Tenth and Fifth Amendment rights."
Maybe between Nov. 20 and March 5, the legal meaning of the infamous Section 9(a) somehow changed in Orrick's calculating mind. Maybe the permanent injunction isn't so permanent anymore; intellectual consistency is not, after all, something for which left-wing jurists are known.
For what it's worth, in the California v. Sessions lawsuit, Becerra appeared to be taunting Sessions in the title of the proceeding itself by referring to the Alabama-born official by his full, mouthful of a name, to wit, Jefferson Beauregard Sessions. As a white man from the Deep South, Sessions is an irresistible target for slimy leftists like Becerra (and Harris).
During Sessions' U.S. Senate confirmation process, left-wingers relished using the then-nominee's Southern-sounding, eight-syllable name over and over again as they tried to tar the public servant as a vicious racist. Never mind that Sessions desegregated his state's schools and crippled the state's Ku Klux Klan before coming to Washington.
Lawbreaking officials in California may be about to get a surprise, courtesy of the Trump administration.
It was previously reported that federal prosecutors are considering filing criminal charges against elected officials harboring illegal aliens in sanctuary jurisdictions, Homeland Security Secretary Kirstjen Nielsen told the Senate Judiciary Committee in mid-January.
Jailing the leaders of sanctuary jurisdictions who obstruct ICE agents is long overdue.
Oakland's Libby Schaaf should be the first leftist politician in California to be perp-walked.
THE STAGGERING COST OF THE WELFARE STATE MEXICO AND THE LA RAZA SUPREMACY DEMOCRAT PARTY HAVE BUILT BORDER to OPEN BORDER'
According to the
Federation for American Immigration Reform's 2017 report,
illegal immigrants, and their children, cost American taxpayers a net $116 billion annually -- roughly $7,000 per alien annually. While high, this number is not an outlier: a recent study by the
Heritage Foundation
found that low-skilled immigrants (including those here illegally) cost Americans trillions over the course of their lifetimes, and a study from the
National Economics Editorial
found that illegal immigration costs America over $140 billion annually. As it stands, illegal immigrants are a massive burden on American taxpayers.
EXCLUSIVE–California Sanctuary City Laws Likely Responsible for 5K Crimes by Released Criminal Illegal Aliens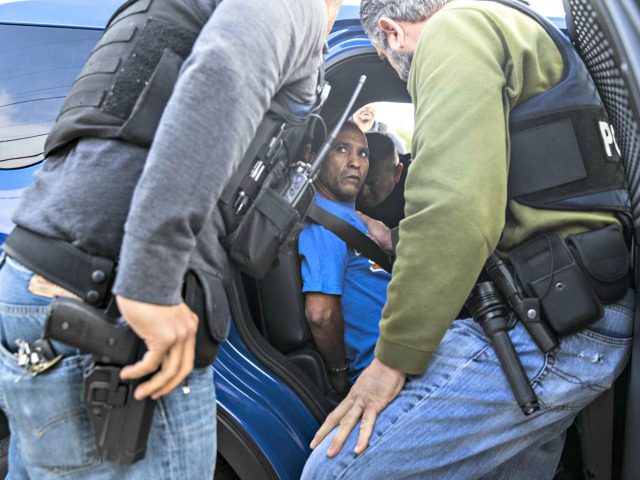 The state of California and the sanctuary city laws that make it a safe-haven for criminal illegal aliens is likely responsible for at least 5,000 crimes that were committed by criminal illegal aliens released by local authorities rather than being handed over to federal immigration officials.
According to data conducted for Breitbart News by the Center for Immigration Studies' Director of Policy Jessica Vaughan, the state of California — which refuses to hand over criminal illegal aliens to the Immigration and Customs Enforcement (ICE) agency — makes up about half of all non-cooperation with federal immigration officials in the U.S.
For example, roughly 50 percent of the ICE detainers — the hold that federal immigration officials place on a criminal illegal alien — ignored by local sanctuary city authorities across the U.S. occurred in California.
In mid-2017, ICE Director Thomas Homan revealed that about 10,000 criminal illegal aliens had been released by sanctuary cities across the U.S. and went on to commit more crimes. This figure, though, could be even higher for the year of 2017.
Based on this data, Vaughan told Breitbart News that it is "reasonable to assume" that about half of those crimes committed by released criminal illegal aliens occurred in the state of California.
"That is 5,000 crimes that occurred that could have been prevented if they had cooperated with ICE as federal law provides," Vaughan told Breitbart News. "What is the cost to Californians for that crime spree?"
"Surely it is a lot more than the cost of the few minutes of a California jail officer's time to notify ICE, or to keep the offenders in custody for ICE for a few hours," Vaughan said. "But California politicians like Gov. Brown, Xavier Becerra, and Libby Schaaf would rather have the crime, apparently."
This estimate was gathered by provided ICE data, as the agency says it has no way of tracking the figure of how many exact criminal illegal aliens have been released into the public by California's sanctuary laws.
"Lack of cooperation from sanctuary jurisdictions means that they do not notify ICE when they release an individual on whom we have filed a detainer, so we have no way of knowing exactly how many such individuals they have released," an ICE official told Breitbart News. "We often become aware of an alien's release from a jurisdiction when we re-encounter the alien later during targeted enforcement."
As Breitbart News reported, Oakland Mayor Libby Schaaf recently warned criminal illegal aliens ahead of a regional raid by ICE, helping convicted illegal alien sex offenders, armed robbers, and drunk drivers escape deportation.
Attorney General Jeff Sessions' Department of Justice is now investigating Schaaf for obstruction of justice. About 47 percent of likely voters say the DOJ should prosecute Schaaf for obstruction of justice, while only 36 percent of likely voters say the DOJ should not prosecute the mayor.
Sessions announced a DOJ lawsuit against the state of California, challenging three of its sanctuary state laws that protect criminal illegal aliens from deportation by ICE.
Pelosi Says Illegal Aliens 'Make America More American'
House Minority Leader Nancy Pelosi (Screen Capture)
House Minority Leader Nancy Pelosi

issued a statement today

attacking the Trump administration for brining suit against the state of California for enacting laws the interfere with federal enforcement of the immigration laws, which under the Constitution are the responsibility of the federal government.
In

her statement

, referring to the illegal aliens who would be deported if the Trump administration succeeded in enforcing the immigration law, Pelosi said they "make America more American."
"The people of California will not be bowed by the Trump Administration's brazen aggression and intimidation tactics," she said. "Californians will continue to proudly keep open doors to the immigrants who make America more American. We will fight this sham lawsuit and will fight all cowardly attacks on our immigrant communities."
Attorney General Jeff Sessions announced the federal government's lawsuit against California in a speech today to the California Peace Officers' Association.
"[T]he Justice Department has filed a legal action against the State of California, Governor of California Jerry Brown, and Attorney General of California Xavier Becerra, seeking both declaratory and injunctive relief based upon the enactment and implementation of certain provisions of three California laws—Assembly Bill 450 (AB 450); Senate Bill 54 (SB 54); and Assembly Bill 103 (AB 103)—which intentionally obstruct and discriminate against the enforcement of federal immigration law,"

the Justice Department said in a statement

.
"The complaint contends that the laws in question are preempted by federal law and impermissibly target the Federal Government, and therefore violate the Supremacy Clause of the United States Constitution," the DOJ statement said.
The

DOJ statement

explained the three California laws in question.
"AB 450 prohibits private employers from voluntarily cooperating with federal immigration officials—including officials conducting worksite enforcement efforts and other enforcement operations," it said. "It also requires that private employers notify employees in advance of a potential worksite, enforcement inspection—despite clear federal law that has been on the books for approximately three decades that has no such requirements."
"SB 54 restricts state and local law enforcement officials from providing information to federal immigration authorities about the release date of removable criminal aliens who are in their custody," DOJ said.
"These criminal aliens are subject to removal from the United States under federal immigration law, and SB 54 interferes with federal immigration authorities' ability to carry out their responsibilities under federal law," it said.
"SB 54 also violates 8 USC 1373, a law enacted by Congress, which promotes information sharing related to immigration enforcement," said DOJ. "The state law also prohibits the actual transfer of criminal aliens to federal custody, which creates a dangerous operating environment for ICE agents executing arrests in non-custodial settings."
"AB 103 imposes a state-run inspection and review scheme of the federal detention of aliens held in facilities pursuant to federal contracts," said DOJ. "This includes review of immigration processes and the circumstances in which aliens were apprehended, and also requires access to privileged federal records that are under ICE's control. With this law, California is trying to regulate federal immigration detention, which it cannot do under the Constitution."
Pelosi defended what California has done to thwart federal enforcement of federal immigration laws, saying that what the Trump Administration is trying to do contradicts the system of government created by the Founding Fathers.
"The Trump Administration's attacks on California are unacceptable in the federal system of government our Founders created," she said. "We have a system of checks and balances – not a system in which the executive branch can unilaterally bend states to its will. The federal government cannot force states and localities to participate in the cruel roundup of immigrant families, which spreads fear and thwarts cooperation with local law enforcement."
The Department of Justice explained what it understands to be the constitutional basis for federal—as opposed to state—authority over immigration law in its suit against California:
"The Constitution affords Congress the power to 'establish an uniform Rule of Naturalization,' U.S. Const., art. I § 8, cl. 4, and to "regulate Commerce with foreign Nations," U.S. Const., art. I § 8, cl. 3, and affords the President of the United States the authority to 'take Care that the Laws be faithfully executed.' U.S. Const., art. II § 3.
"The Supremacy Clause of the Constitution mandates that '[t]his Constitution, and the Laws of the United States which shall be made in Pursuance thereof . . . shall be the supreme Law of the Land . . . any Thing in the Constitution or Laws of any State to the Contrary notwithstanding.' U.S. Const., art. VI, cl. 2. Thus, a state enactment is invalid if it 'stands as an obstacle to the accomplishment and execution of the full purposes and objectives of Congress,' Hines v. Davidowitz, 312 U.S. 52, 67 (1941), or if it 'discriminate[s] against the United States or those with whom it deals,' South Carolina v. Baker, 485 U.S. 505, 523 (1988).
"Based on its enumerated powers and its constitutional power as a sovereign to control and conduct relations with foreign nations, the United States has broad authority to establish immigration laws, the execution of which the States cannot obstruct or discriminate against."
THE ONCE GOLDEN STATE of CALIFORNA, NOW A LA RAZA MEX
WELFARE STATE, IS No. 48 OF 50 STATES IN LOWER EDUCATION!
MEXICANS LOATHE LITERACY AND ENGLISH… SUCH APES THE
GRINGO WHOM THEY HATE!
"Mexicans abhor education. In their country, illiteracy dominates. As they arrive in our country, only 9.6 percent of fourth generation Mexicans earn a high school diploma.
Mexico does not promote educational values. This makes them the least educated of any Americans or immigrants. The rate of illiteracy in Mexico stands at 63 percent." FROSTY WOOLRIDGE
"Third-generation Latinos are more often disconnected — that is, they neither attend school nor find employment."
Kay S. Hymowitz