Buenos Aires Trade Truce Seen as a 'Trap' and a 'Disaster' by China Hawks
The trade truce between the U.S. and China delays their economic battle but creates little hope for lasting resolution of the deep divide between the two nations on the future of the global economy, according to many China analysts.
President Donald Trump and China hawks in his administration have frequently criticized prior U.S. presidents for being out-maneuvered and out-smarted by China's tactic of engaging in endless negotiations and holding out the promise of reform while continuing to carry out its economic predation. The Obama administration spent years in what was known as the Strategic and Economic Dialogue without anything of substance to show for it.
To critics of the Buenos Aires truce, the Trump administration appears to be repeating this mistake.
"The president has fallen into the same trap as Barack Obama, George W. Bush and even Bill Clinton. He will get more platitudes and promises and very few results," University of Maryland economist Peter Morici
told
the
Wall Street Journal
.
One former administration official described the deal as "a total disaster. "We've now entered into the Trump version of the Strategic and Economic Dialogue," the person said.
Dan MiMicco, a steel executive who was part of the Trump transition team, said he was disappointed with the agreement:
Some conservative China critics say that the deal could have been worse. For weeks leading up to the dinner, many feared the U.S. would agree to end or suspend the 10 percent tariffs. From that perspective, the worst case scenario was avoided because the Trump administration only agreed to a pause in escalation.
Not all analysts were as negative about the deal but few believe the U.S. and China were close to resolving their fundamental differences, in large part because China's global ambitions would be thwarted by a deal that did resolve them.
The
Financial Times'
Brendan Greeley
wrote
:
China and the US aren't fighting over what China exports now — assembled electronics, toys, socks, furniture. They're fighting over what China wants to make at home in the future. China

has a plan

to become self sufficient in electric cars, aerospace, bio-medicine and farming equipment. These things are hard to make. They require decades to figure out, and a well-educated, productive, high-wage workforce. Xi Jinping didn't compromise on this goal in Argentina. It's hard to see that he ever will.
"It's good to see the U.S.-Chinese tariffs war not escalating any further," Kang Kam-Chan, head of the South Korean trade ministry's Trade Policy Division,
said
Sunday, according to the
Wall Street Journal
. "But the competition for holding hegemony in global industry and trade between the two powers has not changed substantially."
"The outcome of the Trump/Xi dinner on Saturday represents nothing more than a truce in the escalating trade wars," former Goldman Sachs partner and ex-chief of the British Broadcasting Corp. (BBC) Gavyn Davies
wrote
in an op-ed for the
Financial Times. "
Entrenched problems remain, notably around US concerns about the protection of intellectual property, and the long term direction of Chinese industrial strategy. It is still very difficult to imagine that these gulfs can be bridged without further threats of trade protection from the Trump administration."
Less than 24 hours after the deal was struck over a dinner capping the Group of 20 meeting in Buenos Aires, Argentina, cracks in the truce consensus were already apparent.
The U.S. agreed not to raise the tariff on $200 billion of Chinese goods from 10 percent to 25 percent in January, as had been earlier announced, while the two sides renew trade negotiations. But China and the U.S. are already taking very different approaches to describing what was agreed.
According to the White House, the Buenos Aires truce is on a 90-day time line, after which the 10 percent tariff will rise to 25 percent. During that time, the two sides would address China's forced technology transfer policies and intellectual property theft, the two items at the core of the U.S. complaint about China's predatory economic practices. The White House also said that China would purchase a "very substantial" amount of farm, energy, and industrial goods in order to reduce its trade surplus with the U.S.
The U.S. made no mention of removing the existing 10 percent tariff.
China's statements on the agreement, however, made no mention of a 90-day timeline or the possibility of tariffs rising if the deadline passed without progress. In a press briefing, Chinese officials said only that the talks would focus on removing the 10 percent tariffs and Chinese retaliatory tariffs. Chinese officials were also vague about what it might purchase from the U.S. as part of the deal.
China's statement also said that Trump would visit China and Xi the U.S. The U.S. statement made no mention of bilateral visits by heads of state. Similarly, the official Chinese news agency said the U.S. would continue to welcome Chinese university students while the U.S. statement made no mention of the topic.
This creates the possibility that there is less to the agreement than it seems. Or even that U.S. officials have heard in Chinese statements what they hoped to hear but not what China actually intended. The U.S. has a long history of misinterpreting the statements and intentions. During the Korean War, for example, China believed it had clearly signaled that it would have to intervene militarily if U.S. troops got too close to the Chinese border. Officials from the U.S., however, misinterpreted this signal, leading to armed conflict between the two countries that was only ended by the 1953 armistice.
"Neither side got their maximum demands and it's not the first time in U.S.-China relations that both sides claim victory," said Michael Pillsbury, a senior fellow at the Hudson Institute and a defense official under presidents including Ronald Reagan and George W. Bush, Bloomberg News
reported
.
Even within the Trump administration, there is skepticism. Some administration officials have shied away from even describing it as a "deal," preferring to call it an "announcement," the
Wall Street Journal
reported
. Some worry that Wall Street's reaction to the announcement of the truce, which is seen as likely to boost stocks, will encourage the president to soften his stance even further.
"The fear is that Wall Street will applaud this as 'progress' and it will make it tougher to raise tariffs to 25 percent when the negotiations fail to achieve anything meaningful," one person familiar with the thinking of some Trump administration China hawks said. "The higher stocks go on 'China hope,' the more they have to fall."
And it remains to be seen who will lead the talks that are supposed to follow the Buenos Aires truce. Recent trade talks with Canada, Mexico, and the European Union have been led by U.S. Trade Representative Robert Lighthizer, known as a hawk on China. But the talks prior to the Buenos Aires dinner were led by a group headed by Treasury undersecretary David Malpass. It is not yet clear whether the Treasury group will retain its lead role or whether Lighthizer's office will take over.
The terms of the truce have also come in for criticism. To China hawks, the deal very closely resembles earlier proposals to have China buy more commodities from the U.S. in exchange for the U.S. giving up other demands. This was derided by the hawks as "a plan to make the U.S. into an agricultural and energy colony of a hegemonic China."
"China has explicitly agreed to import more of exactly those things that it doesn't care to make itself, now or in the future," the
Financial Times's
Brendan Greeley
wrote
. He continued:
China imports US products that are hard to make and require skilled workers and years of capital investment: airplanes, cars and industrial machines. It also imports commodities: soyabeans, crude oil, plastic materials. In Buenos Aires, according to the White House, Xi Jinping agreed to increase imports only of commodities. These are the imports that China doesn't care about, the imports that don't threaten its plans. The concession costs Xi nothing.
U.S. trade expert Alan Tonelson said that the Buenos Aires truce would only delay the inevitable conflict:
President Trump's decision to delay tariff hikes or new tariffs on China for 90 days in return for more Chinese imports from America and further talks on core trade barrier and tech issues only delays what should be the inevitable. Since even the most detailed Chinese promises can't be verified reliably, and since fostering bilateral economic ties has backfired so thoroughly on the US, any President determined to promote US interests will need to seek maximum economic disengagement from China ASAP.
In China, the deal is being heralded as a triumph. Notably, the state-controlled Global Times tabloid emphasized that the deal essentially puts the U.S. and China on an equal footing.
"As two major countries with great influence, China and the United States shoulder important responsibilities in promoting world peace and prosperity, Xi told Trump," the
Global Times
reported
.
From the perspective of the Global Times, Trump essentially agreed to the Chinese perspective on the relations of the two countries:
Chinese President Xi Jinping and his US counterpart Donald Trump held a "highly successful meeting" here Saturday, reaching important consensus and agreeing not to impose new additional tariffs…
Trump said that he agrees with Xi on his evaluation of US-China relations.

US-China relations are very special and important, Trump said, adding that it is in the interest of the two countries as well as the world that the United States and China, both countries of significant influence, maintain a good cooperative relationship.
That's very different from Trump's own view of the Buenos Aires truce, which he described as "an incredible deal." The president described the deal mostly in terms of concessions from China. "China will be opening up. China will be getting rid of tariffs," he said before boarding Air Force One to return to the U.S.
Xi's statement about "two major countries with great influence" may have special meaning for a Chinese audience familiar with the works of Confucius, one that does not bode well for the notion of future cooperation between the U.S. and China.
"There cannot two suns in the sky, nor two emperors on earth," Confucius said, according to the Chinese philosopher Mencius.
THE BILLIONAIRES'S GLOBALIST DEMOCRAT PARTY FOR WIDER OPEN BORDERS
THE TRUE COST OF ALL THAT "CHEAP" LABOR IS PASSED ALONG TO THE MIDDLE CLASS.
"This doesn't include the

costs of illegal immigration
to society, which provides health care, housing, education, child care, and legal services to illegal aliens. Even though immigration advocates claim that illegal aliens do indeed pay taxes, the dollar amount
pales in comparison
to the cost of the many services they receive."
Meanwhile, despite the highest taxes in the nation, California is $1.3 trillion in debt – unemployment is at a staggering 11%. California's wacko giveaways to illegals include in-state tuition, amounting to $25 million of financial aid. Nearly a million illegals have California driver's licenses. L.A. County has 144% more registered voters than there are residents of legal voting age. Clearly, illegals are
illegally voting
.
GENERAL MOTORS DUMPS THOUSANDS OF WORKERS AND CLOSES PLANTS - Stockholders celebrate!
"It identifies socialism with proposals for mild social reform such as "Medicare for all," raised and increasingly abandoned by a section of the Democratic Party. It cites Milton Friedman and Margaret Thatcher to promote the virtues of "economic freedom," i.e., the unrestrained operation of the capitalist market, and to denounce all social reforms, business regulations, tax increases or anything else that impinges on the oligarchy's self-enrichment."
"The yearly income of a typical US household dropped by a massive 12 percent, or $6,400, in the six years between 2007 and 2013. This is just one of the findings of the 2013 Federal Reserve Survey of Consumer Finances released Thursday, which documentsa sharp decline in working class living standards and a further concentration of wealth in the hands of the rich and the super-rich."
"The American phenomenon of record stock values fueling an ever greater concentration of wealth at the very top of society, while the economy is starved of productive investment, the social infrastructure crumbles, and working class living standards are driven down by entrenched unemployment, wage-cutting and government austerity policies, is part of a broader global process."
"A defining expression of this crisis is the dominance of financial speculation and parasitism, to the point where a narrow international financial aristocracy plunders society's resources in order to further enrich itself."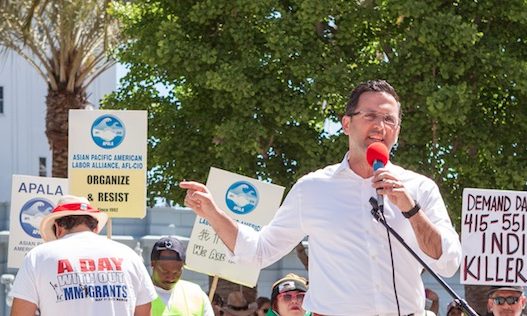 Pro-China Labor Group Helped Flip 2 Senate Seats in Nevada
November 28, 2018
Updated: November 28, 2018
A Beijing-aligned U.S. labor group is actively involved in state elections. The Asian Pacific American Labor Alliance (APALA) has helped Democrat candidates win several close races, including two U.S. Senate contests in Nevada.
In the 2018 election cycle, about 30 APALA canvassers knocked on doors in Las Vegas from the end of September. According to APALA coordinator Kathleen Flores, the canvassers backed specific candidates like Democratic Rep. Jacky Rosen in her bid to unseat Republican Sen. Dean Heller.
With 72,000 registered Asian-American or Pacific Islander voters in Nevada (up more than 160 percent since 2000), it makes sense for the left to target this significant Democrat-leaning voter bloc in a Republican-tilting state.
The APALA canvassers were not working for love. They were paid $15 an hour to brave the Nevada fall heat through a $160,000 grant from the Service Employees International Union (SEIU).
In 2016, Democrat Catherine Cortez Masto, a former Nevada attorney-general prosecutor beat Republican Joe Heck to take the U.S. Senate seat of retiring Harry Reid.
With such tight margins, it's conceivable that the 72,000 registered Asian-American or Pacific Islander voters targeted by APALA may have made the difference. Without APALA, it is possible that President Donald Trump might have one or two more senators from Nevada in his column right now.
Who Are APALA?
"The formation of the Asian Pacific American Labor Alliance (APALA) in 1992 was a milestone in providing a voice for Asian Americans within the labor movement. … The establishment of APALA has its roots in the Asian American Movement of the 1960s and 1970s," according to APALA founder Kent Wong, writing in "Legacy to Liberation: Politics & Culture of Revolutionary Asian Pacific America" by Carol Antonio.
"Revolutionary movements of the 1960s and 1970s, domestically and internationally nurtured the Asian American Movement. … Asian American activists were involved in the civil rights movement and the movement against the Vietnam War. … Asian Americans led and joined Marxist study groups around the country. Asian American activists gained inspiration from the Vietnamese struggle for liberation, and from the Chinese revolution and the teachings of Mao Zedong.
"Asian American activists played prominent roles in a number of emerging Marxist-Leninist organizations in the 1970s. … Many Asian American activists left college to work as grass roots organizers in the Asian American community, or to seek jobs in factories, to build a workers movement.
"In the 1980s, Asian activists began to set up Asian labor committees in key cities around the country. … From 1991 to 1992, there were a series of national meetings of Asian American trade unionists. … The founding convention of the Asian Pacific American Labor Alliance in 1992, surpassed everyone's expectations."
APALA was Marxist-led and pro-China leaning from the start—and has remained so to this day.
Wong himself was a leader of one of the most slavishly pro-Beijing groups of the era—the Communist Workers Party (CWP).
Current board member Ligaya Domingo is the daughter of former Line of March leaders Silme Domingo and Terri Mast.
In 1970, Hing went on a delegation to North Korea, North Vietnam, and China.
"In 2013, a delegation of Chinese American organizers went to China to learn about organizing efforts in Mainland China. The culmination of conversations with more than 10 organizations in China organizing around labor, environmental justice, women's rights, and queer issues opened up space for us to put forth the following questions: In China, what are the conditions people are organizing against? What are people fighting for? What is the nature of anti-capitalist struggle and the social justice movement in China … And lastly, what role do we play in the U.S. in supporting people's struggles in China?"
APALA founder Kent Wong and DSA member Elaine Bernard defended China in an article "Labor's Mistaken Anti-China Campaign" for the fall/winter 2000 edition of the hard left "New Labor Forum." At the time, American labor organizations were trying to block U.S. Congress attempts to grant China Permanent Normal Trade Relations (PNTR) status.
"For the U.S. to challenge China's entry into the WTO because of political and human rights abuse amounts to hypocrisy. China should not be singled out for some of the very same human rights abuses that occur in the U.S., such as widespread use of prison labor.
"The main threat to economic security, dignity and human rights of U.S. workers is domestic and global corporations and their institutions: the WTO, the IMF [International Monetary Fund], and the World Bank. We need to keep our eyes on the prize, move beyond the Cold War, move beyond unilateralism, and move toward genuine international labor solidarity."
And no-one has done more to break American labor's standoffish attitude to communist-controlled Chinese labor organizations than Wong.
Bernard, Wong, and a number of other labor academics and union officials were invited by the state-run All-China Federation of Trade Unions (ACFTU) for a nine-day trip beginning March 20, 2002.
Wong was back in October of 2002 heading an all-star group that included California Labor Federation president Tom Rankin, SEIU national president Andy Stern, DSA member Paul Booth, his wife Democratic National Committee official Heather Booth, and the president of APALA, Luisa Blue.
Wong and co. enjoyed an audience with Wei Jianxing, ACFTU chairman and member of the Communist Party Politburo Standing Committee.
"Mr. Wei is also head of the Communist Party's Central Commission for Discipline Inspection. In 1998, he was put in charge of what is known as the Office on Social Stability, which is responsible for defusing worker unrest," according to an Oct. 21, 2002, article in the New York Sun.
"An article in the Spring 2001 edition of the China Labor Bulletin said that Mr. Wei has frequently traveled across China encouraging the Chinese government's anti-graft campaign and its anti-crime campaign, 'Strike Hard,' which 'has been consistently criticized by Amnesty International and other human rights organizations for leading to rights violations, brutality, and executions.'"
The purpose of the China trip was "to explore possible ways of having a dialogue and communication between unions," said Wong, then director of the University of California–Los Angeles's Center for Labor Research and Education.
"I wanted to break a pretty severe barrier that has been there since the Cold War," said Wong, according to the New York Sun.
Tubach was formerly active with the Federation For Progress, a front for the CWP.
Wong's UCLA Labor Center participated in a "historic meeting" between the Change to Win labor federation and the ACFTU in August 2009. An agreement signed by Change to Win chair Anna Burger and ACFTU Vice Chairwoman Sun Chunlan at ACFTU headquarters in Beijing promotes cooperation between the two federations on "key projects, such as joint research on multinational corporations operating in the United States and China," according to the winter/spring 2010 issue of the Labor Center publication Labor Education News.
In late 2010, the Labor Center also participated in a binational U.S.–China conference, hosted by the ACFTU, to "explore ways research findings can improve labor standards," according to the same publication.
There is no direct evidence that Chinese officials encouraged APALA to get involved in U.S. elections. However, given their antagonism of Trump, its likely they are pleased with the results.
Nevada was once regarded as a key swing state. It is now becoming like Colorado and Virginia—turning irreversibly blue thanks to hard-left activists bent on taking power in the 2020 elections and beyond.