8. Hunter Biden's firm scored a $1.5 billion deal with the Bank of China only days after Joe Biden and his youngest son visited the country.
Joe Biden's Fundraising Craters amid Doubts over Candidacy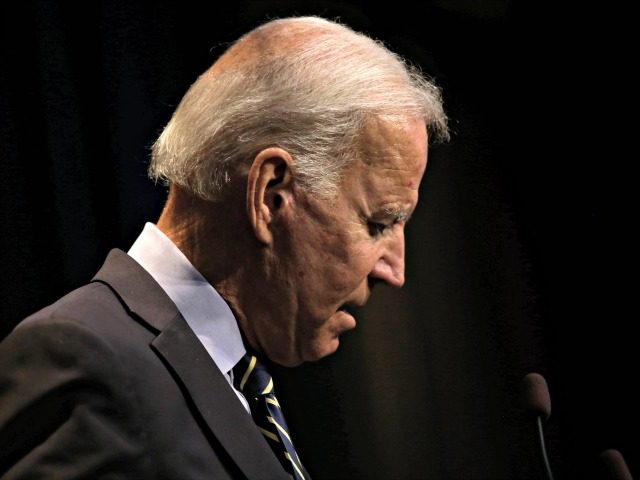 Former Vice President Joe Biden's fundraising efforts dropped significantly in the third quarter of this year amid mounting concerns over his viability as a candidate.
Biden's campaign announced on Thursday it only raised $15.2 million in the third quarter, significantly less than expected. The sum was less than what was raised by competitors polling below Biden, such as Sen. Bernie Sanders and South Bend Mayor Pete Buttigieg — who raised $25.3 million and $19.1 million, respectively, in the same period.
Although Biden's total was also less than the $21.5 million he raised in the second quarter, his campaign attempted to put a positive spin on the fundraising numbers. In a statement provided to the press announcing the fundraising haul, Biden's team claimed that "98 percent of all donations were from grassroots donors" and 56 percent of all contributors were new.
"Today's fundraising totals put the campaign in a strong position as we enter the fall. The question any campaign faces at this point is whether or not you have the resources to compete in early states and sustain your efforts beyond," said Greg Schultz, the former vice president's campaign manager. "Our campaign unequivocally does and builds on our strength each week."
Despite the campaign's positive spin, the fundraising numbers underscore Biden's declining position in the 2020 contest. When the former vice president first announced his campaign in late April, he was seen as the frontrunner for the nomination, a fact confirmed by his domination in the polls and strong fundraising. Since that time, however, Biden's campaign has been battered by persistent gaffes and ethical questions surrounding his son's business dealings in Ukraine and China.
All of this has impacted the former vice president's standing with the Democrat electorate. A slew of recent polls has shown Biden either trailing or tied with Sen. Elizabeth Warren (D-MA) in the first three early voting states of New Hampshire, Iowa, and Nevada. Likewise, Biden has lost his advantage nationally, trailing Warren by as many as six percentage points in a recent survey conducted for the Economist.
Corruption blinders of the media and other Democrats
VP Biden threatened (promised) Ukraine that he would cut off a billion dollars in aid to them if they didn't fire the prosecutor investigating a company his son was involved with.

Hunter Biden got paid $50,000 a month as a board member of a corrupt Ukrainian gas company when he had no expertise on the product of the company.

Obama promised the very dangerous Russia and Putin that he would be flexible if he was reelected (somehow no one at FBI or elsewhere was ever concerned that Russia may have tried to influence the 2012 election to elect the flexible president.)

Hillary, Obama and many others violated the nation's security laws by using her non-government computer.

Obama gave kickbacks to union supporters when he violated the nation's bankruptcy law with the bailout of GM.

Obama used taxpayer dollars to reward political supporters like at Solyndra.

Hillary, through her family and foundation, got huge amounts of speech money and donations from foreign countries. Russia, for example, got Uranium for their generosity. (If there is any doubt about whether they were kickbacks, that should have disappeared when the donations dried up and speech fees dropped or dried up when she no longer could return favors)

Obama shipped over $1 billion in taxpayer money in unmarked bills, to Iran tyrants, who still pledge death to America, to get a deal.

Obama dictatorially stopped a years' long investigation into a billion dollar a year drug running ring by terrorists to appease Iranian tyrants because he was more concerned about his legacy than the safety, health and lives of the American people.

Hillary and the DNC paying over $10 billion to buy a fake dossier from a foreign national to destroy Trump. It appears they didn't think they could beat him based on the truth or their policy proposals.

Obama and his administration, including the FBI, Justice Department, the intelligence agencies and the State Department, using the fake dossier as a source for FISA warrants and to infiltrate the Trump campaign with informants. (they obviously didn't believe their record or policies would win the votes). Instead of the media and other Democrats caring about this pure corruption they have participated in perpetuating the lies about Russian collusion for over three years.

The Obama Administration, at the Justice Department, EPA and CFPB using taxpayer money for political purposes and political supporters by creating slush funds from money confiscated from businesses that they pretended would go to victims.
The judge found these releases, together with the publication of Clinton's secret speeches to Wall Street banks, in which she pledged to be their representative, were "matters of the highest public concern." They "allowed the American electorate to look behind the curtain of one of the two major political parties in the United States during a presidential election."
*
Democrats as a protection racket? Ed Buck makes it a trifecta
*
Judicial Watch: Only Crimes in Russia Scandal Are from 'Obama Gang'
THE MAN WHO WOULD BE DICTATOR
Barack Obama's Russia Connection
If Obama was a fully recruited agent of Moscow, tasked with giving Russia a significant military advantage over the United States, and economically weakening and socially dividing the nation, how would he have conducted his presidency (or his post-presidency) any differently? TREVOR LOUDON
*
///
Democrats Allow Communists to Infiltrate Their Party Across the Nation
DESTABILIZE AMERICA TO LAY GROUNDS FOR A MUSLIM-STYLE DICTATORSHIP
*
*
WITH THESE TRAITORS, JUST FOLLOW THE MONEY!