Maher: We 'Have to Learn to Live with Each Other' – A Second Civil War Is Possible
On Friday's broadcast of HBO's "Real Time," host Bill Maher stated that Americans "have to learn to live with each other," despite political differences, "or there will be blood."
Maher began by urging people to just enjoy Thanksgiving instead of trying to "win it. And never forget the single, shining truth about democracy, it means sharing a country with assholes you can't stand. In that way, it's a lot like Thanksgiving. You don't get to choose the guests. Because those freaks are your family. Think about that the next time you think you can own somebody politically."
He later added, "We're so divided, it's no longer enough to just make a point. You have to destroy. You have to own people. Except the person who gets owned doesn't change their mind. … We have to drop this fantasy that we can destroy the other side or crush or shred or pulverize them. Those aren't real things. They're the middle four settings on the blender that no one has ever used. America is a big country, filled with millions of people who don't think the way you do and never will, and you can't own, vanquish, or disappear them. We're stuck with them, and they're stuck with us."
Maher further stated, "Now, lately, we've been hearing more and more about a second civil war, which sounds impossible in this modern, affluent country. It is not. We all talk about Trump as an existential threat, but his side sees Democratic control of government the exact same way. And when both sides believe the other guy taking over means the end of the world, yes, you can have a civil war. … We are going to have to learn to live with each other, or there will be blood."
Follow Ian Hanchett on Twitter @IanHanchett
Pew: Europe Hosting at Least 3.9 Million Illegal Immigrants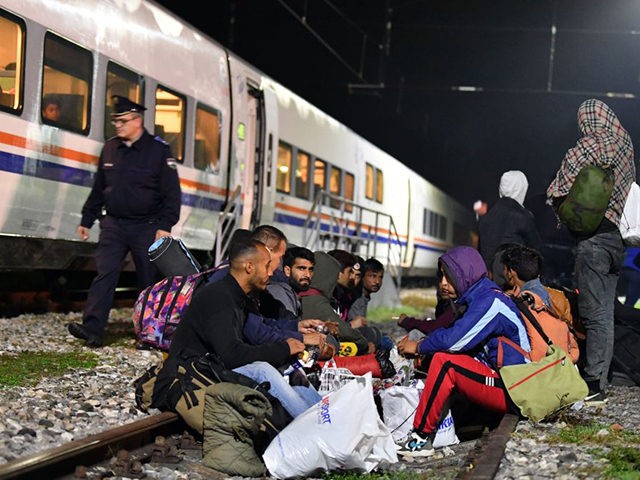 Europe is currently home to somewhere between 3.9 and 4.8 million illegal immigrants, according to a new survey by the Pew Research Center.
"Europe has experienced a high level of immigration in recent years, driving debate about how countries should deal with immigrants when it comes to social services, security issues, deportation policies and integration efforts," Pew notes in its latest
study
of the question.
"Among these recently arrived immigrants are many who live in Europe without authorization," the article adds. "Coupled with unauthorized immigrants who were already in Europe, their numbers reach into the millions, though together they make up a small share of Europe's total population."
Although the number of illegal migrants in Europe reached its peak in 2016, it has fallen only slightly since then, since Europe has so far been unable to devise an effective system for repatriating those migrants whose appeals for asylum have been rejected. The reason that the number has dropped at all is not because the migrant population has decreased but because many "have been approved to remain in Europe."
Between 2014 and 2017, Pew reveals, Europe's illegal migrant population climbed from 3.0-3.7 million to 3.9-4.8 million, a significant increase by any measure.
Illegal immigrants now make up just under 20 percent of Europe's roughly 24 million foreign nationals, meaning that nearly one in five foreigners living in Europe is doing so without authorization.
According to Pew, nearly one quarter of Europe's unauthorized immigrants are asylum seekers who are still awaiting a decision on their pending application.
Most of these "entered their country of residence without permission," Pew states, "and the majority of applicants are now seeing their applications rejected."
In its current study, Pew defines unauthorized immigrants as "people living without a residency permit in their country of residence who are not citizens of any European Union or European Free Trade Association (EFTA) country."
"Most unauthorized immigrants entered an EU-EFTA country without authorization, overstayed a visa, failed to leave after being ordered to do so or have had their deportation temporarily stayed," the article notes.
America builds the La Raza "The Race" Mexican welfare state
THE DEMOCRAT PARTY'S LA RAZA WELFARE STATE ON OUR BACKS… Not one Legal voted for it!
Who's coming in and getting that instant customer service legal immigrants don't get? Well, people like Mirian Zelaya Gomez, a single mom with two kids and a fondness for Instagram luxury-life
glamour shots
who got her name in the news as "Lady Frijoles," the Honduran caravan migrant who disdained donated Mexican food in Tijuana, and who told the press she was migrating to the states to get free medical care for her kids. She's since been
arrested for assaulting
a relative who had given her housing in Dallas. Here she was, being booked:
MEXIFORNIA: Where La Raza Loots First and by Invitation of the Democrat Party!
Where To Go When Your Local Emergency Room Goes Bankrupt?"
During the past ten years 84 California hospitals have declared bankruptcy and closed their Emergency Rooms forever.

Financially crippled by legislative and judicial mandates to treat illegal aliens have bankrupted hospitals!

In 2010, in Los Angeles County alone, over 2 million illegal aliens recorded visits to county emergency rooms for both routine and emergency care.

Per official figures, the cost is $1,000 dollars for every taxpayer in Los Angeles County.
OTHER FACTS ON MEXICO'S SECOND LARGEST CITY OF LOS ANGELES:
93% OF THE MURDERS ARE BY MEXICANS.
THE TAX-FREE UNDERGROUND ECONOMY IN LOS ANGELES COUNTY IS ESTIMATED TO BE IN EXCESS OF $2 BILLION YEARLY.
Los Angeles County Pays Over a Billion in Welfare to Illegal Aliens Over Two Years
In 2015 and 2016, Los Angeles County paid nearly $1.3 billion in welfare funds to illegal aliens and their families. That figure amounts to 25 percent of the total spent on the county's entire needy population, according to
Fox News
.
The state of California is home to more illegal aliens than any other state in the country. Approximately one in five illegal aliens lives in California, Pew reported.
Approximately a quarter of California's 4 million illegal immigrants reside in Los Angeles County. The county allows illegal immigrant parents with children born in the United States to seek welfare and food stamp benefits.
The welfare benefits data acquired by Fox News comes from the Los Angeles County Department of Public Social Services and shows welfare and food stamp costs for the county's entire population were $3.1 billion in 2015, $2.9 billion in 2016.
The data also shows that during the first five months of 2017, more than 60,000 families received a total of $181 million.
Over 58,000 families received a total of $602 million in benefits in 2015 and more than 64,000 families received a total of $675 million in 2016.
Robert Rector, a Heritage Foundation senior fellow who studies poverty and
illegal immigration
, told Fox the costs represent "the tip of the iceberg."
"They get $3 in benefits for every $1 they spend," Rector said. It can cost the government a total of $24,000 per year per family to pay for things like education, police, fire, medical, and subsidized housing.
In February of 2019, the Los Angeles city council signed a resolution making it a sanctuary city. The resolution did not provide any new legal protections to their immigrants, but instead solidified existing policies.
In October 2017, former California governor Jerry Brown signed
SB 54
into law. This bill made California, in Brown's own words, a "sanctuary state." The Justice Department filed a lawsuit against the State of California over the law. A federal judge dismissed that suit in July. SB 54 took effect on Jan. 1, 2018.
According to Center for Immigration Studies
, "The new law does many things: It forbids all localities from cooperating with ICE detainer notices, it bars any law enforcement officer from participating in the popular
287(g) program
, and it prevents state and local police from inquiring about individuals' immigration status."
Some counties in California have protested its implementation and joined the Trump administration's lawsuit against the state.
California's campaign to provide public services to illegal immigrants did not end with the exit of Jerry Brown. His successor, Gavin Newsom, is just as focused as Brown in funding programs for illegal residents at the expense of California taxpayers.
California's budget earmarks millions of dollars annually to the One California program, which provides free legal assistance to all aliens, including those facing deportation, and makes California's public universities easier for illegal-alien students to attend.
According to the Fiscal Burden of Illegal Immigration on United States Taxpayers
2017 report
, for the estimated 12.5 million illegal immigrants living in the country, the resulting cost is a $116 billion burden on the national economy and taxpayers each year, after deducting the $19 billion in taxes paid by some of those illegal immigrants.
BLOG: MOST FIGURES PUT THE NUMBER OF ILLEGALS IN THE U.S. AT ABOUT 40 MILLION. WHEN THESE PEOPLE ARE HANDED AMNESTY, THEY ARE LEGALLY ENTITLED TO BRING UP THE REST OF THEIR FAMILY EFFECTIVELY LEAVING MEXICO DESERTED.
New data from the U.S. Census Bureau shows that more than 22 million non-citizens now live in the United States.
EXCLUSIVE: Alleged Smugglers Busted, Migrants Rescued at Border Stash House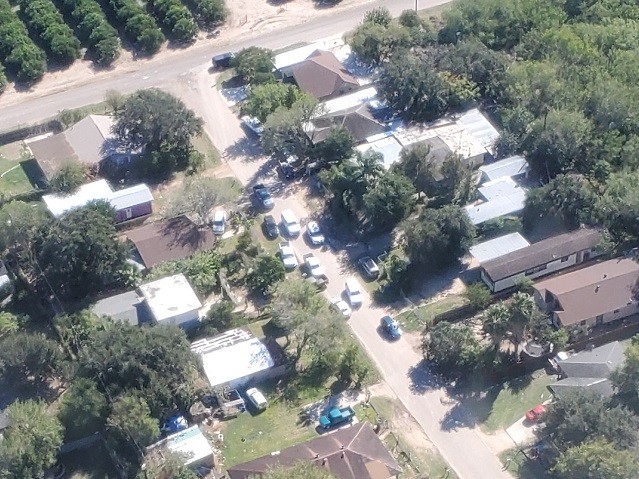 EDINBURG, Texas — U.S. Border Patrol agents, a Customs and Border Protection aircrew, and local law enforcement officers teamed up to raid a human smuggling stash house near the Texas border. The enforcement action led to the arrest of two alleged human smugglers and the recovery of ten migrants who illegally
crossed the border from Mexico.

An intelligence unit working near the Texas-Mexico border in the Rio Grande Valley Sector observed a vehicle on November 15 believed to be carrying a load of illegal aliens, a U.S. Customs and Border Protection (CBP) Air and Marine Operations (AMO) aircrew member told Breitbart News during an AMO Blackhawk helicopter ride along. The agent followed the alleged smugglers' vehicle until it arrived at its destination — a human smuggling stash house.

The AMO Blackhawk aircrew received a request for assistance from ground-based agents to provide overhead coverage of an anticipated raid on the stash house. The AMO agents responded to the scene to provide air cover in the event of migrants or smugglers attempting to flee during the raid.

After the AMO aircrew arrived on the scene, the onboard agents learned law enforcement officials on the ground arrested two alleged human smugglers and recovered ten migrants who were illegally present in the U.S. The nationalities and genders of the migrants were not immediately available.

An AMO aircrew member told Breitbart's John Binder following the flight that they frequently encounter stash houses like this one. Migrants who successfully make it across the border and to a roadway are quickly picked up by human smugglers and transported to a stash house.

During interviews with CBP and Border Patrol officials this week, officials stated that once migrants manage to sneak past frontline Border Patrol agents, human smugglers will pick them up in vehicles and take them quickly to stash houses located in residential neighborhoods in other border communities. In these stash houses, migrants will frequently be abused and their families extorted for additional smuggling fees before continuing their journey into the U.S. interior.

Breitbart Texas reports extensively on the activities of human smugglers and the stash houses they operate along the U.S.-Mexico border.

In October, an arrest of migrants being smuggled through an interior checkpoint in the Del Rio Sector led to the development of intelligence information about a stash house located in Eagle Pass, Texas. Border Patrol agents and ICE Homeland Security Investigations (HSI) agents executed a raid on the suspected stash house and arrested three suspected human smugglers — all residents of Eagle Pass, CBP officials stated. Agents also recovered nine migrants being held in the stash house awaiting inland transportation.

The migrants came to the U.S. from El Salvador, Ecuador, Guatemala, and Mexico, officials stated.

"Human stash houses are commonly used by criminal organizations to stage smuggled people in often sub-human conditions," Del Rio Sector officials wrote. "Individuals must typically await transport to interior destinations of the United States and pay fees to smugglers. It is not uncommon to be held for weeks in small, cramped structures without adequate ventilation, running water, or sanitation."

"Smugglers have also engaged in robbery, rape, and physical abuse," the officials stated.












Eight Killed in Two Days of Gun Battles in Mexican Border City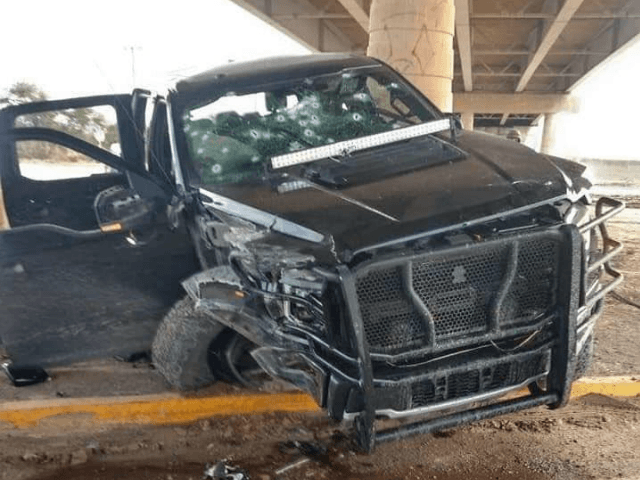 A series of clashes between members of Los Zetas and the Mexican military led to a two-day span of multiple shootouts in the border city of Nuevo Laredo. At least seven gunmen and one soldier died in the firefights. The gunmen carjacked numerous vehicles and set them on fire in an attempt to block streets and set up ambushes against authorities. The tactics used by the cartel gunmen once again spread terror among residents of that city.
The shootouts come at a time when the Cartel Del Noreste faction of Los Zetas is terrorizing the region and clashing with authorities in three separate states south of the Texas border.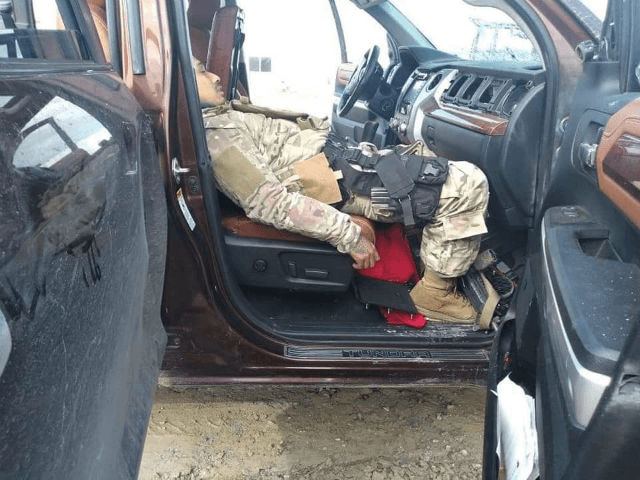 The violence began on Thursday afternoon when the Mexican military had been patrolling along various avenues in Nuevo Laredo, information revealed by a joint task force of Mexican federal and state officials. Six cartel gunmen and one Mexican soldier died in the shootouts, while three other soldiers sustained serious injuries. Mexican authorities also seized various SUVs and weapons.
In an act of apparent revenge, Los Zetas-CDN set out a series of blockades and torched vehicles to set up several ambushes targeting the Mexican military. The intensity of the shootouts caused several residents and citizen journalists to speculate that authorities had captured one of the main leaders of Los Zetas-CDN, however, U.S. law enforcement officials revealed to Breitbart Texas that no such capture took place.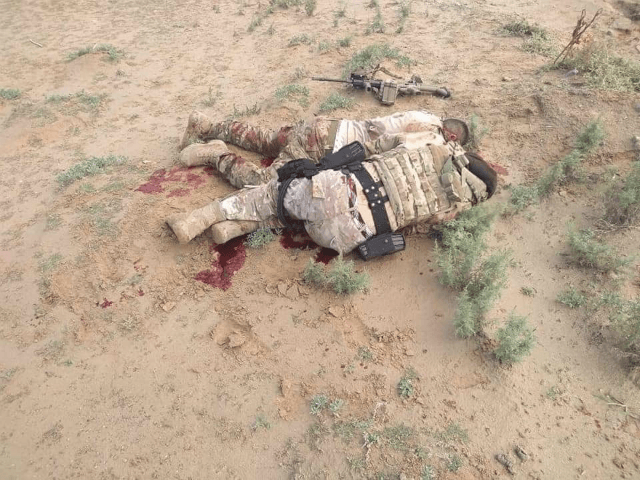 Ildefonso Ortiz is an award-winning journalist with Breitbart Texas. He co-founded Breitbart Texas' Cartel Chronicles project with Brandon Darby and senior Breitbart management. You can follow him on
Twitter
and on
Facebook
. He can be contacted at
Iortiz@breitbart.com
.
Brandon Darby is the managing director and editor-in-chief of Breitbart Texas. He co-founded Breitbart Texas' Cartel Chronicles project with Ildefonso Ortiz and senior Breitbart management. Follow him on
Twitter
and
Facebook
. He can be contacted at
bdarby@breitbart.com
.
Tony Aranda from Breitbart Texas' Cartel Chronicles project contributed to this report.