BARACK OBAMA PUTS OUT MILLIONS TO GET ILLEGALS REGISTERED TO VOTE DEM!
APRIL 18, 2016
Otherwise a Democrat commander-in-chief and his open-borders Domestic Policy Director wouldn't be operating such a costly project.
Judicial Watch wrote about the new
A year after President Obama launched his
Task Force on New Americans
the administration is injecting it with a $19 million infusion so it can achieve its key initiative of registering new voters that will likely support Democrats in the upcoming election. Officially, this is being described as enhancing pathways to naturalization by offering immigrants free citizenship instruction, English, U.S. history and civics courses. The cash is being distributed by U.S. Citizenship and Immigration Services (USCIS), the Homeland Security agency that oversees lawful immigration, and the obvious goal is to register more immigrant voters because they tend to be Democrat.
task force last April, reporting that its chair is
none other than Cecilia Muñoz, the former
vice president of the powerful open borders
group National Council of La Raza (NCLR).
Obama recruited Muñoz to be White House
Director of Intergovernmental Affairs then
promoted her to the more powerful and
prestigious post of Domestic Policy
Director.
That gives her tremendous influence as the president's top adviser on domestic issues as well as the White House official in charge of coordinating and supervising the execution of domestic policy. As head of the Task Force on New Americans Muñoz recruited like-minded leaders from various agencies—including the departments of Homeland Security, Justice, State, Education, Transportation and Health—to brainstorm about ways to empower immigrants.
Executing this mission will cost American taxpayers a chunk of change to provide immigrants and refugees with free "citizenship preparation" programs the administration claims will "strengthen civic, economic and linguistic integration" and "build strong and welcoming communities." The allocation was announced this month by USCIS, which has dedicated large sums over the years to similar causes. The money usually goes to various leftist groups that help lawful permanent residents prepare for naturalization. In fiscal year 2016, however, the agency is recruiting new groups by offering them a piece of the multi-million-dollar pie. "We intend to award about $1 million to first-time recipients in the Citizenship and Integration Grant Program for fiscal year 2016," the agency's
grant announcement
states. "If you represent one of these organizations, or know of an interested organization, we strongly encourage that organization to consider applying. Additionally, another $9 million will fund programs that provide both citizenship instruction and instruction and naturalization application services."
The administration brags about spending millions in recent years to support the quality work of organizations that play a vital role in helping residents prepare for naturalization, but seems to acknowledge this year is special and therefore more money will be dedicated to the cause. Read between the lines; presidential election. The extra cash "will help nonprofits establish new citizenship instruction programs or expand the quality and reach of existing ones," the agency writes. "Examples of eligible organizations include private, nonprofit organizations such as civic, community and faith-based organizations; adult education organizations; and volunteer and literacy organizations. A separate funding opportunity will award approximately $9 million to public or nonprofit organizations that prepare permanent residents for citizenship by offering both citizenship instruction and naturalization application services."
This is only a small part of the new task force's mission. Practically every federal agency will participate in this effort by contributing resources and creating programs to help immigrants. For example the Department of Labor (DOL) will implement "new workforce programs" for the "new Americans" and the Department of Education will promote "funding opportunities" to assure that the immigrants "are provided the tools they need to succeed." The Department of Health and Human Services (HHS) will collaborate with other agencies to release a career and credentialing toolkit on "immigrant-focused career-pathways programs." The Department of Justice (DOJ) and USCIS will make sure the new Americans have worker rights and protections, the task force says, and the Department of Housing and Urban Development (HUD) will launch a two-year pilot to assure that non English speakers have "meaningful access to housing programs" subsidized by American taxpayers.
87 Criminal Aliens, Gang Members Arrested in Nevada
More than 80 criminal aliens and gang members were arrested in Reno and Las Vegas, Nevada last week, according to Immigration and Customs Enforcement.
In a continuation of recent operations
targeting illegal immigrant convicts, ICE
Enforcement and Removal Operations (ERO)
officers arrested 87 foreign nationals, whose
crimes and affiliations were heinous enough
to warrant enforcement under the Obama
Over the five-day dragnet, which concluded late last week, ERO officers arrested 65 criminal aliens in the Las Vegas area and 22 in Reno.
The arrestees had convictions for drug
trafficking, weapons violations, child sex
offenses, domestic violence, and re-entry
following a deportation. Two were confirmed
The recent enforcement operations occur as immigration hawks question the Obama administration's commitment to immigration enforcement — even against criminal aliens. In recent years ICE's deportation levels have been on the decline, dropping 43 percent from FY 2012 to FY 2015. In that same timeframe ICE removed 41 percent fewer criminals.
Salt Lake City Field Office Director Daniel Bible highlighted the operations Monday as an example of the benefits provided under the administration's "priorities" for enforcement strategy.
"By taking these individuals off our streets and ultimately removing them from the country, we are making our communities safer for everyone," Bible said in a statement.
The arrestees' were from nine different countries, including 65 criminal alien arrestees from Mexico and 10 from El Salvador. Guatemala, Honduras, Peru, the Philippines, and Cuba each had two arrestees. Additionally one of the arrested criminal aliens was from Taiwan and another from Vietnam.
Among those arrested, ICE highlighted:
-A previously deported 55-year-old Mexican national with a prior felony conviction for transporting and selling heroin;

-A 57-year-old Mexican national convicted of lewdness with a child under 14 that resulted in a four to 10-year sentence in state prison; and a

-42-year-old Salvadoran national with multiple prior felony convictions, including one for statutory sexual seduction.

-A 33-year-old Mexican national with past convictions for drug trafficking, domestic battery, and DUI; and a

-A 19-year-old Mexican national gang member with prior convictions for resisting an officer and robbery.
"Study shows immigrants use 40% more welfare than native born".
THEY COME BY SEA, THROUGH TUNNELS, AND SIMPLY
"In the meantime, the porous southern border has created a
huge national security risk, and the region is a cesspool of
violent criminal activity perpetuated by heavily armed
Mexican drug cartels that have joined forces with Islamic
terrorists to enter the U.S."
CA GOVERNOR JERRY BROWN HAS LITERRALY STOOD
ON THE CA-NARCOMEX BORDER AND TOLD THE
INVADING MEXICANS THAT CA WAS THEIR SECOND
HOME. BUT IT'S THERE FIRST HOME WHEN IT COMES TO
VIDEO: 17 Suspected Illegal Aliens Caught off California Coast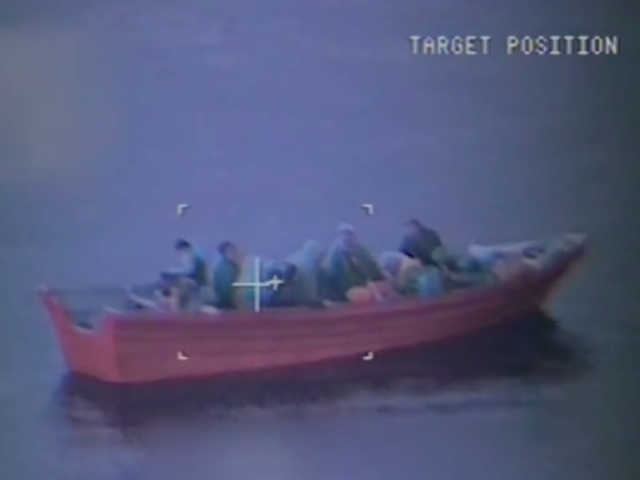 Seventeen suspected illegal aliens aboard a panga boat sent a
distress signal off the coast of San Diego on Tuesday morning
that led the U.S. Coast Guard and U.S. Customs and Border
Protection (CBP) to apprehend the group.
Video of the stranded boat was released, along with the Coast Guard's announcement that the 17 aboard were taken to a local Border Patrol station for processing.
Crew aboard the 87-foot Coast Guard Cutter
Sea Otter
spotted a flare around 4:45 a.m. Tuesday morning off the coast of San Diego, according to the Coast Guard. Coast Guard Sector San Diego Joint Harbor Operations Center watchstanders also received a 911 call around 5:30 a.m. from one of the persons aboard the panga boat.
The Coast Guard release
described
the operation to find and rescue those aboard:
A Sector San Diego MH-60 Jayhawk crew and CBP AMO UH-60 Blackhawk helicopter crew immediately launched to search and at approximately 6:50 a.m., the CBP AMO Blackhawk crew located the vessel approximately eight miles west of Pacific Beach, in San Diego.
At 8:15 a.m., the Sea Otter's crew arrived on scene with the vessel and safely rescued 17 suspected illegal migrants from the disabled panga.
The group was picked up approximately eight miles off of San Diego's Pacific Beach, and delivered to Shelter Island. From there, the Marine Task Force took the group into custody. The 17 were then transported to the Border Patrol office.
Last August, illegal aliens were caught at least twice trying to enter the United States off the coast of southern California. Also last August, a lawsuit was filed naming three CBP agents over the death of an illegal alien aboard a panga boat. The Mexican national perished as a boat of illegal aliens attempted to evade capture and capsized.
Follow Michelle Moons on Twitter
@MichelleDiana