Border cops: U.S. election driving new immigration crisis:
The new surge of illegal immigration at the southern border is being driven by the U.S. election and the related debate over whether to ease or tighten immigration laws, according to representatives of border agents and border-state sheriffs. The last few months have seen a dramatic rise in apprehensions of illegal immigrants, on a scale that rivals 2014, when members of both parties agreed it became a humanitarian crisis. That crisis abated in 2015, but the numbers have spiked again, and federal officials have mostly been silent on why. According to border officials, the election is a major factor. They say Donald Trump's threat to build a wall and shut down all illegal immigration is creating an incentive for people to make it to the U.S. before Trump takes over. But they also say the possibility of Hillary Clinton winning creates its own incentive, since many perceive or hope that she might create an amnesty program for illegal immigrants, and hope to be in the U.S. already when that happens.
JAMES WALSH
- THE HISPANICAZATION of AMERICA
How the Democrat party surrendered America to Mexico:
MORE HERE:
"The watchdogs at Judicial Watch discovered documents that reveal how the Obama administration's close coordination with the Mexican government entices Mexicans to hop over the fence and on to the American dole." Washington Times
IMAGES OF AMERICA UNDER LA RAZA MEX OCCUPATION:
Your neighborhood will be next to fall to LA RAZA!
Open Borders Rap Sheet: 30+ Crimes by Immigrant Suspects in September Alone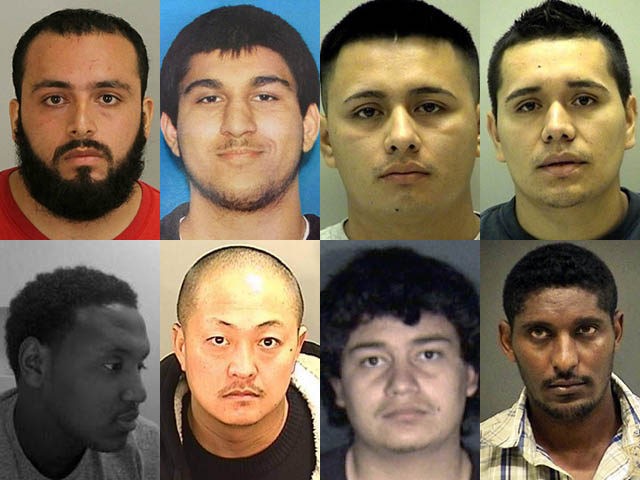 Breitbart News has compiled a list of criminal incidents across the nation from the month of September, 2016, all of which relate to the United States' immigration crisis.
In the month of September alone, a Turkish immigrant allegedly shot and killed five people in a Washington State mall; an Afghan immigrant allegedly planted bombs in New York and New Jersey injuring roughly 30 innocent people; a Somali immigrant allegedly stabbed nine people at a Minnesota mall; a twice-arrested illegal alien with a prior DUI conviction allegedly murdered a Kansas sheriff's deputy; an illegal alien and convicted child rapist allegedly shot two California corrections officers; an illegal alien with a prior drug arrest, who had been a recipient of Obama's executive amnesty, allegedly engaged in reckless driving killing a 12-year-old girl; a three-time deported illegal alien allegedly killed two people on what was described as a crime "rampage;" and a Mexican immigrant and Arizona pastor was arrested after it was revealed that he had allegedly molested children for years, many of whom are believed to belong to his church, and for impregnating one of his victims when she was 13 years old.
The below list is by no means exhaustive—it is simply intended to highlight the scope and scale of the nation's immigration crisis, which frequently goes unreported or dismissed by establishment media. While the media may report some of these crimes (such as the extensive coverage given to the New York City bombing or the Minnesota mall stabber), their reporting is almost always absent any immigration context.
In addition to the crimes committed by people in the country illegally, this list includes crimes attached to individuals whom our government voluntarily chose to admit, or even decided to reward with U.S. citizenship.
---
9/27/16
–
SARITA, Texas
---
9/27/16
–
DALLAS, Texas
Juan Navarro Rios, 43, a three-time previously deported illegal alien was arrested for what was described as a crime "rampage." CBS described Rios as "a murderer, carjacker and kidnapper whose reign of terror spanned at least from the city of Dallas to just north of Austin."
During his "reign of terror," Rios allegedly shot to death a 23-year-old man in his vehicle on the shoulder of Texas State Highway Spur 408, he then "opened fire on at least two other vehicles." Later that evening, Rios allegedly drove up next to Welton Betts, 44, as he was pumping gas at a Texaco gas station. He allegedly shot and killed Betts, forced Betts' wife out of the car and stole the vehicle. Betts, a black American who had fallen in love and married his high school sweetheart and raised a family with her, has been described as "a typical Texan: he loved God, his family, hard work, the Cowboys, and his pickup truck."
According to reports, Rios had multiple criminal charges in Williamson County, including felony possession of a controlled substance and burglary of a vehicle.
Reports note that the illegal criminal alien was well-known in his Hispanic community. "In a largely Spanish-speaking neighborhood in southern Dallas, everybody knew Juan Navarro Rios as 'flaco' [Spanish for 'skinny']."
---
9/27/16
–
WILSON COUNTY, Tennessee
---
9/24/16
–
BURLINGTON, Washington
---
9/23/16
–
MONTGOMERY COUNTY, Maryland
Burrows came to the U.S. when he was 12 years old and promptly joined a gang. Even still, the government rewarded him with lawful permanent resident status.
The 2012 gang rape was not Burrows' first run-in with the law. In 2011, he was charged with theft, but a judge was apparently lenient with him and reportedly spared him jail time, allowing him to go back on the streets and eventually take part in a gang rape the following year.
---
9/23/16
–
WASHINGTON, D.C./Virginia
On Sept. 18, ERO officers arrested a citizen and national of Mexico in Ridgeway, Virginia, who was previously convicted of grand larceny.
On Sept. 19, ERO officers arrested a citizen and national of India in Fairfax, Virginia, who was previously convicted for attempted indecent liberties with a child under age 15.
On Sept. 19, ERO officers arrested a citizen and national of Mexico, in Manassas Park, Virginia, who was previously convicted of rape.
On Sept. 20, ERO officers arrested a citizen and national of Honduras in Portsmouth, Virginia, who was previously convicted of abduction by force/intimidation.
---
9/22/16
–
GARLAND, Texas
---
9/20/16
–
WASHINGTON, D.C.
---
9/20/16
–
TUSCON, Arizona
---
9/20/16
–
BRIDGE CITY, Texas
---
9/20/16
–
DONNA, Texas
---
9/18/16
–
ST. CLOUD, Minnesota
---
9/17/16 – 9/19/16
–
ELIZABETH, New Jersey
---
9/17/16
–
COLLEGE STATION, Texas
---
9/16/16
–
OVERLAND PARK, Kansas
---
9/14/16
–
PORTLAND, Oregon
An Ethiopian immigrant who was working as a Certified Nursing Assistant in Portland, Oregon is behind bars, charged with rape, unlawful sexual penetration and other sexual contact with patients who were 87 and 94 years old.

Around a half dozen other alleged victims came forward after the September 14 arrest of Adeladilew A. Mekonen and he is likely to face "many more charges," the Washington County Sheriff's Department confirmed to Breitbart News.

As the online record

of who is in custody in Washington County shows, the 34-year-old suspect is currently facing 18 charges.
---
9/14/16
–
DES MOINES, Iowa
This was not Lopez Aguilar's first criminal offense: In June, he received a citation of the possession of drug paraphernalia.
---
9/13/16
–
PHOENIX, Arizona
---
9/13/16
–
SANTA CRUZ, California
Duarte pled guilty to one count of child molestation and one count of attempted sexual abuse of a minor. Nogales International reports: "Despite the nature of the charges against him and the fact that he is a citizen of another county, Andrade was never arrested or ordered to post bond. Even after he pleaded guilty, Deputy County Attorney Kimberly Hunley did not ask the judge to have him taken into custody. Andrade fled the state after his change-of-plea hearing and was eventually arrested in California on Feb. 19 after a nationwide manhunt."
---
9/13/16
–
LAS VEGAS, Nevada
---
9/10/16
–
MONTGOMERY COUNTY, Maryland
---
9/9/16
–
BALTIMORE, Maryland
---
9/7/16
–
BOSTON, Massachusetts
---
9/6/16
–
EL PASO, Texas
---
9/6/16
–
PHOENIX, Arizona
---
9/6/16
–
AUSTIN, Texas
---
9/5/16
–
TUSCON, Arizona
Rosas-Molina was previously convicted in Mexico for the 2003 murder of U.S. Border Patrol agent… [who] had been traveling off-duty when Rosas-Molina attacked him for being a BP agent. Rosas-Molina served 11 years in prison for the killing. This is not the first time BP agents have arrested Rosas-Molina, in 2002 he was apprehended by the Cochise County Sheriff's Office for possession of marijuana for transport or sale. He served 108 days in county jail for that offense. Rosas-Molina now faces prosecution by the U.S. Attorney's Office for illegal re-entry of an aggravated felon.
---
9/5/16
–
FRESNO, California
---
9/2/16
–
CHAPEL HILL, North Carolina
---
9/1/16
–
HOUSTON, Texas