CALIFORNIA UNDER LA RAZA SIEGE:
Mexico's looting and ethnic cleansing of a once American state.
Grassroots Group Begins Filing to Defund CA Sanctuary Cities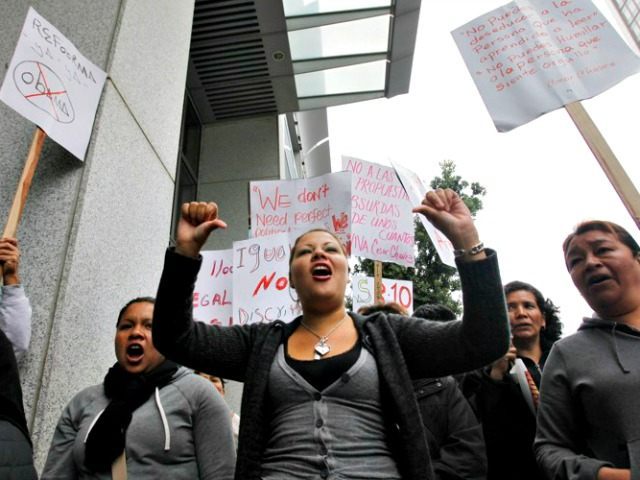 Initial papers have been filed as part of an effort to take action at a local level to defund California sanctuary cities one by one starting in the city of Cudahy.
Federal officials have repeatedly warned sanctuary cities that
their federal funds could cease if they refuse to cooperate
with federal immigration law. While letters have been issued
the process has yet to deprive sanctuary cities of funds based
on their sanctuary status.
This past Tuesday Joseph Turner filed paperwork to launch an initiative that could deprive the city of Cudahy of 13.5 percent of their general revenue funds. Turner told Breitbart News that this is part of a larger effort to defund sanctuary cities. He filed the new initiative under Prop 218 as a utility tax repeal.
Turner told the local Fox11 News that his effort could "attack 13.5 percent of their revenue base" for a mere "couple hundred bucks and less than a hundred signatures."
He told Breitbart News that by filing under 218 he only needs to gather 62 signatures from Cudahy voters. It could take 3-4 weeks before signature gathering begins, but once it does Turner will have 180 days to gather the 62 Cudahy voter signatures.
Turner plans to file the next initiative in Huntington Park, California. He said there he would need around 176 signatures. Huntington Park's city council went so far as to appoint illegal aliens to their city commissions in 2015 and the backlash from members of the community made national news.
Turner founded the group American Children First after Donald Trump won the 2016 presidential election, according to the organization's website. The site states, "He recognized the short window of opportunity that exists to ensure that promises made on the issues of illegal immigration, border security, and trade are kept."
Cudahy city documents reveal that the city council voted on January 6, 2015 to adopt a resolution declaring Cudahy as a "Sanctuary City for Immigrants". The small city contracts with the Los Angeles County Sheriff's Department for their policing, according to Fox11. Cudahy Council member Jack Guerrero told the outlet that the city's sanctuary designation is symbolic.
In late March, U.S. Attorney General Jeff Sessions issued a stern warning to sanctuary cities from the White House briefing room. Sessions announced that cities which continually refuse "to detain known felons on federal detainer requests" or otherwise family to comply with federal immigration laws.
"In a single week, there were more than 200 instances of jurisdictions refusing to honor ICE detainer requests with respect to individuals charged or convicted of a serious crime. The charges and convictions against these aliens include: drug trafficking, hit and run, rape, sex offenses against a child and even murder," said Sessions, who called for the halt of sanctuary city policies.
Then in April, Sessions revealed that he had issued a letter to 10 sanctuary cities with a direct warning that failure to respond could result in loss of federal funds. He said that the Obama Administration issued notices insisting compliance with federal law passed several years ago. He said the 10 cities had received letters under the Obama Administration just a year ago
In May the Attorney General issued a memo defining a sanctuary city in connection with President Donald Trump's January executive order on the issue.
Turner's plan is to continue to replicate the initiative effort in other California sanctuary cities. He launched an initiative back in 2005 and 2006 that was replicated in other parts of the country. His prior efforts on the issue of illegal immigration were profiled in the Wall Street Journal in 2006. He hopes this effort could see similar success, inspiring Americans in other states to start similar efforts and initiatives where states allow them.
ILLEGALS VOTING …. (for more)!
ATTORNEY GENERAL JEFF SESSIONS ORDERS CALIFORNIA TERMINATED.
MEXICO IMMEDIATELY DENOUNCED THE DECREE AND FIRED SESSIONS.
Attorney General Jeff Sessions: Emergency Intervention Needed in California NOW!
MEXICO'S BIGGEST EXPORTS TO U.S.: poverty, anchor baby breeders for welfare, criminals, unregistered dems and HEROIN!
In California, illegals can vote: it's possible and very likely. California's automatic motor-voter law all but assures that illegals seeking driver's licenses will get a ballot along with their license.
Miscreants from any corner of the world can register to vote in California online, too. No vetting, no assurance, no integrity.
Voter fraud in broken inner city hellholes like Detroit and New York City cannot compare with the ballot stuffing throughout the once Golden State.
EL TRUMPO SURRENDERS TO THE MEXICAN FASCIST PARTY of LA RAZA…. Obama's amnesty handed to them on a silver platter.
THE LA RAZA PLAN: California's final surrender to fly the Mexican flag within 4 years.
"The American Southwest seems to be slowly returning to the
jurisdiction of Mexico without firing a single shot." -- -
EXCELSIOR
--- national newspaper of Mexico
They claim all of North America for Mexico!
(WARNING! THE BELOW LINK IS GRAPHIC ON MEXICAN HATRED OF LEGALS)
AMNESTY… It's all about keeping wages DEPRESSED!
THE FALL OF AMERICA UNDER THE LA RAZA SUPREMACY FASCIST INVASION, OCCUPATION AND LOOTING
As economist Philip J. Romero concluded in a 2007 study, "illegal immigrants impose a 'tax' on legal California residents in the tens of billions of dollars."
California
must stem the flow of illegal immigrants
The state should go after employers who hire them, curb taxpayer-funded benefits, deploy the National Guard to help the feds at the border and penalize 'sanctuary' cities.
"Illegal immigration is another matter entirely. With the state budget in tatters, millions of residents out of work and a state prison system strained by massive overcrowding, California simply cannot continue to ignore the strain that illegal immigration puts on our budget and economy. Illegal aliens cost taxpayers in our state billions of dollars each year.

As economist Philip J. Romero concluded in a 2007 study, "illegal immigrants impose a 'tax' on legal California residents in the tens of billions of dollars."
93% OF ALL MURDERS IN THE LA RAZA-OCCUPIED CITY OF LOS ANGELES ARE BY MEXCIANS!
A county by county chart: