THE LA RAZA MEX DRUG CARTELS NOW OPERATE IN ALL AMERICAN CITIES AND THROUGHOUT THE MID-WEST!


PHOTOS: Mexican Cartel Executes Man in Broad Daylight near Texas Border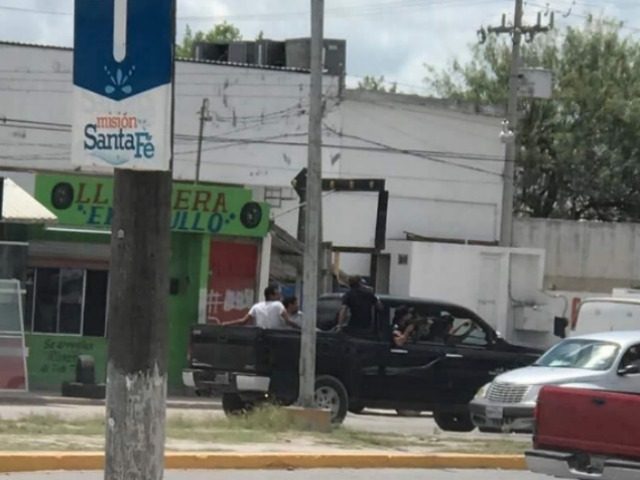 REYNOSA, Tamaulipas — Gunmen from a Mexican drug cartel dragged an unknown man out of a tire shop, shot him in the street, and then threw his body in the bed of a pickup before fleeing the area. The attack took place in broad daylight.
A series of leaked photographs obtained by Breitbart Texas captured the moment when a team of Gulf Cartel gunmen pulled up to a tire shop in the Juarez neighborhood. They were carrying assault rifles and handguns during the attack.
The team dragged out an unidentified man toward the truck and in the middle of the street where a man wearing a white shirt used a machine gun to shoot the victim in the head and body.
Another photograph revealed the moment when the gunmen throw the body in the bed of the pickup before fleeing.
The brazen execution is the most recent chapter in the ongoing fight for control of this border city between two rival factions of the Gulf Cartel. As Breitbart Texas has been reporting for more than a month, rival factions are waging a bloody war that resulted in at least 36 deaths, including a police officer and an innocent bystander.
The ongoing fighting has resulted in an increase in petty crime as cartel members hold up businesses and perform highway robberies targeting tourists returning from Texas.
Editor's Note: Breitbart Texas traveled to the Mexican States of Tamaulipas, Coahuila, and Nuevo León to recruit citizen journalists willing to risk their lives and expose the cartels silencing their communities. The writers would face certain death at the hands of the various cartels that operate in those areas including the Gulf Cartel and Los Zetas if a pseudonym were not used.
Breitbart Texas' Cartel Chronicles
are published in both English and in their original
Spanish
. This article was written by "A.C. Del Angel" from Reynosa Tamaulipas and "J.M. Martinez" from Piedras Negras, Coahuila.
93% OF ALL MURDERS IN THE LA RAZA-OCCUPIED CITY OF LOS ANGELES ARE BY MEXCIANS!
A county by county chart:
HOMELAND SECURITY IS NOT A JOKE, EXCEPT TO MEXICANS!
AMERICA DEMANDS SOVEREIGNTY FROM LA RAZA CRIME TIDAL WAVE!
40% of all Federal Border Crimes are by invading Mexicans!
93% of all murders in Mex-occupied Los Angeles are by Mexicans.
OPEN BORDERS: The Democrat Party's Weapon of Mass Destruction on the American Worker
"Los Angeles saw all crime rise in 2015: violent crime up 19.9 percent, homicides up 10.2 percent, shooting victims up 12.6 percent, rapes up 8.6 percent, robberies up 12.3 percent, and aggravated assault up 27.5 percent," Landry said."
Although MS-13 started out in Salvadoran communities in Los Angeles sometime during the 1980's, lax immigration policies and weak border security helped the gang explode in size as MS-13 originated from illegal immigrants, Breitbart Texas
reported
.
SANCTUARY CITY NEW YORK LETS LOSE A MS-13 GANG THUG!
The Justice Department's National Gang Intelligence Center (NGIC) claims that Latino street gangs like the MS-13 are responsible for the majority of violent crimes in the U.S. and are the primary distributors of most illicit drugs.
IMAGES of

LA RAZA CRIMINALS
IN LOS
200 MOST WANTED (MURDER) CRIMINALS IN LA RAZA-OCCUPIED LOS ANGELES:
"Mexican drug cartels are the "other" terrorist threat to America. Militant
Islamists have the goal of destroying the United States.
Mexican drug cartels
are now accomplishing that mission – from within, every day, in virtually
every community across this country."
JUDICIAL WATCH