Trump Trashing Jeff Sessions Portends Danger Ahead
By Brenda Walker
VDare.com Blog, July 26, 2017
. . .
Candidate Trump promised to end the DACA amnesty immediately, but instead has allowed the program to continue and add new beneficiaries who get work permits and an open door to everything America offers.
Plus, there's been no push from the White House to get universal e-Verify through the Congress which, as a comprehensive job blocker for illegal aliens, would be a very strong preventative for unlawful entry.
Trump's immigration enforcement failures seem more egregious in light of his rotten treatment of Jeff Sessions. And would the loss of Sessions signal a flip-flop of Trump toward mass amnesty in the near future? The establishment might cut the president more slack if he accepted the globalist agenda of open borders and diminished national sovereignty. It's hard to trust Trump when he can cut the strongest immigration enforcer in Washington.
. . .
http://www.vdare.com/posts/trump-trashing-jeff-sessions-portends-danger-ahead
Immigration Opinions, 7/28/17
Support the Center for Immigration Studies by donating on line here:
http://cis.org/donate
'... But at Least Sessions is Attorney General'
By Mark Krikorian
The Corner at National Review Online, July 25, 2017
http://www.nationalreview.com/corner/449818/trump-needs-sessions
Sessions's presence in the administration has been consolation for many upset by Trump's various deviations:
Trump is an enthusiastic backer and user of H-2B "Fire Americans" visa?
Well, at least Sessions is attorney general. Trump promised to end the illegal DACA amnesty, but is expanding it instead? Well, at least Sessions is attorney general.
Trump has agreed to bring Australia's refugee rejects to the U.S.? Well, at least Sessions is attorney general. "Well, at least Judge Jeanine is attorney general" doesn't have quite the same ring. If Sessions does end up being forced out, the tolerance for Trump's policy aberrations evaporates. Trump needs Sessions more than Sessions needs Trump.
Losing Jeff Sessions Means Losing Immigration Reform with Him

By Michael Brendan Dougherty

National Review Online, July 25, 2017
. . .
On the long-overdue issue of immigration reform, Sessions was primed to provide leadership from within the executive branch. Any restrictionist bill was already going to be a tough legislative battle, given opposition from Republican elites, corporate America, and the media. Firing Sessions or forcing him to resign would tip the balance of power in the White House even farther away from conservatives towards the New York moderates, very likely killing any chance of immigration reform. And that, in turn, would deprive Trump's earliest and most vocal supporters of their rationale for supporting his presidency. The entire premise of the Trump campaign was that he was, in Steve Bannon's words, a "blunt instrument" who could be used to push through restrictionist immigration reform and other needed change. The support of Sessions was the social proof of this thesis.
. . .
http://www.nationalreview.com/article/449834/donald-trump-firing-jeff-sessions-kill-immigration-reform
Mr. President, Do Your Job and Let Jeff Sessions Do His
By Ira Mehlman
ImmigrationReform.com, July 25, 2017
. . .
Rather than using his social media accounts to undermine his attorney general, President Trump should be using those platforms to spur Congress into action to fulfill popular reforms to our nation's immigration policies. These include, urging the Senate to hold a vote on House-passed legislation to rein in sanctuary jurisdictions, fully funding the president's promised border fence, enacting mandatory E-Verify to protect American workers, and crafting a merit-based legal immigration policy to name just a few.
Jeff Sessions did not take an oath of loyalty to the president. He swore to uphold the Constitution and to enforce the laws of the United States. He is doing exactly that and the president should get out of his way and let his attorney general do his job.
. . .
http://immigrationreform.com/2017/07/25/mr-president-job-let-jeff-sessions/
CALIFORNIA MOVES CLOSER TO FINAL ANNEXATION BY MEXICO
DE FACTO CITIZENSHIP PER LA RAZA:
NO TEST, NO BACKGROUND CHECKS ON CRIMINALITY, NO BACK TAXES, NO
FINES.... JUST JUMP STRAIGHT TO VOTING BOOTHS! AND VOTE OFTEN!!!
In 2013, California lawmakers passed legislation that allowed illegal aliens to obtain driver's licenses if they can prove to the Department of Motor Vehicle (DMV) their identity and state residency. The plan was one of the largest victories to date by the open borders lobby
.… JOHN BINDER – BREITBART.com
20-Time Deportee Moves to Sanctuary City, Allegedly Rapes 65-Year-Old Woman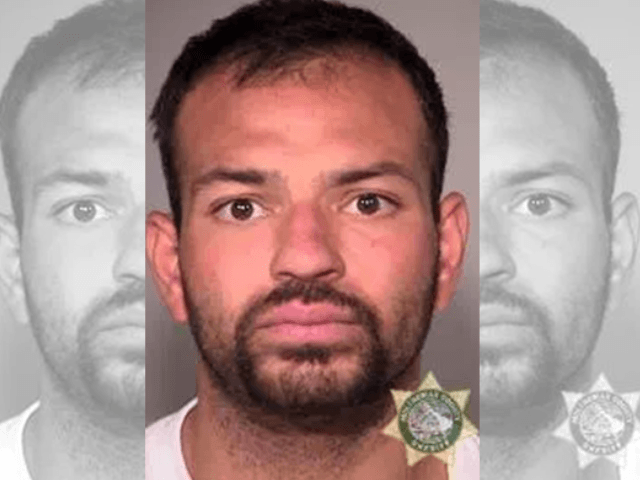 A Mexican national, deported by immigration authorities 20 times, moved to a sanctuary city and allegedly raped a 65-year-old woman.
P
olice officers in the sanctuary city of Portland arrested Sergio Jose Martinez, 31, after he allegedly broke into the home of a 65-year-old woman, tied her up, held her at knifepoint and raped her, KOIN CBS6 reported. Court records revealed Martinez has a long criminal history that includes burglary, battery, and multiple deportations.
"Defendant has entry/removal from [the] United States to/from Mexico 20 times with at least [five] probation violations from re-entry," the local CBS affiliate reported from court documents filed in March 2017.
Eighteen years ago, Martinez, then 15, completed a drug and alcohol treatment program in Texas, court records stated. His record reveals multiple jail sentences in California and Oregon. The Mexican national lived in a shelter on Portland's northwest side and illegally worked construction jobs for money. He admitted to being a user of methamphetamine and marijuana but said alcohol is his most serious addiction.
Following his alleged attack on the 65-year-old woman in her home where she gave him her Prius to get him to leave, police responded to a call about a man attacking a woman in the basement of a parking garage below a building. There, police discovered Martinez allegedly sexually assaulting another woman and holding her at knifepoint. Martinez fled on foot and officers chased him through a neighborhood, capturing him in a nearby apartment, KOINS reported.
Immigration officials deported Martinez, once again, in November 2016. It is not known when or where he re-entered the U.S. after being deported. He reportedly uses several aliases including, "Sergio Alberto Martinez," "Erick Acosta," "Smyley," and "Poison.
He is currently being held without bail.
Earlier this year, Multnomah County Sheriff Mike Reese told Full Measure with Sharyl Attkisson that turning criminal alien sex offenders over to Immigration and Customs Enforcement (ICE) officers damages "community trust," Breitbart Texas reported. His comments to Attkisson came after His office released a Mexican criminal alien convicted of sexual assault despite a hold from ICE Enforcement Removal Operations officers.
"It simply worries me that we've spent so much time and energy building community trust and something outside of our control may damage that," the sheriff said.
Crime victims might feel otherwise. A report issued earlier this year by ICE officials revealed that Sheriff Reese's jail released a Mexican national on February 15. Immigration officials issued an immigration detainer on March 21, 2016. The report indicates the Mexican criminal alien has a prior conviction for sexual assault.
Criminal aliens are drawn to the protections provided by sanctuary jurisdictions like the City of Portland and Multnomah County according to Attorney General Jeff Sessions. "When cities like Philadelphia, Boston or San Francisco advertise that they have these policies, the criminals take notice," AG Sessions told the police officers gathered at a Las Vegas conference center. "According to a recent study from the University of California Riverside, cities with these policies have more violent crime on average than those that don't."
"Some 300 jurisdictions in this country refuse to cooperate with federal immigration authorities regarding illegal aliens who commit crimes — even MS-13 gang members," Session stated. "These jurisdictions are protecting criminals rather than their law-abiding residents."
In September 2016, police in Austin, Texas, arrested five-time deportee Nicondemo Coria-Gonzales after he chose their sanctuary city to be his most recent U.S. home, Breitbart Texas reported. The Mexican national returned to Austin after his fifth deportation and allegedly went on a crime spree where he assaulted and raped at least nine women in the Texas capital city. At that time, now-Sheriff Sally Hernandez was in a campaign where she pledged to remove immigration officers from the Travis County jail and not honor immigration detainers. After her election, she followed through on those pledges and began releasing criminal aliens onto the streets of Austin. In one week, the sheriff who has become known as "Sanctuary Sally" released 142 criminal aliens, ICE officials reported.
Texas Governor Greg Abbott took immediate action, stripping Travis County of more than $1 million in state law enforcement grants.
Hernandez became to poster-child for supporters of Texas' Senate Bill 4 Sanctuary City bill authored by State Senator Charles Perry (R-Lubbock). On May 7, Governor Abbott signedthe nation's toughest anti-sanctuary city bill into law.
In an exclusive interview with Breitbart Texas, Governor Abbott said, "All law enforcement officers are going to be required to follow this law," the governor stated. "If they refuse to follow this law, or if they adopt sanctuary city policies, they are subject now to the stiffest penalties in America for adopting sanctuary city policies – which includes jail time where sheriffs could wind up in the same jail they may be releasing inmates from who are the subject of ICE detainer requests."
In the mean time, officials in Portland continue to protect and welcome criminal aliens. In March, Multnomah County Judge Monica Herranz allegedly allowed 22-year-old Diddier Pacheco Salazar escape from immigration officials by allowing him to flee through a back door normally reserved for court officials, Breitbart News Warner Todd Huston reported.
U.S. Attorney Billy Williams told reporters he was disturbed by the judge's lawless behavior. "When you're talking about the judicial system — whether it's federal or by state — you have an expectation that people are going to abide by the law and not take steps based on their own motivations, their own politics – whatever the motivation was," Williams said.
The DOJ launched an investigation into the action taken by Judge Herranz, Breitbart Texas' Ildefonso Ortiz reported. "I was troubled because, on the face of it, what I heard sounded like potential federal criminal law violations and/or ethical violations," U.S. Attorney Williams told reporters. "Generally, we're talking about obstruction of justice."
Bob Price
serves as associate editor and senior political news contributor for Breitbart Texas. He is a founding member of the Breitbart Texas team. Follow him on Twitter
@BobPriceBBTX
and
Facebook
.