Ben Carson: "Poverty, to a large extent, is
also a state of mind".....

NO, STUPID ASS!
POVERTY COMES FROM A COUNTRY
THAT FLOODS ITS OPEN BORDERS AND
JOBS TO KEEP WAGES DEPRESSED!
THIS FUCKING IDIOT IS STANDING IN MEXICO'S SECOND LARGEST CITY AND HE TELLS THE HOMELESS TO GO GET A JOB!
"Critics argue that giving amnesty to 12 to 30 million illegal aliens in the U.S. would have an immediate negative impact on America's working and middle class — specifically black Americans and the white working class — who would be in direct competition for blue-collar jobs with the largely low-skilled illegal alien population." JOHN BINDER
"Additionally, under current legal immigration laws, if given amnesty, the illegal alien population would be allowed to bring an unlimited number of their foreign relatives to the U.S. This population could boost already high legal immigration levels to an unprecedented high. An amnesty for illegal aliens would also likely triple the number of border-crossings at the U.S.-Mexico border." JOHN BINDER
"At the current rate of invasion (mostly through Mexico, but also through Canada) the United States will be completely over run with illegal aliens by the year 2025. I'm not talking about legal immigrants who follow US law to become citizens. In less than 20 years, if we do not stop the invasion, ILLEGAL aliens and their offspring will be the dominant population in the United States"…. Tom Barrett
As CEO pay, corporate profits and corporate cash hit new highs
US housing secretary proposes tripling of rent for the poor
30 April 2018
US Department of Housing and Urban Development (HUD) Secretary Ben Carson's "Making Affordable Housing Work Act of 2018," unveiled last week, would spell destitution for the poorest households receiving federal rental assistance, virtually all of which have annual incomes of less than $7,000.

Roughly 1.7 million people, including 1 million children, would face eviction and homelessness.
The typical household affected would be a single mother with two children, with an annual income of $2,400—or just $200 a month. After paying rent, under this proposal, the family would have only $48 left to pay for necessities like clothing, diapers, school supplies and food or medical needs not covered by other assistance.
The housing proposal would impose a mandatory tripling of the minimum rent for households with an adult younger than 65, to at least $152; raise rents from the current 30 percent to 35 percent of gross income; and allow local public housing authorities to impose work requirements on those receiving benefits.
Carson's sadistic plan is only the latest in a series of attacks on the most vulnerable and impoverished Americans that are being proposed or carried out at the federal and state level. It follows an executive order by President Trump instructing the secretaries of six federal departments to seek out new ways to gut existing programs and impose work requirements for Medicaid, food stamps, home heating assistance, housing assistance and welfare benefits.
In addition to housing assistance cuts, other major programs targeted include:
*
Medicaid: Trump's Centers for Medicare & Medicaid Services (CMS) has given wide latitude for states to impose work requirements in Medicaid, the health insurance program for the poor jointly administered by the federal government and the states. About 1.7 million out of the 67 million people currently covered by the program could be affected by work requirements now imposed or being proposed in 10 states.
*
Food stamps: Republicans have proposed work requirements for the Supplemental Nutrition Assistance Program (SNAP), commonly known as food stamps, in the farm bill now going through Congress. If enacted, benefits for about 2 million people will be reduced or eliminated altogether. Those current SNAP recipients most likely to face cutbacks are working households—those with working members whose wages are so low, or hours of work so few, that they qualify for food assistance.
The ruling class drive to plunge workers and the poor more deeply into poverty and despair is seen most clearly in the state of Wisconsin, which has been at the forefront of the attack on food stamp benefits. In February, legislation was passed prohibiting SNAP recipients from owning a car valued at more than $20,000.
Republican Governor Scott Walker preposterously claimed that the law was to ensure that "people with giant mansions and fancy cars don't get welfare checks while hardworking taxpayers have to pay the bill." The state has also imposed work requirements for food stamps benefits. These moves yielded a 28 percent reduction in SNAP benefits from 2013 to 2017.
In Kentucky, the first state imposing work requirements for Medicaid, advocates estimate that one in four Medicaid recipients who work sufficient hours to qualify during the year will have at least one month in which they fall below the state's requirement, putting them at risk of losing medical coverage. Those most at risk will be low-paid workers in food services, retail and construction.
These punitive cuts come as corporate boardrooms across the country toast the "booming" economy and rising stockpiles of cash, now at an estimated record of some $2 trillion. Recent reports have shown median CEO pay at the nation's 100 largest corporations rising to an 11-year high of $15.7 million, 235 times the pay of workers. Earlier this month the major Wall Street banks reported record profits for the first quarter of 2018.
The claim that there is no money to pay for a living wage for teachers and decent schools, housing, health care and nutrition is a lie. The problem is that the wealth produced by the working class is being stolen and hoarded by the financial oligarchy that controls both parties and runs the country.
These attacks on what remains of the social safety net are being implemented with barely a whimper of opposition from the Democratic Party, which remains single-mindedly focused on its anti-Russia campaign and the push for military escalation in Syria. Its opposition to Trump has nothing in common with the anger of millions of working people who oppose the administration's reckless militarism, its assault on immigrants and democratic rights, and its efforts to further enrich the oligarchs by gutting what remains of social programs for workers and poor people.
The Democrats speak for sections of the corporate elite and the military/intelligence establishment that consider Trump too "soft" on Russia and doubt his ability to handle the global affairs of US imperialism and crush growing opposition from the working class at home.
Last year, the Democrats put up no serious opposition to the Trump administration's gargantuan tax cut for the wealthy, which they support. Making the rounds on the Sunday morning talk shows yesterday, none of the Democrats who appeared had anything to say about the growing assault on social programs.
In this attack, the Trump administration is extending the social counterrevolution launched by Ronald Reagan in the 1980s. The war on the working class was carried forward by the Democratic Bill Clinton administration in 1996, who ended "welfare as we know it" by terminating it as an open-ended federal program, resulting in millions being cut off of any cash income.
The Obama administration deepened the war on workers and the poor, overseeing the closure of thousands of schools and the layoff of hundreds of thousands of teachers and other public employees. His bailout of the banks and restructuring of the auto industry were accompanied by a reduction in workers' wages, including a 50 percent cut in newly hired autoworkers' pay. He boasted that under his tenure, nondefense discretionary spending fell to the smallest share of the economy since the Eisenhower administration in the 1950s.
The latest assault on social programs, while directed initially against the poorest segments of the population, is aimed at the working class as a whole, which is entering into a new stage of struggle. The continuing rebellion of teachers in states across the US is a sign that the decades-long period in which the unions could suppress the class struggle is coming to and.
The ruling class is expanding the pool of cheap labor by forcing Medicaid, food stamp and housing assistance recipients to work for poverty wages. These desperate and super-exploited workers are seen by the corporate elite as a battering ram to undercut the struggle of workers to reverse decades of wage and benefit cuts and attacks on working conditions.
The Democrats and Republicans speak for different factions of the capitalist ruling oligarchy. Not a single social problem confronting workers in the United States and around the world, however, can be solved without a frontal assault on the wealth and political domination of this ruling class.
The oligarchs' stranglehold on society must be broken and the massive resources monopolized by the rich seized to ensure the basic right of everyone to quality housing, a good-paying job, health care, education and a secure retirement. Expropriating the corporate cash hoard, for example, would provide 61 times the current budget of the Department of Housing and Urban Development ($32.6 billion).
To implement this policy, the working class must organize itself as an independent political force. As the strike wave of teachers demonstrates, the working class is entering into struggle. The task of the Socialist Equality Party is to build a revolutionary, socialist leadership in every section of the working class, to develop a conscious political movement to overthrow the capitalist system, establish workers power and reorganize society to meet social need, not private profit.
US housing secretary proposes tripling rent for poorest households
By Kate Randall
27 April 2018
Housing and Urban Development (HUD) Secretary Ben Carson proposed sweeping changes to federal housing subsidies Wednesday, which would triple rent for the poorest households while making it easier for local housing authorities to impose work requirements on assistance recipients.
The move by the multi-millionaire HUD secretary comes following a Republican proposal in the 2018 farm bill now going through Congress to impose work requirements on recipients of Supplemental Nutrition Assistance Program (SNAP), better known as food stamps.
At the same time, the Trump administration is approving waivers for states to impose work requirements on recipients of Medicaid, the health insurance program for the poor jointly administered by the federal government and the states.
Earlier this month, Trump signed an executive order directing federal agencies to expand work requirements for people receiving food stamps, public housing benefits and welfare. Agency heads were ordered to issue recommendations to the White House within 90 days, whether for administration changes or new legislation.
This concerted attack on the most vulnerable segments of society is part of a deliberate ruling class policy to drive already impoverished people further into poverty, forcing them into competition with other workers for low-wage employment at new centers of capitalist exploitation set up by automakers, electronics producers and other manufacturers.
Carson's Making Affordable Housing Work Act proposal comes amidst a housing crisis that is forcing millions to live in squalid and unsafe conditions and driving increasing numbers of people into homelessness.
While the HUD press release announcing Carson's proposal declares it will "provide meaningful, dignified assistance to those we serve without hurting them at the same time," it is clear that it will plunge people deeper into poverty or out of the housing market altogether. This is by design.
The cruelest component of the plan would raise the existing cap on rent for the poorest families from the existing $50-a-month ceiling to about $150 a month. HUD officials say this would affect some 712,000 households.
The Carson initiative would also raise the rent for tenants in subsidized housing to 35 percent of gross income, or 35 percent of earnings working 15 hours a week at the federal minimum of wage of $7.25 an hour. The current standard is 30 percent of adjusted income, a smaller percentage of a lower base. About half of the 4.7 million households receiving housing benefits would be affected, according to HUD.
The proposed bill would also allow local public housing authorities to impose work requirements on those receiving benefits. Currently only 15 of about 3,100 housing authorities across the country require some type of work or job training in return for receiving assistance.
Rules allowing deductions for medical and childcare costs in determining rent would be scrapped. In a call with the media Wednesday, Carson made the charge that some tenants were gaming the system. "They know how to include certain deductions that other people may not be aware of," he said. "We really want to level the playing field and make it much more even for everyone."
Seniors over the age of 65 and those with disabilities would be exempt from work requirements and the rent increases would not take effect for six years. This population currently makes up more than half of the households receiving housing assistance.
All of these proposals will exacerbate the crisis in public housing in America. There are currently about 1.1 million public housing units located across the 50 states, according to the Center on Budget and Policy Priorities (CBPP). According to a HUD study, inadequate funding from the Public Housing Capital Fund has contributed to a backlog of unmet needs for renovation of housing developments and replacement of items such as appliances and heating and cooling equipment.
The number of public housing units has fallen by more than 350,000 since the mid-1990s, as buildings have been allowed to deteriorate and either stand idle or be demolished to make way for "mixed-use" communities with little to no affordable housing. Since 2013, housing agencies have converted about 60,000 public housing units to those supporting Section 8 vouchers and other assistance, according to CBPP.
Trump's Fiscal Year 2019 budget proposal would slash funding for HUD by $4.8 billion and completely axe the Public House Capital Fund, as well as eliminate the Community Development Block Grant, which local governments use for a variety of infrastructure needs.
HUD's own analysis of homelessness revealed that homelessness increased in 2017 for the first time in seven years, driven by a 9 percent increase of those experiencing homelessness on the streets. On a single night in 2017, 553,742 people were homeless in the US. Of these, approximately two-thirds were staying in emergency shelters or transitional housing programs, and about one-third were entirely unsheltered.
In 2017, those under the age of 25, so-called unaccompanied youth, accounted for 40,799 of the homeless population. The number of homeless veterans increased for the first time since 2010. All of these figures are undoubtedly underestimates, due to underreporting and to the homeless doubling up with family members or friends in overcrowded and substandard housing.
Carson's proposal—as part of the Trump administration's aims—is to ultimately dismantle the agency he was appointed to head. His contempt for workers and the poor and the provision of any sort of social safety net to lift them out of poverty was made clear in comments he made during his unsuccessful bid for the 2016 Republican presidential nomination.
In October 2015, he said that those Americans "who take the disadvantaged people in our country and say, 'You poor little thing, I'm going to give you everything that you possibly need.' That's not helping those people and all that you have to do is look what's happened since the Great Society programs of Lyndon Johnson.
"We've spent $19 trillion and we have 10 times more people on food stamps, more people in poverty, more broken homes, out of wedlock births, crime, incarceration. Everything is not only worse, it's much worse."
Commenting last year on the Trump administration's budget proposal, Carson said in a radio interview that "poverty, to a large extent, is also a state mind." Carson, who grew up in poverty in Detroit and went on to become an acclaimed neurosurgeon, said that people with "the right mindset" can have everything taken away from them, but they can pull themselves up by their own bootstraps.
Conversely, he said, "You take somebody with the wrong mindset, you can give them everything in the world [and] they'll work their way right back down to the bottom." In other words, the best way to help people living in public housing is to raise their rents, require them to work for poverty wages, and when they either don't find a job or can't pay the rent, throw them out onto the streets.
Carson, of course, has no such worries of being homeless or destitute. The former neurosurgeon is worth an estimated $26 million, according to Forbes. While he likely stashed away assets from his medical endeavors, he has made a fortune on a lucrative second career as a writer and public speaker, earning more than $4 million from 141 speeches from January 2014 to May 2015, according to the Wall Street Journal. He also raked in between $1.1 million and $6 million in book royalties, as well as millions more from serving on the corporate boards of companies such as Costco.
Carson and his wife Candy closed in early 2017 on a single-family home in Vienna, Virginia, paying $1.22 million for the five-bedroom, four-and-a-half bathroom property. Zillow notes that the 6,380-square-foot residence sports a swinging staircase, decorative columns, marble flooring, a butler's closet, an in-law suite, as well as a two-story great room with a wet bar.
His Fairfax County home is about a 40-minute drive east to the Barry Farm public housing complex in the District of Columbia. On Thursday, the DC Court of Appeals vacated an order issued by the District's zoning commission that had approved the redevelopment of Barry Farm, to transform the Southeast DC public housing enclave into a "mixed-income" community, threatening the low-income housing of current residents.
Barry Farm holds special significance in the consciousness of DC residents. After the Civil War it was purchased by a Union general on behalf of the Freedman's Bureau so that former slaves could purchase lots where they could build homes. Although the final decision on Barry Farm has yet to be made, President Trump's entourage, including Ben Carson, would have such developments demolished to make way for gentrification and homes for the rich, with no provisions made for its low-income residents.
Ben Carson Tours Homeless Shelter in Los Angeles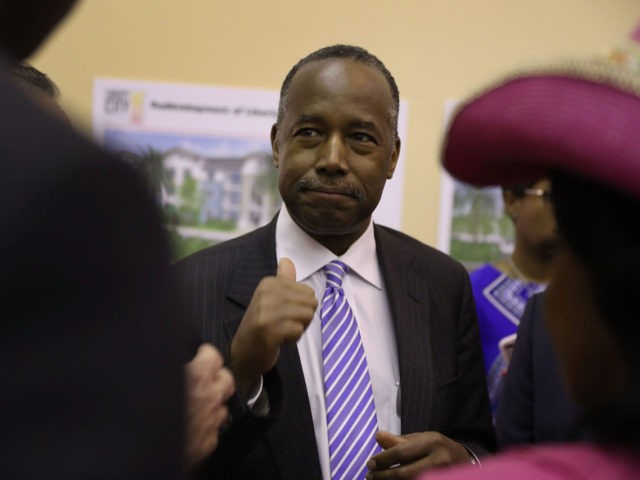 Dr. Ben Carson, the Secretary of Housing and Urban Development (HUD), toured a homeless women's center on Los Angeles's infamous Skid Row Tuesday as part of a fact-finding mission aimed at tackling homelessness and providing job training for inner-city communities throughout the United States.
According to the
Los Angeles Times
, Carson also
stopped by
a faith-based drug treatment residential center in Echo Park after his visit to Skid Row.
"I can't imagine how anybody could walk through an area like this and not have their heartstrings tugged," Carson told reporters, according to the Los Angeles Times.
However, the HUD secretary is also under fire for the Trump administration's proposal to raise public housing rents.
"There is one inescapable imperative driving this reform effort," Carson said in a call with reporters about a tripling on the cap on rent for the poorest families, according to the
Washington Post
. "The current system isn't working very well. Doing nothing is not an option."
He reportedly added, "Every year, it takes more money, millions of dollars more, to serve the same number of households. It's clear from a budget perspective and a human point of view that the current system is unsustainable."
Another proposal by the Trump administration would increase rents by 5 percent.
Ali Alshuailat, who lives in a housing project in Pacoima
told
local ABC affiliate ABC 7, "Going up five percent is not a compassionate way because a lot of people here, it's really hard for them to make it a day. They go day by day. And these people want to come in and raise it."
In a conference call with reporters, Carson reportedly said his proposal would encourage the 4.5 million who benefit from HUD programs to look for higher-paying jobs.
Others have suggested it will only exacerbate the city's homelessness epidemic.
Adelle Nazarian is a politics and national security reporter for Breitbart News. Follow her on Facebook and Twitter.
AS WALL STREET PLUNDERS: A Nation of One Million Homeless and Overrun By Mexico's Export of "cheap labor"!
"But a series of reports on CEO pay, bank profits and corporate cash released over the past week reveal that corporate America and the financial oligarchy are wallowing in record levels of wealth.

"
NANCY PELOSI, and her LA RAZA SISTERS, SEN. DIANNE FEINSTEIN, FORMER SEN. BARBARA BOXER and NOW SEN. KAMALA HARRIS are a pantheon of staggering self-serving corruption.
They and their families have all gotten filthy rich off of these women's elected office.
Their endless hispandering for the illegals' votes has turned California into Mexifornia, a drug, gang and anchor baby welfare third-world dumpster!
AMERICA: MEXICO'S WELFARE STATE
… and in exchange we get 40 million Mexican flag wavers, homelessness, a housing crisis, heroin & opioid crisis and jobs for legals crisis…. ALL THANKS TO THE DEMOCRAT PARTY
"Thirteen years after welfare reform, the share of immigrant-headed households (legal and illegal) with a child (under age 18) using at least one welfare program continues to be very high. This is partly due to the large share of immigrants with low levels of education and their resulting low incomes — not their legal status or an unwillingness to work. The major welfare programs examined in this report include cash assistance, food assistance, Medicaid, and public and subsidized housing."

Steven A. Camarota
TRUMP'S SECRET AMNESTY, WIDER OPEN BORDERS DOCTRINE TO KEEP WAGES DEPRESSED.
"During the same month that Schlafly had backed Trump for his "America First"
agenda, Nielsen's committee released an ideologically-globalist
report
, promoting
the European migrant crisis as a win for big business who would profit greatly
from a never-ending stream of
cheap
, foreign migrants."
AMERICA: ONE PAYCHECK AND TWELVE ILLEGALS AWAY FROM HOMELESSNESS!




HOMELESS CRISIS IN LOS ANGELES, MEXICO'S SECOND LARGEST
CITY, WORSENS BY THE DAY…. Approximates the great depression
HOMELESS AMERICA'S HOUSING CRISIS as 40 million illegals have climbed U.S. open borders.
EVERY AMERICAN (Legal) only one paycheck and two illegals away from living in their cars.