PA Democrat 'Welcomes' VP Mike Pence with Middle-Finger Salute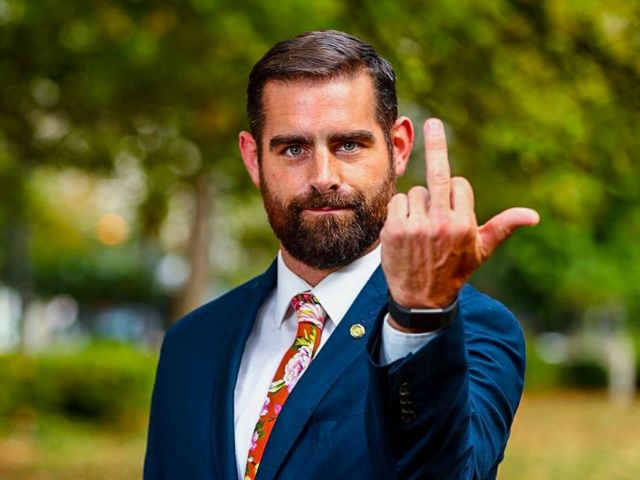 A Democratic state legislator in Pennsylvania "welcomed" Vice President Mike Pence to Philadelphia on Tuesday with a middle-finger salute.
Rep. Brian Sims (D-Philadelphia) posted a Facebook photo Tuesday of himself giving the middle finger to protest the vice president's trip to the city for a Republican Governors Association fundraising event.
"OFFICIAL WELCOME: @MikePenceVP let me be the first to officially welcome you to the City of Brotherly Love and to my District!" Sims' social media posts on Facebook and Twitter read. "We're a City of soaring diversity. We believe in the power of all people: Black, Brown, Queer, Trans, Atheist, & Immigrant. So … get bent, then get out!"
The 39-year-old Democrat is the first openly gay legislator in the Pennsylvania state house, and took the opportunity to use the obscene gesture as a way to appeal to his base of supporters.
Some of his supporters cheered the brazen gesture while other supporters warned him that his conduct in the photo is "unprofessional."
"This is a worthy fight and I am so grateful to see someone in office expressing some actual anger at this monstrosity of a dictatorship," one left-wing supporter wrote.
"I'm a supporter but posing for this picture is unprofessional and makes you seem crude. You can take Pence down more effectively by challenging his words and actions. You'll be judged more harshly than he is," another supporter wrote.
But opponents also flooded the comment section of his picture, deriding the state lawmaker's actions as "disrespectful" and "childish,"
"Disrespectful … we need to get back to being classy in disagreements … happy you don't represent me," one Facebook user wrote.
"This is exactly why Trump got elected! So unprofessional and childish for a supposedly elected official!" another user chimed in.
Although the posts have received plenty of backlash, Sims had not deleted them as of Thursday afternoon. His posts have gained a massive following on social media, getting more than 39,000 likes on Facebook and nearly 6,000 retweets.
WHERE WAS WATER'S FAT MOUTH WHEN HILLARY AND THE OBOMB WERE LOOTING AMERICA AND SERVICING THEIR CRONY CRIMINAL BANKSTERS???


Maxine Waters: People Are 'Going to Harass' Trump Administration Officials at Restaurants, Stores, and Gas Stations
Saturday on MSNBC, Rep. Maxine Waters (D-CA) suggested people harassing, and protesting members of the administration of President Donald Trump at stores, restaurants, and gas stations was the new reality for the United States of America.
Waters was referencing White House press secretary Sarah Sanders being asked to leave a Red Hen restaurant in Virginia this weekend.
Waters said, "I have no sympathy for these people that are in this administration who know it's wrong for what they're doing on so many fronts. They tend to not want to confront this president or even leave, but they know what they're doing is wrong. I want to tell you, these members of his cabinet who remain and try to defend him, they won't be able to go to a restaurant, they won't be able to stop at a gas station, they're not going to be able to shop at a department store. The people are going to turn on them. They're going to protest. They're absolutely going to harass them until they decide that they're going to tell the president, 'No, I can't hang with you.' This is wrong. This is unconscionable. We can't keep doing this to children."
She added, "We've got to push back. We've got to say no. I, for example, have stepped way out there. I said this man needs to be impeached. I know a lot of people think we're not ready to say that. Some people have said a long time ago he would become presidential. He will never be presidential. This man does not have any good values. I believe he needs to be impeached. As a matter of fact, a long time before he's doing what he's doing now with these children. I think he had done enough to undermine this country and to have us understand we cannot trust him, that we should have come with an impeachment resolution. So, I believe we cannot wait until the next presidential election. We have to resist him. I want to see him impeached."
OBAMA: FUNDED BY HIS CRONY CRIMINAL BANKSTERS and
ELECTED BY MEXICO – THE FIRST BLACK MAN OR THE FIRST SPY
ELECTED TO THE PRESIDENCY???
Now the outlines of a Watergate-like conspiracy are emerging in which a sitting Democrat president apparently used the apparatus of the state to spy on a Republican presidential candidate. Watergate differed in that President Nixon didn't get involved in the plot against the Democratic National Committee until later as an accomplice after the fact. Here Obama likely masterminded or oversaw someone like the diabolical Benghazi cover-up artist Ben Rhodes, masterminding the whole thing.
"Cold War historian Paul Kengor goes deeply into Obama's communist background in an article in American Spectator, "Our First Red Diaper Baby President," and in an excellent Mark Levin interview. Another Kengor article describes the Chicago communists whose younger generation include David Axelrod, Valerie Jarrett, and Barack Hussein Obama. Add the openly Marxist, pro-communist Ayers, and you have many of the key players who put Obama into power."
Karin McQuillan
LOOKING LIKE 30 YEARS FOR HILLARY CLINTON …. OBAMA MAY FOLLOW HER!
MICHAEL BARONE
"The Lawlessness of the Obama Administration: A never-ending story."
"But what the Clintons do is criminal because they do it wholly at the expense of the American people. And they feel thoroughly entitled to do it: gain power, use it to enrich themselves and their friends. They are amoral, immoral, and venal. Hillary has no core beliefs beyond power and money. That should be clear to every person on the planet by now." ---- Patricia McCarthy - AMERICANTHINKER.com