Public Health Officials Offer Few Details About Mysterious TB Death in Nebraska City at Center of Immigration Controversy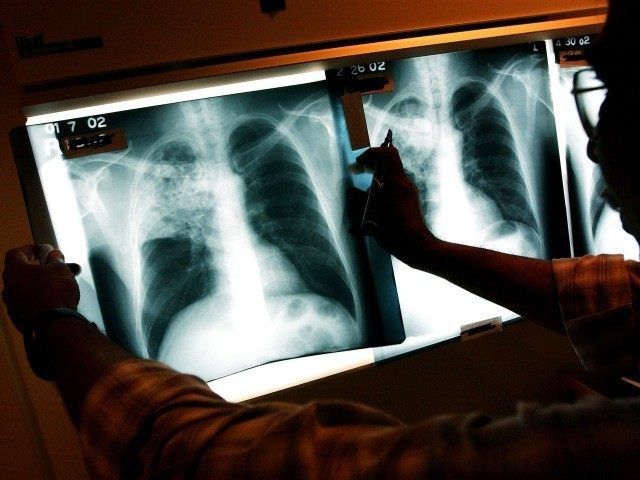 State and local public health officials are offering few details about the mysterious tuberculosis (TB) death of a patient first diagnosed last month at a hospital in Fremont, Nebraska.
"Safety is our number one priority and we're taking all the necessary steps to make sure people identified at risk for exposure are evaluated," Uhing added in that statement.
Deaths from active TB are rare in the United States, since highly effective and relatively inexpensive treatment regimens have been widely in effect for more than five decades. Virtually all patients who receive an early diagnosis and complete the treatment regimen survive. The patient who was diagnosed with TB in Fremont, Nebraska on October 29 died within days of that diagnosis, indicating the patient had been walking around with active TB for many months prior to death.
Breitbart News spoke with Uhing over the phone late Wednesday asking more questions about the mysterious TB death.
Uhing confirmed that the patient who died was not a student or staff member at a local public or private school. Additional sources confirmed to Breitbart News that the patient was not a student or staff member at Fremont Public Schools, the largest public school in the three county area.
Uhing also said that "roughly 35 individuals have been tested" by Three Rivers Public Health Department for TB, but she refused to provide answers to any of these five additional questions:
1. Was the patient foreign-born?

2. If so, what was the country of origin?

3. If so, what was the patient's immigration status upon entry?

4. Was the patient diagnosed with MDR TB?

5. How old was the patient?
Uhing told Breitbart News that she knows the answers to four of these five questions, and anticipated issuing another statement to the press on Thursday, at which point those questions might be answered.
Breitbart News asked the Nebraska Department of Public Health to comment, but did not receive a response.
The controversial housing ordinance passed by the city of Fremont in 2010 remains in effect, although it was challenged in federal court.
The federal government is not providing city officials with the immigration status of renters suspected of being in the country illegally. And without the information, no rental housing licenses have been yanked.

Fremont's mayor says a fix is in the works.

During the year since the ordinance went into effect, nearly 1,300 people have paid $5 for occupancy licenses to move into rental housing. The application requires people to declare whether or not they are U.S. citizens.

At least 35 renters indicated that they were not U.S. citizens, so the city asked federal officials to determine whether the renters are legally in the country. The government did not provide answers, saying it needed more information about the renters.
Fremont and Dodge County have seen a recent influx of immigrants, many of whom work for local meat processors.
More overtly, John Wiegert, from nearby Fremont where two meat processors employ many immigrants, questioned whether Nickerson's plant would attract legal immigrants from Somalia — more than 1,000 of whom have moved to other Nebraska cities for similar jobs, along with people from Mexico, Central America and Southeast Asia.
Couric also visited the farm of retired Hormel worker Greg Soukop near Hooper, among other stops.

National Geographic wouldn't confirm the topic that brought Couric to Fremont.

Soukop said the interview focused on his experiences as a lifelong area resident, as well as his experience at Hormel.

"What they were looking for when they contacted me was someone who worked at Hormel back in the days before they lost production, when the wages were a lot higher," Soukop said in a phone interview with the Tribune.