Kevin De Léon is the LA RAZA "The Race" FASCIST SUPREMACIST for U.S. Senate.
De Léon holds far-left views on immigration, gun control, and other issues. Last year, he
admitted
that half of his family was in the country illegally. Earlier this year, he
appointed
an illegal alien to a statewide office. He is also the author of SB 54, one of the three surviving "sanctuary state" laws that the Trump administration challenged earlier this year.
*
"The man who, as Wikipedia explains, is "known professionally as Kevin de León" testified that "half of my family" would be eligible for deportation under Trump's executive order because they used false identification, drivers licenses, Social Security and green cards. And that explains why the man who styles himself Kevin de León authored California's sanctuary state law." LLOYD BILLINGSLEY – FRONTPAGEMAG
*
In a variation on
Jose Vasconselos'
La Raza Cosmica
, the California senate boss believes that illegals are "more American" and just better people than those Anglo Yankees who are destined to fade away along with blacks and those underachieving "Mongols." So no surprise that the senate boss appointed a
false-documented illegal to a state position
, a violation of state law that bans ethnic preferences in state employment. So the termed-out senate boss does not exactly support the rule of law, state or federal.
Kamala Harris Unable to Name a Legislative Accomplishment When Asked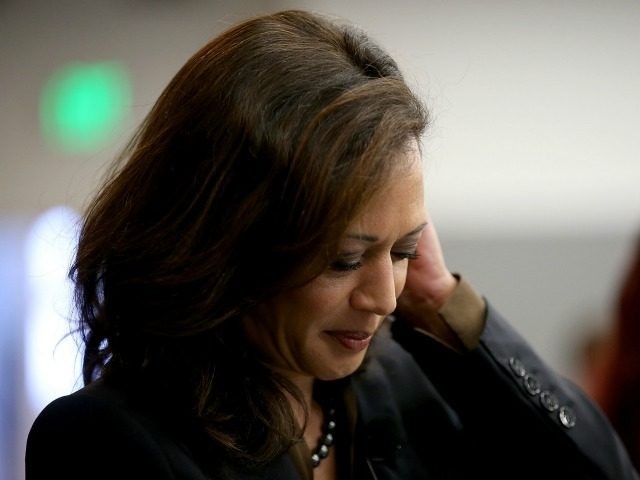 Sen. Kamala Harris (D-CA) told the Call Your Girlfriend podcast in an interview released Friday that serving on various congressional committees is her biggest "win." Awkwardly, Harris struggled to name a specific legislative accomplishment the 2020 hopeful was a part of.
Transcript is as follows:
AMINATOU SOW: In the grand scheme of the Senate, you are relatively new to the job.

KAMALA HARRIS: Yeah, I am—

SOW: And—

HARRIS: 18 months.

SOW: Yeah, and we're wondering, maybe, if you could talk about what at this point you could consider your biggest win or the thing that you're like "Woah, when I look back at those 18 months this is the thing I want at the top of the resume."

HARRIS: I'll tell you. Umm. One of the things that I think, for me, is most important is the role that I serve on that various committees that I'm on — umm — which are oversight committees. Let's be clear. Those committees exist to watch and question what is going on with our government, the United States government. So, I'm on Senate Intelligence, I'm on Homeland Security, I'm on Judiciary and the accomplishment then is for me is a function of what I think my role should be. Often, especially in the last 18 months, has been to try and get at the truth. And so, the accomplishment is, and the goal is to always make sure that we are being, and the system is being, as transparent as possible and that, frankly, the American public has the answers and that we're being told the truth. When that happens, I feel a sense of accomplishment and when it doesn't I feel a sense of frustration.