MORE PROFITS FOR GLOBALIST BILLIONAIRES OR HOMELAND SECURITY?
"We have to act now because both parties failed in the past. Many Democrats want open borders because they see illegal aliens as future voters. Many donor-class Republicans have tolerated illegal immigration because of business demand for cheap labor. That is why both parties have overlooked the laws they voted to pass and ignored the wishes of the American people." Joel B. Pollak is Senior Editor-at-Large at Breitbart News
"American elites continue focusing on a global order while ignoring the decline of the United States. A broken America will be unable to meet any geopolitical threats abroad. Any national security strategy that does not begin with securing our own national security at home will be doomed to fail." DANIEL GREENFIELD
A NEW NATIONAL SECURITY STRATEGY FOR AMERICA
Immigration is America's top national security threat.
Daniel Greenfield, a

Shillman

Journalism Fellow at the Freedom Center, is an investigative journalist and writer focusing on the radical Left and Islamic terrorism.
After the Cold War, what is the biggest threat to America? The debate between Obama and Romney famously bogged down over the question of whether Russia was our biggest geopolitical foe. While Obama slammed Romney's answer as a Cold War relic, after losing the next election, his party defines its foreign policy and domestic opposition around the fear that Russia is now more of a threat than ever.
Answers by other politicians have ranged from the structural, the national debt and internal divisions, to the inanimate and absurd; Bernie Sanders' claim that global warming is our top national security threat. But assessments that name conditions rather than threat vectors are unhelpful because even when they are right, they tell us to address a weakness or failure, rather than meeting an external threat.
Being able to name and define external threats is vital for reaching informed national security decisions.
The debates over border security, Syria, Afghanistan, and Russian informational warfare have been taking place in a chaotic environment of rapid fire talking points backed by ideological agendas, but with no framework for understanding the larger threat environment and how to achieve national security.
Our national security framework dates back to the Cold War. The doctrines we employed during the Cold War quickly became dated even while the Soviet Union was around. They're so old now that the vast majority of Americans

weren

't even born when they were hatched. And yet in the generation since the Cold War ended, we haven't found anything new to replace them with. And that is the problem.
The Clinton administration ignored national security and put the military at the disposal of the UN on exercises in nation building that helped revive Russia as a serious threat while ignoring the threat of Al Qaeda. The Bush administration rolled out nation building as a response to Islamic terrorism. This was a misguided approach that failed to understand the nature of the threat and how to address it.
The Obama administration combined the follies of both of its predecessors and added more of its own, by harnessing Clinton style nation building to Bush style interventions with the aim of defusing Islamic terrorism by helping the Muslim Brotherhood and other

Islamists

come to power in the Middle East.
The result was genocide, ethnic cleansing, beheadings, sex slavery and more terrorism than ever.
To build a realistic national security strategy, we have to discard the Cold War framework under which every administration beginning with Truman and Eisenhower had operated under. We are no longer dealing with a global struggle against an ideological movement based out of a global superpower.
And it's the global part that is the problem.
Successive administrations have thought of national security as a global issue. But it's not a global issue. It's a national one. That

doesn

't mean that we should abandon support for NATO or our allies. But we should stop trying to envision national security as something that emerges from global alliances. That worldview may have been relevant during the Cold War, but it's no longer meaningful today.
Instead we need to think of national security as inside out, coming not from outside America, but from inside it. We don't face a serious risk of invasion by a military superpower. It may be a generation until China has the military capabilities to embark on such a venture. And while we

shouldn

't neglect exploring what a Chinese Pearl Harbor might look like, we first need to get our own house in order.
Our domestic threats in this century have all involved infiltration, whether it was the Islamic colonists who carried out the 9/11 attacks and succeeding acts of terror, and the Chinese and Russian hacks and espionage operations that exposed our military secrets, wrecked the NSA and weakened our defenses.
These catastrophes make it clear that there can be no national security without securing the nation.
That includes border security. Regardless of how many terrorists may have come across the unguarded border (even one is too many), efforts by the Trump administration to reduce travel from terror states and refugee admissions will lead terrorists and future terrorists to seek alternative means of entering this country. And securing the border closes a major vulnerability in our national security.
Furthermore, while Iran's nuclear program remains a major national security threat, a nuclear attack on America is likeliest to come through a nuclear device smuggled by terrorists across the border. It may never happen, and hopefully never will, but failing to prepare could be a disaster that would make the national security failures that allowed the 9/11 attack to take place seem almost inconsequential.
If we examine the American conflicts of this century, it's easy to see that they had their roots in immigration, migration and open borders, both physical and virtual. We've lost over 10,000 Americans in wars caused by a failure of immigration security. And the national gun violence rate is largely fed by gang violence. Much of that gang violence is caused by legal and illegal immigration to the United States.
National security threats can be most clearly measured by the violent deaths of Americans inflicted on us by organized movements and groups. It's undeniable that these have originate with immigration.
China and Russia remain geopolitical threats. But their attacks depend on infiltrating our country through the internet or immigration. Informational security is vital to any future conflict. A Chinese Pearl Harbor would likely begin on the internet. And so is immigration security. Chinese and Russian operatives, like their Islamic counterparts, have to enter the United States. If we can secure immigration and secure information, we will have effectively neutralized their attacks for the time being.
The leading geopolitical threat

isn

't posed by China or Russia. Instead it comes from Islamic terrorism. While China poses a military threat to its neighbors in Asia and Russia poses a military threat to Europe, Islamic terrorists piggyback on Islamic colonies in America to pose a military threat inside our borders.
Aside from the loss of life, Islamic terrorists have inflicted trillions of dollars in economic losses on the United States, second only to the People's Republic of China. And as the Islamic colonies increase in size, they begin to pose an increasingly greater threat. Islamic colonies in France and Sweden have shown behavior resembling the early stages of guerilla warfare. The same thing will happen in America.
That is why immigration security must be the first priority of any national security strategy. The second priority should focus on weakening terrorist groups and their state sponsors abroad, but without the extensive nation building commitments that have bogged down previous administrations.
We should also avoid the Cold War's sociological preoccupation with root causes abroad. Sociological philosophizing failed miserably in the Great Society. There is no reason to believe that the same approach that failed at home will work any better when applied to other societies and cultures.
It

isn

't difficult to identify malaises in the Muslim world, but we should be wary of facile solutions, such as democracy, feminism or

microfinance

, for solving them. The United States did not fix the social problems of Communism. Instead it sought to contain Communist states, limiting their influence, preventing their expansionism, and allowing their own social problems to destroy them.
Instead of nation building in Muslim countries, we should aid non-Muslim or secular countries under siege by

Islamists

, containing and limiting the spread of Islamic ideology abroad and at home through economic, informational and military means, when appropriate, without extended occupations.
The interregnum between the fall of the Ottoman Empire and the fall of the British Empire marked a period of Islamic military, cultural and political decline. The Cold War era revived Islamic fortunes as the United States and the Soviet Union invested extensive wealth, information and training into Muslim countries. After the fall of the Soviet Union, Muslim terrorists backed by Muslim states emerged as the leading antagonists of the United States, Europe, Russia, China and other non-Muslim world states.
While a global alliance against Islamism, similar to the one against Communism, might be ideal, it is more likely that America's geopolitical antagonists, Russia and China, will instead back Muslim factions in proxy wars against us. We must stop doing the same thing no matter how appealing it may seem.
Political and military engagement with Islamic forces badly weakened both America and Russia. After two generations of arming, aiding and collaborating with Islamic terrorists under the Soviet Union, and then another generation of Putin's Eurasian experiment aimed at integrating Islam into a new Russian empire, our old antagonist has doomed itself. We should learn the urgent lessons of Russia's folly.
Because they are also our own.
America's Cold War alliances with Islamic countries helped create the wave of terror. Our openness to Islamic immigration was once seen as a means of building Cold War alliances. Instead it has killed over ten thousand Americans and put us on a path to a religious civil war similar to that of Europe.
Cold War divisions have deeply divided Americans. The collapse of religion and traditional values, accompanied by mass migration, and the disruptive qualities of the internet, have fragmented any notion of national unity. The

firehose

of mass migration is hitting all of our fracture points, ideological, economic, social and cultural, at the same time. It's also the essential vector for Islamic terrorism.
America needs time to recover from the economic, social, cultural and technological disruptions of the last hundred years. And it needs breathing room to prepare for the geopolitical conflicts to come.
American elites continue focusing on a global order while ignoring the decline of the United States. A broken America will be unable to meet any geopolitical threats abroad. Any national security strategy that does not begin with securing our own national security at home will be doomed to fail.
Democrat opposition at the state and judicial level has prevented President Trump from exercising control over immigration, protected terrorists and gangs, while leaving our borders unsecured. States and cities openly defy immigration authorities and Democrat judges sabotage any effort at controlling the flow of legal and illegal aliens into our country. This thoroughly cripples our national security.
America's national security depends on restoring the control of the executive branch over our borders.
The President of the United States has been robbed of the ability to fulfill his sworn duty to see to the national security of the United States. This

isn

't just political opposition. It's treason. And it must end.
THE DEMOCRAT PARTY'S ANCHOR BABIES FOR WELFARE FACTORIES ON LEGALS'S BACKS!
"As
Breitbart News
recently reported, there are more anchor baby births in the Los Angeles, California metro area than the total U.S. births in 14 states and the District of Colombia. Every year, American taxpayers are billed about
$2.4 billion
to pay for the births of illegal aliens." JOHN BINDER
"Through love of having children we're going to take over."
Augustin Cebada, Information Minister of Fascist Brown Berets, militant para-military soldiers of Aztlan shouting at U.S. citizens at an Independence Day rally in Los Angeles, 7/4/96 (LOS ANGELES COUNTY HANDS OUT $1 BILLION YEARL TO MEXICO'S ANCHOR BABY BREEDERS)
AMERICA, THE ANCHOR BABIES FOR WELFARE STATE
"Through love of having children we're going to take over."

Augustin Cebada, Information Minister of Fascist Brown Berets, militant para-military soldiers of Aztlan shouting at U.S. citizens at an Independence Day rally in Los Angeles, 7/4/96 (LOS ANGELES COUNTY HANDS OUT $1 BILLION YEARL TO MEXICO'S ANCHOR BABY BREEDERS)
"The children of illegal aliens are commonly known as "anchor babies," as they anchor their illegal alien and noncitizen parents in the U.S. There are
at least 4.5 million
anchor babies in the country,
a population that exceeds
the total number of annual American births."

JOHN BINDER
"As
Breitbart News
recently reported, there are more anchor baby births in the Los Angeles, California metro area than the total U.S. births in 14 states and the District of Colombia. Every year, American taxpayers are billed about
$2.4 billion
to pay for the births of illegal aliens." JOHN BINDER
THE DEMOCRAT PARTY'S WAR ON AMERICA'S LEGAL WORKERS, BORDERS AND LAWS as they build the LA RAZA welfare state on our backs.
One in every
eleven persons
born in Mexico has gone to the U.S. The National Review reported that
in 2014
$1.87 billion was spent on incarcerating illegal immigrant criminals….Now add hundreds of billions for welfare and remittances!
MICHAEL BARGO, Jr…… for the AMERICAN THINKER.COM
"Chairman of the DNC Keith Ellison was even spotted
wearing
a shirt stating, "I don't believe in borders" written in Spanish.
According to a new CBS news
poll
, 63 percent of Americans in competitive congressional districts think those crossing illegally should be immediately deported or arrested. This is undoubtedly contrary to the views expressed by the Democratic Party.
Their endgame is open borders, which has become evident over the last eight years. Don't for one second let them convince you otherwise."
Evan Berryhill Twitter @EvBerryhill.
REMITTANCES ….. are only part of Mexico's looting… and billions for anchor baby breeders, billions for heroin sales and then do the numbers!
Mexicans abroad sent home nearly $2.4 billion in transfers in November, 24.7 percent higher than a year earlier, marking their fastest pace of expansion since March 2006, according to Mexican central bank data on Monday…
Jorge Ramos: Border Wall 'Symbol of Hate and Racism' for 'Those Who Want to Make America White Again'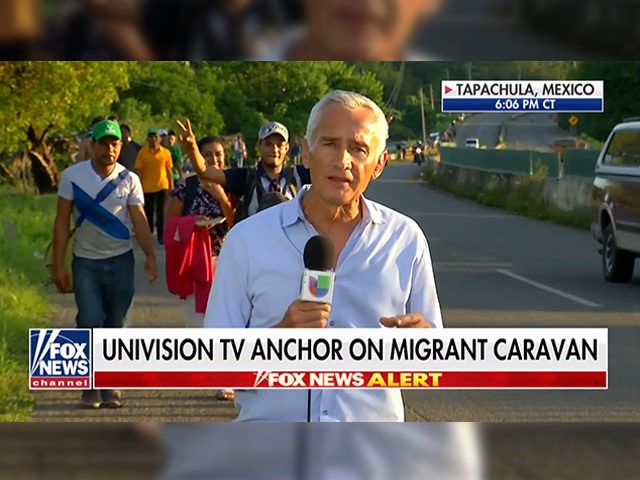 Univision anchor Jorge Ramos thinks President Donald Trump's border wall would be nothing more than a "symbol of hate and racism" for "those who want make America white again."
In a Wednesday New York Times op-ed, Ramos notes that Trump "is not the first president to ask for money for a wall." He points out that former Presidents George H.W. Bush, Bill Clinton, and George W. Bush "built fences and walls along the southern border" while former President Barack Obama "maintained the resulting system of roughly 700 miles of physical barriers."
"So why don't we want Mr. Trump to build his wall? What is different?" Ramos asks. "The difference is that Mr. Trump's wall is a symbol of hate and racism, it would be completely useless, and it does not address any national emergency."
Ramos, who said the United States has a responsibility to "absorb" caravan migrants, says the fight against the border wall "is about more than just a wall."
"The wall has become a metaphor to Mr. Trump and his millions of supporters," he writes. "It represents a divide between 'us' and 'them,' a physical demarcation for those who refuse to accept that in just a few decades, a majority of the country will be people of color."
Ramos accuses Trump of trying to "exploit the anxiety and resentment of voters in an increasingly multicultural, multiethnic society" with his promise of a border wall, which Ramos says is nothing more than "a symbol for those who want to make America white again."
"The chant 'Build that wall, build that wall' became his hymn — and an insult not just to Latinos but also to all people who do not share his xenophobic ideals," Ramos continues. "The wall went from a campaign promise to a monument built on bigoted ideas. That is why most Americans cannot say yes to it. Every country has a right to protect its borders. But not to a wall that represents hate, discrimination and fear."
He concludes by arguing that Trump "is the wall" because "the concept of America as an unwelcoming country to immigrants and uncomfortable for minorities is already here."
WHAT DOES MEXICO DO WITH THEIR OWN ILLEGALS???


THEY DEPORT THEM ON THE SPOT!!!
Mexico has a single, streamlined law that ensures that foreign visitors and immigrants are:

1.) in the country legally;

2.)

have the means to sustain themselves economically;

3.)

not destined to be burdens on society;

4.)

of economic and social benefit to society;

5.)

of good character and have no criminal records; and

6.)

contributors to the general well-being of the nation.

The law also ensures that:

7.)

immigration authorities have a record of each foreign visitor;

8.)

foreign visitors do not violate their visa status;

9.)

foreign visitors are banned from interfering in the country's internal politics;

10.)

foreign visitors who enter under false pretenses are imprisoned or deported;

11.)

foreign visitors violating the terms of their entry are imprisoned or deported;

! ! ! ! ! ! ! ! ! ! ! ! ! !




12.)

those who aid in illegal immigration will be sent to prison!!!!!!!!!
MEXICO VOWS A NEW INVASION HAS BEGUN, FINANCED BY U.S.
THE NEXT MEXICAN INVASION IS AT HAND:
"Mexican president candidate Andrés Manuel López Obrador called for mass immigration to the United States, declaring it a "human right". We will defend all the (Mexican) invaders in the American," Obrador said, adding that immigrants "must leave their towns and find a life, job, welfare, and free medical in the United States."
"Fox's Tucker Carlson noted Thursday that Obrador has previously proposed granting AMNESTY TO MEXICAN DRUG CARTELS. "America is now Mexico's social safety net, and that's a very good deal for the Mexican ruling class," Carlson added."
"Many Americans forget is that our country is located against a socialist failed state that is promising to descend even further into chaos – not California, the other one. And the Mexicans, having reached the bottom of the hole they have dug for themselves, just chose to keep digging by electing a new leftist presidente who wants to surrender to the cartels and who thinks that Mexicans have some sort of "human right" to sneak into the U.S. and demographically reconquer it." KURT SCHLICHTER
Billionaire Mexicans tell their poor to JUMP U.S. OPEN BORDERS and LOOT THE STUPID GRINGO… and loot they do!
Billions of dollars are sucked out of America from Mexico's looting!
1) Mexico ended legal immigration 100 years ago, except for Spanish blood.
2) Mexico is the 17th richest nation but pays the 220th lowest minimum wage to force their subjects to invade the USA. The expands territory for Mexicans, spreads the Spanish language, and culture and genotypes, while earning 17% of Mexico's gross GDP as Foreign Remittance Income.
Central Americans Riot in Mexican Immigration Detention Center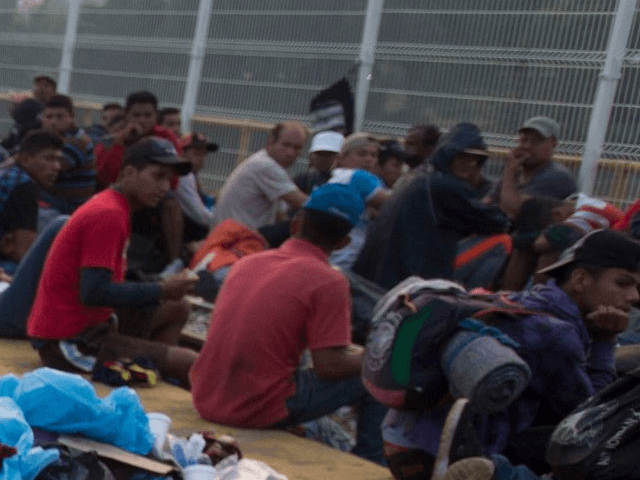 A group of Central American migrants being held in a Mexican immigration detention center in Mexicali began rioting Wednesday afternoon, requiring the deployment of police and troops.
A group of 23 migrants pending deportation, primarily back to Honduras, began a riot on Wednesday by burning a mattress and causing damage to bathrooms, according to local reporting. Responding municipal fire personnel were unable to enter the facility because they were met with resistance by the migrants who began throwing objects and liquids while shouting they were members of "Los Maras." The label is commonly used to identify the violent transnational criminal gang, the MS-13.
Due to the violent behavior, state cops and elements of the Mexican Army were deployed. The center was eventually brought under control when riot police forcefully entered with stun grenades, according to confidential law enforcement sources.
Breitbart TV
Many of the Central Americans were dealing with drug addiction problems according to Ranulfo Figueroa, head of the regional office of the Mexican immigration agency. Breitbart sources said the migrants were protesting their forthcoming deportations. It is unknown if they were part of the original migrant caravan that began to arrive in the region in mid-November. Migrants in this center were taken into custody in Mexicali after not qualifying to stay in a shelter due to drug use or other criminal factors.
Breitbart News reports extensively on the estimated 7,000 to 9,000-plus migrant caravan, which began in Honduras on October 12, 2018, and traveled through Guatemala to the United States border with Mexico. On November 14, nearly 400 migrants in eight buses were filmed traveling through the northern border state of Sonora, escorted by Mexican federal and state police. Approximately a day later, another 900 Central Americans in 22 buses passed through Sonora. Many in the migrant caravan stayed in Mexicali after the shelters of Tijuana were filled to capacity. Secondary camps were set up for those waiting to make an asylum request with U.S. Department of State. Mexicali is approximately 110 miles east of Tijuana.
Robert Arce is a retired Phoenix Police detective with extensive experience working Mexican organized crime and street gangs. Arce has worked in the Balkans, Iraq, Haiti, and recently completed a three-year assignment in Monterrey, Mexico, working out of the Consulate for the United States Department of State, International Narcotics and Law Enforcement Program, where he was the Regional Program Manager for Northeast Mexico (Coahuila, Tamaulipas, Nuevo Leon, Durango, San Luis Potosi, Zacatecas.) You can follow him on Twitter. He can be reached at robertrarce@gmail.com
Mexico: Where Is Your Shame?
At a demonstration Wednesday in Mexico City against Arizona's law.
Immigration: Mexico's government gloated triumphantly after a federal judge's injunction blocked Arizona's immigration law. But it's no victory for Mexico. In fact, Mexico's leaders ought to be mortified.
As radical immigration activists crowed with glee and the Obama administration claimed victory, Mexico's government joined the applause.
Calling Judge Susan Bolton's injunction Wednesday "a step in the right direction," Mexican Foreign Minister Patricia Espinosa declared: "The government of Mexico would like to express its recognition for the determination demonstrated by the federal government of the United States and the actions of the civil organizations that organized lawsuits against the SB 1070 law."
In reality, it ought to be ashamed. Supposedly framed as an issue of federal power pre-empting state power, it's hardly Mexico's business. But Mexico made a big show of saying its interest was in protecting its nationals from the dreadful racism of Arizona that its own citizens, curiously enough, keep fleeing to.
Espinosa said her government was busy collecting data on civil rights violations and her department had issued an all-out travel warning to Mexican nationals about Arizona.
That's where Mexico's hypocrisy is just too much.
First, Mexico encourages illegal immigration to the U.S. Oh, it says it doesn't, but it prints comic book guides for would-be illegal immigrants and provides ID cards for illegals once they get here. In Arizona alone, Mexico keeps five consulates busy.
That's not out of love for its own citizens, but because Mexicans send cash back to Mexico that helps finance the government.
Instead of selling its wasteful state-owned oil company or getting rid of red tape to create jobs in Mexico, Mexico spends the hard currency from remittances. It fails to look at why its citizens leave.
According to the Heritage Foundation-Wall Street Journal 2010 Index of Economic Freedom, Mexico's big problem is — no shock — government corruption, where it ranks below the world average.
That's where Mexico's cartels come in.
Mexico's encouragement of illegal immigration undercuts its valiant war against its smuggling cartels. The cartels' prowess and firepower have made them the only ones who can smuggle effectively across the border. U.S. law enforcers say they now control human-smuggling on our southern border.
Feed them immigrants and they grow more cash-rich — and right now, immigrant smuggling is about a third of the cartels' income.
Mass graves and car bombings are signs of criminal organizations getting bigger, and more powerful. Juarez, which has lost 5,000 people this year, bleeds because cartels fight over not just who gets the drug routes, but who gets the illegal-immigrant smuggling routes, too.
Aside from the cartel mayhem in Mexico, the bodies are piling up in the Arizona desert and U.S. Border Patrol rescues of abandoned illegals left to die have risen.
It's not the desert's fault, and it's certainly not Uncle Sam's fault, as activists claim. No, it's the fact that Mexicans are encouraged to emigrate.
Criminal cartels don't fear abandoning their human cargo in the desert, as long as Mexico does nothing and blames Uncle Sam.
Hearing Mexico's government now cheer the Arizona ruling, which will only encourage more illegal immigration, gives the country's regime a pretty inhuman face.
If Mexico had any decency, it would do all it could to discourage illegal immigration and keep a respectful silence about Arizona.
It needs U.S. support for its war on cartels. Instead of insulting American citizens, Mexico should confront directly the reasons why its people are so desperate to leave, and do all in its power to destroy the cartels that are slowly killing the nation. That includes defunding the murderous gangs by halting illegal immigration.
BORDER AGENT RESCUES DROWNING MIGRANT INVADERS…. Mexico ships them back over the border to register Democrat and collect their anchor baby welfare!
"The newly elected president, Andrés López-Obrador, was gleeful during the election when he told his compadres they should all
move to America, illegally. His encouragement along with his pro-poverty policies will set the stage for another tsunami of illegal immigration." COLIN FLAHERTY


"They will destroy America from within.

The leftist billionaires who orchestrate these plans are wealthy. Those tasked with representing us in Congress will never be exposed to the cost of the invasion. They have nothing but contempt for us who must endure the consequences of our communities being intruded upon by gangs, drug dealers and human traffickers.

These people have no intention of becoming Americans; like the Democrats who welcome them, they have contempt for us." PATRICIA McCARTHY
*
The immigration debate has been raging for years. Advocates for open borders can be found on both sides of the political aisle and in a wide variety of special interest groups who have come to see the immigration system that delivers an unlimited supply of cheap and exploitable labor, an unlimited supply of foreign tourists, and unlimited supply of foreign students and, for the lawyers, an unlimited supply of clients. MICHAEL CUTLER
VICENTE FOX OF NARCOMEX SAYS "MUCK AMERICA!!! YOU BELONG TO US!
BUT DOES FOX BELONG TO THE LA RAZA HEROIN CARTELS?
"Also, Rubin did not mention the moral responsibility of the child's father who brought her through the desert in an apparent effort to use the catch-and-release
Flores
loophole to get past border guards. The loophole was created by Judge Dolly Gee who has ordered border officials to release migrants after 20 days if they bring a child with them."