Amazon software engineer in second month of protests against conditions
Oleg Churyumov, an Amazon software engineer at Amazon, has been protesting across Seattle, Washington, since February against the soul-crushing work conditions forced upon professional white-collar workers by the company.
Officially on a leave of absence, he has picketed outside the central office where he worked, campaigned at various stores and an Amazon fulfillment center in the city, and carried out a five-day hunger strike without water. He has published video and written updates on his
personal blog
.
Though initially driven to protest after a terrible personal experience with overwork and abuse by management, Oleg considers his protest for the "civil rights" of all 500,000 employees worldwide that confront the same policies and culture of Amazon. His main protest slogan is, "Insist on the highest standards of oppression to our families," a sarcastic spin-off from one of Amazon's company mottos, "Insist on the Highest Standards," often invoked to justify the grueling conditions that workers face.
After reaching out directly to the World Socialist Web Site to share his story, he sat down for an interview with WSWS reporters during which he explained the background and events of the protest.
Originally from Russia, Oleg began working as a software engineer at Amazon in 2017. Initially, he thought the job was great, as he enjoyed his salary and co-workers. Despite being assigned to a job with inadequate training, he said the first few weeks on the job "began well enough." However, the enjoyment quickly disappeared after the company encouraged workers to offer criticism to management through a supposedly anonymous internal feedback system.
"Someone started asking me how I liked the management team and everything. I started answering some of these questions in the negative about my manager, for example that my manager needed to improve his leadership skills. Later I found out that this system is not anonymous.
"My manager can easily calculate that I was the person who posted this. He called me into a one-on-one meeting and asked me to stop posting the feedback. Since then, for all the year of my work, I suffered multiple forms of oppression from my manager."
While his manager allowed most employees to clock in at 11:00 a.m. and work from home without restrictions, Oleg was forced to come into the office at 7:00 a.m. to work by himself, work on weekends, and sometimes until 9:00 at night. Work weeks of 100 hours were not uncommon. He explained, "Some days that was extremely lethal. I had less than five hours for sleep, including travel to home."
To escape these punitive working conditions, he asked for a transfer to another department, which is common for professional workers. Oleg's manager told him he would be able to transfer to offices in New York City only after his wife found employment there. After she moved to NYC with the youngest of their two children, his manager said he "changed his mind."
"He broke his promise," Oleg said. "We are in a situation in which my wife and I are single parents. I am taking care of one of our children, and she is taking care of our second child. At the time my son was one year old, and my daughter was three, which means we had to take care of them all of the time. And that's just because my manager changed his mind."
Soon after this, their three-year-old daughter, who lived with Oleg, was diagnosed with a developmental delay and needed to attend regular therapy. To take care of her needs, Oleg asked his manager about flexible hours to accommodate her therapy and daycare schedule. "Everybody in [my] team was granted with ability to work from home once a week. If we have our laptops and Internet, we can work from anywhere in the world. My manager told me I was prohibited from working from home, that I had to work weekends and sometimes come in at 7:00 a.m.," the same response he got after submitting complaints through the internal feedback system.
"He directly prohibited me from taking care of my child. In February of 2018, my daughter became seriously sick. She was sick for three or four days, and she went to the doctor and she didn't go to daycare. I took leave perfectly legally. I have a full legal right to take leave, especially for a short time to take care of sick family members. I do not need approval from my manager for that, but I notified my whole team that I would be gone. After I came back from the leave, my manager sent me a disciplinary notice."
In May, Oleg spoke to his manager about the issues he had with the reaction to his request for time off to care for his family. The manager told him, "If you don't like something, just quit." For the next several weeks, Oleg faced an intentionally hostile work environment designed to push him to quit voluntarily, rather than get into the legal issues of firing someone after months of discrimination and retaliation from management.
Not wanting to quit but also unable to endure the environment, Oleg made a complaint to Human Resources, which opened an official investigation into his current and past issues. "During that investigation, they confirmed everything that I said. They said 99 percent of my statements were true, and that I had all the evidence, documents, e-mails. But they said, 'We confirmed everything. But our conclusion is as follows: there is no violation of Amazon policy here. Your statements do not constitute violation of Amazon policy.'
"I asked, 'If someone prohibited me from treating my disabled child, that's not a violation?' He [the HR representative] said there was no such policy."
Oleg was then placed in Amazon's Pivot Program, a program introduced in 2017 ostensibly as an appeals process for "chronic underperformers." It has been called a "kangaroo court" by critics of the program, as it allows peers to "confirm that a worker was low-performing" without the worker being allowed to rebut or explain him- or herself.
Refusing to resign and give into the dirty tricks of Amazon, Oleg has been on long-term leave since the fall of 2018. As Amazon sponsored his working EB3 visa, resigning would invalidate his application.
Last month, in February, he started public protests with a banner in front of Amazon buildings, posting videos on YouTube on most days. "They prohibited me to speak up inside of Amazon, so that's why I have gone to protest outside," he said. Oleg received large volumes of harassment, threats, insults and defamation online, initially posted by Amazon managers until they switched to anonymous accounts to avoid legal consequences.
He explained: "I decided to do a hunger strike in public, a hunger strike without water. You don't drink anything. During the hunger strike, they [Amazon] continued to post hate speech." They also withdrew his health benefits. "I was so stressed, but I sustained it until the fifth day. On the fifth day, my physician called me and said that I urgently need to take tests. My body was shutting down. He told me if I didn't stop voluntarily, I would be involuntarily taken to the hospital. So I decided to stop on my own."
Though the weather or family obligations disrupt the schedule occasionally, Oleg continues to protest on a near-daily basis at Amazon offices in downtown Seattle. "I am getting a lot of support," he said. "I get messages every day. People approach me on the street and say they know who I am. Amazon employees approached me and brought me hot coffee, saying they support me."
Other workers have shared similar stories with him, and have discussed the atrocious working conditions of the workers in distribution centers. "The most notorious story was from a fulfillment center worker who approached me and listened to my story. He said, 'Well, do you think you are suffering? You are not, you don't know. You have never worked at Amazon fulfillment center. Go there, and you will see what hell looks like.'"
Oleg often discusses the horrendous conditions facing warehouse workers. He even took his campaign to a fulfillment center near Seattle to talk with workers about his protest. Rejecting the pitting of salaried professional workers against hourly workers, Oleg is striving to represent all Amazon workers around the world in a fight against the oppressive policies and principles of the company. He often discusses the use of immigrant and foreign workers to drive up the exploitation of all workers, including those in the United States.
In a video response to the WSWS coverage of the
suicide crisis
in Amazon warehouses, Oleg said: "Amazon understands that if they kill an employee, another ten candidates that could be even better than him are standing in front of the door waiting for job applications because of the labor market. In many small cities, Amazon warehouses and fil centers play a major role in monopoly of the labor market.
"If an employee dies, Amazon is happy because they see, if he is dead, he was weak. Somebody else will come tomorrow in his place, replace him, and he could be a stronger, better and more efficient employee. Until he dies also, then someone else will replace him. The same is true for white-collar workers."
Though Oleg acknowledges that he does not endure the physical stress that fulfillment center employees do, the same culture of exploiting every ounce of human labor exists in the professional side of the company. "White collar workers are paid on a monthly salary, regardless of the number of hours we work. If we work eight hours a day or sixteen hours a day, if we work on weekends or not. It is very logical for Amazon to force us to work sixteen hours a day, including weekends. A hundred hours a week, that is normal for Amazon. Very logical. Why should an employee work less if his cost [of labor power] is the same?"
While Amazon praises its work standards that it rejects being "unreasonably high," Oleg explains, "Yes, we think these standards are 'unreasonably high.' It's unreasonable that people are committing suicide, that people are dying, that their relatives are dying."
"This is not fault of some person. Managers are not killers. They are people just like me and you. It is fault of the system, of the company."
Oleg clarified this explanation in a recent blog post, in which he compares the corporation to Spartacus and Nazi rule, "Amazon treats its employees worse than slaves. Just for experiment (curiosity, game), employees are forced to work until the 'limit.' And the limit is never reachable, according to the official company mission. The only way to know the limit is the moment of death. In wild nature, predator does not kill victim for a 'game,' for 'experiment'."
THERE'S NOT ONE BILLIONAIRE OUT THERE WHO IS NOT FOR WIDER OPEN BORDERS, AMNESTY, CHAIN MIGRATION, AND NO E-VERIFY... It's all about keeping wages depressed!
Plutocrats Unite: Big Tech, Business Lobby, Outsourcers Demand Amnesty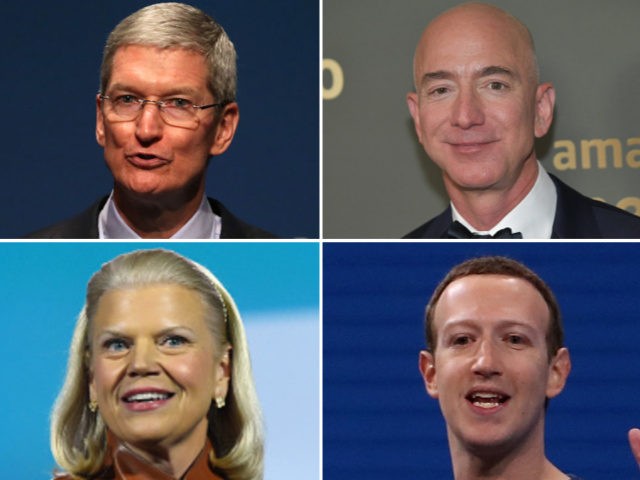 Executives from the country's largest tech conglomerates, the big business lobby, and multinational corporations synonymous with outsourcing American jobs are demanding Congress pass the latest Democrat plan giving amnesty to millions of illegal aliens.
A new plan by House Democrats known as the "Dream and Protection Act" gives amnesty to nearly three million illegal aliens who are eligible and enrolled in former President Obama's Deferred Action for Childhood Arrivals (DACA) program.
Aside from the nearly three million DACA-enrolled and DACA-eligible illegal aliens who would be able to permanently stay in the U.S. — providing a flooded market with lower wages for the business lobby — the amnesty would be extended to the nearly 500,000 foreign nationals who are currently living in the country on Temporary Protected Status (TPS).
The amnesty is so expansive that even DACA-eligible and DACA-enrolled illegal aliens who have already been deported from the U.S. would be allowed to apply for amnesty and eventually permanently resettle back in the country.
In a letter to Congress, the wealthiest CEOs and executives from multinational corporations like IBM and Verizon, as well as tech giants like Google, Facebook, Amazon, and Twitter, have
joined
a new coalition to demand a DACA amnesty be swiftly passed:
We write to urge the new Congress to act immediately and pass a bipartisan, permanent legislative solution to enable Dreamers who are currently living, working, and contributing to our communities to continue doing so

. With the re-opening of the federal government and the presumptive restart of immigration and border security negotiations, now is the time for Congress to pass a law to provide Dreamers the certainty they need.

These are our friends, neighbors, and coworkers, and they should not have to wait for court cases to be decided to determine their fate when Congress can act now

. [Emphasis added]
The signers of the letter include:
IBM CEO Ginni Rometty
Facebook CEO Mark Zuckerberg
Apple CEO Tim Cook
Amazon CEO Jeff Bezos
Verizon CEO Hans Vestberg
Walmart CEO Doug McMillon
General Motors CEO Mary Barra
Microsoft Corporation President Brad Smith
U.S. Chamber of Commerce CEO Thomas Donohue
Koch Industries' Martin Slark
The letter and list of signers can be found here:
Corporations like IBM, Facebook, Apple, Amazon, and Microsoft have all sought to outsource American jobs by importing foreign workers through the H-1B visa program.
IBM, alone, over the course of the last three years, sought to import more than 32,000 H-1B foreign workers to take American jobs while
outsourcing
remaining U.S. jobs to India. Meanwhile, Facebook attempted to import more than 5,600 H-1B foreign workers to take U.S. jobs between 2016 and 2018.
Every year, more than 100,000 foreign workers are brought to the U.S. on the H-1B visa and allowed to stay for up to six years. There are about 650,000 H-1B visa
foreign workers
in the U.S. at any given moment. Americans are often
laid off
in the process and forced to train their foreign replacements, as highlighted by
Breitbart News
. More than 85,000 Americans a year potentially lose their jobs to foreign labor through the H-1B visa program.
A DACA amnesty, like the one proposed by House Democrats, would allow a constant flow of cheaper, foreign labor to the U.S. for decades by keeping the process known as chain migration in tact, where newly amnestied illegal aliens could bring an unlimited number of foreign relatives to the country with them.
Should each amnesty beneficiary bring six foreign relatives to the U.S. over the next decade or so, this would be a total population of more than 16 million foreign nationals who benefited from the amnesty.
A DACA amnesty plan would also
crush
wage gains that America's working and middle class have enjoyed in President Trump's "Hire American" economy — a bonus for the big business lobby and corporate interests, who prefer a low-wage economy with decreased labor costs.
Every one percent increase in the immigrant composition of American workers' occupations reduces their weekly wages by about 0.5 percent, researcher Steven Camarotta has found. This means the average native-born American worker today has his weekly wages reduced by perhaps 8.5 percent because of current legal immigration levels.
In a state like Florida, where immigrants make up about 25.4 percent of the labor force, American workers have their weekly wages reduced by about 12.5 percent. In California, where immigrants make up 34 percent of the labor force, American workers' weekly wages are reduced by potentially 17 percent.
Likewise, every one percent increase in the immigrant composition of low-skilled U.S. occupations reduces wages by about 0.8 percent. Should 15 percent of low-skilled jobs be held by foreign-born workers, it would reduce the wages of native-born American workers by perhaps 12 percent.
Currently, the nation's Washington, DC-imposed
policy
on mass legal immigration — where about 1.5 million unskilled legal immigrants are admitted to the U.S. every year — is a boon to corporate executives, Wall Street, big business, and multinational conglomerates, as working and middle-class Americans have their wealth
redistributed
to the country's top earners through wage stagnation.
John Binder is a reporter for Breitbart News. Follow him on Twitter at @JxhnBinder.
THE BILLIONAIRE CLASS WAGES WAR ON AMERICA!