Muslim Mob Stones Three Christians to Death in Kenya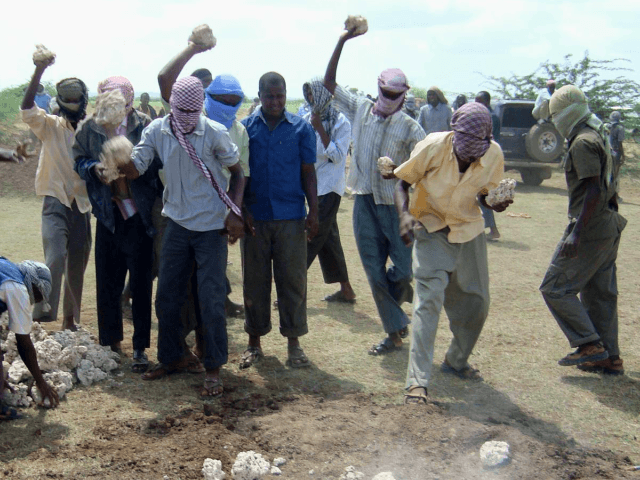 An Islamist mob stoned three Christians to death in western Kenya this week in apparent retaliation for the recent killing of three suspected al Shabaab militants.
An eyewitness said that the killing happened at a construction site where one of the Christian victims, Fredrick Mukanda Bahati, was building a house along with two assistants. The men were mixing mortar in Elwak, Mandera, a town close to the Kenya-Somalia border, when they saw the mob arriving.
"From a distance, I saw the men hurling construction stones towards Fredrick and his coworkers," the unnamed witness said.
"The three managed to flee into a nearby hotel for safety, although they had been badly injured. The Muslims relentlessly followed them up and stoned them to death," he said.
The witness said that the mob was chanting "takbir, takbir, takbir," the title for the Arabic phrase "Allahu Akbar" (Allah is greatest).
The brutal killing has left the local community stunned and angry.
"We are not safe at all and this incident shows how Muslims hate believers in Christ," said a local Christian pastor, who said he was "shocked" at the attack.
"We have known it is the armed militants belonging to the al-Shabaab that kill people, but now we have discovered that even our close Muslim friends can commit atrocities against us."
Wycliffe Mukanda, Fredrick's brother, expressed his sorrow over the incident, as well as distress over the inability of law enforcement to protect local citizens.
"This is a sad day in our family," Mukanda said. "We have lost a man who was skilled in construction and loved all of us. He always reminded us to pray and trust God even in difficult times. That is what is keeping us going after losing him."
"We were expecting to see him before the end of the year but now what we have is the memories, a widow, and two children to take care of," he said.
"Where were the police to protect [them]?" he asked.
Christians have often been the targets of Islamist violence in Kenya, despite the nation's Christian majority.
Earlier this month, jihadists of the Al-Shabaab terror group hijacked a bus heading to Garissa and ordered all the passengers to exit the vehicle. The assailants asked for identification cards, then proceeded to separate the Muslims from the Christians.
When two Christians refused to recite the Islamic statement of faith, or Shahada, they were executed.
International Christian Concern (ICC) said it has been following up with the families of these two murdered Christians.
"This group's intense hatred and violence has caused massive pain for many families and friends of Christians like these two," the group said.
"The Kenyan and Somali governments must continue to work to end the horrible atrocities that this evil organization commits and protect the lives of Christians in Kenya," they said.
FEMALE CHRISTIAN VICTIMS OF BOKO HARAM
And leftist feminists' deafening silence.
September 28, 2018
Among the world's suffering masses are the adherents of Christianity, the most persecuted of religions. Indeed, aside from what our establishment media would like you to believe, it is not Muslims who constitute the most oppressed of the world's religions. It is Christians. Moreover, about 80% of the time, the oppression under which Christians in Africa and the Middle East are made to live is inflicted upon them by Islam.
And unlike women, or at least self-described "feminist" women, in the West who would have us think that they're injured every time a man (or, more specifically, a white heterosexual man) fails to use gender-neutral pronouns, or expresses his opposition to abortion, Christian women in places like Nigeria are made to genuinely suffer.
Take the case of Leah Sharibu. Leah is a 15 year-old Nigerian, a Christian, who was taken from her family by Boko Haram thugs eight months ago. Yet recently, matters took another turn.
According to Open Doors, an organization dedicated to helping persecuted Christians, Boko Haram is now threatening to murder Leah unless the demands that it has issued to the Nigerian government are met. Considering that it just released a video of the murder of a 25 year-old aid worker with the International Committee of the Red Cross, Saifura Hussaini Ahmed Khorsa, a woman who it was holding along with Leah, Boko Haram's threats must be taken seriously.
Khorsa was kidnapped on March 1 when Boko Haram set upon the town of Rann, near the Cameroon border. In addition to Leah, two other women were abducted, two relief workers—Hauwa Mohammed Liman, a midwife employed by the International Committee of the Red Cross, and Alice Loksha Ngaddah, a nurse for UNICEF.
Upon releasing the video of the murder of Khorsa, a spokesperson for Boko Haram announced that the terrorist organization had "contacted the government through writing and…audio messages," but to no avail.
This being so, Boko Haram would leave "a message of blood."
The message is simple: "The other nurse and midwife will be executed in similar manner in one month, including Leah Sharibu."
Leah was kidnapped on February 13 of this year when Boko Haram attacked her school and carried off 100 girls. Every other girl had been released since then. Leah is the only one who remains in captivity because, remarkably, she refused to renounce Christ.
Recently, Boko Haram released what is thought to be a "scripted" audio recording of Leah:
"I also plead to the members of the public to help my mother, my father, my younger brother and relatives. Kindly help me out of my predicament. I am begging you to treat me with compassion. I am calling on the government, particularly the President, to pity me and get me out of this serious situation. Thank you."
Emanuel Egebe, a Nigerian activist based in the United States, notes that in murdering an aide worker—and an Islamic worker at that—Boko Haram has changed strategies and upped the ante. "To my knowledge," Egebe remarked, "this is the first execution by Boko Haram of an aid worker for failure to respond to a demand."
"Boko Haram generally executes Christian males who refuse to convert, men and women—Christian or Muslim—who work for security services…It is contrary to Boko Haram's rules of engagement to execute Muslim women [.]"
He concludes that just "when you don't think they can sink any lower, they hit a new nadir!"
To be sure, it isn't that Boko Haram has had any reservations about murdering "United Nations diplomats and aid workers…including Korean doctors, polio vaccinators, etc." Yet "this is the first execution for failure to meet their ransom demands."
Egebe, though, is as much in the dark as anyone else as to what exactly it is Boko Haram is demanding from the Nigerian government.
In the meantime, the fate of this young Christian woman, Leah Sharibu, and two other female aid workers hangs in the balance.
Yet the self-styled champions of women and enemies of "Islamophobia" in the West won't utter a peep about this ugly fact.
THIS FUCKER DOESN'T KEEP HIS HEAD UNLESS HIS RADICAL MUSLIM THUGS ARE KEPT HAPPY AND MURDERING!
Khalid Sheikh Mohammed, the mastermind of 9/11/2001, said:
* We will take advantage of their immigration policy to infiltrate them.
* We will use their own welfare system to provide us with food, housing, schooling, and health care, while we out breed them and plot against them. We will Caliphate on their dime.
* We will use political correctness as a weapon. Anyone who criticizes us, we will take the opportunity to grandstand and curry favor from the media and Democrats and loudly accuse our critics of being an Islamophobe.
* We will use their own discrimination laws against them and slowly introduce Sharia Law into their culture..
It is better to subdue your enemy without fighting than to engage in battle.
The Muslims and Communists are doing this today.
This is the practice as proscribed by Sun Tsu around 500 BC.
Change your enemy from within.
Jordanian King Abdullah II Bin Al-Hussein, while addressing the United Nations General Assembly on Tuesday, called on the international community to combat "Islamophobia," deeming it a threat that fuels terrorism along with jihadi ideology.
An effective global response to terror also requires continued collective action. Let's be clear about it: for all our victories, the fight against these outlaws, the khawarej of Islam, is not over. Winning the war demands a long-term, holistic approach, one that pairs security measures with strong initiatives that support inclusion and hope. Offline and online, we must counter all and I say all ideologies of hatred, including Islamophobia. Jordanians have led efforts to unite the world in mutual respect and understanding.
His remarks echoed comments he made before the international body in 2016.
During the general assembly's annual meeting in September of that year, King Abdullah "decried both Western Islamophobia and the terrorist 'outlaws' who sully the name of Islam, warning the United Nation General Assembly that both threaten the future of society," the U.N. reported.
U.N. Secretary-General Antonio Guterres has deemed "Islamophobia" an international problem.
"Racism, xenophobia, anti-Semitism or Islamophobia are … poisoning our societies," the U.N. chief said in August 2017, adding, "It is absolutely essential for us all to stand up against them everywhere and every time."
The U.S. provides Jordan with hundreds of millions of dollars each year in foreign aid, making the kingdom one of the largest recipients of American taxpayer funds.
In 2017 alone, U.S. assistance to Jordan, a member of the international coalition against the Islamic State (ISIS/ISIL), reportedly exceeded $1 billion.
Despite disagreements over U.S. President Donald Trump's decision to recognize Jerusalem as Israel's capital, his administration agreed to further increase assistance to Jordan, signing a memo of understanding in February to provide the Middle Eastern nation at least $1.275 billion a year annually over the next five years.
The Jordanian king stressed his support for a two-state solution that would include an independent Palestinian state with East Jerusalem as its capital and Israel.
"We will counter any attempts to change the holy city's historic Arab Christian and Muslim identity," Abdullah proclaimed.
Jordan joined 128 U.N. member states that urged the Trump administration to rescind its recognition of Jerusalem as Israel's capital.
BIBLE OF THE MUSLIM TERRORIST:
Koran 2:191 "slay the unbelievers wherever you find them"
Koran 3:21 "Muslims must not take the infidels as friends"
Koran 5:33 "Maim and crucify the infidels if they criticize Islam"
Koran 8:12 "Terrorize and behead those who believe in scriptures other than the Koran"
Koran 8:60 " Muslims must muster all weapons to terrorize the infidels"
Koran 8:65 "The unbelievers are stupid, urge all Muslims to fight them"
Koran 9:5 "When the opportunity arises, kill the infidels wherever you find them"
Koran 9:123 "Make war on the infidels living in your neighborhood"
Koran 22:19 "Punish the unbelievers with garments of fire, hooked iron rods, boiling water, melt their skin and bellies"
Koran 47:4 "Do not hanker for peace with the infidels, behead them when you catch them".
DID DIRTY MUSLIM SAUDIS MONEY FINANCE THE BUSH, CLINTON AND OBAMA LIBRARIES?
"The tentacles of the Islamist hydra have deeply penetrated the world. The Egyptian-based Muslim Brotherhood poses a clear threat in Egypt. The Muslim Brotherhood also wages its deadly campaign through its dozens of well-established and functioning branches all over the world."
"The Wahhabis finance thousands of madrassahs throughout the world where young boys are brainwashed into becoming fanatical foot-soldiers for the petrodollar-flush Saudis and other emirs of the Persian Gulf."
AMIL IMANI
LONDON UNDER THE MUSLIMS: Murder, Rape, Mayhem and acid in the face and knives in the back!
Endless wars for Muslim dictators while the Mexican drug cartels expand from border to open border.
TRILLIONS WASTED AS AMERICA CRUMBLES!
MAP
OF MUSLIM OCCUPATION OF EUROPE
MAP
OF MEXICAN OCCUPATION of U.S.
BARACK
Hussein
OBAMA: THE CLOSET MUSLIM PSYCHOPATH WHO HATED AMERICA!
"But the Obamas are the center of the most delusional cult of personality that the media has yet spawned. And so we get bizarre pieces like these."
The mullahs rolled in cash as a result of rolling Obama and his gullible team over the deal, knowing that Obama was desperate for some sort of legacy. MONICA SHOWALTER
Europe falls to the Muslims as America did to the invading Mexicans!
UNDERSTANDING THE MUSLIM BARBARIANS
…. They live to hate, kill, rape, molest and mutilate according to their perverted s ex practices perpetrated on women.
"If good Muslim women are seen and treated as possessions, how are
infidel women seen and treated?" RAYMOND IBRAHIM
Once a Muslim, ALWAYS a murderer!
Praise be to Allah the great fornicating dog!
"The Times
also reported the story of one 13-year-old victim who was
collected from a children's home, drugged with cocaine and mephedrone,
and raped by up to seven men at so-called "sessions", or sex parties, held by
THE MUSLIM: GOD'S MOST DESPISED!



"If good Muslim women are seen and reated as possessions, how are
infidel women seen and treated?" RAYMOND IBRAHIM
"Fight and kill the disbelievers wherever
you find them, take them captive, harass them, lie in wait and ambush them using every stratagem of war." –Qur'an 9:5
RELAX: CALIFORNIA MUSLIM WITH IEDSIN CAR HAS 'NO TIES' TO TERROR ORGS
Go back to sleep. Who doesn't drive around with IEDs in the car?
If Saleh Ali hadn't been pulled over by a traffic cop for having an expired vehicle registration, the consequences could have been explosive.
Lt. Adam Hawley of the Brea, California police department
said
: "During the traffic stop, the officer keyed in on a couple of suspicious items in the car he believed to be an explosive device. He detained the driver out of an abundance of caution, locked down a little bit of the area and called out sheriff's bomb squad deputies."
The bomb squad destroyed the IEDs, and
Ali is being held
at the Orange County Jail on $500,000 bail. According to the Orange County Register, he has been "charged with one count of transporting a destructive device and two counts of possessing a destructive device."
But there is no need for anyone to be concerned. Hawley added: "At this point, we don't have any evidence to support that he was part of any terrorist organization."
Hawley did not address the possibility that Ali might have been looking for an opportunity to act upon the call that the Islamic State (ISIS)
issued
in September 2014:
So O muwahhid, do not let this battle pass you by wherever you may be. You must strike the soldiers, patrons, and troops of the tawaghit. Strike their police, security, and intelligence members, as well as their treacherous agents. Destroy their beds. Embitter their lives for them and busy them with themselves. If you can kill a disbelieving American or European — especially the spiteful and filthy French — or an Australian, or a Canadian, or any other disbeliever from the disbelievers waging war, including the citizens of the countries that entered into a coalition against the Islamic State, then rely upon Allah, and kill him in any manner or way however it may be….If you are not able to find an IED or a bullet, then single out the disbelieving American, Frenchman, or any of their allies. Smash his head with a rock, or slaughter him with a knife, or run him over with your car, or throw him down from a high place, or choke him, or poison him….
It is an ongoing source of frustration for people who are informed about the jihad threat that authorities in the West routinely claim that random acts of violence committed by Muslims are not actually incidences of terrorism at all. In claiming this, authorities are frequently motivated by a desire to minimize the terror threat in their own countries, particularly when those authorities are responsible for increasing that threat by pursuing reckless and irresponsible policies of mass Muslim migration.
Authorities might also discount terrorism in instances such as the case of Saleh Ali because they simply don't understand the phenomenon. They assume that Islam is a religion of peace, because they have been constantly warned that they must believe this or be charged with "racism" and "Islamophobia." Then on the basis of that assumption, they further assume that the only problem with terror in connection with Muslims are "extremist" groups such as al-Qaeda and ISIS. If, therefore, Saleh Ali or others like him are not carrying al-Qaeda or ISIS membership cards, and their phone records don't show them making multiple calls to Iraq or Syria, authorities assume that they have no connection to terrorism.
The idea that a Muslim such as Saleh Ali could read the Qur'an's calls to "kill them wherever you find them" (2:191, 4:89, 9:5) and perhaps come across the ISIS call for individual Muslims to commit random acts of violence, or a similar call from al-Qaeda or some other jihad group, and act upon it despite having no connection whatsoever with any terrorist group doesn't enter their minds. Authorities don't even allow this to enter their minds. If they did, they would have to admit that the problem of terrorism is far larger than they have admitted up to now, and that their entire approach to it has been wrongheaded. It's far easier simply to tell the public that Saleh Ali has no ties to terrorist organizations, and go back to sleep. What could possibly go wrong?