California's Rich May Leave to Avoid $12 Billion in SALT Tax Hit
President Donald Trump's new tax cut, which limiting state and local tax deductions, will cost rich Californians $12 billion more in federal taxes, with $9 billion coming from those making $1 million or more.
Recently, the California Department of Finance reported good news for Sacramento politicians: thanks largely to having the top state income tax bracket in the nation at 13.3 percent, California collected about $3.3 billion more in state taxes than forecast in the first three months of 2018, with 67 percent coming from higher than expected personal income taxes.
But the California Franchise Tax Board also warned that the Trump tax cut, which limits state and local tax (SALT) deductions to a maximum of $10,000, will cost same high income earners $12 billion a year more in federal tax.
The bigger tax bite could also be strong motivation for California's highest income earners to vote with their feet and leave California to save big bucks in a low tax state.
Maine is second to California with a top income tax rate of 10.15 percent, followed by Oregon's 9.9 percent. But Nevada, Washington, Texas and Florida have no state income tax.
Only about 61,000 households, or 0.4 percent, of the 16 million households in California reported an income of more than $1 million in 2014. But the CalMatters blog commented that of the 40 million residents in California, the top 150,000 that are in the top 1 percent of income earners pay about half of all state income taxes.
California taxpayers may already be voting with their feet, according to an analysis by CNBC. The business news team found that from 2016 to 2017, California saw a net 138,000 people leave the state, while Texas grew by 79,000 people, Arizona added 63,000 residents, and Nevada saw a 38,000 gain.
The Republican Governors' Association was quick to observe: "California Democrats imposing massive tax hikes on middle-class families, driving up their state's cost of living, residents are packing their bags and leaving for states run by GOP governors like Arizona, Nevada, and Texas with lower tax burdens and friendlier business climates."
Coming soon: Mass exodus from NY, CA due to high taxes
Arthur Laffer and Steven Moore have penned an interesting article in the Wall Street Journal that gauges the impact of the cap on state tax deductions in high tax states.
Their conclusions should frighten high-tax, big-spending liberals in blue states across the country.
In the years to come, millions of people, thousands of businesses, and tens of billions of dollars of net income will flee high-tax blue states for low-tax red states. This migration has been happening for years. But the Trump tax bill's cap on the deduction for state and local taxes, or SALT, will accelerate the pace. The losers will be most of the Northeast, along with California. The winners are likely to be states like Arizona, Nevada, Tennessee, Texas and Utah.

For years blue states have exported a third or more of their tax burden to residents of other states. In places like California, where the top income-tax rate exceeds 13%, that tax could be deducted on a federal return. Now that deduction for state and local taxes will be capped at $10,000 per family.

Consider what this means if you're a high-income earner in Silicon Valley or Hollywood. The top tax rate that you actually pay just jumped from about 8.5% to 13%. Similar figures hold if you live in Manhattan, once New York City's income tax is factored in. If you earn $10 million or more, your taxes might increase a whopping 50%.

About 90% of taxpayers are unaffected by the change. But high earners in places with hefty income taxes – not just California and New York, but also Minnesota and New Jersey – will bear more of the true cost of their state government. Also in big trouble are Connecticut and Illinois, where the overall state and local tax burden (especially property taxes) is so onerous that high-income residents will feel the burn now that they can't deduct these costs on their federal returns. On the other side are nine states – including Florida, Nevada, Texas and Washington – that impose no tax at all on earned income.
The authors put their finger on the real meaning of SALT: it prevents the rest of us from subsidizing the blue state model. By making rich taxpayers in blue states bear the true cost of all those goodies given out by their state governments, those living in low-tax red states will no longer subsidize the irresponsible spending habits in blue states.
Now that the SALT subsidy is gone, how bad will it get for high-tax blue states? Very bad. We estimate, based on the historical relationship between tax rates and migration patterns, that both California and New York will lose on net about 800,000 residents over the next three years – roughly twice the number that left from 2014-16. Our calculations suggest that Connecticut, New Jersey and Minnesota combined will hemorrhage another roughly 500,000 people in the same period.

Red states ought to brace themselves: The Yankees are coming, and they are bringing their money with them. Meanwhile, the exodus could puncture large and unexpected holes in blue-state budgets. Lawmakers in Hartford and Trenton have gotten a small taste of this in recent years as billionaire financiers have flown the coop and relocated to Florida. As the migration speeds up, it will raise real-estate values in low-tax states and hurt them in high-tax states.
We are the most mobile society in the history of industrialized civilization. The fact that we are a federal republic with fifty individual state governments makes choosing a place to live more than just a preference for climate or scenery. High taxes generally bring with them a higher cost of living, urban decay, crime, and a lack of economic opportunity.
So Americans are voting with their feet. And in this competition, it's no contest.
Kamala Harris is a shoo-in for Dems in 2020, but what about her controversial past?
April 24, 2018
Last August, Brides magazine cited "7 Reasons Sen. Kamala Harris's Husband Douglas Emhoff Would Make a Great First Man." He's willing to compromise and cares about children, but most important he's married to Kamala Harris, so "If he's First Whatever, this means in 2020, we'd elect our first female president. This reason's a no-brainer, right?" So like Bill and Hillary it's a two-for-one deal, though POTUS 44 appears to favor the bride.
"She is brilliant and she is dedicated and she is tough, and she is exactly what you'd want in anybody who is administering the law, and making sure that everybody is getting a fair shake," he said in 2013. "She also happens to be, by far, the best looking attorney general in the country." The president apologized for that remark but Harris had other issues to walk back.
In the 2010 race for attorney general, the Sacramento Bee endorsed Republican Steve Cooley over Harris.She won by less than one percentage point, but as the Bee saw it, "she could be more aggressive on public corruption cases, though her handlers might worry that would cause friction with fellow Democratic politicians." They had always shown her special kindness.
California's powerful Assembly Speaker Willie Brown also thought the UC Berkeley law grad, a full 30 years his junior, was good looking. Brown began dating Harris and the hook-up paid off big. Willie Brown duly appointed Harris to the Unemployment Insurance Appeals Board and California Medical Assistance Commission, boosting her prosecutor's pay by nearly $100,000. The patronage came up in 2003, when Harris unseated San Francisco district attorney Terence Hallinan.
She targeted for-profit colleges, supported gun control and in 2013 refused to appeal the court decision overturning the 2008 Proposition 8, which sought to ban same-sex marriage. She let stand California's fathomless public corruption.
California's attorney general stayed quiet in 2014 when Mexican national Luis Bracamontes gunned down police officers Danny Oliver and Michael Davis. Senator Kamala Harris made no statement when the racist murderer shouted "black lives don't matter" in court.
In 2015 repeatedly deported Mexican felon Jose Inez Garcia Zarate shot and killed Kate Steinle on a San Francisco pier. Attorney general Harris defended the city's sanctuary policy and failed even to decry "gun violence" in the case.
That same year Syed Farook and Tashfeen Malik killed 14 unarmed innocents and wounded 22 at an office party in San Bernardino. A year later Harris issued a statement on the "devastating and tragic terrorist attack," but failed to name the Islamic terrorists and their motive.
On the same trip, Harris proclaimed "There's literally no doubt," that Russia interfered in the 2016 election, and "It's not a debatable point." Any move by Trump to fire Robert Mueller would be an "impeachable offence." So like other Democrats, Harris is pretty sure there will be a vacancy.
Meanwhile, Brides may not be right that high-profile attorney Douglas Emhoff would make a great "First Man." On the other hand, it is probably a no-brainer that in 2020 "smart on crime" Kamala Harris will be seeking a promotion, perhaps with the full support of her party.
Kamala Harris Endorses Oakland Mayor Libby Schaaf
Sen. Kamala Harris (D-CA) endorsed Oakland Mayor Libby Schaaf's reelection bid on Monday, saying she is proud to stand with the mayor who made national headlines last month when she tipped off illegal immigrants of potential Immigration and Customs Enforcement (ICE) raids.
Harris said Schaaf "has the track record of doing what is in the best interest of her city to benefit all Oaklanders."
"She's taken creative steps to address homelessness, dramatically improved the city's safety and fought to make Oakland a more equitable city, while simultaneously encouraging investment in the city," Harris added. "I am proud to stand with her."
ICE revealed that nearly 800 illegal immigrants, including some criminals, possibly evaded capture due to Schaaf's alert, but Harris said last month that she supported Schaaf's actions "100 percent."
"I think Mayor Schaaf is doing exactly what she believes is in the best interest of her community and I support that 100 percent," Harris said then.
Attorney General Jeff Sessions told Breitbart News last month that Schaaf made a "colossal error" when she tipped off illegal immigrants while President Donald Trump has called Schaaf's actions a "disgrace."
Schaaf, though, insisted that her alert did not endanger law enforcement officials and on multiple occasions has accused the Trump administration of singling her out to advance its "racist" agenda.
THE MURDEROUS MEXICANS….IN PELOSI, FEINSTEIN AND KAMALA'S HOMETOWN!
HOW MANY PRAYERS HAS KAMALA HARRIS SAID FOR KATE STEINLE?
Everyday there are 12 Americans murdered and 8 children molested by Mexicans!
Steinle's murderer, Jose Zarate and been deported 5xs!
"While walking with her father on a pier in San Francisco in 2015, Steinle was shot by the illegal alien. Steinle pleaded with her father to not let her die, but she soon passed in her father's arms."
Heather Mac Donald of the Manhattan Institute has testified before a Congressional committee that in 2004, 95% of all outstanding warrants for murder in Los Angeles were for illegal aliens; in 2000, 23% of all Los Angeles County jail inmates were illegal aliens and that in 1995, 60% of Los Angeles's largest street gang, the 18th Street gang, were illegal aliens.
Granted, those statistics are old, but if you talk to any California law enforcement officer, they will tell you it's much worse today.
Politico: Kamala Harris, 2020 Presidential Contender, is a Mystery in California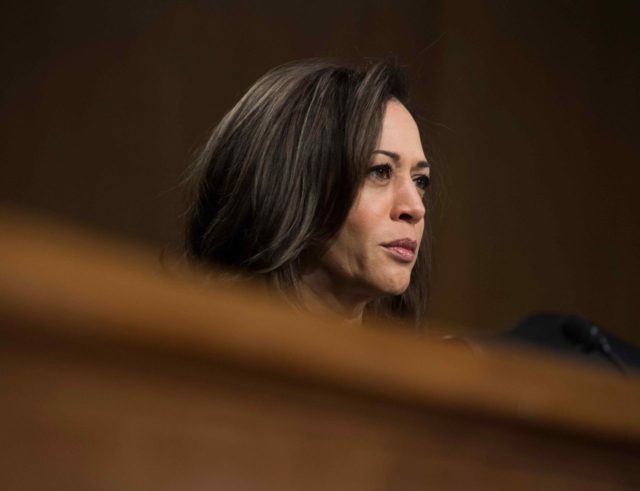 First-term Sen. Kamala Harris (D-CA) is emerging as a Democratic presidential contender in 2020. However, according to Politico, her own voters in California do not really know much about her.
In an article titled "Kamala Harris' rapid rise confounds California," Politico's David Siders writes:
Kamala Harris has been called "the female Barack Obama." She's built a national following with her outspoken criticism of Donald Trump and prolific fundraising for fellow Democrats.

But the California senator's rapid rise — she's just 15 months into her first term — has created an awkward issue: Even as progressives tout her as one of the top 2020 contenders, Harris remains something of a mystery back home.

Her approval ratings are solid, but not stratospheric. And 28 percent of California voters say they don't know or have no opinion about Harris, according to a recent Morning Consult poll — placing her in the bottom 10 of name recognition among U.S. senators in their home states.

A Berkeley IGS Poll in September found California voters — by a more than 2-to-1 margin, 49 percent to 22 percent — would rather Harris stay in the Senate than run for president in 2020.
(Read the rest of Siders's article here.)
Harris has been a top presidential prospect ever since Hillary Clinton's loss in 2016. She served as the state's Attorney General and went on to win her Senate race that year with the full backing of the Bay Area political establishment that essentially controls Democratic Party politics (and hence the state).
However, aside from viral fundraising videos of her interrupting witnesses at Senate hearings (and then complaining about being silenced), it is not clear what she has achieved for California.
Last year, left-wing activists in the state were already expressing doubts about Harris's prospects as a presidential candidate.
#CalExit III: California Independence Advocates Can Collect Signatures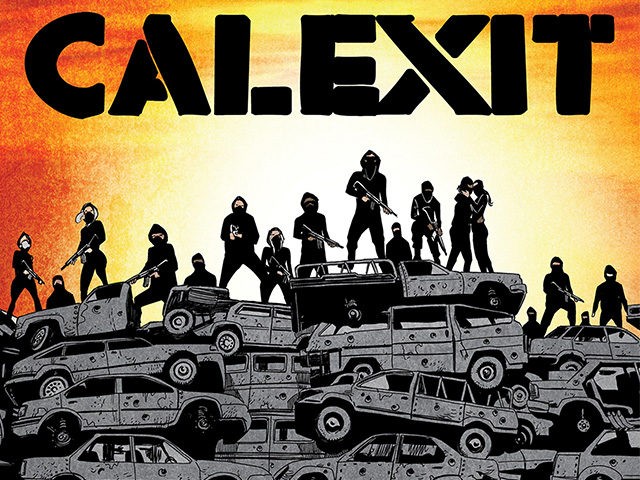 Activists who want California to secede from the nation may begin collecting signatures on a petition to put the question before voters in 2020, according to Secretary of State Alex Padilla.
The third "Calexit" proposal hopes to succeed — and secede — where two previous attempts failed, according to the Associated Press:
The latest version of the so-called Calexit initiative would ask voters about secession in 2020. If it passes, a second election would be held a year later asking voters to affirm the decision.

The initiative is proposed by Marcus Ruiz Evans and Louis Marinelli of a group called Yes California, which proposed California independence initiatives in 2015 and 2017.

A rival group proposed a Calexit initiative last year but did not turn in the required signatures.

Proponents have until Oct. 17 to collect nearly 366,000 signatures.
The second attempt at the initiative met with failure last year, as Breitbart News reportedat the time:
The first attempt failed, and was subsequently withdrawn from consideration in April.

This latest initiative, which will be titled "California Autonomy From Federal Government," according to Becerra's press release, must gather 585,000 valid signatures to qualify for the 2018 ballot.
California's left-wing voters showed unusual interest in seceding after President Donald Trump won in 2016.
However, the new so-called "Resistance" movement gave the state's liberals new hope. Democrats are targeting several Republican-held seats in California where Hillary Clinton won majorities in 2016.
State leaders, while discouraging ideas of secession, have repeated the old Confederate gesture of attempting to nullify federal law on immigration. They have also sued the Trump administration over many of its policies.
Joel B. Pollak is Senior Editor-at-Large at Breitbart News. He was named to Forward's 50 "most influential" Jews in 2017. He is the co-author of
How Trump Won: The Inside Story of a Revolution
, which is available from Regnery. Follow him on Twitter at @joelpollak.
COUNTER-REVOLUTION IN THE SANCTUARY STATE?
Resistance to California's unconstitutional laws shielding illegals is growing.
April 20, 2018
California's grossly unconstitutional obstruction of federal immigration laws is feeding a growing backlash by local governments against the state's unprecedented sanctuary laws that shield its 2.4 million illegal aliens from U.S. Customs and Immigration Enforcement (ICE).
There is a "little bit of a revolution going on in California" over "sanctuary cities," President Trump told reportersyesterday in Key West, Fla.
"Drugs are flowing into our country," he said. "We need border protection. We need the wall. We have to have the wall. The Democrats don't want to approve the wall because they think [opposing it is] good politically, but it's not." He added that human trafficking is "worse than it's ever been in the history of the world."
"If you look at what's happening in California with sanctuary cities — people are really going the opposite way," Trump continued. "They don't want sanctuary cities. There's a little bit of a revolution going on in California."
This righteous, patriotic blowback is taking the form of Golden State localities opting out of the state laws, and in some cases, joining the Trump administration's lawsuit against California's months-old "sanctuary state" laws that punish compliance with federal immigration laws and provide legal cover for corrupt officials to continue brazenly flouting immigration laws and interfering with federal agents trying to enforce them.
In a big symbolic win for the rule of law, the San Diego County Board of Supervisors voted 3 to 1 this week to support the lawsuit. With 3.3 million residents, the county is the largest locality to back the pro-immigration law enforcement push. Within the county, Escondido's city council voted 4 to 1 on April 4 to join the lawsuit.
The Orange County Board of Supervisors voted unanimously March 27 to join the lawsuit. The county has a population of around 3.2 million people.
Los Alamitos (population 11,600) was the first to speak out on March 19 by opting out of the sanctuary laws. It was later joined in showing support for the Trump administration in one fashion or another by Dana Point (34,012), Aliso Viejo (51,424), Fountain Valley (56,529), Huntington Beach (200,652), Mission Viejo (200,652), Newport Beach (86,688), Orange (140,504), San Juan Capistrano (36,276), Westminster (91,565) and Yorba Linda (68,235).
In a move orchestrated by the American Civil Liberties Union and other illegal alien lobbies, residents in Los Alamitos filed a new lawsuit against their city for opting out of the sanctuary state legal regime.
"You can't hurt people in your community so you get airtime on Fox News," Jessica Karp Bansal, litigation director for the National Day Laborers Organizing Network (NDLON) and an attorney for the plaintiffs was quoted saying.
Antsy Democrats have been slinging invective and abuse at Los Alamitos officials for weeks. California Senate President Pro Tempore Kevin de Leon (D) said the move by Los Alamitos to support federal law was "a symbolic vote in favor of President Trump's racist immigration enforcement policies."
The deadline for participating in the federal lawsuit has now passed but localities are likely to find other ways to back the legal proceedings such as by passing resolutions endorsing it.
Paso Robles is considering becoming the first city in San Luis Obispo County to officially oppose sanctuary state laws after residents complained they were "under attack" and facing an "illegal alien invasion," reports the San Luis Obispo Tribune.
"We live in a beautiful town, a beautiful place, and we want to keep it that way," local resident Linda Becker told city council. "Sanctuary cities are disrespectful to the rule of law."
The federal lawsuit specifically targets three statutes curbing the power of California's state and local law enforcement to hold, question, and transfer detainees at the request of immigration authorities, and punish employers for cooperating with those authorities. The laws also impose draconian restrictions on communication between local police and federal immigration enforcement, including information regarding when criminal aliens are scheduled to be released from local jails.
Under the longstanding doctrine in American constitutional law known as "dual sovereignty," states cannot be compelled to enforce federal immigration laws, but they are obliged not to hinder their enforcement. The so-called sanctuary cities that form the bulk of the sanctuary movement really ought to be called traitor cities because they are in open rebellion against the United States, just like the slave states that seceded from the Union before the Civil War.
The sanctuary movement gave illegal aliens permission to rob, rape, and murder Americans by, among other things, stigmatizing immigration enforcement and characterizing it as somehow racist. Some left-wingers use the dreadful euphemism "civil liberties safe zones" to describe sanctuary jurisdictions. The phrase deliberately blurs the distinction between citizens and non-citizens by implying illegal aliens somehow possess a civil right to be present in the U.S.
The U.S. Border Patrol is reportedly fighting back against California's openly seditious statewide sanctuary laws by refusing to hand over illegal aliens with felony warrants to police in California, as previously reported.
Federal prosecutors are considering filing criminal charges against elected officials harboring illegal aliens in sanctuary jurisdictions, Homeland Security Secretary Kirstjen Nielsen told the Senate Judiciary Committee in mid-January.
With luck, federal prosecutors will soon do less considering, and more charging and indicting.
CALIFORNIA: MEXICO'S LA RAZA SUPREMACY WELFARE STATE
"Over the past decade, the traditional base of the Republican party — homeowners and small business owners — has been migrating to states with lower taxes and fewer regulations. Meanwhile, California continues to attract immigrants — both legal and illegal — as well as a disproportionate share of the state's welfare recipients."
Republicans See Pickup Opportunity in California's 36th District with Kimberlin Brown Pelzer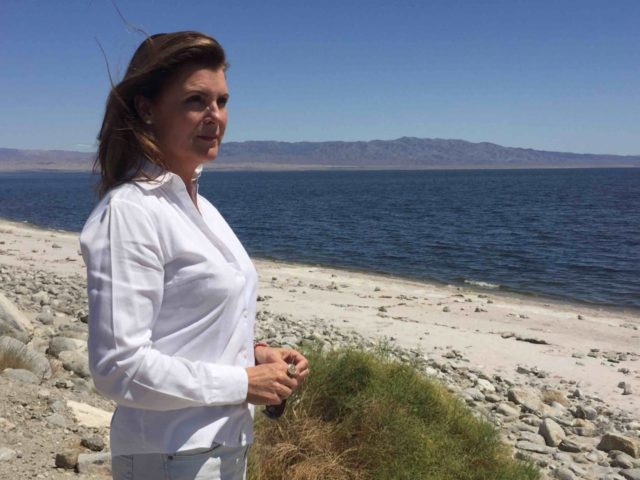 The sun shines brightly over the desert valley, as a crosswind whips across State Route 86, picking up the faint scent of the Salton Sea.
"That's our lake," says Kimberlin Brown Pelzer, the Hollywood star now running for Congress as a Republican in California's 36th congressional district. She recalls the Salton Sea as an oasis, a vacation spot that welcomed celebrities and families alike in its heyday. Now, however, the water is receding, and the last of the tilapia are expected to disappear.
In the same way, California was once a haven for Republicans. Yet the party seems to be collapsing here.
Explanations vary. Some blame the 1986 Simpson-Mazzoli amnesty, which shifted the demographic makeup of the California electorate. Others blame the Republican response to illegal immigration, through such measures as Proposition 187 in 1994, which alienated Latino voters from the GOP. Certainly the failures of the last Republican governor, Arnold Schwarzenegger, did not help.
Over the past decade, the traditional base of the Republican party — homeowners and small business owners — has been migrating to states with lower taxes and fewer regulations. Meanwhile, California continues to attract immigrants — both legal and illegal — as well as a disproportionate share of the state's welfare recipients.
The state also still attracts talented people to Silicon Valley and to Hollywood. But those wealthy enclaves are political monocultures, almost entirely left.
Yet there is hope for the Republican Party in the 36th district, which takes up most of Riverside County west of Interstate 215, running all the way east to the Arizona border.
The Cook Partisan Voting Index rates the 36th as a D+2, meaning it is essentially a swing district. And the Democratic incumbent, Raul Ruiz, has failed to distinguish himself in three terms. He is essentially a stand-in for House Minority Leader Nancy Pelosi (D-CA), who hopes to regain the Speaker's gavel next year.
In addition, Ruiz has adopted far-left positions on a variety of issues, especially foreign policy. He is a strong supporter of the Iran nuclear deal, and has been endorsed by J Street, a radical far-left organization that many consider anti-Israel.
In addition, Ruiz has received a 100% rating from Planned Parenthood. When two of his campaign donors were revealed to be the targets of a criminal investigation in 2017, Ruiz did not return their money: he gave it to Planned Parenthood instead.
As a result, Pelzer says, the voters of the district — especially the Republican ones — feel that they do not have a voice in Washington.
"They don't feel represented," she argues. "Ruiz only says and does what Pelosi tells him to do." She notes that Ruiz — like every other Democrat in Congress — voted against President Donald Trump's new tax cuts. Those tax cuts, she says, have already translated into new jobs in the 36th district. Yet, she says, Pelosi and Ruiz want to raise taxes again.
It takes a certain amount of courage — or chutzpah — to mount a Republican campaign in a year when Democrats believe they are about to ride a "blue wave" back to power in the House. Democrats just need to flip 23 seats to regain the majority. And they are targeting California in particular, because there are several seats currently held by Republicans in districts that Hillary Clinton won in 2016. The surge of liberal activism in the state has convinced several Republicans to retire already.
But Pelzer is on a mission. A Trump supporter from the start, she spoke at the Republican National Convention in 2016. As such, she is believed to enjoy particular clout that could come in handy when taking up the district's issues.
Local farmers, for example — specializing in dates, grapes, and peppers, among other irrigated crops — want President Trump to make good on his promise to broker bilateral trade deals that could help them reach markets abroad. Pelzer believes she can deliver.
The number one issue in the district, Pelzer says, is immigration. And she supports Trump's policies, believing there is room for a compromise that addresses the need for farm labor.
"We need some kind of program that is mutually beneficial to our country and to our farmers — and that isn't grossly abused," she says. She also rejects the idea that Americans won't do farm work as "incredibly offensive and racist." She notes that she grew up helping out on a family farm in Northern California.
A career in modeling took Pelzer to Hollywood, where she found herself winning one acting role after another, eventually landing a recurring role as Sheila Carter — "one of the all-time great soap supervillains" — on The Young and the Restless and The Bold and the Beautiful. The latter has a large international audience, and is the number one most-watched soap opera in the world. Pelzer also trained as an interior designer, and runs a variety of businesses from her home base in Palm Springs.
Her business acumen has led her to adopt a careful approach to her campaign. Though she had raised $262,607 by the March reporting deadline, almost 20 times as much as the closest of her four Republican primary rivals, she had only spent about $90,000, leaving her with substantial cash-on-hand.
She has hired consultants, but is acting as her own campaign manager until the general election. Likewise, she says, she will focus on mailings in the primary, and leave pricey TV ads for the fall.
Pelzer has only done limited polling, but the early numbers, she says, suggest that the district's voters prefer a Republican on the generic ballot. President Trump has an approval rating of 46% in the district — not staggering, but far ahead of the rest of the state.
Those numbers give Pelzer a shot, and Washington has begun calling. GOP leaders like her poise and drive. They also like her chances.
In 2018, the fate of the House, and the country, could depend on Kimberlin Brown Pelzer in the 36th.
THE LA RAZA SUPREMACY DEMOCRAT PARTY'S VISION OF AMERICA: DEATH OF THE GOP AND 49 MEXIFORNIAS!

Laura Ingraham: 'California Is Almost Acting Like It's a Separate Country'
"Thirteen years after welfare reform, the share of immigrant-headed households (legal and illegal) with a child (under age 18) using at least one welfare program continues to be very high. This is partly due to the large share of immigrants with low levels of education and their resulting low incomes — not their legal status or an unwillingness to work. The major welfare programs examined in this report include cash assistance, food assistance, Medicaid, and public and subsidized housing." Steven A. Camarota
THE ONCE GOLDEN STATE of CALIFORNA, NOW A LA RAZA MEX

WELFARE STATE, IS No. 48 OF 50 STATES IN LOWER EDUCATION!
MEXICANS LOATHE LITERACY AND ENGLISH… SUCH APES THE

GRINGO WHOM THEY HATE!
"Mexicans abhor education. In their country, illiteracy dominates. As they arrive in our country, only 9.6 percent of fourth generation Mexicans earn a high school diploma.
Mexico does not promote educational values. This makes them the least educated of any Americans or immigrants. The rate of illiteracy in Mexico stands at 63 percent." FROSTY WOOLRIDGE
"Third-generation Latinos are more often disconnected — that is, they neither attend school nor find employment."
Kay S. Hymowitz
IMPORTING ILLITERACY
TO KEEP WAGES DEPRESSED WE NEED ENDLESS HORDES OF ILLITERATES JUMPING OUR BORDERS AND JOBS!
That really build a nation? Or just generate "cheap" labor for fast food operators?